August 2010
Everest Records: From the Dawn of Stereo LPs to Today's Digital Downloads -- Bert Whyte's Recordings Stand the Test of Time
I first became acquainted with Everest recordings through the Ninth Symphony of British composer Ralph Vaughan Williams. I'd come to love his previous eight symphonic works through the recordings by Sir Adrian Boult and the London Philharmonic Orchestra on the English label Decca, through they were released on London in the US at that time to avoid confusion with the American Decca label. Imagine my surprise when the Ninth Symphony came into the local shop and it was on Everest, a label from Belock Instrument Corporation, which made electronics for missiles! It arrived with two or three other releases, all of them distinctly packaged in art that was predominately silver. Though the somewhat crude or camp covers were full color, the basic cover trim and backs were silver, with black type for the notes. There was also a silver dowel for pulling out the sleeve that held the disc. The label's intention was obviously to create a disc housing that would be elegant and shiny, a marriage of artistry and technology, but I always thought it looked cheap and clumsy. At first, as was the custom during the transition period of the late '50s, Everest issued releases in both mono and stereo versions. Pictured here is the Vaughan Williams Ninth with its Vanguard CD reissue cover.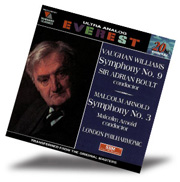 Everest was a new company, founded by engineer Harry Belock in an effort to produce quality stereo recordings of music that could be found only on mono discs. Everest recordings therefore appeared at the dawn of stereo via LP. Belock's partner, recording engineer Bert Whyte, was new to me as well, but he would go on to become a legendary engineer. Though Everest produced some popular and jazz recordings, it was primarily known for its classical catalog. Belock and Whyte signed up some impressive artists for their new venture, including conductors Sir Adrian Boult, Leopold Stokowski, Walter Susskind, and Sir Eugene Goossens, leading the London Symphony, London Philharmonic, and the Stadium Symphony of New York (a stealth name for the New York Philharmonic to avoid contractual problems). They'd branch out later to include William Steinberg and the Pittsburgh Symphony, the Houston Symphony (led by Stokowski), the Rochester Philharmonic, and others. Belock recorded Stokowski in works long associated with him, but he gave Boult rein to tape music he wasn't usually associated with, including the Mahler first symphony, the Shostakovich sixth symphony, and the Hindemith Symphony in E Flat. The results were some of Boult's best recordings. The Everest team also recorded many composers conducting their own music, such as Aaron Copland, Heitor Villa-Lobos, Carlos Chavez, Sir Malcolm Arnold, Ferde Grofé, and Arthur Benjamin. When all was said and done, the catalog contained only about 100 titles, though it was considered a choice collection, especially considering the superb recorded sound.
That sound was not apparent at first, however, as the first stereo LPs were fraught with problems. They were often made of a vinyl compound that if not styrene, behaved like it. The discs were solid and inflexible, and if you tapped the edge on a table, they resounded with a metallic pinging sound. Loud passages were distorted and soft ones were almost obliterated by noise. Later releases were pressed on excellent vinyl, and the earlier ones were eventually re-pressed. The initial recordings, by the way, weren't recorded using three-track 35mm magnetic film as current hype would have you believe. The early, and possibly best, recordings from Everest were captured on half-inch three-track magnetic tape.
The two (unrelated) Solomons
The Everest catalog was picked up quickly for the stereo four-track reel-to-reel craze of the 1960s, and we could finally hear just how good the recordings were. Tape offered wider dynamic range, greater frequency response, and an absence of inner-groove distortion and annoying surface noise, as well as longer playing times. The catalog garnered a cult-like respect, and Burt Whyte became a recording guru. His recordings had such wonderful clarity, depth, and superb stereo separation that they ranked with Mercury Living Presence and RCA Living Stereo. (As a matter of fact, when Everest disbanded, Mercury picked up some of its 35mm equipment!) But then things changed. Reel-to-reel tape gave way to the cassette, and the waning Everest catalog was acquired by Bernard Solomon, resulting in absolutely atrocious vinyl and cassette copies that sounded little like the originals. Everest released titles that had nothing to do with its original recordings; they were merely stamped with the Everest logo. Gradually these awful Everests faded away, leading audiophiles to wonder if the magnificent recordings of Bert Whyte would ever surface again. In the 1990s, Vanguard's Seymour Solomon picked up the catalog and had new masters made directly from the original tapes, dithering them to 20-bit resolution and releasing them as "Ultra Analog" CD recordings. During the LP era, Everest's vinyl discs had been engineered with short sides in an effort to avoid inner-groove distortion (the Rachmaninoff Symphonic Dances and Respighi Feste Romane was originally a two-disc set!), and Vanguard sensitively re-coupled the works to make 60- and 70-minute CDs. These re-issues were absolutely outstanding and would probably still suffice as a tribute to Belock's vision. But Vanguard ceased making discs years ago, and now if you can even find a Vanguard/Everest, you're liable to pay more than $50 for it. Just before crashing, Vanguard released two SACD Everests, the Walter Susskind-led Copland Appalachian Spring in two-channel (with its original coupling, Morton Gould's Spirituals) and in three-channel, an Antill, Ginastera, Villa-Lobos disc with Sir Eugene Goossens leading the London Symphony Orchestra. A continuation of that series would have brought us all of the important Everest recordings in their original three-channel format, but it was not to be.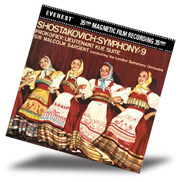 Not too many years ago, Classic Records gained access to the Everest master tapes and began releasing hybrid disc sets that included CD, DVD-V, and DVD-A versions. The DVD-A versions were three-channel (left, right, center) just like the master recordings. Curiously, their releases have concentrated solely on the 35mm recordings, ignoring the earlier half-inch-tape masters, which means ignoring all of the Boult recordings (Vaughan Williams's Symphony No. 9 and Job, and the aforementioned Mahler, Shostakovich, and Hindemith), as well as Copland conducting his own music, two brilliant recordings led by Walter Susskind, and Stokowski's New York sessions. Their main concentration has been the 35mm recordings, which include Stokowski's Houston sessions and London Symphony sessions led by Sir Eugene Goossens and Sir Malcolm Sargent. These were good performances, but once Belock started using 35mm the artistry slipped from outstanding to excellent. The 35mm recordings have now come to HDtracks as 24-bit/96kHz downloads. I downloaded all of them and listened with care, comparing them, as best I could, to the corresponding Vanguard-Everest CD releases. I downloaded the new editions as 24-bit/96kHz FLAC files and converted them to 24-bit/96kHz AIFF so iTunes would handle them. I had previously ripped the Vanguard CDs using the Apple Lossless format. I could A-B back and forth pretty quickly, though of course there were quite a few variables at work.
The bottom line
If you have the Vanguard Everests, there's no need to replace them. But if you don't have any recordings of the Everest masters, the HDtracks releases offer about as good a chance to hear them in two channels as you'll get. I found that in many cases, I couldn't tell the new downloads from the Vanguard discs. In others, the downloads had a tiny bit more stereo separation and a little more "air" around the strings. It was no shock that they sounded a little more analog, but I was surprised to see just how well the Vanguard 20-bit CDs held up. If you're going to spring $18.95 each for the HDtracks downloads (and remember that this rate is for the original-length Everest recording, which is usually no longer than 45 minutes), you might consider seeking out the Classic Records releases. They, too, conform to the original length of the vinyl disc, but they also provide a three-channel DVD-Audio version, which makes them completely faithful to the originals. If two channels are enough, the HDtracks downloads are all excellent, though you might wonder if material from the 1950s really benefits from 24-bit/96kHz processing. For instance, HDTT offers the Sargent-Prokofiev and Tchaikovsky Fifth Symphonies as 24-bit/192kHz downloads, which is certainly overkill for titles mastered from commercial four-track tapes! That argument aside, it's remarkable that recordings engineered in the 1950s can sound just as good as most recent recordings, if not actually better. That says a lot for Bert Whyte, a legend who, though deceased, is still delivering superb results in a format he never knew. Let's hope those three-track tape masters with their five-star performances someday get the same blue-ribbon treatment that has been accorded the 35mm ones.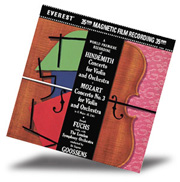 If you're going for the HDtracks downloads, here's a list of the ones I feel are best:
Mozart: Violin Concerto No.3
Hindemith: Violin Concerto
Joseph Fuchs, violin; London Symphony, Sir Eugene Goossens, conductor
Everest Records / HDtracks
Format: 24-bit/96kHz FLAC
Musical Performance: ****1/2
Sound Quality: ****1/2
Overall Enjoyment: ****1/2
Fuchs taught at Juilliard for many years, and though he was no stranger to the recording studio, he didn't tape many recordings of large-scale violin concertos. Which is unfortunate, for on this recording Fuchs plays both pieces with lyrical, dedicated passion and precision, using his Stradivarius to produce rich, warm, and focused tones for Whyte to record. The orchestral partnership is no less distinguished; the orchestral playing in the Mozart is perhaps the most elegant of any recording of the familiar concerto. The overall sound, as usual for Whyte, is warm and detailed, with excellent presence, wide stereo separation, and an uncanny sense of stage depth.
Respighi: Pines of Rome / Fountains of Rome
London Symphony, Sir Malcolm Sargent, conductor
Everest Records / HDtracks
Format: 24-bit/96kHz FLAC
Musical Performance: ***1/2
Sound Quality: ****1/2
Overall Enjoyment: ****
I've always felt that this recording has been unfairly ignored. Sargent leads sturdy, well-paced readings that aren't devoid of lyricism when needed. Whyte did an outstanding job of recording the large orchestra called for in the score. The organ, piano, and recorded nightingales are absolutely clear and correctly balanced with the rest of the instruments.
Sibelius: Violin Concerto / Tapiola
Tossy Spivakovsky, violin; London Symphony, Tauno Hannikainen, conductor
Everest Records / HDtracks
Format: 24-bit/96kHz FLAC
Musical Performance: ****
Sound Quality: ****
Overall Enjoyment: ****
Spivakovsky was a firebrand of a violinist whose careful and precise articulation could bring great excitement to the music. Like Fuchs, he recorded few concertos, but we're lucky to have this performance of the Sibelius concerto, which is assured, lyrical and rhapsodic. Having Finnish conductor Hannikainen on the podium was a good idea, too, as he obtains singularly taut and alert playing from the LSO musicians. The recording puts the violin in the phantom center channel (in the center, were we dealing with the original three-track master), with the orchestra spread to the left and right and behind the soloist. Listen for some amazing muted horn tones that are clearly audible in the last movement. The vital and idiomatic version of Tapiola is much more than a filler here.
Shostakovich: Symphony No.9
Prokofiev: Lieutenant Kije Suite
London Symphony, Sir Malcolm Sargent, conductor
Everest Records / HDtracks
Format: 24-bit/96kHz FLAC
Musical Performance: ****
Sound Quality: ****
Overall Enjoyment: ****
The Ninth Symphony is one of Shostakovich's most riotously funny and satiric works. Sargent captures all the jokes and merriment, and Whyte's wide stereo separation allows the blowzy trombones to be spotlighted, a not-unwelcome effect for this music. All of the tinkly upper percussion in the Prokofiev is wonderfully recorded, as is the bass drum and double bass solo.
. . . Rad Bennett
radb@soundstagenetwork.com
---
Music archives:
July 2010 - Joseph Taylor's "On Music": The First Hip White Person
June 2010 -

PentaTone Classics: Reveling in Surround Sound

May 2010 - Joseph Taylor's "On Music": Marshall Crenshaw's Jaggedland

April 2010

- MDG: A German Audiophile Label That Must be Heard

March 2010

- Joseph Taylor's "On Music": Peggy Meets Paul

February 2010

- Carl Davis Creates His Own Label

January 2010

- Joseph Taylor's "On Music": Unforgettable

December 2009

- Rad Bennett's Best Audiophile Releases for 2009

November 2009

- Video or Not, Blu-ray Is Just Right for Music Too

October 2009

- Linn Records: Offering Great Sound and Interesting Titles

September 2009

- And the Band Played On . . .

August 2009

- Sampling Some Great Music

July 2009

- 2L's Revealing Nordic Sound