March 2010
Joseph Taylor's "On Music": Peggy Meets Paul
When Peggy Lee died in 2002 at age 81, her health had been in decline for years. But despite being wheelchair bound, she had continued to appear onstage well into her 70s. She was a show business trouper, driven to perform for as long as she could. Her gravestone may say "Music is my life's breath," but her many interests included sculpting, painting, and acting. Like many entertainers of her generation, she tried her hand at anything that came her way. She appeared in films with Bing Crosby and Danny Thomas and received an Oscar nomination for her performance as a fading, alcoholic singer in Pete Kelly's Blues (1955).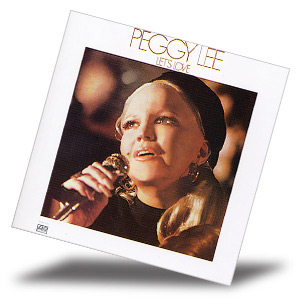 Lee was also a songwriter, and she wrote some of her early hits, including "Maņana" and "I Don't Know Enough About You," with her first husband, Dave Barbour. She and bandleader/producer Sonny Burke wrote the score for Walt Disney's Lady and the Tramp (1955). Another collaborator was Duke Ellington, with whom she wrote "I'm Gonna Go Fishin'" for the film Anatomy of a Murder (1959). "If I'm the Duke, man, Peggy Lee is the Queen," Ellington said of her. Peggy Lee was never strictly a jazz singer, but she was influenced by jazz and blues and she could sing anything from "Fever" (originally a hit for Little Willie John) to "Is That All There Is?," a Leiber and Stoller song more influenced by Brecht and Weill than the rhythm and blues that formed the basis for their early hits.
In 1975 Leiber and Stoller produced Mirrors, now a highly regarded album that Hip-O Select reissued in 2005 as Peggy Lee Sings Leiber & Stoller. Just one year earlier, Lee, after a long association with Capitol Records, recorded Let's Love for Atlantic (Collector's Choice CCM-2077). The album, reissued by Collector's Choice, was an attempt at updating her approach. The title track was a gift from Paul McCartney, a longtime admirer who on the Beatles' second LP recorded "Till There Was You," a song she made famous. McCartney produced "Let's Love," arranged the backing track, and recorded it in London. He joined Lee in Los Angeles, where she overdubbed the vocal. Dave Grusin produced and arranged the rest of the album, and he brought in younger jazz musicians like drummer Harvey Mason and guitarist Lee Ritenour to give Lee's voice a more contemporary setting.
"Let's Love" is typical McCartney mid-'70s fare, a romantic tune that skirts mawkishness but avoids it because both McCartney and Lee sell the song with conviction. The arrangement is typical of McCartney's work at the time -- it wouldn't sound out of place on Red Rose Speedway. He underscores the line "Tonight is the flight of the butterfly" with a flurry of woodwinds, and the song is sumptuously arranged throughout, with McCartney's piano and drums as the foundation. The song stands up well alongside McCartney's many love songs, which have aged better than many of us might have guessed, and Lee gives it a very nice reading. The album closes with a short reprise of the song.
Lee had recorded songs by the Beatles on her later releases for Capital, as well as those by other young songwriters including Randy Newman and Jimmy Webb. Grusin chose songs by Melissa Manchester, James Taylor, and Thom Bell. Manchester's "He Is the One" has a gospel groove that Lee gives a game try, but the song hasn't aged well. Taylor's "Don't Let Me Be Lonely," perhaps the most overplayed tune in his songbook, features a slow R&B arrangement with some tasteful guitar from Ritenour. Grusin adds color with some nicely understated strings, but it's Lee who puts the song across in a version that must have pleased Taylor. Thom Bell's "You Make Me Feel Brand New," already a romantic gem recorded by the Stylistics, is smooth and sultry, with more understated guitar lines from Ritenour.
Lee added lyrics to Grusin's "The Heart Is a Lonely Hunter," a tune the producer had written for the film of the same name. Peggy Lee knew how to sing this kind of lush ballad with unforced passion, and it's one of the high points of the disc. Grusin gives Henry Mancini's "Sometimes" a beautiful string arrangement, and the song is another strong feature for Ms. Lee. But Grusin's footing isn't always so sure. A funky take on Irving Berlins's "Always" falls flat for both singer and band, and some of the tunes, such as "Sweet Lov'liness" and "Easy Evil" are bland and would have been duds in anyone's hands. The less said about the electronic keyboards in Don Sebesky's "Sweet Talk" the better, although they point to a larger problem with Let's Love. The album was an attempt to bring Peggy Lee to a younger audience that probably wasn't interested in her in the first place.
An earlier release of Let's Love contained five bonus tracks, which Collector's Choice has chosen not to include in this reissue, but the label has added 12 studio tracks to 2 Shows Nightly (Collector's Choice CCM2070), a live LP for which Capitol Records designed cover art and set a release date, only to have Ms. Lee withdraw the album because she was unhappy with how it was mixed. Lee's band for the 12 songs, which were recorded during a 1968 appearance at the Copacabana in New York, included drummer Grady Tate, bassist Ben Tucker, and pianist Lou Levy. Any rhythm section featuring those three musicians is bound to swing, and they give Lee a fluid backing on "Do I Hear a Waltz" and "Alright, Okay, You Win," with support from an impressive horn section that included Hubert Laws, Lew Soloff, and Bill Watrous.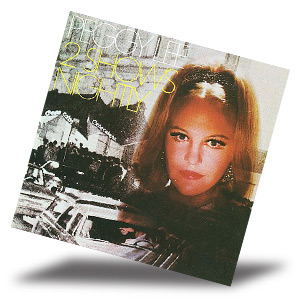 Lee gives "By the Time I Get to Phoenix" a lovely ballad reading, and though the band falters a bit at the start of Tim Hardin's "Reason to Believe," she quickly gets them on track for a spirited interpretation of the song. The arrangements and Peggy Lee's singing on 2 Shows Nightly demonstrate how well she could take then-current songs and reshape them for her fans. She performs John Sebastian's "Didn't Want to Have to Do It" at a subtle mid-tempo, with support from a lovely horn arrangement. Lee gives Buffy Sainte-Marie's "Until It's Time for You to Go" a definitive performance, smoothly sidestepping the sentimentality that other singers fall prey to with the song.
While it's puzzling that Collector's Choice chose 12 studio tracks from the mid- to late '60s to fill out 2 Shows Nightly, they provide a good cross section of the music Lee was recording at the time. "Make Believe," from 1966, features a driving horn arrangement, while "(Stay with Me) Stay with Me" is a sophisticated pop arrangement in the easy-listening style that Lee sang effortlessly. Some of the bonus tracks sound dated, but the best of them show Lee's versatility and her ability to bring conviction and craftsmanship even to a trifle like "I Feel It," a song that put her in the top ten in the adult contemporary charts. Studio versions of "Reason to Believe" and "Didn't Want to Have to Do It" close the disc. The live portion of 2 Shows Nightly is essential for any Peggy Lee fan, but the balance of the disc has plenty of worthwhile moments.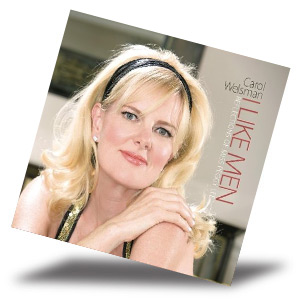 Both Let's Love and 2 Shows Nightly are cleanly mastered, and Let's Love in particular features very good sound, with the instruments focused clearly in the soundstage and Lee's voice placed out front. The live disc has some post-recording enhancements, which the liner notes own up to, but the recording has a warm, small-club ambience. Lee thought the horns were poorly recorded, which is why she withdrew the record, but they're strong enough in the mix to be heard. The discs include informative liner notes, but the original back cover art, including notes, is reproduced in virtually unreadable small print.
Peggy Lee influenced many singers, and one, Carol Welsman, pays tribute to her in I Like Men (Welcar Music WMCD366). The Canadian singer and pianist brings her talents to 14 songs associated with Lee, including five that Lee wrote. Welsman sings the title track, which Lee wrote with Jack Marshall, with sexy confidence, and when she sings, "Why, he can even lose his hair / 'Cause I like men," she's both funny and provocative. Her take on Cole Porter's "Do I Love You?" has a touch of bossa nova, in contrast to Lee's softly swinging version with George Shearing or the rousing big-band arrangement on her 1948 recording of the song. Instead of simply copying Lee, Welsman uses her as an example of how to bring a strong individual personality to a song while remaining true to its intentions.
Welsman accompanies herself beautifully on piano throughout I Like Men, but the rest of the players contribute to an entertaining disc of fantastic, well-recorded vocal jazz. If you can resist Carol Welsman singing "I Love Being Here with You," you're stronger than I am.
. . . Joseph Taylor
josepht@soundstagenetwork.com