January 2002
HeadRoom's World of Headphones
The winter
A Canadian winter moving in can be a painful experience. Everything goes down slowly -- the temperature, the amount of daylight, and the moods of the people around you. Inevitably, slow moves to fast, and it all hits home with a thud -- and below-zero temperatures.
But even in Ottawa, this November was rather nice right up to the 29th, when winter arrived with a vengeance. For two days, all I saw was snow mixed with rain under constant gray skies. As I trudged through the muck, getting slush-sprayed by passing cars, I couldn't wait to get out of town. Luckily, I had a trip planned for the first of December. Unluckily, it wasn't to anyplace warm. I can assure you that Chicago isn't any warmer this time of year than Ottawa. But the trip was well worth the effort. I was in Chicago to meet up with entrepreneur/audiophile extraordinaire Tyll Hertsens for his HeadRoom World of Headphones tour, which had just hit town after a 30-hour trek from Bozeman, Montana -- another place where winter can be a life-altering experience.
The warm-up
For the World of Headphones, HeadRoom has created an elaborate, portable display with rack upon rack of headphones and amplifiers. My guess is that there's more than $300,000 worth of stuff. It all fits neatly into a medium-sized trailer pulled by a van equipped for long-range travel with both sleeping and office space (although I believe it lacks a bathroom).
This new tour HeadRoom has embarked upon is just one more example of how far Tyll and company will go to spread the word about headphone listening. I can't think of another audio company that puts in this type of effort to educate and inform. The World of Headphones is like an evangelist road show, audio style.
| | |
| --- | --- |
| HeadRoom's newest corporate asset... | ...complete with office space. |
| All the headphone products are covered and bolted to the racks. Setup is relatively painless. | All the racks are pre-wired with Montana-grown DiMarzio cabling. |
Last May Tyll carted all of his company's headphone products from Bozeman to New York to present a sneak peak of the World of Headphones at Home Entertainment 2001. Not surprisingly, he learned a lot in the process. The Chicago display was an improvement over that exhibition, and this "mini tour," as he put it, is a dry run for what's to come in 2002. Tyll wants to make sure everything is in order for when the tour goes big time. For his warm-up he picked two cities -- Chicago and Detroit -- and he let only two groups know about it: SoundStage! and the enthusiasts over at Head-Fi.org.
The place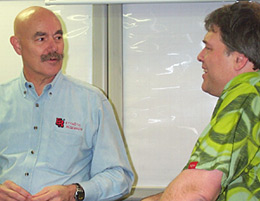 Tyll (right) talks with Etymotic Research founder Mead Killion, Ph.D.
The training classroom at Etymotic Research was the venue for the Chicago event. Etymotic is an advanced company that produces many hearing-related products, including state-of-the-art hearing protection, in-ear microphones and the like. Their high-quality headphones, which fit into the ear canal, are an offshoot of this work. As a result, the Etymotic ER-4Ses cost a lot more than you'd think just by looking at them -- $330 at full list price -- but once you hear them, you'll know why they cost what they do. Tyll feels the ER-4Ses are one of the top headphones in the world, and this, in many ways, makes them a steal when you realize just how much some other 'phones cost. It's also why Tyll is so excited about the new ER-6es. They cost only $134, and they get you most of the way to the costlier model. That's called trickle-down technology.
The attendees
If you're at all interested in headphone-related subjects, you should definitely check out Head-Fi.org. They have a great interactive discussion area going that's bubbling over with enthusiasm. And the fact that HeadRoom could simply publicize this event at that forum and have a crowd of headphone fanatics banging down the door early in the morning speaks volumes for the group's commitment. And, as far as I could gather, most of these people had never met each other! But rest assured, after hours of headphone listening and a free lunch (courtesy of HeadRoom, of course), most were good friends by the end of the day.
It all reminded me of The Audiophile Network (TAN) of many years ago. Tyll's show has the same vibe. In fact, the first time I met Tyll was at a TAN gathering at one of the mid-'90s Stereophile shows in Los Angeles.
The hot ticket
The World of Headphones is not -- repeat, not -- about hocking a bunch of headphones out of the back of a van. In fact, HeadRoom's not really equipped for sales at this event (although their toll-free number is just a few buttons away). Rather, it's about education. Putting this show on the road allows people to hear the widest selection of high-quality headphones and headphone amplifiers ever gathered in one place. And HeadRoom doesn't just include their own amplifiers to brainwash you into thinking that's all there is. As I wrote last month, HeadRoom's turned into a complete headphone resource. You'll see other amplifier products like Creek, Antique Sound Lab, Sennheiser, and more amidst the HeadRoom offerings.
Tyll even invites people to bring their own products -- related directly to headphones or not -- and a couple of enthusiasts did just that, much to the pleasure of all of us at the gathering. This is an event at which you can listen, learn, and, if you're like the bunch at Head-Fi.org, go back online and discuss the subject with a lot more experience. That's precisely what World of Headphones is about.
| | |
| --- | --- |
| Harland Yu brought his Ah! Njoe Tjoeb CD player that has a tube output stage. Unfortunately, in the excitement of the day's proceedings, we forgot to hook it up and listen! | "Reynman" brought his JMT CHA47 "Cinnamon Altoids headphone amp." This is a custom-made product, and you have to inquire at Head-Fi.org in order to find out how to buy one. If you purchase one of these, the breath mints are shipped along with unit, but packaged separately. |
The questions and answers
Although I'm pretty well versed on headphones and related products, I readily admit that I too took this rare opportunity to bring myself fully up to date. Why not? In a scant few hours, I was up to speed.
One of the first things I asked Tyll was, "Why does anyone need a headphone amplifier? It's got to be a tough sell, when most products have a headphone jack built into them." Tyll looked at me, moved back in his chair, and then leapt forward with an answer that was sudden and deliberate: "Because most of those headphones jacks suck. I mean really SUCK."
That wasn't the answer I had expected, so I pressed on, and Tyll did too, giving me three reasons headphone jacks sound so bad.
First, some receivers simply use a 120-ohm resistor off the internal amplifier to drive the headphones through the jack. The 120-ohm resistor was chosen because it corresponds with the European standard of having a 120-ohm output impedance for headphone amplifiers, but according to Tyll it's a lousy, noisy, not to mention "piss-poor" way to drive headphones. Then there are some headphone jacks that have nothing more than about a 1W amplifier behind them, similar in quality to the amp in a clock radio -- hardly the type of thing that will give you high-quality sound. Finally, some companies use an op-amp to drive headphones through the jack, but according to Tyll, "There's not an op-amp in the world with a low enough impedance for correct damping of the headphones."
There's more. Tyll and the gang at HeadRoom don't view headphones as simply "cans" that you strap onto the sides of your head. They think of them the way other audiophiles think of loudspeakers, and when you look at headphones that way, you realize you need a good amplifier to drive them. Hooking 'phones up to a good amp results in better clarity, dynamics, and imaging, just as with loudspeakers.
Another thing I've wanted to know for some time is: "Right here, right now, what are the best headphones in the various price ranges?" Another lean back in the chair and then another lurch forward with a rapid-fire delivery, because this is the type of question that Tyll gets every day at HeadRoom. Ready?
Starting at the low end and moving up, you have the Koss KSC-35 ($29.99, and "simply amazing for the price," says Tyll), followed by the classic Grado SR-60 ($69), Sennheiser HD 495 ($89.95), Etymotic Research ER-6 ($134), AKG K-501 ($245), Etymotic Research ER-4S ($330), and Sennheiser HD 600 ($449.95, but now available for about $300). "You can spend more than that should you want," says Tyll, "but then it gets sketchy on what you gain." It's that old law of diminishing returns -- just like we see in high-end audio.
In terms of what's state of the art, Tyll figures that the HD 600 coupled with his $3333 BlockHead will rival anything in the audio world, even the $14,000 Sennheiser Orpheus system. And, putting his money where his mouth is, Tyll has both systems set up side by side. But remember, I said rival -- I didn't say beat. What's important here is that the World of Headphones allows listeners the rare opportunity to listen to equipment they can't otherwise hear so easily. (Tyll, for the record, does give the nod to the Sennheiser system, but not all listeners there agreed, with some giving the prize to the HD 600/BlockHead combo).
Moving from state of the art to the real world, I wanted to know: "What is a good, affordable headphone system?" Tyll's recommendation is what he says he uses himself. It is the company's middle-of-the-line $699 Cosmic amplifier with a set of HD 600 headphones and a set of ER-4S 'phones too.
"Two sets of headphones?" I asked.
"Yeah, for sure," Tyll responded. "One's an open-air design (HD 600) while the other completely seals off in your ear (ER-4S), and you'll have reasons to use both depending on where you are and who's around."
Like I said, I needed to be brought up to speed.
The end
Chicago was still cold when I left -- and Ottawa was still colder when I arrived home -- but I was hot for headphones. Never mind the weather -- this had been a great December trip.
Visit the HeadRoom website and find out just when the World of Headphones will be coming to your area. From novices to intermediates to experts, the display is well worth attending for the ability to do hands-on tryouts with so many products, not to mention engaging in discussions that I guarantee will be eye and ear opening.
...Doug Schneider
das@soundstage.com