December 2001
Vacationing
Last month, I took the opportunity to take a little vacation and at the same time arrange for some unique components for review that I knew would take a little while longer than normal to get here. I won't bore you with the details of exactly what I did on vacation, but I will let you know that I took advantage of traveling at a time when many people are reluctant to go anywhere near an airplane. In truth, I've never felt safer in the air. The increased security measures do nothing but bring me comfort, something I didn't have before. If you have the inkling to travel, go for it.
I took off at the beginning of November from "consistently getting colder" Ottawa, Canada to "seemingly always sunny" Puerto Vallarta, Mexico. It was a week of sun and sand (although there are Internet cafes aplenty, and I couldn't help but still check and respond to e-mail almost daily). The relaxation did me some good. And as I took some time off, the components coming in for review were tucked neatly into boxes and in the hands of various freight-carrying companies around the world. While I went to one country, the components arrived here from others.
The first product to arrive in Ottawa came from the shortest distance, a shipping case stuffed with HeadRoom products. HeadRoom is based in Bozeman, Montana, on just the other side of the Canadian border. The company is famous for their portable and home headphone amplifiers. HeadRoom may not have invented the headphone amp, but they can certainly be credited for increasing its popularity over the last decade.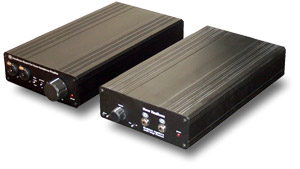 The new (upper left) and old Maxed Out Home from HeadRoom
Company president Tyll Hertsens told me an interesting story about when he started the company. He said that when he first created the products, he expected to sell them in the usual audio boutique. What he wasn't expecting was the response he got from dealers. They were impressed with the product, but just not willing to stock it. At the time, headphone amplifiers weren't all that popular, and I guess they simply didn't see the use in even trying to sell them. Tyll saw otherwise; he saw a new market opening up once people realized just why they might need a headphone amplifier (a subject for another article). Seeing a brick-wall mentality, he scrapped the traditional dealer notion and went factory-direct. He never looked back, even when dealers came begging to sell his product.
Now he's turned the tables on them. Today HeadRoom is far more than just a seller of self-made goods. They sell not only their own amplifiers, but other companies' headphone amplifiers too (yes, he went and made his own company into a dealer). And, of course, he also sells headphones to go with the amps. In the end, when you step back and "put on a wider lens," what Tyll has gone and done is made HeadRoom the source for headphone products and a great resource for anyone shopping for them. In fact, when someone asks me a question about headphones that I can't answer, I just give that person the toll-free number and send them on to HeadRoom's customer support. Want to know the best headphones for your budget? I know HeadRoom can answer that in flash. They've basically cornered the market and made themselves a one-stop shop.
Of course, they may sell nearly everything in the known headphone world, but that doesn't mean they have rested on their laurels and forgotten where they started.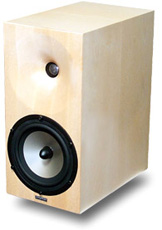 They just revamped the entire HeadRoom line and what they sent me is the new $999 Maxed Out Home. I have the previous version of that amp, and Tyll wants me to put this one up against it. Look for an upcoming review.
The next product arrived from the next greatest distance -- Finland. I first discovered Amphion when I traveled to Frankfurt's High End 2001 show earlier this year. The natural tonal balance of the two-way Argon monitor impressed both Jeff Fritz and me, and its imaging precision simply blew us away. Since then I've maintained consistent contact with the company, and now that they've gotten Canadian distributorship (through Audio Pathic) they've sent me their newest Argon 2 speaker for review.
The Argon 2 is a modest-sized monitor with a real-wood veneer on the sides and a layered-wood front panel. It looks great and comes grille-less, likely to better show off the sculpted baffle that flares around the tweeter. The looks are just icing on the cake, though, because the technical details are really what interest me. The company claims to cross over between the woofer and tweeter at an astoundingly low 1200Hz! They also claim to pay very close attention to the off-axis dispersion characteristics of the speaker since they know full well that both direct and reflected sound are crucial in any room. Other features include an aluminum woofer and biwire capability. Pricing in US dollars is still to be established. At SoundStage!, I tend to be known as the minimonitor man, so I'm excited about this one.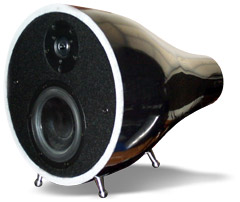 The last product to arrive came from Thailand. nOrh Loudspeaker Company is getting well known on the Internet for their own factory-direct sales of very unique-looking loudspeakers made from synthetic marble. We've reviewed a couple of their speakers on the SoundStage! Network sites, and most recently gave the nOrh 4.0 a Great Buy designation on our GoodSound! site.
For my review, nOrh shipped over their SM 6.9 speakers priced at $995 USD per pair. The company says that the 6.9 is 87dB efficient with bass rated down to 40Hz. The driver compliment is from Vifa. Like I said, I really like minimonitors, and I'm intrigued with the nOrh because I certainly haven't seen anything like this one. Exotic and esoteric sums it up.
There you have it, a quick holiday and then a subsequent arrival home with goodies waiting, which made me feel like I came back on Christmas Day. Next month I have more travel plans, but the exact dates (and places) are still to be determined. Until then….
...Doug Schneider
das@soundstage.com