February 2005
Energy act6 Multichannel Loudspeaker System
Multichannel Pick of the MonthSarah Brightman: The Harem World Tour: Live From Las Vegas
DVD-Video, Angel 7243 5 99593 9 9

Sarah Brightman's legendary stage presence and delicate voice are set to the grandeur of a Las Vegas show for a memorable concert experience in The Harem World Tour: Live From Las Vegas. The Middle Eastern-themed Harem is a mix of covers, originals, and, of course, Brightman hits through the years. This live show is full of appealing visuals, although the video is shot to appear soft and ethereal. The look certainly works with the music. The acoustic signature of the MGM Grand Arena does not lend itself to precisely placed images or telling ambient cues, but there is a wonderful sense of space and warmth that is relaxing and enjoyable.

For your surround system there are good test and demo tracks. You'll be able to assess your center-channel's vocal-reproduction prowess with Brightman's unique voice. Does that tweeter sound spitty, or is it disconnected? You'll know in no time. Probably most telling as a system-evaluating tool, however, is the audience's applause. If there is a discontinuity in any channel -- either in tone or output level -- you'll hear it clearly.

If you like Brightman's music and the sort of showmanship that is pure Las Vegas, this disc is your cup of tea.

...Jeff Fritz
jeff@soundstage.com

I have a lot of respect and admiration for professional engineers. Whatever the product they're tasked with designing, the market is always dictating certain requirements that, if not met, will impact sales -- and likely their jobs. Take automobiles, for instance. The newest generation of daily driver has to have a vehicle with more horsepower than that in last year's model, but that vehicle must be more fuel efficient at the same time. It also has to be safer in crash tests, but have more interior room. It must be more stylish, but not cost any more to produce.

There's no better example of the marketing-versus-engineering dichotomy than loudspeaker design. There are always market-driven facts of life that simply must be adhered to. I can think of several prerequisites that the marketing team at Energy likely came up with and presented to the engineering squad. I can hear the conversation now.

Marketing guy: It has to be small, but sound big; it has to be cheap, but sound expensive; and...

Engineering guy: Do you want it to cook gourmet meals, too?

Marketing guy: Can you make it do that?

Engineering guy's eyes roll into the back of his head.

The current popularity of flat-panel televisions is driving sales in the consumer-electronics marketplace. I've said it more than once: Folks just don't want big honking TVs anymore -- they want super-slim, wall-hanging HDTVs that take up no floor space. The "no floor space" part is really important, and that transfers into other market segments, too. It sure doesn't make sense to most non-reviewer types to have big floorstanding speakers surrounding a wall-mounted TV. After all, it costs good money to go flat. That accompanying speaker system must be equally unobtrusive if it's going to find a home next to the latest plasma or LCD monitor. The electronics-store mantra for 2005 might just be: If you're gonna go flat, go all the way flat.

Going small

The Energy act6 six-piece loudspeaker system ($800 USD) is aimed squarely at the flat-panel-television market segment. Right off the bat I can confidently say that the act6's size and aesthetics will meet the requirements of even the most décor-conscious consumer. The entire system comes in a single, reasonably sized cardboard box -- you can lug it home by yourself, so no deliveryman required. Included in the act6 system are five act1 satellites and one act subwoofer. This will form the basic, and still standard, 5.1-channel system that most people want. If you are a multichannel progressive -- someone who has ventured into 6.1- or 7.1-channel sound -- you can purchase individual act1 satellites to configure the number of channels you require.

The act1 satellites are 6 3/4"H x 6 1/2"W x 4 1/4"D and weigh about three pounds each. Each extruded-aluminum enclosure contains a 3/4" aluminum-dome tweeter, housed in its own tiny chamber. Below it is a 3 1/2" mica-filled polypropylene woofer. The drivers are ready for viewing behind a silver grille that attaches to the cabinet with small magnets. This is no "fixed grille because they don't want you to see the business end of things" speaker; the satellites may be small, but you'll find attention to detail in front of and behind the grilles. Fixed grilles always make me wary. "What are they hiding?" I think to myself. Call it a reviewer phobia.

Speaker hookup is via spring-loaded gold-plated connectors that from a distance look just like five-way binding posts. They're not, thank goodness. It would be next to impossible to tighten down screw-type posts in the cramped quarters of the act1's recesses. The connectors are large enough to handle heavy-gauge wire, pins, or bananas. Just insert whatever termination you have into the hole and let go of the cap. It'll snap back in place with impressive holding power.

Optimum placement flexibility was clearly a central goal for the act1. Integral wall-mount brackets allow the speaker to swivel 32 degrees to right and left of center, accommodating multiple listening angles. Stands are also available, which I used for my setup, as are tabletop mounts; but I imagine most buyers will opt for wall mounting to make the system almost invisible. The color, as you might expect, is 2005's in color: silver. It matched my Sharp Aquos LCD monitor absolutely perfectly.

The act subwoofer is small as subwoofers go, at only 16 1/4"H x 10"W x 14"D. It weighs a svelte 24 pounds. Contained within this gray vinyl-clad box is an 8" down-firing woofer and an 80W amplifier said by Energy to be capable of 300W peaks. It's ported to the front and has a control panel on the rear. The act subwoofer is purpose-designed to match the act1 satellites, so there's no adjustable crossover; you get only a level control along with the RCA-equipped line-level input and spring-clipped speaker-level inputs.

Energy's latest driver technology -- Elliptical Surrounds on the woofer drivers -- is included in the driver of the act subwoofer. Looking at the woofer driver you'll notice ribs that run from each edge of the rubber surround. According to Energy this technique enables the woofer to produce less distortion and have greater excursion capability. Basically, the ribs keep the surround from deforming under stress. And with today's home-theater soundtracks especially, there will be some serious stress placed on the subwoofer.

Making sound

I connected the act6 system to my NAD T743 receiver; an Esoteric DV-50 universal audio/video player was the source. The front speakers were placed on Energy STS stands, while the rear speakers were put on shelves behind the listening position that just happened to match the height of the stands perfectly. The center-channel act1 sat on my rack just in front of my Sharp monitor. The act subwoofer sat right below the left-front act1 satellite.

Don't think of the act6 system as a series of five regular speakers and a subwoofer. Think of it as five upper-frequency speakers and one lower-frequency speaker. In other words, don't judge the act1 satellites by how they sound on their own; they weren't designed to be used alone, as they really produce no bass to speak of. But when the act subwoofer is added, the sonic picture becomes remarkably clear, as the two elements meld to produce a cohesive sound. The great thing about this system is that you won't have to fiddle with it to make it sound good. Once it is positioned in your room, you'll only have to balance the bass with the level control on the act subwoofer. If the sound is a bit slow and thumpy, cut it down; if it's thin and light, turn it up. It took me longer to assemble the STS stands than to set up the whole system and start listening to music.

When the music started, so did my appreciation for what the act6 accomplishes. The sound was more spacious and expansive than should seemingly come from such small speakers. Last month's "Multichannel Pick of the Month," Sarah McLachlan's Afterglow Live on DVD-Video, sounded spacious and airy as it filled my room with clear, ambient-rich sound. The crowd noises were distinct with good separation, and instruments were detailed yet never harsh or strident. It's really a trick when a speaker system at any price can provide enough detail to keep you engaged while not causing any listener fatigue. The act6 system pulls off this trick with apparent ease. McLachlan's piano was also reproduced with good tone and proper scale as it projected forth into my room.

If you're a fan of good imaging you'll cotton to these speakers. I got out the tape measure to ensure that I had the satellites symmetrically placed, and it paid off. Good speakers sound OK almost anywhere you place them -- the act1 satellites are no exception -- but they will also improve if attention is paid to precise positioning. With the front pair of act1 satellites dialed in just so, the vocals on McLachlan's "Push" were placed dead center on the stage. Coupled with the ambience all around the stage, this concert simply came alive.

The act subwoofer is tasked with shoring up the bass response of all five act1 satellites. My guess is that it plays pretty high in frequency in order to accomplish this without the "hole in the middle of the frequency band effect" I've heard with some other sub/sat systems. I thought it remarkable that the act sub could disappear so easily in my room with all it has to do, and with minimal fuss on the part of the user.

It's not easy for me to describe the bass of the act system in a few simple words like "tight" or "deep" or "warm." With the level adjustment on the act subwoofer, the owner of the system can tailor the low frequencies, not only to his or her room, but also to his or her tastes. Like a little warmth? Give the knob the slightest twist and you'll have it. Does your room tend to overload easily in the bass and become boomy? You can lighten it up for a quicker, more agile sound just as easily by turning down the sub's level. Of course Energy recommends that the owner go for a neutral setting, and I found this worked best for my tastes, but the fact that you can alter the sub's balance is one advantage you'll have over, say, a pair of stereo floorstanders.

Which brings me to my only real criticism of the act6 system: It can't quite produce the visceral punch in the midbass you hear, and feel, with a set of largish full-range speakers. The small satellites just can't move that much air. But then again, you won't be able to outfit a surround system incorporating good floorstanding speakers for anywhere near $800, either. So I had to remind myself to keep things in perspective.

Sarah Brightman's The Harem World Tour: Live From Las Vegas on DVD-Video gave me ample opportunity to test the act6's ability to cast a veil of ethereal sound over my room. With a perfect tonal match at each speaker location, the audience's applause fell over me like a swirling mist; there was no part of the room, at least discernible from the listening position, that escaped even sonic coverage. I surmise that this would translate well to movie soundtracks where speaker-to-speaker pans are more obvious and common.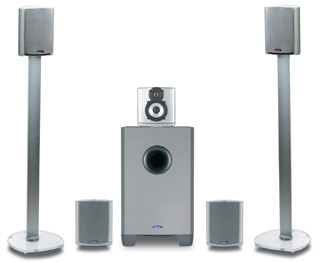 Problem solved
It's been said (or, at least, I'm saying it now) that the market proposes problems and engineers propose solutions. I can think of no better way to describe the act6 than as the solution to a question more and more consumers are now asking: Is there an affordable speaker system that will work in a décor-conscious environment and also provide good multichannel high-fidelity sound? Yes -- the act6, and I like it. I like the rugged aluminum construction of the satellites; I like the attention to detail, such as the removable magnetic grilles; I like the no-fuss, minimal-adjustment arrangement of the subwoofer. But most of all I like the sound: big, clear, and cohesive, with precise imaging and plenty of detail.
Here's my parting advice: Go on down to the store and get an LCD flat-panel monitor, an NAD receiver (in silver finish, if you can find one), one of those fancy Samsung upconverting DVD players, and an Energy act6 speaker system. You can fit it all in the back of your mini SUV and with the help of a buddy and a few tools you'll be enjoying it in no time flat.
...Jeff Fritz
jeff@soundstage.com
Energy act6 Multichannel Loudspeaker System
Price: $800 USD.
Warranty: Five years parts and labor on speakers, one year on subwoofer.

Energy Speaker Systems
3641 McNicoll Ave.
Scarborough, ON M1X 1G5 Canada
Phone: (416) 321-1800
Fax: (416) 321-1500

Website: www.energy-speakers.com