January 2005
ZVOX 315 Single-Box Powered Loudspeaker System
Multichannel Pick of the Month
Sarah McLachlan: Afterglow Live
DVD-Video, Arista 82876-64543-2

Looking fit, healthy and happy, and sounding as good as I've ever heard her, Sarah McLachlan on Afterglow Live presents an incredibly enjoyable live concert. She sings all of the standbys that you'd expect: "Angel," "Adia," "Hold On," and "Ice Cream." My favorite track, though, is her dedication to her husband, "Push." Her vocals are delicate, nuanced and oh so heartfelt. Her explanation of this song's origins surely hit home for me, so I won't spoil it for you.

The sound is much better than that of most Dolby Digital DVD concerts I've heard. It sounds fuller, tighter, and more dynamic than Faith Hill's When the Lights Go Down [DVD-Video, Warner 38591-2], the Pick of the Month from September of 2003, or Norah Jones's Live in New Orleans [Blue Note Records 7243 4 90427 9 7]. Surround sound is not aggressively used -- it's mostly for very light instrumental fill and some backing vocals, along with ambient and crowd noises. The soundstage, if your system is calibrated properly, will stay solidly up front. As a bonus, a live CD is included and features 15 of the concert's songs. For the asking price of $20 at my local Best Buy, this one was a bargain and then some.

...Jeff Fritz
jeff@soundstage.com

In this space I normally discuss audio products and their pure sonic abilities with multichannel music. This month, however, I'm taking a break from that to tell you about an interesting and unique new product that's related to those I normally write about but from a different side of the family: the ZVOX 315 speaker system. The $199 USD 315 single-box, powered speaker system is designed to take the place of the speakers built into your television, upgrading the sound quality of the tiny drivers contained within to something more substantial. It can also be used sans TV with a portable CD player or iPod, not to mention its potential gaming applications. It is not intended as a replacement for, or in lieu of, a multiple-speaker surround-sound system. If you're expecting that sort of performance out of a single box, you're barking up the wrong tree with the ZVOX 315. The single-box surround-sound system is a worthy goal, but it's also a myth -- like Bigfoot, alchemy and diet pills "that melt fat away."

What it is

Occupying a single cabinet (17"W x 15"D x 4 1/2"H, 17 pounds), the ZVOX 315 contains three magnetically shielded front-firing, full-range 3 1/4" drivers and one downward-firing 5 1/4" internally mounted subwoofer (with a corresponding rear-facing vent), all powered by 40 watts of built-in amplification. Bass extension is rated to 63Hz. The box itself appears to be made of MDF and is finished in what has to now be called plasma or LCD silver -- the color that's all the rage these days with wall-mounted monitors. It matches my Sharp Aquos perfectly. Charcoal is also available -- although that finish is so last year. The rear panel contains the controls: adjustments for subwoofer level, PhaseCue (for adjusting the soundstage width), and overall volume, along with a power-on/standby rocker switch. There is also an input for the supplied mini-jack-to-mini-jack and mini-jack-to-RCA cables -- these make the 315 compatible with any RCA-equipped or mini-jack-equipped source.. A 12V external power supply connects the unit to your AC outlet.

The company's patent-pending PhaseCue technology is designed to make the speaker system sound bigger than it is. What PhaseCue does is trick. Left and right audio signals are input from your source's audio outputs. These are mixed in equal parts and fed to the central "center-channel" driver and the subwoofer. The same combined left-and-right signal is also fed to the drivers that occupy the corresponding ends of the cabinet, except the signal is sent to each of these drivers out of phase. ZVOX's explanation: "The left speaker receives the left signal, 'minus' the right signal. The right speaker receives the right signal, 'minus' the left signal (i.e., L-R and R-L)." This arrangement, combined with various forms of virtual-surround-sound processing output from your source, creates a more spacious sonic effect than would typically be the case from a single sound source.

How to use it

For the ZVOX 315 to be ultimately functional in the real world you must have variable audio outputs on your source. If not, all is not lost, but you'll be forced, as I was, to adjust the volume by reaching behind the 315 and adjusting it manually. If you're a remote-control junkie -- as most TV watchers are -- this will be an unacceptable compromise. Before you buy the 315 make sure you can disable the speakers in your TV, and output the audio signal while maintaining the ability to adjust volume up and down. If you're going to use the ZVOX with a DVD player, then the same consideration applies: make sure your player has variable audio outputs. I used my Esoteric DV-50's audio outputs almost exclusively for this article as they provide a high-quality stereo signal via RCA jacks. The DV-50 also has a virtual-surround mode, which I enabled while listening to the 315. I briefly tried my Sharp Aquos monitor feeding the ZVOX, too, but settled on a DVD source as most of what I wanted to watch was via DVD anyway. I placed the 315 on a shelf just a few inches below my monitor and away I went.

The case for

Some folks just don't want speakers all over the place. I'm not one of them, but if you are, and the single-box idea appeals to you, the ZVOX 315 will give you good sound in a small, single-enclosure system. Simply put, it saves space in spaces where space is at a premium. Got that?

The 315, although small, has some real technical advantages over the speaker system you have in your TV. There is substantially more driver area and cabinet volume in the 315 than that contained within an average LCD or plasma monitor. More drivers and more internal cabinet space translate into more dynamic, more full-range, and more spacious sound. Simply put, bigger sounds bigger, and smaller sound smaller. And bigger is definitely better when it comes to expanding the sound capability of your TV.

The price is right, too. I'm not aware of any legitimate surround-sound system that you can buy for $199. Perhaps there are a few boom-box-type units with detachable surround speakers that you can pick up at a department store that would compete price-wise, but I just don't think these are really viable options for most folks' living-room entertainment systems (especially ones with plasma or LCD monitors, not inexpensive options).

The case against

Virtual surround sound is not a direct replacement for real surround sound, just as virtual reality is not a replacement for, well, reality. If you want true surround sound you need speakers placed to the side of or behind you. The ZVOX 315 just won't create the tangible three-dimensional soundstage that a 5.1-channel speaker array will, and the bass effects produced by most of the subwoofers I've auditioned are much more authoritative than what you will get out of the 315. Again, you can only expect so much from a single, relatively small enclosure.

How it worked

As advertised.

I was able to hear much more sonic depth and width from television broadcasts than I could with my monitor's internal speakers. Just watching an NFL game proved the point. The crowd noise and on-field sounds made the game come alive within my living room. They created an atmosphere that I just could not get from my TV, no matter how high I set the volume. My Sharp Aquos monitor simply could not produce the frequency range of the ZVOX 315 under any circumstances. The ZVOX played clean and loud, displaying comparatively low distortion. The sound was much closer to "hi-fi" than "TV."

On the other hand, I've not heard a legitimate home-theater system that does not sound more enveloping than the ZVOX 315. I just could not get the wraparound effect from the Blue Man Group's The Complex [DVD-Audio/Video, DTS 69286-01120-9-4] that gives this release all of its sonic breadth. But perhaps that's asking too much. What I could hear was much of the dynamic impact and clarity of transients that this release possesses. And surprisingly, the bass was much deeper than expected, and much tighter and more authoritative, too. In fact, the bass was so impressive that it caught me by surprise the first time I really cranked the 315. BMG's percussion prowess is done justice by the 315; maybe the bass I heard was not truly sub-woofing, but it was on a par with a good set of bookshelf speakers.

Sarah McLachlan's Afterglow Live [DVD-Video, Arista 82876-64543-2] drove the point home for me; the 315 is just dang good. McLachlan performs with incredible energy and vitality on this DVD concert. Her voice is one many audiophiles know well, and you'll not be disappointed by her performance here. With the ZVOX 315 producing all the channels I was impressed at how clear the whole procession sounded. There was very little coloration added to McLachlan's vocals. The ZVOX projected forth a good central image that was sufficiently large and palpable. I could reach its limits with very complex playing from her band; the 315 could sound muddled at high volumes, with tons of sounds competing for the limited driver area. But this is also a shortfall I've heard from $500 bookshelf speakers, too, so let's keep things in perspective. As far as I'm concerned, "Angel," "Adia," and "Hold On" sounded convincingly clear and enjoyable.

How it compared

The ZVOX 315 sounded truer to whatever source material I was playing than the Aspire Digital AD-1100 Plus ($399) that I wrote about not long ago. The bass was less boomy with the ZVOX, the midrange was more neutral, and the highs more transparent. It was not as enveloping in a surround-you-totally sense, however, even with virtual surround activated. But as I said at the outset, the 315 is not designed as a replacement for a surround system. Compared to my Sharp Aquos's internal speakers, the ZVOX is worlds apart. Gosh, how do I say in strong enough terms just how much better the sound was? OK, think of The Rock (ZVOX) going up against Pee Wee Herman (Sharp) in a wrestling match. It would be a massacre. The 315 played much louder, sounded much clearer, sounded bigger, and was more transparent than the speakers in my TV.

Is it a winner?

Oh, yeah.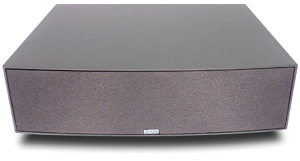 As a replacement for the internal speakers contained within my TV, the ZVOX 315 is what I'd prefer to listen to day in and day out. It played louder, had wider frequency response, produced deeper bass and more extended highs, and sounded fuller, more robust, and transparent in the midrange. It made TV watching much more enjoyable; perhaps that's its great achievement.
If you want surround sound in the wraparound-you-totally sense of the term, you still need a multi-speaker array. I'm afraid there's no free lunch. But if you want to get better sound than you have with just your TV, space is a premium, your budget won't stretch for a full surround-sound system, and you need tasteful aesthetics in your living room, the ZVOX 315 is the solution.
And as for ZVOX the company, if ingenuity is a reward unto itself, then they should be applauded. The 315 is one of the most genuinely clever products I've seen or heard in some time. I can't wait to see what the next ZVOX product offering is. Heck, imagine what they could do with two boxes. Sonic alchemy?
...Jeff Fritz
jeff@soundstage.com
ZVOX 315 Single-Box Powered Speaker System
Price: $199 USD.
Warranty: One year parts and labor for original purchaser.

ZVOX Audio, LLC
59 Thomas Rd.
Swampscott, MA 01907

E-mail: info@zvoxaudio.com
Website: www.zvoxaudio.com