August 2004
Lexicon RT-10 Universal Audio/Video Player
Multichannel Pick of the Month
Tchaikovsky Piano Concertos Nos.1 and 3
Russian Philharmonic Orchestra; Konstantin Scherbakov, piano; Dmitry Yablonsky, conductor
SACD, Naxos 6.110051; DVD-Audio, 5.110051

Naxos has given audiophiles a rare opportunity to listen to the same program material purpose-recorded for multichannel high-resolution playback in two different formats. The performance was recorded in Studio No.5 Kultura State TV and Radio Company in Moscow in March of 2003. The SACD version contains dedicated surround and two-channel tracks in DSD and a CD version, while the DVD-Audio disc also contains Dolby Digital and DTS versions along with the high-resolution tracks.
What's clear to me is that both the SACD and DVD-Audio versions are better than the Dolby Digital and DTS tracks -- no surprise there. But the differences between the two high-resolution versions are much closer. I actually find it quite laughable that some industry stalwarts claim to be able to enjoy one format while being driven from the room by the other. Is that intellectual honesty, or is there another agenda at work? Regardless, what's important here is that Naxos is brave enough to produce both versions along with lower-resolution tracks so that audiophiles can make up their own minds. As I noted while using the Lexicon RT-10, I found the SACD to have more high-frequency air, while the DVD-A version displayed superior immediacy and punch. Whether the music of Tchaikovsky floats your boat or not, these discs represent a great chance to make some meaningful comparisons. The really striking differences, though, are heard when you go from the two-channel recordings to the multichannel ones. Your walls will disappear around you in surround sound.
...Jeff Fritz
jeff@soundstage.com
Oddly enough, the universal audio/video player can be a tough sell to both audiophiles and home-theater enthusiasts. It's invariably pitted against players designed for minimal functionality, yet it's expected to keep pace in all individual performance categories. It's much like a receiver that's being compared to separates -- it does a lot more things all within its one chassis, but its worth is often determined by how well it functions in one specific area.
I am a proponent of the universal player and an owner of one as well, so I think it fair to point out that functionality and flexibility are the overriding selling points of such devices, not limiting the software choices of the end user being the most important feature. But it's not just software possibilities that expand. There are also system-configuration possibilities, making a universal player perhaps the most significant upgrade you can make.
Once you've determined that you want to incorporate a universal audio/video player into your system, a whole world of playback options will present themselves to you. The Lexicon RT-10 plays back DVD-Video, DVD-Audio, and DVD-RW/R. It also plays multichannel SACD, CD, CD-RW/R, Video CD, and SVCD. This means that when you enter a music/video store and shop for entertainment, you can be confident that your playback device has you covered. If your system is a traditional stereo arrangement, you'll be able to enjoy all of the formats above, though some of the content -- namely, that in multichannel -- won't be available to you.
However, the RT-10 allows you to morph your stereo system into one that's multichannel capable, which could mean as little as adding a powered subwoofer for 2.1-channel playback (two main channels plus the low-frequency-effects track on DVD-A, SACD, and DVD-V). You could also go to a full-blown 5.1 system with multiple amps and a video display. The latter configuration will let you optimize multichannel SACD and DVD-Audio, as well as concert performances on DVD-Video.
The RT-10 is a simple, attractive component. The sample I received featured a silver brushed-aluminum faceplate coupled to a hefty steel chassis. The player's compact dimensions (17 3/8"W x 12 1/4"D x 3 3/4"H) and moderate weight (17 pounds) impart a sense of solid engineering and honest manufacturing, squarely placing the RT-10 between overbuilt audio jewelry and mass-market componentry. The medium-size remote is constructed of a rubberized plastic material with large, intuitively placed buttons for major functions. Although not as extravagant as the remotes that come with equipment from Lexicon's sister brand Mark Levinson, it is easy to use.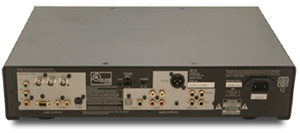 The connector array is just what you'd expect from a first-rate universal audio/video player. There are two sets of RCA outputs for the main left and right channels along with outputs for the surrounds, center, and subwoofer. The RT-10 does lack balanced XLR facilities for the audio outputs, however. Digital outputs include one AES/EBU (XLR), one coaxial (RCA), and one TosLink optical connection. The video-output array consists of two composite (RCA), one S-video, and two component-video connections (one RCA, the other BNC), and one 14-pin D connector.
Inside the RT-10 you'll find 12-bit/108MHz video DACs and 24-bit/96kHz audio DACs for each of six channels. The player does decode DSD in its native format, unlike some players on the market today. How audible converting DSD to PCM actually is is still debatable, but for me I'd rather have each format preserved as it was intended. The RT-10's progressive-scan video performance is enhanced by a 3:2 pull-down mode with Pioneer's Pure Cinema processing. The RT-10 also sports onboard Dolby Digital and DTS decoding so that it can be used with a multichannel preamp lacking such processing facilities.
The well-thought-out design of the RT-10 made the player a joy to use. The RT-10 is the antithesis of the glitchy first-generation players so prevalent just a few years ago. It's obvious that Lexicon delivered the RT-10 when they were satisfied with its performance and functionality.
The RT-10's menu system is almost an overlay of the one used for any number of universal players, including the highly regarded Esoteric DV-50. Most users will find the setup options more than accommodating, but there are exceptions. The first is a lack of bass-management facilities for DVD-Audio. Of course, this is only a limitation if you listen to DVD-Audio discs, but then this is a universal player, so it would be nice to have. The front left and right channels are also permanently fixed to Large programming, meaning that bass-challenged mains will have to reproduce a full-range signal. I don't imagine this will be problematic for most buyers of a $3500 source because they'll in all likelihood have larger, more substantial main speakers. It would be an issue for someone with a subwoofer/satellite system that relies on a subwoofer for all of the bass-reproduction duties. Lexicon has included the most useful owner's manual for any disc player I've seen. It's comprehensive, organized thoughtfully, and written in a clear manner so that you can get up and running quickly.
Setup was a snap. I used the multichannel outputs of the RT-10 for connection to either the Orpheus Laboratories Two or Audio Research MP1 multichannel preamps. Amplifiers were combinations of models from Coda Technologies, which were discussed last month, and speakers were five matched Paradigm Reference Studio 100 v.3s set up in an ITU-specified arrangement. Cables were from Nordost and Shunyata Research.
Although the setup menu resembles that of any number of players you might encounter at a variety of price points, the RT-10's sound surely doesn't. It's smooth and even-handed. Whether listening to SACDs or DVD-Audio discs, I was continually impressed by the RT-10's refined treble, taut bass, and clear midrange. It distances itself from lesser players that I've heard in its balance across the frequency range and, particularly, the lack of etch and grain in the upper registers.
A fine example of the midrange and high-frequency prowess could be heard on David Elias's multichannel SACD The Window [Sketti Sandwich Productions SSP 3162]. The integrity and honesty of Elias's vocals shone through clearly over the RT-10, with no masking of individual elements within the mix or congestion of sounds. This recording was done with little (or no) compression and no hokey processing. A player, or system for that matter, that excels in the sound-effects arena but not with the subtleties of music would have a hard time preserving the musical presentation of this disc. The RT-10 successfully navigated the tiny details on this recording and made it sound live in my room. That is the true joy of multichannel audio.
Another excellent multichannel recording that I've been listening to often is Tchaikovsky Piano Concertos Nos.1 and 3 (Russian Philharmonic Orchestra; Konstantin Scherbakov, piano; Dmitry Yablonsky, conductor) on both SACD [Naxos 6.110051] and DVD-Audio [Naxos 5.110051]. Naxos has given us an excellent opportunity to compare and contrast the two formats with the same program material. Through the RT-10 I could hear a touch more high-frequency air with the SACD, while the DVD-A countered with superior immediacy and punch. Declaring the winner would be difficult at best, but there were noticeable differences between the two formats as heard through the RT-10, clearly highlighting the player's ability to reproduce nuance and detail.
The Dark Side of the Moon SACD [Capitol CDP 7243 82136 2 1] played back through the RT-10 amply demonstrated the player's ability to create a seamless three-dimensional soundstage. Pans around the room transitioned from speaker to speaker in a consistent, free-flowing manner. Higher volume levels never produced any fatiguing or stressful sounds, and the punch and dynamic realism of Pink Floyd were preserved. If I had to pick nits, the bass could have dug a bit deeper, but this is a minor criticism considering all the RT-10 does superbly.
No fewer than three SoundStage! Network writers own the Esoteric DV-50. It was one of last year's success stories. It was also a Reviewers' Choice and is still the standard I use to judge other universal audio/video players. At $5500, the DV-50 does cost a chunk more that the RT-10, but you do get more for that money. The Esoteric is built more substantially than the RT-10, inside and out, as evidenced by its 45-pound weight. It is a fully balanced design that offers balanced stereo outputs as well as adjustable filter options for upsampling of the digital signal. The menu system and overall functionality are, however, a virtual wash between the RT-10 and DV-50.
In terms of multichannel playback, the two players sound essentially identical. Try as I might I just could not hear much difference between the Lexicon and Esoteric using both players' multichannel outputs. A finely nuanced recording like Yolanda Kondonassis' The Romantic Harp [Telarc SACD-60581] sounded, well, finely nuanced over both players. The outcome changed on two-channel playback, however. The DV-50 was substantially more dimensional playing either CD or stereo SACD, especially when its XLR outputs were called into action. The soundstage it produced was more palpable and focused as well. If you're a surround-music and home-theater fanatic, this may mean little to you, but the differences in two-channel mode were actually more dramatic than I would have predicted.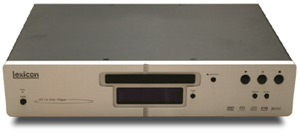 The Lexicon RT-10 is a universal audio/video player that should find almost, um, universal acceptance amongst multichannel enthusiasts. Its performance -- whether playing back multichannel SACDs or DVD-Audio discs -- virtually matched the higher-priced Esoteric DV-50, which costs a not inconsequential $2000 more. Its few limitations, regarding bass management and perhaps the lack of balanced audio outputs, are marginal issues when taking into account its functionality, compatibility with virtually everything out there, and excellent performance across the board. You're also getting a truly finished product from a company with a rich tradition in multichannel digital playback. The Lexicon RT-10 is good value for money when all of these factors are weighed. I surely wouldn't hesitate to buy it if I were in the market.
...Jeff Fritz
jeff@soundstage.com
Lexicon RT-10 Universal Audio/Video Player
Price: $3500 USD.
Warranty: One year parts and labor.

Lexicon
3 Oak Park Drive
Bedford, MA 01730 U.S.A.
Phone: (781) 280-0300
Fax: (781) 280-0490

Website: www.lexicon.com