July 2004
Four-Channel Surround Sound with the Coda Technologies v10, S12, S100 Amplifiers
Multichannel Pick of the Month
SACD: The Ultimate Audio Experience -- The Classics Sampler
Deutsche Grammophon 474 964-2
The pick this month is a fabulous collection of Deutsche Grammophon, Philips, and Decca recordings presented in various surround-sound configurations. Works from Mahler, Beethoven, Puccini, Bellini, Mussorgsky, Chopin, Wagner, Donizetti, Gasparini, and Messiaen are performed by some of the world's most accomplished musicians. All of the tracks are in surround -- though the various channel configurations will keep you guessing what's next.
The Classics Sampler is instructive because it does give the listener insight into his or her own listening preferences; you'll have ample opportunity to sample a number of perspectives and recording decisions. The 4.0/4.1 tracks omit any center-channel sound, for instance. Instead, these offer an expansive front soundstage that the best stereo recordings possess, along with the added ambience of naturally used surrounds. In light of this month's column, I think you'll enjoy the comparison with the 5.0/5.1 selections. The 5.0 tracks will test the bass response of your main speakers as the low frequencies aren't given their own .1 channel. Best of all, though, is the relative fidelity of the disc -- the sound is simply fantastic. You'll not hear overdone surrounds, lumpy bass, or corny surround effects. SACD: The Ultimate Audio Experience -- The Classics Sampler is demonstration-quality material that you'll also enjoy listening to.
...Jeff Fritz
jeff@soundstage.com
The most realistic multichannel-music demonstrations I've heard have not been with recordings reproduced in the standard 5.1-channel configuration. The ones that have come closest to reproducing the real musical event for me have been derivations whereby symmetrical speaker arrays were placed on the left and right of the listener. MDG's 2+2+2 configuration, which I first heard in Frankfurt Germany while covering High End 2003, is a prime example. This setup places two height-information speakers high above the left and right stereo pair for a far more enveloping sense of space than I've heard with 5.1. The best multichannel recordings I've experienced in my home were recorded by Peter McGrath of Wilson Audio Specialties, who has been faithfully recording in four channels for well over ten years. His symphonic recordings -- with their lack of any compression or processing -- will melt your walls. I've also been impressed with David Chesky's 6.0, in which a pair of speakers are placed at 55 degrees, but are raised above the plane of the front stereo pair to augment height information. It works brilliantly.
There are so many surround-sound possibilities out there that they beg the question: Had the original standard for surround music been different, would multichannel audio be more popular than it is today? Quite possibly.
Here's one explanation: Audiophiles, by their nature, are perfectionists. We go to great lengths to set up our stereos correctly so that the original recording is played back as faithfully as possible. An ITU-standardized system configures five identical speakers around the room in a tight arc. My system, featuring five Paradigm Studio 100 v.3 floorstanding loudspeakers, is configured in this way. It's the only proper method to audition music designed for such playback -- and most of what's available today is recorded for such a system.
But there is one important fact that someone somewhere ignored: In the real world, when someone embraces surround sound, that person wants to be able to watch movies using a surround-sound system. Duh! In most instances the full-range center speaker and the video monitor just can't inhabit the same space. Hence, most audiophiles, not being able to configure an ITU-style setup, and therefore not being able to hear recordings as the engineer intended, just don't bother with surround at all. There are other factors involved in the lack of multichannel's mass acceptance by audiophiles, but I'd bet that the snafu I've described is one of the biggest.
I was pondering this very subject as I loaded a new SACD sampler -- one that I received in Munich while covering High End 2004 -- into my Esoteric DV-50 universal audio/video player. Pulling out the insert I looked over the selections of Deutsche Grammophon, Philips, and Decca recordings to see if there were any details on the surround configurations used. The 14 tracks were broken down like this: four were in 5.1, four in 5.0, four in 4.1 and two in 4.0. Pretty surprising? To me it was. The bottom line here is that even today surround music can mean many different configurations -- although we live in a decidedly 5.1-channel world.
What a perfect time to revisit four-channel surround sound here in "Surrounded." And while I was at it, the software lent itself to a comparison tailor-made for such a setup.
Enter Coda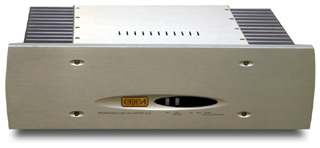 Coda S12
Coda Technologies is a Sacramento California-based electronics manufacturer formed many years ago by a team of ex-Threshold engineers. I've had great experience with Coda amplifiers and preamps over the years and had a nice assortment of the company's newest amplification offerings on hand for audition: the v10 ($3450 USD and recently replaced by the v12) four-channel unit that was reviewed very favorably on Home Theater & Sound, along with the newer S-series stereo amplifiers: the flagship S100 ($8950 in standard configuration) and its smaller derivative, the S12 ($3950). The exercise I conducted was simple. Using high-resolution four-channel recordings on SACD, I set out to determine what was to be gained by going from Coda's under-$3500 v10 to the $13,000 combination of the S100 and S12.
Family resemblance
The v10 is a compact solid-state amplifier (19"W x 5 3/4"H x 12 1/2"D and 50 pounds) that uses a 1000VA transformer and 80,000 microfarads of capacitance. Eight bipolar output devices, each rated at 200V and 15A, make up the output stage for each 100W channel. Coda says that the v10 will produce 8W of class-A power before reverting to class-AB operation. Single-ended inputs and gold-plated binding posts are standard features. Why a four-channel amp? Coda states that the v10 was originally designed to be paired with one of its stereo amps when configuring a 6.1 system (or 5.1 with a passive subwoofer). It's also perfect if you just want to add surrounds to a stereo setup while maintaining only one amplifier in your system.
The S100 is not simply a larger two-channel version of the same circuit design used in the v10. It is a wholly different animal. A stereo unit, the S100 is divided into two chassis. One box, the current amplifier (S100i), is a 115-pound, 19"W x 8"H x 19"D power supply/output stage containing two 2000VA transformers, 200,000 microfarads of capacitance, and 112 50MHz 8A output devices. The other chassis (S100v), about the dimension of a small preamplifier (19"W x 2 1/8"H x 9 3/4"D), contains the front-end voltage stage. The two units are connected via a pair of balanced XLR cables. The S100, according to Coda, produces 100W of class-A power.
The 125Wpc S12 is dimensionally identical to the v10, but its circuit design is simply a scaled-down version of the S100. Inside the S12 you'll find a 1500VA transformer and 144,000 microfarads of capacitance along with 60 of the wide-bandwidth output devices used in the S100. Its specifications differ from those of the S100 in that it can't deliver the massive amounts of current into low-impedance loads (although it is still rated to output 500W into 2 ohms) and its class-A rating extends only up to 25W, after which it switches to class AB.
Common to all Coda Technologies' amplifiers is a fully anodized aluminum chassis, gold-plate-over-nickel circuit boards, and Cardas binding posts. Coda has also recently adopted a laser-engraved chassis-lettering process, which replaces the more common silk screening (whose characters are prone to wear off over time). The overall build quality of each amplifier is quite high -- a couple of notches above what the company was producing just a few years ago.
Sibling rivalry
In the aforementioned Home Theater & Sound review, Anthony Di Marco found that the v10 possessed "speed, harmonic richness, and impressive detail," but it did not "roll off high frequencies or compress dynamics in an attempt to add warmth to the sound." He also found that the v10 "infused images with weight, presence, and an uncanny realism."
My findings were similar, though the v10 did not deliver quite the last word in low-end weight and drive when powering four full-range Paradigms in my large room. And although there was fine detail and nuance on Renée Fleming's version of Bellini's "Ah! Noncredea mirati" (Orchestra of St. Luke's; Patrick Summers, conductor) (SACD: The Ultimate Audio Experience -- The Classics Sampler [Deutsche Grammophon 474 964-2]), the upper range of her vocals could sound a bit spot-lit at times. These criticisms, however, demand some perspective. When taking into account the v10's price, which translates to $1725 per stereo pair of channels, the shortcomings are quite minor, and with some software -- such as any number of Dolby Digital and DTS concert recordings on DVD-Video that I auditioned -- essentially unnoticeable.
But with very good recordings the above shortcomings were noticeable, especially when the v10 was compared to its dearer siblings. I'd like to tell you that I had a hard time hearing the sonic differences when I switched over to the S100/S12 combo, but I can't (the S100 powered the front channels, the S12 the rears). The sound was instantaneously better through all four channels. The vocals on the Renée Fleming cut poured forth from the speakers with an ease that the v10 just could not match. Fleming's entire vocal range sounded natural and balanced; the highly nuanced recording was reproduced with tremendous clarity and finesse. The spotlighting was completely gone. There was also a dynamic expressiveness that was easy to become addicted to; it was an unrestrained quality that, even at low levels, just wasn't there with the v10.
As I listened to The Classics Sampler more, and sound-pressure levels became more robust due to my liberal hand on the volume control of my Orpheus Two, the gap between the S100/S12 and the v10 only widened. The dynamic expressiveness of the S-series components was even more apparent while listening to Vladimir Ashkenazy's piano (Chopin: Waltz op. 64/3) at levels meant to approximate realistic scale. Going back to the v10 and listening to the same track it was easy to hear some slight but apparent restriction of the piano's realistically rendered scale. This was not as noticeable at lower levels, but then for a piano to sound realistic in your room low levels aren't really acceptable.
At the end of the day it was obvious that the S100 and S12 were significantly better amplifiers than the v10. They were more dynamic, more natural across the whole frequency range, plus they sounded even more powerful, although their power ratings do not suggest the sonic differences I heard. As well, the slight initial concern I had about the sonic disparity of using two different stereo amplifiers in a matched system was completely unfounded. At no time did my system sound as if it were being powered by anything other than the exact same amplifier all around.
Reconciling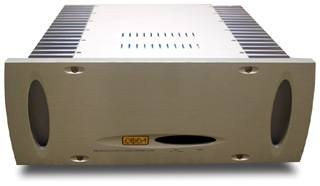 Coda S100i current amplifier
Some of my conclusions are, admittedly, quite predictable. The combination of the Coda Technologies S100 and S12 was hands-down better than the same company's v10. The differences were obviously apparent when listening to excellent source material -- notably high-resolution multichannel SACD. No real news there.
But are there other conclusions to draw from such an experiment? Sure. It is important to remember that not all multichannel recordings are created equal; various channel configurations exist, along with differences in apparent resolution between recordings. And these variables -- when explored in a comparison such as the one I conducted -- could very well have an impact on your equipment-buying decisions and your opinion of surround music in general.
The upshot is that if you want to hear what multichannel music is really capable of, better equipment and great recordings -- along with proper set up -- deliver the goods. The better Coda amplifiers delivered a better musical experience than the v10 alone, especially when reproducing truly high-resolution recordings.
For all of you died-in-the-wool two-channel audiophiles this might be the impetus for a second look at surround: first-class electronics implemented in, perhaps, something other than a 5.1 arrangement. It may just push all the right buttons.
...Jeff Fritz
jeff@soundstage.com
Coda Technologies v10, S12, and S100 Amplifiers
Prices: $3450, $3950 and $8950 USD, respectively.
Warranty: Ten years parts and labor.

Coda Technologies
8274 Mediterranean Avenue
Sacramento, California 95826
Phone: (916) 383-3653
Fax: (916) 386-8296

Website: www.coda-continuum.com
E-mail: info@coda-continuum.com