Esoteric
All prices in US dollars unless otherwise noted.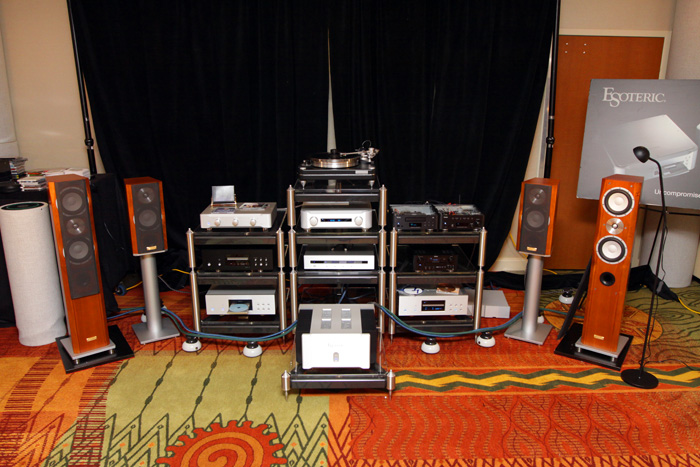 Getting good sound at an audio show can be difficult, as any company that's ever tried it knows well. Part of the correct equation is sizing the system, particulary the speakers, properly to the hotel room. Place a huge speaker in a small room and you're headed for trouble. Likewise, put a small speaker in a huge room and it's not likely to work well either. Instead, companies should use what's appropriate.
Esoteric seemed to get everything just right with a setup based on their rather compact MG-20 floorstanding loudspeakers ($7800 per pair), which, in an appropriate room like this one, can sound incredible. The electronics were all from Esoteric, of course: the X01D2 SACD/CD player ($16,500) as a source along with a C-03 preamplifier ($10,000) and A-03 power amplifier ($12,000) downstream. Esoteric's Mexcel cables rounded out the system.
The music reproduced by the Esoteric system was rich and full, but it didn't excite the room in any unpleasant ways. Low-level detail was excellent, and the way the system recreated human voice was outstanding. When we were there they were playing Willie Nelson's Stardust -- rarely have we heard his voice reproduced with that kind of authenticity. Esoteric proved that if you choose components carefully, you can still get excellent sound, even in hotel rooms.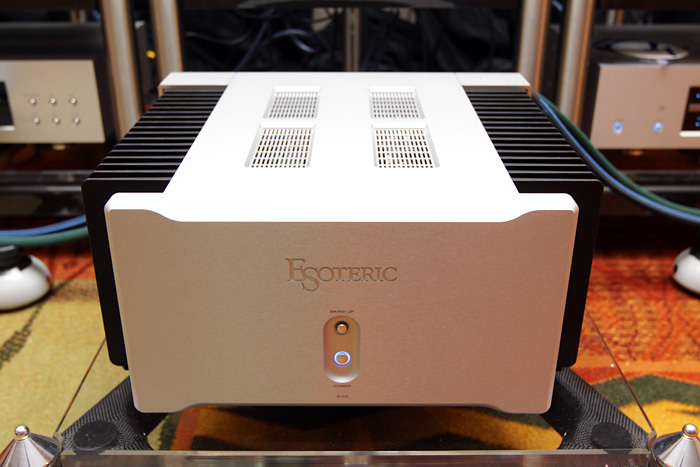 The A-03 power amplifier, at least partially responsible for what we heard, is a class-A design that will reportedly produce 50Wpc into an 8-ohm load and double that into 4 ohms. In the design brief on the A-03, Esoteric cites a rigid mechanical structure; high-quality parts; and a high-speed, wide-bandwidth circuit design as being responsible for its outstanding performance.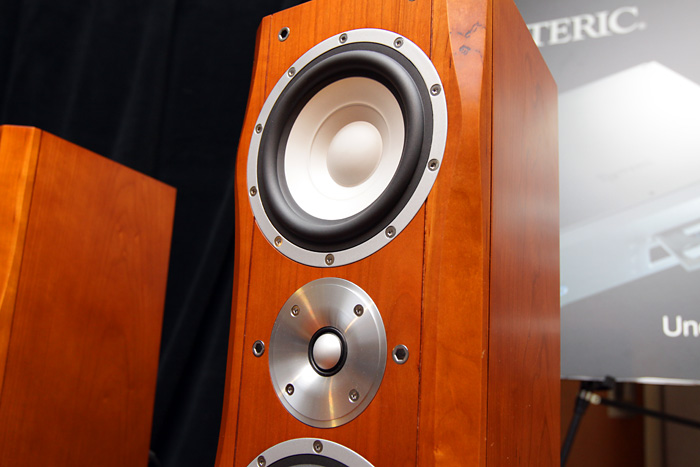 The two-way, three-driver MG-20s feature magnesium drivers in a slim-line, ported cabinet. Frequency response is stated to be 38Hz to 44kHz and the sensitivity is pegged at 89dB (2.83V at 1m). The gorgeous veneer that you see is American cherrywood, which is expertly applied over the MG-20's birch plywood enclosure. [esoteric.teac.com]