May 1998

On a Safari in America's Heartland

I needed a vacation, and more vinyl. Don't we all? But how could I have known something so ironic was about to happen. It all seemed so perfectly normal. There was nothing unusual in the air, no abnormal weather or pressures to be noted. There was no telling scent of ionized air. No dogs howling at the moon or scratching 'round my door. No raven perched upon any bust above my chamber door. No Stygian witches stirring steaming cauldrons. There wasn't even as much as the hint of a ritual involving slaughtered fowl. But it was there, that au courant feeling at the nape of my neck. Then, out of the quiet calm of what was shaping up to be a serene and peaceful evening, it struck.

Like a pistol shot, the shrill digital voice of my cordless phone broke my train of thought. The voice on the other end of the line turned out to belong to both one of my closest friends and most serious of converts, the Mick-Meister. He was phoning from the Chicago area and had but one heartfelt agenda. He made it clear that he would verbally twist my arm and abuse me until such time I gave up defending my tenuous position and agreed to come visit him in Rockford, Illinois. Jeez, if he only knew that I had been racking my brains to devise such a justification as the one that he was now providing to me on a platter. I do love it when a plan comes together.

This was going to be fun. Besides the joy of visiting a close friend whom I see all too rarely, I had just recently purchased a used Honda Accord. Being the audio addict that I am, I had outfitted it with a fairly decent sound system consisting of a Clarion CD head unit, a pair of Eclipse point-source speakers and a Precision Power A 600 amp. The pièce de résistance came with the installation of a pair of 12-inch subs, loaded in an extremely fast and tight push/pull isobaric configuration. None of that one-note bass for this music lover. I always say there is nothing like a good road trip to run in new equipment. So after tossing some necessities, like my Clayton S-40 amplifier and turntable tune-up kit, into my new trusty Gold steed, I departed rural southern Maryland. Just fifty miles shy of 1000 and fourteen-and-a-half hours later I arrived at my destination, the home of my gracious host in Rockford.

On the drive I had given much thought to the visit. I always loved going to see the Mick-Meister, and in fact I hadn't seen him in nearly two years. But there was an added bonus to visiting him here in America's heartland: Rockford is home to one of the most incredible places to shop for pre-owned vinyl I've ever run across.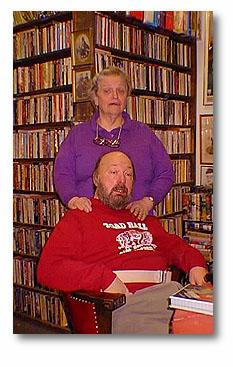 There is something of an underground institution in Rockford, which acquired its name from the children's book by Kenneth Graham The Wind and the Willows. Toad Hall is a wonderful repository of books, comics, games, prints, old toys, memorabilia of all kinds, posters and most importantly, to me at least, records. The unique facility is run by two engaging and very knowledgeable collectors, Beverly and Larry Mason. Beverly describes The Wind and the Willows, the book from which the business name was liberated, as "a philosophical work for ages 8 to 80 filled with amazing illustrations by such great artists as Arthur Rackham and E.H. Shepard "—who also illustrated Winnie the Pooh. Larry, who suffered a stroke recently, still loves to play chess and visit with his customers while Bev greets callers on the phone and does the store paperwork.
Talk about ironic circumstance, get this: Bev and Larry met in a used bookstore in Rockford in 1961 and had both been collectors from age eight. Bev, with a degree in the arts, was a collector of books while Larry, a humanities graduate, collected records. They were married in 1970, and given their history, it was inevitable that they would open a shop for collectors. Originally they planned to specialize in children's books and comics, but found their way into all sorts of wonderful goodies as the business grew.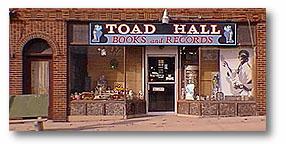 Upon arriving at Toad Hall on Broadway at the corner of 17th Street, you first realize that you've come someplace special. It just has that LOOK. You know what I mean—that air of friendly, comforting welcome like you used to get when going to visit Grandma's house Sunday afternoons after church when you were a child. Entering merely confirms that the impression was correct. There is that alluring fragrance of time-aged paper and books, that lovely bouquet that means old treasures are lurking near.
The magic of Toad Hall is spread over a small campus comprised of one major and two minor buildings. The main building is just that—the hub. The second building is actually Bev and Larry's house, which is just up 17th Street from the main storefront. The final edifice, the Annex, is across Broadway diagonally to the right of the main building. The three buildings together house one of the largest collections of vinyl I've ever run across in one place. Opened in 1972 after years of the Masons trying to deal their wares out of their home, "The Hall" houses over 100,000 LPs, thousands of live radio transcriptions and 45s and over 100,000 78s. Larry says that the 78s are a large part of their business and explains that his personal affinity lies with those 78s dating from 1923 to 1935.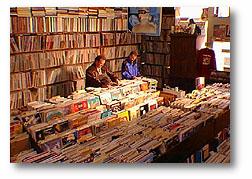 The store is really just a large converted house. It is a multi-level labyrinth of room after room filled with glorious goodies from days gone by. Among the many rooms on the main floor of the store is one large room off to the left of the cash register that houses rock and roll arranged by artist in bins and on shelves—seemingly endless shelves. At the rear of this room is yet another filled literally to the ceiling with more classic rock, this time organized by only type or style.
Climbing the narrow and poster-appointed staircase leads to the second floor and reveals more jazz, blues and classical records. And books. The second floor is a trove of books. This is a twisting, turning maze of rooms. But be sure to blaze a trail into them all, you just can't imagine what you might miss if you don't take the time to poke around in each and every one.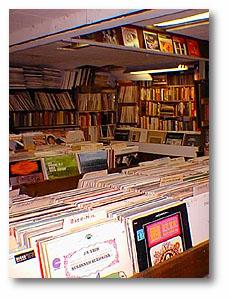 Finding your way downstairs is like stepping into a gothic horror film. Narrow and dimly lit stairs descend again into that fragrance of antiquity, yielding yet another hoard of vintage records and magazines. Wow! I found both a 1966 London ffrr AND a 1977 Deutsche Grammophon copy of Beethoven's Ninth Symphony down there. The lighting is provided by a rag-tag assemblage of fluorescent tubes, bare incandescent bulbs and mechanic's drag lights. Talk about atmosphere. Treasure after treasure revealed itself as I dug and poked and prodded around the countless 12-inch pies. It couldn't get any better than this.
The Mason home, just behind the main building, is a real treat. Upon entering you meet the family dog and witness all manner of memorabilia stacked everywhere; on sideboards, tables, cupboards, even the chairs and sofas. This is my favorite building of the bunch as this is where most of the audiophile records are kept. Strewn everywhere are loads of juicy vinyl treats. In what seems to also double as a dining room, one finds all the half-speed masters from the likes of Mobile Fidelity, Nautilus and CBS, as well as other labels like Sheffield. I was beside myself, the proverbial kid in a candy store. Here I found several sealed MoFis, a handful of CBS Masters and plenty of fresh Sheffield and Nautilus pressings. I acquired MoFis of Alan Parsons (sealed), Fleetwood Mac, Genesis and Sir George Solti. I snagged CBS half-speeds from Al DiMeola, Kansas and Jeff Beck. Two Sheffield classical titles in particular were jumping up and down and shouting at the top of their lungs, "Greg, take us with you. Liberate us. Play us on a Linn." How could I refuse the cute, cuddly little guys?
Traversing the worn and narrow steps to the basement of the house reveals shelf after shelf of old RCAs, Mercurys, Deccas, Londons and other such valuable goodies. Nothing but bare-bulb light fixtures and hanging drag lights illuminate this album-littered repository. In this near-medieval landscape I discovered a nearly pristine original RCA Shaded Dog of Saint-Sans Third Symphony, the long-sought-after and fairly hard to find Respighi's Ancient Dances and Airs for Lute and Mozart's Eine Kleine Nachtmusic, both on Mercury.
The annex, which finishes off "The Hall Campus" has more classical, again arranged by label, and more blues by artist. This stuff seems to be just overflow for the rest of the complex. But I was able to pick up some absolute jewels there. I found an original Chess pressing of Muddy Waters Fathers and Sons, an RCA shaded dog of Gershwin's Rhapsody in Blue/An American in Paris (you know, the one on the HP Super Disc list) and an RCA of The Reiner Sound, another cherished old shaded dog.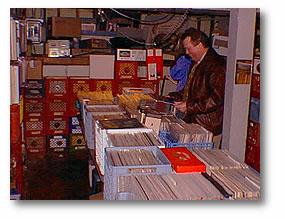 If you love records, you simply must visit this institution anytime you get to the area. There is just so much good stuff to go through. Hey, plan ahead and make a trip of it like I did. Give yourself at least a day there. Trust me, you'll need that long just to see everything there, let alone find what you are looking for. But I've saved the best for last, the pricing. Larry and Bev aren't into Goldmine price guides. They know what they have and what it is worth, but they have the most realistic pricing I've seen from a retail business. Just as an example, I picked up that Gershwin shaded dog I mentioned above for eight bucks and the sealed MoFis for twenty. Go figure. And if your will power is as weak as mine and you discover that you've come up with a couple dozen or so albums, expect a healthy discount for volume.
The Hall is open noon to 8:00 PM Sunday through Thursday and 10:00 AM to 8:00 PM Friday and Saturday. Right now, they are closed on Tuesdays. You can phone them at (815) 226-1259 or fax your wish list to (815) 226-9887. The Hall has satisfied customers from places like Belgium, Norway, France, Australia, Chezeslovoka, Austria, and now southern Maryland. At this point, Toad Hall isn't computerized, nor do the Masons offer a mailing list. But you'll find that an earnest young man (are you reading this Jeff?) who works for the Masons willing and able to track down your requests. Toad Hall is made up of great people, great selection, and great pricing. Give 'em a call.
As for the rest of the trip, I hit every vinyl emporium I could find on the way home. I found a half-decent place called Orbit Music in the Town and Country Shopping Center in South Bend, Indiana and relieved them of a few precious morsels. I arrived back in southern Maryland with 44 new trophies.
And do you remember last month when I talked about going into Goodwill stores and other thrift shops? Well, Rockford's Goodwill coughed up an absolute gem for me. I picked up a 1977 Luxman R-1050 stereo receiver in nearly perfect condition for a whopping twenty bucks. My office system has never sounded so good. Happy hunting.
...Greg Weaver
gregw@soundstage.com