January 2000

Of Red Giants, White Dwarfs, and Half-Speed Masters

It was with much discomfort that I read the e-mail from our editor Marc Mickelson. In it he detailed a message he had received from Karen Thomas of Mobile Fidelity Sound Labs on the closing of the company's doors after 22 glorious years of music-making. They had become a fixture and a good friend to this analog fan. Reading the notice was like reading the obituary of a family member. I was overwhelmed with both a feeling of remorse and a sense of deep personal loss.

While Mobile Fidelity Sound Labs, referred to as simply MoFi by most, may have had humble beginnings back in 1977, they were soon to be gallantly blazing new trails. Two audiophiles, Brad Miller and Gary Giorgi, strode boldly into the office of Herb Belkin, executive vice president of ABC records, one afternoon and asked if he would sell them the rights to ANY one of ABC's best-selling albums. Brad had garnered some attention with his stunningly dynamic recordings of locomotives, and the two decided to take the next step. Well, thinking them loony at best, Belkin agreed. The rest is history.

As the first record-pressing house to offer commercially available half-speed-mastered LPs of popular music, MoFi set the stage for what was to come. And at $10 a pop, nearly twice the price of a regular record in the late '70s, MoFi had some chutzpah, too. They built the integrity of their now-famous label by acquiring ONLY original master tapes. By this I mean they used only the first generation of tapes from the recording session -- not second- or third- (or often even worse) generation copies -- for their work, ensuring the best possible source material from which to perform their sonic alchemy.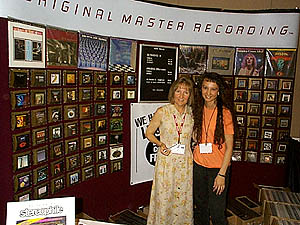 MoFi employees Karen Thomas and
Jane Kneer at Hi-Fi '98

So just what does half-speed mastering mean? In overly simplified form, the master tape is played back at precisely half its recorded speed while the cutting lathe is similarly turned at precisely half the desired playback speed. Why? This time-shifting process gives the cutting head twice the time to cut its musically complex and physically demanding analog groove into the lacquer. This luxury affords considerably more accuracy with matters such as frequency extremes and microdynamic contrasts.
The final product was pressed to a special, thick (180-gram) blend of virgin vinyl that JVC trademarked as SuperVinyl. The result, especially when taken in union with MoFi's meticulous re-mastering of the original tapes, yielded a truly wonderful sonic presentation. Audiophiles of my era sought the records out at every opportunity. They were very often the first records we played when showing off our systems to envious audio buddies. More often than I care to recall, I fired up my humble system with the pressing of Pink Floyd's Dark Side of the Moon, only to rattle window and door frames with the famous opening chicken heart. To this day, when I go shopping with audio buddies at used-record emporiums, we elbow each other out of the way to get first crack at the all-too-lean MoFi offerings.
In the early days, MoFi executed their tape transfers to lacquer with a Neuman VMS 70 cutting lathe, driven by a JVC quartz-locked direct-drive motor and cut with a Neuman SX 74 cutting head. A specially modified Neuman SAL 74 amp (with no input transformers) fed the cutting head from a Scully SP-14 tape transport fitted with Saki glass ferrite heads. Once this superior master had been cut and the mother stamper made, they then used some of the quietest, most pure vinyl that could be manufactured, guaranteeing that the disc you got was as quiet as any that could be pressed -- as well as being of impeccable sonic quality.
They even listed their playback equipment. To sample their own wares for final production quality, they were using Denon and Revox turntables mounted with a Fidelity Research 64S (with the B60 elevator/stabilizer) 'arm and fitted with a Fidelity Research FR 1 Mk 3F cartridge. Preamps were the Mark Levinson ML-1 (with the D-6 card), the Audio Research SP-6 or the DB Systems 1a. One of these esteemed preamps would then feed an Audio Research D-110, a DB Systems 6m or the near-legendary Threshold CAS-1 amplifier. Does anyone out there remember the celebrated Beveridge Model 2? Or even the B&W D-7? They also dug deep with the use of a pair of RH Labs subs.
Many companies, seeing the success MoFi was enjoying with the audiophile market, jumped on the bandwagon. Nautilus, another small specialty-pressing company, was the most successful of the wannabes to my ear and grew to some significant success. But eventually even major labels like CBS, Columbia and Epic got into the act. Selling product for nearly twice the price of a regular LP back then was a gutsy thing to try. How in the world could they justify such insanity?
All you had to do in those days, if you had a really good system, was cue one up and listen to understand. I don't remember if the first one I heard was Supertramp's breathtaking Crime of the Century or Fleetwood Mac's dazzling debut album (after the merger with Buckingham/Nicks) Fleetwood Mac, but I was an instant believer. Cymbals sounded bronzier. Voices were more lifelike and emotive -- and easier to understand. Bass was faster, deeper and more defined, offering better pitch definition and clarity. Micro and macrodynamics were more effortless. The quietness between tracks, or especially during the quieter passages in the music, was really quiet. These all had the effect of an overall increase in clarity and realism that couldn't be denied.
I will admit now to snapping up copies that friends had bought and, because their playback system wasn't up to the challenge, wanted to sell. I would gladly help them recoup their "wasted" cash because they didn't notice the difference -- usually at half price and all as new for the most part. This original series of recordings came to realize nearly 280 popular and 30 classical titles along with three boxed sets. Checking my collection recently revealed over 50 of these MoFi LPs alone. Some of the more exceptional examples in my opinion are John Klemmer's Touch [MFSL 006], Kim Carnes Mistaken Identity [MFSL 073], Alan Parsons I, Robot [MFSL 084], Donald Fagen's The Nightfly [MFSL 120], Pink Floyd's Dark Side of the Moon [MFSL 117], Poco's Legend [MFSL 020], John Mayall's Bluesbreakers featuring Eric Clapton [MFSL 183], Steely Dan's Katy Lied [MFSL 007] and Aja [MFSL 033], Supertramp's Crime of the Century [MFSL 005] and Breakfast In America [MFSL 045], Genesis' Trick of the Tail [MFSL 062] and Jethro Tull's Thick As A Brick [MFSL 187].
It should be mentioned that MoFi released a catalog of over 90 prerecorded cassette tapes manufactured to similarly stringent standards. But I didn't care much for the problems one could encounter using prerecorded tapes. Dolby noise reduction could vary significantly, especially when moving from one brand of machine to another. A tape made on a high-end HK deck then transferred to a Nak for playback, or vice versa, could and usually did travel poorly. I, like most other burgeoning audiophiles of the era, stuck to records and made my own tapes on my own equipment -- with exceptional results.
In 1982 came the first of the simply stunning UHQR series. They were pressed on thicker (200-gram) and supposedly even better vinyl than the regular 180-gram Super Vinyl series. Each press run was limited to maximum of 5000, further assuring high quality by not overworking any of the stampers. The packaging was scary -- a sleeve and its literature packaged with foam inside a separate box. Now this was unique! This series was to be 20 titles strong, but it was limited to just eight recordings, all duplicated from the original MFSL catalog. To this day, these are among the quietest, most dynamic records I've ever played.
Of the ones I've heard, three titles stand out as absolute showstoppers. Supertramp's Crime Of The Century [MFQR 005], Alan Parson's I, Robot [MFQR 084] and Cat Stevens' Tea for the Tillerman [MFQR 035] are all exceptional examples of what kind of sonic heights can be attained by the "lowly" long-playing 12" record. And all are VERY PRICEY today -- if you can get someone to part with one. I consider myself lucky to have only paid $125 for my still-sealed UHQR copy of I, Robot!
By 1983 MoFi had grown into a company with over 25 employees and grossing over $8 million annually. Then they nearly lost it all. The new darling on the scene was the compact disc. Because MoFi had been putting something on the order of 20% of their earnings back into research, they were prepared for the next wave. In the mid '80s, they launched their assault on the CD market with their half-speed wares.
Their first efforts were released on aluminum discs, very much like all other discs at the time. And, in fact, some of these have become quite rare. I recently saw a copy of one of the first ones I owned, Procol Harum's Broken Barricades [MFCD 846], go for $125 on e-Bay. Partly, in my opinion, in an effort to justify the higher price they needed to charge, MoFi began to release their works on gold-plated compact discs called UltraDiscs. Although gold in and of itself isn't significantly better than aluminum for the reproduction of ones and zeros, it oxidizes roughly ten times more slowly than aluminum. It is also supposed to coat more evenly than aluminum. This last attribute is said to cut down on the pin-holing so common to aluminum CDs, which allows for less error-correction during playback. This means more of the actual recording and less processor interpolation gets to your ears. So there was some inherent advantage to the gold treatment. But MoFi's first gold CDs sold for $27 -- nearly twice the price of the average disc. When they closed their doors last month, the CD catalog contained nearly 225 titles in both aluminum and gold. Once again, as with the LPs, all one had to do was listen.
Just take a look at our music reviews, including Greg Smith's Golden Zone series, detailing MoFi gold discs to see how the Gold CDs stacked up to the regular releases. While some of the credit goes to the gold and the GAIN (and later GAIN 2) mastering process, the biggest contribution to their superiority, in my mind, was the fact that MoFi relentlessly searched out the original tapes rather than using copies of copies, and then diligently remastered the works under the watchful hands of some of the best to ever sit at a mastering console.
Many have complained at some of the choices of titles to remaster, but you have to remember how MoFi made their selections. The selected titles that had been released to wide commercial success. And why not? In order to be sure they could sell through what may seem like a fairly small pressing run of 5000 comparatively high-priced specialty LPs -- and to a very select target market I might add -- it just made good sense to select titles with great sales records. The only possible flaw with this methodology is that audiophiles are, well, a finicky breed. Just because something like, say, Geno Vannelli's Powerful People sold well to the masses didn't necessarily mean that it would translate to strong sales among the audiophile crowd. I, for one, couldn't care less about MoFi's selection method -- other than to say there are a few titles I'm sorry they missed. I bought plenty, and I am still snatching them up today when I see a good title in good shape offered at a reasonable price. You never know when you might need a special gift for an audiophile buddy!
Over the years, one thing became more and more evident: these folks were proud of what they were doing -- something that was becoming increasingly more and more rare at the end of the '70s and early '80s. These records were labors of love, not merely the product of someone's nine-to-five efforts. Playing them was a treat, as it is to this day. For the most part, MoFi's offerings are so much more alive and vibrant than even the original pressings of the same title that they often raise the old goose flesh.
Though gone, Mobil Fidelity and their legacy will not be soon forgotten. It pains me to think that the used dealers have already begun to adjust their prices to reflect the demise of this groundbreaking house. MoFi's dedication to quality and to a job done above and beyond lives on every time we pull one of these cherished black pies out of its distinctive sleeve and revel in its splendor. Today I ask you all to lift your glass with me in a toast to the spirit that powered the now-gone Mobile Fidelity Sound Labs -- and to all the people who so lovingly labored to make us just the slightest bit richer in our enjoyment of prerecorded music. All stars burn out; it's the flame that counts.
...Greg Weaver
gregw@soundstage.com