December 2000
More Xtreme Audio
Branding consumer awareness with a hot cattle iron
Hold an impromptu sidewalk poll to test exotic-car awareness amongst our brethren, the great Unwashed out in the streets. I'm willing to bet you'd receive Lamborghini, Maserati, and Testarossa prompts without hesitation. For motorcycles, Ducati might top the scales. For designer clothes, Giorgio Armani, Jean Paul Gaultier, or Issey Miyake. For watches, Rolex. For champagne, Crystal and Dom Perignon. For fragrance, Chanel. For fine cameras, Hasselbladt, Leica, and Zeiss. But have you tried designer audio yet? Go ahead, move your query into audiophile waters. I guarantee your fishing excursion will come up empty-handed. Granted, if all you specified was audio per se, Bose and Monster Cable would cause a veritable stampede onto your tally sheet. But unlike these unchallenged kings of the ad medium, our small high-end industry has done a revoltingly poor job of penetrating mass consciousness. The average consumer, while quite likely not loaded enough to afford any of the exclusive goods mentioned above, is nevertheless unconscionably familiar with the prestigious brands of the major luxury-toy categories. To strike gold with our audiophile poll, we'd have to ask for handouts from the church choir of the converted. Once we adapt to reality, a few marquees are likely to be mentioned repetitiously. The name Mark Levinson, whether the man or the brand, would surely be amongst the most heavily volunteered.
And the prize-winning bulls are
Like Jeff Rowland, John Curl and Nelson Pass, Mark Levinson has achieved the kind of semi-legendary status that's usually awarded only to performers, inventors, actors, politicians and, if you live in America, celebrity cooks and de rigeur hair stylists. Being married to actress Kim Cattrall probably only enhances this standing. Levinson's creations do perform to unusually high standards, and his early ones did, in many important ways, jump-start the entire evolution of audiophile components as a distinct species that eventually grew into a cottage, then major mansion industry.
Biographicals
Levinson was born in 1946, and music, particularly jazz, became an early focus in his life. This led to sit-in session gigs on double bass and trumpet with John Coltrane, Sonny Rollins, Sonny Stitt, Johnny Griffin, Chick Corea, and Keith Jarrett before Levinson toured Europe as a bassist with pianist Paul Bley. Later still, he studied classical Indian music with sarod master Ali Akbar Khan. He then began work in a recording studio, which prompted eventual experimentation with electronics and sound reproduction, but he continues on as Mark Levinson the recording engineer today.
In 1971, mentored by electronics pioneer Richard S. Burwen, he founded Mark Levinson Audio Systems to hand-build amplifiers that became reference standards in the audio industry. In 1984, Levinson started Cello Ltd. and designed statement-level Cello-branded components. When he eventually sold the company, it became Cello Technologies. The rapid proliferation of Cello retail locations across the country became the focus of the new management. This break from his original vision caused Levinson to leave 14 years later to found Red Rose Music.
While looking for suitable business and engineering partners during the early days of formation, the name Victor Tiscareno was proffered as a must-hear destination. Levinson approached Tiscareno, a former violinist, who had created an enviable reputation with his AudioPrism tube electronics that featured highly regulated FET-based power supplies. The tip proved on the nose. AudioPrism was soon to become part of a group of core components that would constitute the various levels of Mark Levinson's new statement systems under the Red Rose umbrella. In fact, the new Red Rose Music company purchased AudioPrism, and Tiscareno became its vice president of vacuum tube engineering.
For speakers, Levinson turned to Swedish-born Bo Bengtsson. Like Tiscareno, Bengtsson had a former career as concert musician on the cello and later switched to jazz and double bass. After getting involved in retail by starting his own audio store, Bengtsson created a loudspeaker development and manufacturing company while also moonlighting as contributing editor to various Scandinavian audio magazines, teaching physics, and making the occasional chamber-choir recording. His first commercial speaker product sold 24,000 units and used the famous Decca Kelly ribbon units. He also helped manufacture a direct-coupled OTL tube amplifier for the Quad midrange/treble panels before his huge Megatrend dipole speaker won prestigious awards.
Music's the raison d'être
RRM's principals share a common passion for music and are all former musicians themselves. To guide their common product development and act as a rigorous real-time reality check and reference, an in-house Sony DSD/R system is used to record live music performances that are then played back via a complete Red Rose component chain. In fact, a whole library of Red Rose Music SACD recordings is envisioned that will be made available not only to its own system owners but, if the dreams of its principals materialize, will see eventual open distribution through regular channels like Tower Records.
The Red Rose of Austin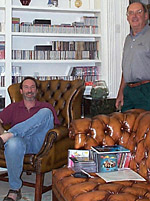 I recently had the unique opportunity to experience a complete Red Rose Reference System in the Texas hill country. Brian Kurtz of Sound Mind Audio in Austin, previously highlighted in these pages as an example of a home-based dealer done-right, made the introductions. He had input into owner Arnold Menn's final-system tweaks and suggested the Accuphase SACD-compatible separates that replaced Arnold's earlier Sony. Brian also referred acoustics expert Mark Genfan to perform his room-tuning magic. This prompted Arnold to reciprocate and make a strong recommendation to Mark Levinson when the question of a reputable, authorized Red Rose dealer for the state of Texas came up. As part of Sound Mind's resultant RRM dealership, Arnold Menn agreed to participate further. He allowed Sound Mind to use his personal system as a by-appointment showcase for the Red Rose full-bore Reference System. If Kurtz's offer to visit was a secret overture to turn me into his first RRM customer, he and Menn succeeded massively, no good cop/bad cop shenanigans required. But I'm getting ahead of myself.
The inner sanctum
Arnold Menn's colossal library of 11,000 CDs is the antithesis of the Spartan selection of barely-fit-for-consumption test tracks that many audiophiles occasionally tolerate over their rez-maximized dream systems.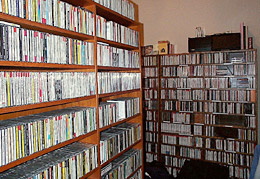 Rather, Menn's inner sanctum oozes the pure love of music. Like love, it is excessive. Like love, it is the secret handshake that distinguishes the music fiend from the toy collector. Like love, it is freely shared once the rosy glow of like-minded intoxication is ascertained on the cheeks of a visitor. I excuse myself for a quick stint to the loo and apply a dainty shade of rouge. Menn's enviable collection now turns into a secret fountain of youth on which I climb that famous staircase. Mind you, I'm not the only one being in heaven. The former symphony conductor of the Austin Symphony, Maestro Sung Kwak, visits routinely. Now with the Tucson Symphony and, at the time of this article, in Korea to help the Nobel Prize-winning Korean president unite the two major orchestras of North and South Korea for a celebration, he enjoys listening to rare recordings of classical works. It helps him gain new insights into their innermost structure and allows one-stop sampling of various interpretative approaches to the same work.
The shrine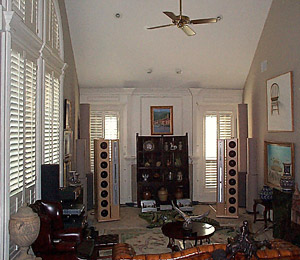 An obviously well-to-do patron of the arts, Menn has an environment that strikes me as his personal version of a modern-day European Renaissance court, a small cultural haven or shrine dedicated to the display of the finest that contemporary arts have to offer. This, of course, includes art for the ears. That part makes me feel right at home, my faded jeans notwithstanding. As far as the fabulous paper maché animals by Mexican artist Sergio Bustamante go, a guy's allowed dreaming, isn't he?
Unaware of my musings, Menn proves to be a relaxed and soft-spoken host without the merest whiff of the haughty airs that sometimes segregate the successful from the rank and file, where this writer camps out. Menn is congenial and welcoming, candid and still ill at ease about how his powerful audiophile impulses, combined with a desire to own the best, had previously been taken to the Chinese laundry cleaners. To wit, a certain old-time NYC store with plenty of airs and attitude had sold him the proverbial over-priced but under-performing trophy hi-fi.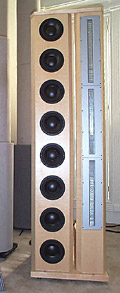 You know the kind. It eventually clogs the drains of the ubiquitous for-sale classifieds when the owners' ears fail to be fooled and realize they've been had. It proves impossible for Menn to resell his system for anything even remotely resembling a fair price based on the original bill of purchase. That drive elements of those massive speakers continue to fail doesn't help either. Thoroughly disenchanted with his purchase and dealer experience, Menn nonetheless knows he has to do something about it. A business visit to the Big Apple turns chance encounter with the Red Rose Music store in Manhattan. Lunch with Mark Levinson follows, and an order for the "Baby" reference system built around the $3500 ribbon monitors on demonstration in the store at that time is placed. Once back in Austin, Arnold Menn deliberates with Mark Levinson via phone whether or not to go for the "big boys" that then are still under development and not finalized. Arnold loves big sound and rightly reasons that a bigger speaker will perform on a larger scale. Levinson proves helpful to find new homes for Menn's previous components. The thus liberated music lover takes the plunge sight unseen, sound unheard and orders up. He becomes one of the first owners in the world to receive the museum-quality-finished Red Rose R1 Reference Ribbon loudspeakers. Do you reckon he was a mite nervous over how they would perform upon delivery?
The flower bed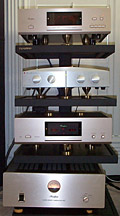 His complete system at the time of my visit consists of the Accuphase SACD transport and matching DAC feeding a Red Rose Model 3 Silver Signature Reference preamplifier. It sends the signal via the Red Rose Silver One interconnects to a pair of Red Rose Model 1 monoblock amplifiers, from where it continues via the Red Rose 336L BiWire Litz speaker-cable harness into the R1s. An Accuphase power-line conditioner purifies the AC feeding the source components, while an AudioPrism ACFX Power Line Filter oversees the amplification wall juice. Judicious placement of Walker Audio Valid Points elevates the electronics off the floor and shelves.
The fragrance
This system is a certifiable knockout, both on sonic and visual grounds. I am floored with a broken heart before the end of round one. The piece de résistance are the speakers. Designer Bo Bengtsson has obliterated what previously were considered unavoidable artifacts of the ribbon experience -- narrow-dispersion beaming and low efficiency. The beaming mandated head-in-a-vise listening to avoid the collapse of the center image, while the penchant for oodles of go juice meant arc-welding super amps that often lack in refinement what they carry in excess muscle. Think legendary Apogees of yore. They served as a sobering litmus test for self-assured testosterone-heavy amplifiers.
But that was yesteryear. It's a new millennium, and the Red Rose Ribbons are gents that have gotten in touch with their inner feminine sensitivity -- 98dB to be exact.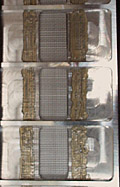 This means that moderate-power tube amps are allowed in the ring. The Red Rose Reference monos just peg the scales above 100W and combine tubular grace and solid-state control. And while I have no clue how Bengtsson got around the former flashlight dispersion pattern of ribbon drivers to turn it instead into a broad-spectrum flood light, these babies have an embrace the size of a redwood tree. Even off-axis, the image stays centered. Mind-boggling stuff. In my experience, high-efficiency speakers excel at explosive dynamics -- their mechanical rise times are superior to transducers that require massive power wake-up calls before they deign to move. The Red Rose Reference ribbon speakers prove the point and possess jump-factor galore. They're also wonderfully detailed without being etched, and, more importantly to me, they don't suffer at all from the "whiteout effect" that I notice with most ribbons or electrostats. I call it ghosting, when the quest for transparency goes unbalanced and relinquishes all meat on the bones to render the music ghost-like -- all see-through gossamer but no robustness. The eight paralleled dynamic woofers prevent the ribbons from having to run full range and thus being humongous. They also support the system's high efficiency, increase bass control and precision by adding motor structures over, say, the single magnet of a lone 18" woofer, and require minimum excursion to move air since they're acting as one compound line-source driver. Integration is seamless and coherent, and the bass is very extended, scaled and of phenomenally dramatic impact. Best of all is the sense of air and the total disappearing act these not-so-small speakers pull -- like a mountain lion that dissolves from sight before you can glance twice. The result is a startling "life" factor that I have no doubt is due to the designers mastering their own live recordings in the same playback venue that houses their reference systems. They're not guessing what the real thing sounds like. They know.
Any thorns?
I reckon that the vast majority of listeners won't perceive any at all. This probably would include me if I heard the system again now that it's further broken in. A phone call to Arnold three weeks later alerts me to a huge improvement. A set of microphonic small-signal tubes we detected in one of the amps during my visit had been replaced.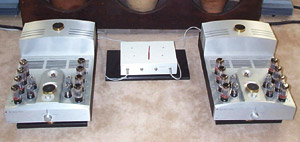 During my actual stay, I had one minor reservation. It's of the esoteric sort that will make many audiophiles frown in utter derision and retort "but that's exactly what you buy a statement system for, Dumbo." Well, since you just called me Dumbo, my ears are bigger than yours so listen. Herein lies a rub in general. A system isn't supposed to make a statement. It's supposed to just get out of the way. In a Zen kind of way, this act of disappearance is more like a non-statement. What the hell am I talking about? Low bass, that's what. A peculiar hi-fi-ish tendency in that region tends to afflict most statement systems I've heard. You see, to my ears, low bass in unamplified live music has a slightly fuzzy, minorly unfocused warm and rotund quality. Conversely, most expensive, well-designed audio systems portray low bass with the sort of slam, incisiveness and crisply defined edges that go into a kind of hyper-realism. This can be extremely addictive, and many listeners prefer or mistake it for the real thing because it's not something one usually hears. More detail and impact must be mo' betta, no? Years of exposure to super high-current class-A amps and dynamic line-source speakers has reconditioned these listeners' expectations -- they now equate sock-'em bass as a sign of superior reproduction. I liken it to an over-emphasis of the aural contrast setting in the bass region. The bass becomes too sharp, with more attack than is realistic. It becomes statement bass, not by virtue of quantity but by virtue of a slightly enhanced quality above normal. This was my only criticism of the system, and both Brian and Arnold tell me that this tendency evaporated like smoke once the tubes had been replaced, things were allowed to settle in further, and Mark Genfan began with some of his acoustic treatments.
More fragrance, and it isn't Chanel No. 5
A smaller "Baby Reference" R2 model is in the works that will feature two instead of three ribbons and two instead of eight woofers. Targeted at $20,000 instead of $45,000, this could well be my dream speaker if I had los dineros. Also on the drawing board are Ultimate InWall ribbon speakers based on the R3 ribbon monitor. The InWalls will be available in static and motorized versions, to sell at approximately $3000 and $5000 per pair. Another new product is the M-5 integrated amplifier with two EL34s per channel and selling for $8000.
Rose horticulture
Cultivating roses, as any gardener will tell you, is a challenging business. Mark Levinson and partners realize this. They are in no rush to spread their new varietal. The company owns the NYC store and doesn't plan on opening others. If and when the right folks from the right markets approach, independently owned-and-operated Red Rose Music, satellite stores may be granted permission to duplicate the format of the original. Don Bouchard, manager of sales, is keen on underlining the fact that these would not be factory-owned operations but independent licensees. As such, they'd become part of the Red Rose family, but also carry other ancillary gear for those component categories that Red Rose doesn't serve itself -- front-ends both digital and analog, video sources and projectors, and surround-sound processors. Red Rose does have a fully modular 16-channel, microprocessor-controlled, Crestron-compatible solid-state amplifier with a surprisingly affordable $7500 target price in the works that, like all other RRM components, will emphasize musical performance.
Red Rose Music is also opening its doors to regular, established dealers who want to incorporate RRM components into their current product lineups. Sound Mind Audio of Austin, who also carries Accuphase, Airtight and Soundlab, amongst others, is one such example. If any dealers out there are reading this, I urge you to look into the speakers first. Chances are they'll rewrite what you think you knew about ribbons.
Becoming a rose fancier costs less than you'd expect
Unlike Cello components that were stratospherically priced, the new company's name itself heralds what I perceive as a very emotional turnabout to bringing great music and sound to a much wider audience. Symbolically, a rose, especially a red one, has always been a token of love, romance and affection. These qualities, when mature, become almost universal to address mankind at large. Accordingly, the pricing of Red Rose components begins much lower than you might assume when thinking Mark Levinson. A complete "Baby" system of M-5 integrated, R3 ribbon monitors, a good source and RRM cables, for example, can be readily assembled for well under $15k. In fact, I'd suggest just such a within-reach-of-many system for a SoundStage! review.
Final words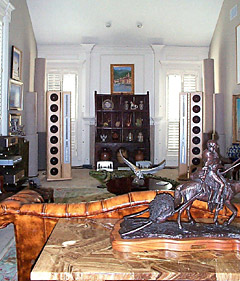 My sincere thanks go to Arnold Menn for his aural hospitality and contagious passion of music. Also, to the Red Rose Music principals for answering my questions, building such killer products, and pricing them within grasping distance. I predict that we shall hear a lot more about this company in the near future. Fifteen Reference systems have sold in the last six months, ten in the US and five abroad. Baby systems configured around the entry-level separates are selling like oven-fresh donuts. If you thought that the products of Mark Levinson the designer appealed only to the financially liberated, you need to revise your assumptions. I admit I had to. Now if only a tasteful rendering of an actual red rose could grace the components as logo rather than the simple red dot that's used instead. That dot is just a shade too, shall we say, blaupunkt?
Contacts
For consumer information, visit the company's website at www.redrosemusic.com. For dealer/distributor information, contact Don Bouchard at (281) 495-5444 or donrrm@earthlink.net.
...Srajan Ebaen
srajan@soundstage.com