September 2008
Tri-Planar Mk VII UII Tonearm
Hall of Fame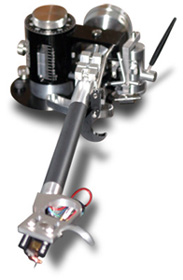 Review Summary
| | |
| --- | --- |
| Sound | "There is a unique kind of atmosphere to the Tri-Planar's sound, an engrossing view of the music that nudges performers closer to a lifelike physical presence…. The Tri-Planar is a musical extrovert, not for what it demands from you while you listen, but rather for what it does -- its wholly natural way of unifying the entirety of the performance." "The Tri-Planar Mk VII UII is about integration of the music's elements, not parsing of the whole into constituent parts…. It conveys strong outlines and presence in an unwavering fashion that absolutely anchors everything in space." |
| | |
| --- | --- |
| Features | "The Tri-Planar is essentially two complex subassemblies joined together: the armtube and headshell, and everything behind it, including the gimbal, VTA tower, damping trough and cueing device. The two halves are connected by a machined-aluminum yoke that doubles as part of the azimuth-adjustment hardware." |
| | |
| --- | --- |
| Use | "The Tri-Planar's counterweights are not fixed, so there are seemingly myriad combinations and placement options for them -- that is, unless you talk to Tri Mai, who will tell you that the largest counterweight, the one with the beveled front edge, should always be placed as far forward and toward the pivot as possible. Any subsequent weights can be placed farther back, creating a gap between them if necessary. Final adjustment is made with the threaded weight at the very end of the tonearm." |
| | |
| --- | --- |
| Value | The Tri-Planar Mk VII UII "made a very strong case for spending more money on your tonearm than on your cartridge." |

Do you remember what an exoskeleton is? Think back to Biology 2 in high school. "Define Exoskeleton" was surely on one of your tests. Here's a hint: Insects have exoskeletons.
Give up?
An exoskeleton is a hard covering on the outside of the body, essentially an external skeleton, and as you can imagine there are some distinct advantages to this armor-like casing when it comes to protection from predators -- some of which have their own exoskeltons -- and natural hazards like falls from treetops. An exoskeleton also gives us gawking humans an idea of how a particular insect's body is put together -- how each part joins to the next. It's literally a display of what's inside our own bodies out in the open for all to admire.
Tonearms are the inheritors of the exoskeleton in the audio world. Unlike an amplifier or speaker, whose bits'n'bobs are hidden away within an MDF cabinet or machined-aluminum chassis, tonearms have most of their workings right out in the open. You can see how the armtube connects to the headshell, how the gimbal is constructed, and how the counterweights are positioned to balance the cartridge, ensuring a smooth ride for the stylus. When you play a record, you see how all of the parts work in concert without having to remove any lids. It all happens right there in front of you.
This isn't to say, however, that all tonearms do their job in much the same way. A unipivot 'arm is different from a gimbaled 'arm, and let's not even start a discussion of air bearings or tangential tracking. Still, with all of the visible engineering that goes into a tonearm, it's easy to see the artistic touches inherent in examples like the SME V or the Graham B-44 Phantom.
Or the Tri-Planar Ultimate Mk VII UII ($4750 USD), which is made by an artist, one who has turned his gaze to analog playback. Dung Tri Mai is a sculptor and erstwhile electronics builder. He has worked for Ralph Karsten at Atma-Sphere crafting stepped volume controls for the MP-1 preamp, each an intricate piece of handiwork.
In the late 1960s, while Mai was a child living in his native Vietnam, Herb Papier conceived of and began manufacturing the Tri-Planar, whose name came from a trio of issues that affect tonearm performance. Two -- azimuth and vertical tracking angle (VTA) adjustment -- deal with the way in which the cartridge's stylus addresses the groove: optimally adjusted side to side and front to back in order to mimic the position of the cutting head as closely as possible. The third design goal -- the bearing being the height of the record -- deals with the way in which the tonearm carries its mass. With the bearing at the height of the record, the seesaw effect of a tonearm, the difficulty for unequal masses on different sides of a fulcrum to achieve stability, is lessened, ensuring, in Mai's words, "a stable platform for the cartridge" and better tracking of records, warped and otherwise.
In 1999, with Herb Papier approaching his 80th birthday and the Mk VI version of his tonearm on the market, Mai took over the company. Papier hand picked him because of his interest in preserving the integrity of the original design and keeping manufacturing quality high. I also wonder if there wasn't a bit of fate at work: Mai goes by his middle name, Tri, which makes the fact that he would become the maker of the Tri-Planar seem like a little more than coincidence. The tonearm's basic design remains the same as it ever was, but there have been many subtle refinements. Most recently there have been an improved headshell and VTA tower, and tighter tolerances in all parts, including the all-important bearing. The latest version of the 'arm was dubbed "UII" to denote that Tri Mai is now the second generation to manufacture it.
More than probably any tonearm on the market, the Tri-Planar Mk VII UII looks like a precision instrument -- its skeleton is more "exo" than that of most tonearms. But there are some important details hidden from view, like the armtube's construction. Essentially a tube within a tube with outer damping material, the dark-gray length of the Tri-Planar's armtube from the azimuth mechanism to the headshell effectively controls resonance down to 8Hz. The bearing has a tolerance of 1/10,000th of an inch; it is made of a material that Mai doesn't wish to divulge, though hardened steel is a reasonable guess. The Tri-Planar is essentially two complex subassemblies joined together: the armtube and headshell, and everything behind it, including the gimbal, VTA tower, damping trough, and cueing device. The two halves are connected by a machined-aluminum yoke that doubles as part of the azimuth-adjustment hardware.

With the Tri-Planar, you have your choice of color -- silver or black -- as well as termination: either a hard-wired cable with RCA or XLR connectors, or a short length of wire with a terminal box at the end. You use your own interconnects with this. Either way, nothing protrudes from underneath the mounting base, so a DIN connector is not an option.
The headshell is not removable, which makes mounting a cartridge a little trickier than with the Graham Phantom, for instance, which has a removable armwand. Still, mounting and fine-tuning a cartridge are easy to accomplish because of the included alignment jig and the most user-friendly cartridge clips I've come across. They pinch the pins of the cartridge like your thumb and forefinger would hold a chopstick, rather than gripping like you would a doorknob. Easy on and easy off, but tight contact nonetheless.
Mounting and setting up the Tri-Planar Mk VII UII was very easy, and the 'arm offers consummate flexibility to accommodate a wide range of cartridges. However, using the Tri-Planar Mk VII UII along with a second tonearm proved to be less straightforward than I expected. The Tri-Planar is longer than the Graham Phantom (250mm effective length versus 235mm), so I had to flip-flop the two 'arms on my TW-Acustic Raven AC turntable because of tight clearance between them. Also, the Tri-Planar's counterweights are not fixed, so there are seemingly myriad combinations and placement options for them -- that is, unless you talk to Tri Mai, who will tell you that the largest counterweight, the one with the beveled front edge, should always be placed as far forward and toward the pivot as possible. Any subsequent weights can be placed farther back, creating a gap between them if necessary. Final adjustment is made with the threaded weight at the very end of the tonearm.
A set of instructions comes along with the Tri-Planar Mk VII UII, and while the written directions aren't the most communicative, the pictures fill in any gaps. With the instructions, I was able to mount and adjust the Tri-Planar in less than an hour. I've spent more time retubing a power amp.
Finally, I will say that to my eye Tri Mai's artistic sensibilities have paid off, because the Tri-Planar, with its many visible parts, is quite handsome. It exudes elegance and counteracts the blockiness of so many turntables.
Exosound
"Big," "bloomy" and "present" say my notes from the first time I sat down to listen with the Tri-Planar suitably mounted and adjusted, and these are the words that have stuck with me as I've put in more and more hours listening with it. There is a unique kind of atmosphere to the Tri-Planar's sound, an engrossing view of the music that nudges performers closer to a lifelike physical presence. There is abundant detail, articulation and texture as well, but they are subordinate to the music's stature and physicality, not what you will notice first. The Tri-Planar is a musical extrovert, not for what it demands from you while you listen, but rather for what it does -- its wholly natural way of unifying the entirety of the performance.
As pairs of Music Matters LPs keep appearing each month, jazz fiends like me get to hear historic music sounding better than it ever has, and that includes the original pressings. It's impossible to look through the schedule of upcoming releases and not make mental notes about when certain titles will be available. One of those on many audiophiles' lists recently appeared, Tina Brooks' True Blue (Blue Note/Music Matters MMBST-84041), and what a gem it is. The Tri-Planar tonearm brought out the best in this big-hearted LP -- life-size horns with wrap-around-you color and weight, soft piano with Rudy Van Gelder's characteristic arm's-length distance from the recording's front edge, and a subtle bass line that was obscured at points by the other instruments but never lost in the mix. It was with the bass line that the Tri-Planar Mk VII UII did its best work, chiseling it out of the playing around it and giving it a purring spread that tied together the early, and extreme, stereo sound.
Associated Equipment
Loudspeakers – Wilson Audio Alexandria X-2 Series 2.
Power amplifiers – Lamm Industries M1.2 Reference and ML3 Signature mono amps, Luxman B-1000f mono amps, Audio Research Reference 110 stereo amp.
Preamplifiers - Audio Research Reference 3, Aurum Acoustics Integris CDP, Luxman C-1000f.
Analog – TW-Acustic Raven AC turntable, Graham Engineering Phantom B-44 tonearm, Dynavector DRT XV-1s stereo and mono cartridges, Ortofon 2M Black cartridge, Audio Research PH7 phono stage, Lamm LP2 phono stage, Aurum Acoustics Integris CDP phono stage.
Phono cable – AudioQuest LeoPard, Furutech Ag-12 (both used with Graham tonearm only).
Interconnects – AudioQuest William E. Low Signature, AudioQuest Sky, Shunyata Research Aurora-IC.
Speaker cables – AudioQuest William E. Low Signature, AudioQuest Volcano, Shunyata Research Aurora-SP.
Power products – Shunyata Research Anaconda Helix and Python Helix (Vx and Alpha variations), Essential Sound Products The Essence Reference power cords; Shunyata Research Hydra V-Ray power conditioner, Essential Sound Products The Essence Reference power distributor.
Equipment rack and platforms – Silent Running Audio Craz 4 Reference rack, Silent Running Audio Virginia-Class platforms, Harmonic Resolution Systems M3 isolation bases.
The Tri-Planar Mk VII UII is about integration of the music's elements, not parsing of the whole into constituent parts. Still, it has a special way with imaging -- an amazing way with it, in fact. It conveys strong outlines and presence in an unwavering fashion that absolutely anchors everything in space. More jazz, this time from an LP I was fortunate to find in mint shape at an estate sale. Andre Previn's West Side Story (Contemporary Records/Mobile Fidelity MFSL 1-095) was released in 1960, the same year as True Blue, but the music is very different -- more light-footed and lyrical than probing and boundary-pushing. The Tri-Planar delineated each member of the trio -- Previn on piano, Shelly Manne on drums and Red Mitchell on bass -- from the others, but not by crystallizing image outlines, for instance, and hardening transients in the process. Each was boldly present in the soundstage and had a granite-like aura, their output separate in sonic terms but merged together in musical creation. This was supreme image solidity, and I can't help but think that Tri Mai's phrase, "a stable platform for the cartridge," explains its inclusion in his tonearm's performance. There are no tricks here, just the cartridge seemingly doing its work in optimal fashion.
After getting a good idea of what the mono and stereo Dynavector XV-1s cartridges were capable of when mounted on the Tri-Planar, I decided to experiment, mounting an Ortofon 2M Black in their place. The Dynavectors are moving-coil cartridges that cost over $4000 each, while the Ortofon is a moving-magnet number that runs less than $700. The Tri-Planar made the differences plain, while still exerting its imaging prowess and holistic musical nature. In fact, it made a very strong case for spending more money on your tonearm than on your cartridge, as the 2M Black sounded brash and somewhat brittle when mounted on a Yamaha YR-D8 'table and its tonearm but highly detailed, suave and a touch sweet on the Tri-Planar. It sounded like a much more costly cartridge when on the business end of the Tri-Planar. Perhaps the 'arm let the cartridge be all it can be.
And this was the feeling I had about the music as well -- it was all it could be when the Tri-Planar Mk VII UII was carrying the cartridge. Detail retrieval was very high, but I wouldn't put it at the top of the Tri-Planar's list of accomplishments, mostly because doing so would overshadow this tonearm's skill at laying the music down in a way that conveys the whole without deconstructing it by spotlighting the parts. This is the highest level of success an audio product of any kind can achieve, and it's what the Tri-Planar Mk VII UII does first and foremost.
Versus the Phantom
When I initially talked to Tri Mai about his tonearm, the conversation eventually led to his competition. Often when manufacturers talk to the press about products that compete with theirs -- if they talk to the press about such things -- the conversation is peppered with matter-of-fact judgments, not clear-headed assessments of what others are doing well and certainly not outright admiration. Tri Mai, however, brought up the subject of the SME V and Graham Phantom B-44, not to diss them but to praise them as completely original and "artistic" designs. So much of Mai's thinking boils down to art -- the art of music, the art of making audio equipment, the art of living a meaningful life. He has true reverence for the SME and Graham tonearms, talking about each in glowing terms even while discussing his own work. I certainly didn't expect such genial honesty, but, as I've come to understand from other conversations, it's simply a part of Tri Mai's personality.
I've been using a Graham Phantom ($4300) on my TW-Acustic Raven AC turntable since I waded back into the analog waters, and I've found it to be unfussy in every way. It's easy to mount, easy to fine-tune, and easy to use. It's a unipivot design whose Magneglide system gives it the lateral stability of a gimbaled 'arm and allows for easy azimuth adjustment as well. Of course, like the Tri-Planar, the Phantom has on-the-fly VTA adjustment, and the 'arm's center of gravity is on the same plane as the pivot point, similar to the Tri-Planar's design goal of the bearing being at the record height. The Phantom has a DIN connector instead of a hard-wired cable or connector box, and its armwand is removable, making cartridge mounting easy and cartridge swapping as quick as possible.
The Tri-Planar and the Phantom are two of the audio world's preeminent tonearms, both because of their achievement of similar design goals and the longevity of the companies that make them. It's startling, then, to hear how different they sound. Whereas the Tri-Planar takes a holistic, from-the-same-cloth approach to re-creating the music, the Graham delineates instruments from each other with greater precision, and separates the music from the space it occupies in a more overt way. This gives the presentation a more detailed feel, although I can't say with any surety that the Phantom actually captures detail that the Tri-Planar Mk VII UII does not. It just seems that way because of a fundamental difference in presentation -- fluidity and flow with the Tri-Planar versus separation and delineation with the Phantom.
The differences continue in specific areas. In the bass, the Graham 'arm displays slightly better control, a more pistonic way with low frequencies, than the Tri-Planar, whose bass is, once again, better integrated into the music's own tapestry. Image outlines are crisper with the Phantom, though, again, I can't say they are stronger than those of the Tri-Planar, which presents musicians with greater physical presence and sharp outlines. Compared to the Phantom, the Tri-Planar projects some warmth through the midrange and into the bass, which may or may not mate well with certain cartridges and turntables.
To test the tracking abilities of tonearms, I have held on to a few warped records that together constitute a tracking torture test. The Tri-Planar Mk VII UII tracked a couple of warps that the Phantom could not without sonic incident. I suspect, however, that both are ahead of the pack in this regard; both were able to negotiate warps that the Furutech DFV-1 LP flattener couldn't remove, for instance. However, forcing a tonearm to bob up and down while tracking a severe warp is not something anyone should do. Replace the record, or archive it to CD-R if it's too difficult and expensive to replace.
Ergonomically, I give the nod to the Graham Phantom because of its removable armwand and clever alignment jig -- which attaches to the headshell once the armwand is removed. For these reasons, it is also a more reviewer-friendly tonearm, one that allows quick changeover of cartridges. Sonically, however, the choice between these two tonearms will be a matter of taste -- and ancillary equipment -- not of absolute superiority. The Graham Phantom is like very good solid-state equipment -- detailed and precise in its presentation -- while the Tri-Planar is pure tube because of the present, spacious and fully realized way the music flows through it. Because my system is thick with tubes, you can probably guess which one I would choose on sonic grounds alone.
Getting things out in the open
A tonearm is first and foremost a mechanical device, and its job may be more complicated than that of any other part of an audio system: support the cartridge, the audio system's initial transducer, and allow it to track the record groove as accurately as possible. Of course, this would be more easily accomplished if every record were perfectly flat, but small or large undulations are common, as are off-center holes, which can tax a tonearm's lateral stability. It can be harrowing to watch a tonearm go about its work -- swaying back and forth, up and down -- and then surprising to hear not a discouraging sound come of all the spastic movement. It seems like you've witnessed a minor miracle.
The Tri-Planar Mk VII UII takes all of this in stride, tracking records with an athlete's dexterity and producing sound that's truly beautiful in the process. The music's fluidity is matched only by the resolute solidity of the performers in space. In comparison to the sound of some tonearms, the Tri-Planar's warmth may be merely discernible or exactly what you're hoping to find. This tonearm obviously uses no tubes, but astute listeners might swear otherwise.
It's easy to see the intricacy and craftsmanship of Tri Mai's tonearm -- it's out in the open for all to admire. But don't stop there. Once the Tri-Planar Mk VII UII is on your turntable supporting a phono cartridge the real discovery begins.
...Marc Mickelson
marc@soundstage.com
Tri-Planar Mk VII UII Tonearm
Price: $4750 USD.
Warranty: Five years parts and labor.

Tri-Planar
3611 Snelling Ave.
Minneapolis, MN 55406
Phone: (612) 623-0922
Fax: (612) 623-0923

E-mail: planar@onvoymail.com
Website: www.triplanar.com