September 2008
Lyra Argo i Phono Cartridge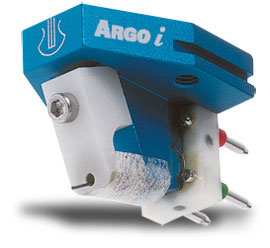 Review Summary
| | |
| --- | --- |
| Sound | The Argo i "simply reproduced what was on the album -- both the good and the bad -- in a manner that rarely if ever called attention to itself." "This cartridge's most startling quality is its resolving power. It reproduced each and every instrument and vocalist with extreme fidelity -- spatially as well as in tone and timbre." "Hand in hand with the Argo i's resolution is its dynamic agility"; it also "conveys space and handles spatial cues very well." |
| | |
| --- | --- |
| Features | The Argo i's "beautiful blue body is carved out of a solid piece of hardened and anodized aluminum, and the cartridge is built using a nude construction method to cut down on unwanted body resonances." "It uses a 3 x 70um Ogura PA line-contact stylus attached to a 0.3mm-diameter solid-boron circular cantilever. There are neodymium magnets, and iron and copper coils." "The Argo i outputs 0.45mV, a healthy output for a moving-coil cartridge." |
| | |
| --- | --- |
| Use | "Recommended tracking force is 1.8 grams, with a recommended load impedance of anywhere between 100 ohms and 47k ohms, which gives wide latitude in loading." |
| | |
| --- | --- |
| Value | "Don't let the Argo i's position in the Lyra product line fool you. This is a mid-priced cartridge with some upper-echelon sonic abilities." |
The thought of upgrading any part of a stereo system can cause even the most seasoned audiophile to quiver with both fear and anticipation. Even after the most diligent research, you may end up worse off than when you started, but the thrill of the hunt and the joy of finding something new that brings you closer to the music can be intoxicating. Upgrading a phono cartridge is fraught with even more of these emotions, as it's rare to have the opportunity to audition a cartridge before purchase, what with the dearth of brick-and-mortar dealers that have even the most rudimentary understanding of analog. These days even the most grizzled analog vet is forced to rely on either word of mouth or audio reviews in making up his mind about which cartridge to purchase, and when you're talking moving-coil cartridges, the cost of some involved can make even "The Donald" blink and gulp twice.
This all means that those of us in the reviewing field need to make darn sure we offer readers "The trout, the whole trout, and nothing but the trout, so help me cod," as my fisherman son enjoys saying. That heaps on a lot of pressure, as you place your trust in what we write. The Lyra Argo i has no issues with pressure, as long as they come a few grams at a time. As for trust, read on and make up your own mind.
Inside the Argo i
The Argo i is the replacement for the beloved Lyra Lydian Beta. It takes its place as a middle child in the Lyra moving-coil family, above the entry-level Dorian and below the Helicon, Skala and Titan i. But it's an important step up, because the Argo i, like its bigger brothers, is handmade and then tuned by Yoshinori Mishima, based on designs by Jonathan Carr. Its beautiful blue body is carved out of a solid piece of hardened and anodized aluminum, and the cartridge is built using a nude construction method to cut down on unwanted body resonances. Carr has put a fair amount of thought in his design of the Argo i, enough so that, given its $1500 USD price, it will perform to the exalted levels both he and Lyra set for any cartridge that bears their logo.
The Argo i outputs 0.45mV, a healthy output for a moving coil cartridge. This means that it should work with any moving-coil-capable phono stage. Its frequency response is a claimed 10Hz to 50kHz, and it has greater than 30dB of channel separation. It uses a 3 x 70um Ogura PA line-contact stylus attached to a 0.3mm-diameter solid-boron circular cantilever. There are neodymium magnets, and iron and copper coils. Recommended tracking force 1.8 grams with a recommended load impedance of anywhere between 100 ohms and 47k ohms, which gives the listener wide latitude in loading. I tried all the settings of my Audio Research PH5 and found 100 ohms to be the best. Lyra makes no claims as to proper vertical tracking angle (VTA), so after a bit of testing I set the cartridge to parallel with the record surface and called it even, as the sound I achieved was certainly first-rate. Lastly, the cartridge weighs in at reasonable 6.4 grams, so it will work with a wide variety of tonearms. Though it's of little consequence, I have to admit that the Argo i looks very pretty hanging off the end of my tonearm, in an understated but elegant way.
My system
The Argo i took pride of place at the business end of an SME 309 tonearm, replacing an Audio-Technica AT-OC9ML/II. The turntable is a VPI HW-19 Mk IV. The tonearm is connected via a Furutech Ag-12 or Analysis Plus Solo Crystal Oval phono cable to an Audio Research PH5 phono stage and via a pair of unbalanced Analysis Plus Solo Crystal Oval interconnects to an Audio Research LS17 line-stage preamp. From there the signal passes balanced to a Bryston 4B-SST power amp via balanced Analysis Plus Solo Crystal Oval interconnects. The Bryston amp then hands off to Paradigm Studio 100 v.3 speakers by way of biwired Analysis Plus Solo Crystal Oval 8 speaker cables. Power for the system is filtered by a Blue Circle BC6000 power conditioner.
All components except the power amp sit on a pair of two-shelf Salamander Archetype racks that I have modified, adding a third shelf to each. The Bryston amp sits on a granite slab with a Symposium Isis shelf and Rollerblocks beneath it. The preamps, both phono and line stage, sit on Symposium Svelte shelves with Rollerblocks below and smaller Svelte shelves above to help control vibration. The turntable sits on a Boos Brothers 3"-thick maple butcher-block board, which is held up by four Tonecones. I've also replaced the supplied feet of the VPI turntable with Michel Tenderfeet cones. All LPs are cleaned on a VPI HW16.5. I also use a Furutech deStat for controlling static, a Hunt carbon-fiber brush for dusting off records, and a Zerodust to clean the cartridge's stylus.
I found that you'll need to play the Argo i at least 30 hours (preferably more) in order to hear what it can do sonically. I gave it all the time I could before committing any thoughts to paper -- though, to be honest, the basic nature of the cartridge was present from the beginning, but the little things it did begin to become more apparent as time went by.
Sounds like…
I threw any number of albums at the Argo i, from golden-age RCA Living Stereos to those crappy RCA Dynaflex LPs (the ones that flopped in the breeze when you took them out of their covers), to mid-1970s Columbias, all the way to some brand-spankin'-new 180-gram reissues. It simply reproduced what was on the album -- both the good and the bad -- in a manner that rarely, if ever, called attention to itself. A good cartridge, whether moving coil or moving magnet, should have the ability to present every LP you play in the best possible light with as little editorializing as possible. The Argo i is such a cartridge, laying out each LP I played in as real, as natural, as lifelike a manner as the recording engineer captured it -- and not prettifying the sound or stripping it of its musical essence.
This cartridge's most startling quality is its resolving power. It reproduced each and every instrument and vocalist with extreme fidelity -- spatially as well as in tone and timbre. Each sounded full-sized and three-dimensional. Detail wasn't thrust at me but kept completely within the context with the music -- there if you cared to listen for it, not so noticeable if you just wanted to groove on the tune. And each note emerged from as black a background as my analog rig could muster, which again went a long way toward making the music sound real.
Such resolution can be a double-edged sword. Thanks perhaps to the Ogura PA line-contact stylus, the Argo i reaches deep into the grooves to extract the information the LP has to offer, noise and all. If the record is poorly pressed or scratched you'll hear artifacts. If the record is clean, then the Argo i adds no noise of its own. It doesn't hunt for anything that can cause noise, and it can transcend its own high-resolution nature on occasion. I own what looks like a very beat-up original copy of Dexter Gordon's Our Man in Paris (Blue Note ST-84146). While the record appears as if you'd never be able to hear the music due to all the scratches, thanks to the Argo i the record plays clearly enough to make what noise there is all but unnoticeable.
Hand in hand with the Argo i's resolution is its dynamic agility. It was able to startle me right down to my socks with the way it captured the initial transient -- with a sharp edge when called on to do so -- all the while never shortchanging the balance of the harmonic structure of the music. I listened to Art Blakey's drums on the new Music Matters A Night in Tunisia (Music Matters MMBST-84049). Blakey was always known as an explosive drummer -- a fact not always demonstrated by the albums released during his career and the gear they were played on. Well, listening to the Music Matters LP finally allowed me to hear where that reputation came from. Every rim shot, every thunderous drum roll, every cymbal strike leaped from the speakers. This is a quality that will have you closing your eyes and seeing yourself in Rudy Van Gelder's studio watching and hearing the Jazz Messengers record. What a thrill!
The Argo i conveys space and handles spatial cues very well. More classic jazz.. Sonny Rollins' Our Man in Jazz (Classic Records/RCA LSP-2612) was recorded live at the Village Vanguard in New York City. The Argo i let me discern exactly where each of the four musicians was located on the stage, where that stage was in the club, and where the patrons were located. I even eavesdropped on their conversations to an extent. What it didn't fully reproduce was the size of the club itself, at least as far as I could tell, not having been at the recording session. The stage seemed foreshortened, a little smaller than I've heard with a couple of other cartridges.
Another of the Argo i's strong points is the way it handles the frequency extremes -- both high and low. The bass is deep, tight and clean, if that's how it was recorded. For example, Ray Brown's playing on Soular Energy (Pure Audiophile/Concord PA-002) shows how well the Argo i can reproduce deep bass when it's there. On the other hand, Paul Chambers' bass on the Miles Davis album Jazz at the Plaza (CBS C 32470) tended to get a bit lost in the mix, and the Argo i didn't gloss over this. The treble sparkled with life while not sounding strident. Going back to A Night in Tunisia, I heard Blakey's cymbals shimmer like the sun off a frozen pond. Each strike was cleanly reproduced, sounding exactly like what it should: a wooden stick striking a riveted, dished bronze plate.
Vocalists of both genders were reproduced as realistically as I've ever heard. This was reinforced while listening to Holly Cole's latest, self-titled album (Alert T&M 1039). Wow! She was there in my room, sounding just a tad on the lean side of neutral, but this was no bare-bones, etched presentation. Instead, there was detail without any hint of stridency and still with a sense of body.
Don't let the Argo i's position in the Lyra product line fool you. This is a mid-priced cartridge with some upper-echelon sonic abilities.
Argo i vs. AT-OC9ML/II
The Audio-Technica AT-OC9ML/II has a list price of $499, but it is available for much less if you shop around. For $499 it's a very good buy; at its $300 or lower street price, it's a steal. I reviewed this cartridge and have since used it as a reference, and it was named the SoundStage! Exceptional Value award winner for 2007.
An album that clearly illustrated just how different the Argo i and AT-OC9ML/II are is the Beatles' Love (Apple/Parlophone 0940 379 808 1 1). Imagine an onion -- the AT-OC9ML/II's presentation was like taking a knife and slicing right through it. Sure, you can now see all the layers, but at the expense of seeing each in its entirety and their relationship to each other. The Argo i, on the other hand, peeled back each and every layer, allowing me to see (hear) each one, and then replaced them so that the onion was still whole. This worked to perfection with Love; the mix is rather busy, with loads of musical information packed on top of each other, and the Argo i handled it all with seeming ease. Instruments like Paul McCartney's bass on "Come Together" just jumped out, sounding deep, clear and clean. George Harrison's acoustic guitar on "While My Guitar Gently Weeps" was stunningly accurate, conveying a startling sense of realism. Not only could I tell it was a steel-string guitar, but I could get a much better sense of both how Harrison strummed and picked together with the way each note was formed by the wooden body cavity. I've listened to this track for almost my entire life, and I've never heard it reproduced with such immediacy and accuracy. The AT-OC9ML/II, by comparison, glossed over some of what gave the music its sense of accuracy, reducing realism.
As to whether the Argo i makes economic sense, given that it's nearly three times the price of the AT-OC9ML/II at list (and five times at retail), that is a personal matter. To me, the Argo i is well worth the additional cost because of how much closer it brought me to each recording and the artist's original intent. I'm willing to bet that once you hear the difference, you'll find that extra money in a flash and won't feel at all bad for having spent it.
Conclusion
Having had the chance to live with the Argo i for a few months, I have become enchanted with it. Not only did the newness of its sound excite me, but the improvement it represented was obvious. It doesn't add much in the way of color to the sound or lose any of the valuable portions of it by displaying frequency-response anomalies. It offers a laundry list of virtues that had me literally pulling album after album out of my record racks to hear how much more music the Argo i could extract from their well-known grooves. While I'm quite sure the Argo i isn't perfect despite my findings, its sonic strengths far outweighed its few omissions -- and that's all its faults were. And it achieved all of this at what, in the world of high-end audio, is a more than reasonable price.
I can't think of too many better ways to spend $1500 upgrading an analog front-end than buying a Lyra Argo i. While Lyra makes three more expensive and probably better-sounding cartridges, the Argo i is the top of the line for audiophiles like me who don't have the big bucks to spend. It doesn't just let you have a taste of what its bigger brothers offer; it lets you sit right down at the same table. It simply makes listening to music more enjoyable by bringing you closer to the recording itself, and I can't think of a greater compliment to pay this fine cartridge than that.
...John Crossett
johnc@soundstage.com
Lyra Argo i Phono Cartridge
Price: $1500 USD.
Warranty: One year parts and labor.

US distributor:
Immedia
1101 8th St. #210
Berkley, CA 94710
Phone: (510) 559-2050
Fax: (510) 559-1855

E-mail: info@immediasound.com
Website: www.immediasound.com