June 2008
Bellari VP129 Phono Stage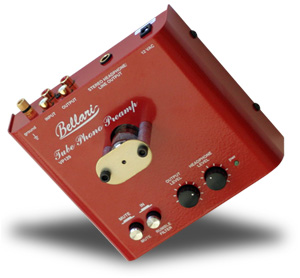 Review Summary
| | |
| --- | --- |
| Sound | "I heard smoothness and warmth, both of which I would revisit throughout my time with the VP129." Yet, "the VP129 sounded remarkably clean and coherent," though it was "a bit forgiving on many of my less-than-perfect recordings, even making the surface noise more palatable." "In one word, 'musicality.'" |
| | |
| --- | --- |
| Features | "The unit utilizes all-tube circuitry, and the output stage features one dual-triode 12AX7." "If you are looking to use that expensive moving-coil cartridge that you have held onto for years, forget it. This phono stage is for moving-magnet cartridges only, or perhaps a moving-coil cartridge with very high output, since the VP129 pushes out a mere 30dB of gain." "A headphone amplifier [is] an added bonus." |
| | |
| --- | --- |
| Use | "There are a few nice features that help take away some of the negative things you might experience while spinning records. Although most turntables today do not have an issue with rumble -- mostly subsonic low-frequency noise -- there is a switchable rumble filter that takes out any unwanted noise below 20Hz. Second, there is a pot to control the output, making it easier to customize the level of gain into a line-stage preamp. Finally there is a variable level control that allows you to adjust the volume for the headphone output, as well as a switchable mute button to silence the unit's output." |
| | |
| --- | --- |
| Value | "A no-nonsense phono stage priced reasonably to give an entrance into the world of all-tube phono playback. I'm not aware of a unit that's similar in price and circuitry." |

They say that what is old will be new again, but there are some who think that what is new will be old and tired fairly quickly. The LP (long-playing record for those 25 and under), yesterday's music carrier of choice, is making a comeback in a new and improved form. In today's world, with advanced technologies available, the quality of newly pressed LPs in many cases is much better than in the '60s, '70s and '80s, when the LP was the dominant format. There are companies today that can clearly surpass the quality of original pressings of our favorite albums. While the format is a bit fussier than what is offered in the digital domain, there is an inherent warmth and musicality from a good analog recording that can seem unforced and completely natural. It is for this reason that music lovers have held on to their vinyl, not to mention that many great recordings have not been reissued in a digital format and probably never will become available.
As far as turntables are concerned, there are entry-level units that are leaps and bounds better than standard 'tables of years past. Here, advanced technology and the skill of manufacture truly allow for those just starting their appreciation of vinyl, or those of us wishing to recapture the wonder of playing records, to buy in without taking out a loan or a second mortgage. A few names come to mind: Pro-Ject, Music Hall, Rega, and Thorens, which have all brought products to the market that are clearly within the reach of the average consumer. Paradoxically, though, most preamplifiers today do not include a phono input. It is therefore up to the consumer to add a phono stage to the list of things required for entry into the vinyl world.
The point of all this is that the person who is just starting the trip down the vinyl path will probably be looking for something at a reasonable price with which to start, and one such product is the Bellari VP129 phono stage ($250 USD). However, if you are expecting to use that expensive moving-coil cartridge that you have held onto for years, forget it. This phono stage is for moving-magnet cartridges only, or perhaps a moving-coil cartridge with very high output, since the VP129 pushes out a mere 30dB of gain. The unit is made in the US by the Rolls Corporation, which makes a large array of professional products, and it includes a headphone amplifier as an added bonus.
Looking inside the unit, you can see that the layout is clean and the architecture is fairly simple. The designer incorporated a circuit from the 1930s that he found in a magazine and modified for use in the VP129. The company boasts that the unit utilizes all-tube circuitry and the output stage features one dual-triode 12AX7. This is a common tube, so its use allows for the owner to experiment with other tube brands, opening up a sonic playground where the owner experiences the sonic qualities of different tubes. The claimed signal-to-noise ratio is fairly high at greater than 80dB unweighted, while equalization is RIAA +/- 1.5dB, 20Hz-20kHz. A simple wall-wart power supply provides the juice.
There are a few nice features that help take away some of the negative things you might experience while spinning records. Although most turntables today do not have an issue with rumble -- mostly subsonic low-frequency noise -- there is a switchable rumble filter that takes out any unwanted noise below 20Hz. Second, there is a pot to control the output, making it easier to customize the level of gain into a line-stage preamp. Finally there is a variable level control that allows you to adjust the volume for the headphone output, as well as a switchable mute button to silence the unit's output.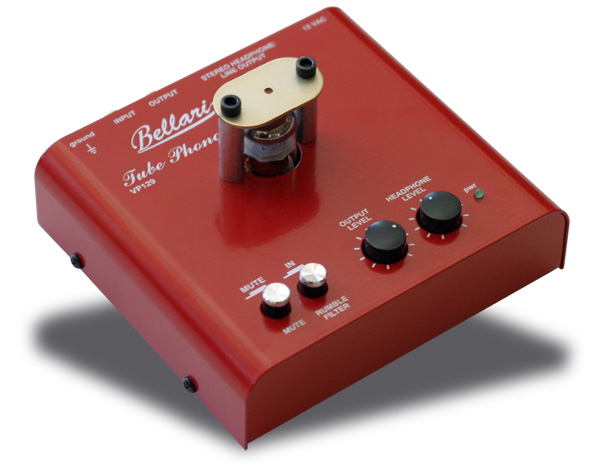 The compact chassis of the Bellari VP129 -- 6"W x 2 1/2"H x 5 1/2"D and weighing all of 1 pound -- is fire-engine red. This little package is a no-nonsense phono stage priced reasonably to give an entrance into the world of all-tube phono playback. I'm not aware of a unit that's similar in price and circuitry.
Equipment roundup
There are two turntables in my system, and both qualify as entry-level units -- the type with which the VP129 would likely be used. For the purposes of this review, I used my Moth Alamo X in my main. This 'table is manufactured for the Moth Group by Rega in the UK and is fitted with an OEM version of the venerable RB300 tonearm called the Moth Audio Mk 3 here. It also includes an acrylic platter and dust cover. It is a solid performer with a retail price around $500 when it can be found in America. On this 'table, I have installed a Goldring 1042 cartridge that has a very high output of 6.5mV, making it easy for the Bellari VP129 to reveal itself even with its own low gain. My second 'table is a classic Linn Basik with an Akito tonearm and a Linn K5 cartridge that is still in pretty good shape. This turntable was used to test the headphone amplifier that the Bellari VP129 includes as part of its feature set.
In my main listening system, I use PS Audio's Trio P-200 preamplifier and venerable HCA-2 amplifier connected to a pair of Magnepan MG1.6 speakers and an AAD E-8 subwoofer with Audio Art SC-5 speaker cables in a biwire configuration. Interconnects are also from Audio Art -- ICE-3 from the VP129 the Trio P-200 preamp -- and custom balanced cables from Ultimate Audio from the preamp to the HCA-2 amplifier. To round out the system, power is supplied and filtered through a PS Audio Ultimate Outlet, a Bybee Quantum AC Filter, and Audio Art High Current power cords. A few accessories that are added to the mix are Bybee Slipstream filters and custom myrtle support cubes.
In the listening room
After connecting the VP129 in my main system, I wondered how this small, unassuming unit could possibly deliver the sonic goods, given its relatively modest price and simple design. Boy, was I in for a lesson about books and covers! What I heard, in one word, was "musicality." While listening to vocalists, I heard few harsh sibilants or popping plosives that oftentimes ruin the mood of active listening. On Joe Williams Live [Original Jazz Classics OJC-438] with Cannonball Adderley, the VP129 made Williams' warm baritone sound oh, so good, with the mellowness of a well-aged single-malt scotch. I heard smoothness and warmth, both of which I would revisit throughout my time with the VP129.
Acoustic instruments like Miles Davis's muted trumpet on Basic Miles [Columbia PC32025], Cookin' at the Plugged Nickel [Columbia CJ40645] or Sketches of Spain [Columbia PC8271] were also surprisingly natural. On several occasions, I have heard an uncomfortable brightness and shrillness on these recordings played through other phono stages and complete audio systems, but the Bellari phono stage was a bit forgiving on many of my less-than-perfect recordings, even making the surface noise more palatable. I'm sure that many who are either getting back into vinyl or exploring it for millionth time will appreciate this characteristic.
Next, I wanted to hear how the VP129 performed with music that was more robust and energetically challenging. I have found that many tube components, while presenting smooth midrange reproduction, have difficulties managing high frequencies and rhythmic "bounce" without significantly compromising overall sound quality. I pulled out Johnny Winter's Second Winter [Sony PC- 9947], which has a great cover of the Bob Dylan classic "Highway 61 Revisited." When playing this album on my system, two things stood out about how the VP129 handled this guitar madman's romp through Dylan. The first thing was that the Bellari phono stage did not have any of the unpleasant issues discussed above -- the brightness or shrillness. The sound from Winter's guitar was believable and vibrant, not whiny, as it sounded with some other phono stages that are a heck of a lot more expensive. Second, this little tube phono stage managed to tame the high frequencies extremely well, especially when Winter plays in the upper registers of his guitar. The VP129 sounded remarkably clean and coherent. It again turned in a substantial performance, proving that it was unusually well rounded in addition to having a "musical" nature.
Puttin' on the cans
A pair of good headphones can bring you audio nirvana quicker than any other listening device. There, I said it. I have two pairs: Grado SR125s, a great value in the world of audiophile headphones, and my reference Sennheiser HD 650s, one of my favorite sets of cans, period. As I mentioned in the text of this review, the Bellari VP129 has a headphone jack and output control, making it the perfect -- and perhaps only -- unit for tube-based desktop LP listening.
First on my listening schedule was Power of Three [Blue Note BT-85133], which features Michel Petrucciani, Jim Hall and Wayne Shorter. This record has a special place in my collection because it's a quiet pressing and offers good sound. Especially good is the tune "Limbo," written by Shorter and recorded twice in 1967 by the Miles Davis Quintet. Here the VP129 gave me a taste of why so many love the sound of tubes along with their analog gear. The midrange was warm, round and sweet, but not bloated. The warmth created a sense of intimacy that is so important with a live jazz recording. Through the Grado SR125 headphones, this recording sounded open and natural. Clearly, the VP129 had more than enough juice to turn in a fine performance with the Grado 'phones. With the Sennheiser HD 650s, the unit created a totally different experience, where the music sounded more refined and controlled. The Sennheiser headphones are harder to drive than the Grados, but the headphone section of the VP129 made both pairs of cans sing.
Next, I pulled out something completely different -- an album that required a little more attention to retrieval of detail. I have long been a fan of the work that Christopher Hogwood and the Academy of Ancient Music. On Pachelbel Canon [Decca 6.42836], Hogwood and his ensemble perform the popular work, among others, on period instruments with original instrumentation. In this chamber setting, the Bellari VP129 again sounded warm and inviting, allowing the stringed instruments to soar. Through both sets of headphones, the VP129 presented a sweet, relaxing performance. I also pulled out a 1959 recording of La Forza del Destino [London OSA-13122] under the baton of Fernando Previtali, featuring Zinka Milanov as Leonora. "La Vergine degli angeli" is a beautiful aria for soprano with male chorus. It has wide dynamic contrasts, and the VP129 handled them well.
The VP129 had no trouble with dynamic climaxes either, presenting a gloriously rich sound that was smooth and consistent with that of the unit when used strictly as a phono stage. The VP129's headphone amplifier is a pleasant added bonus that offers good performance and, more important, a thoroughly satisfying listening experience.
...Alfred Fredel
alfredf@soundstage.com
I have a soft spot for the Clash, and while I was in college Combat Rock [Epic PE 37689] was one of my favorite albums. "Straight to Hell" features a steady pulse with a drum beating in the background and a variety of ear-catching sounds. The VP129 gave the drumbeat a healthy snap without making it sound muddy, all the while keeping the other musical elements of this tune in balance. It also presented a wide soundstage with significant depth that was impressively believable. There was the tiniest of midrange coloration on this track; however, there was nothing that was terribly offensive. Not too shabby for an entry-level unit.
One of the most important and prominent characteristics I noted about the VP129 was its remarkable and believable soundstaging. Listening to Smetana's Moldau on a recording by the Philharmonia Hungarica, Liszt/Dvorak/Smetana [M & K Real Time Records RT-205], was a surprising experience. The brass section was full and round, the woodwinds were delicate, and the percussion was realistically presented, even down to the triangle. The sound from the Bellari VP129 was not too forward and not too laid-back -- essentially it was "in the zone." I find this to be a fine recording that was only enhanced by the performance of the Bellari VP129. It made my Magnepan speakers purr with delight. And it made me purr with delight as well. I don't know of a similarly priced unit that offers as much in the way of musical enjoyment as the Bellari VP129.
Bring on the competition
The Pro-Ject Phono Box SE is a strong competitor in the entry-level phono-stage arena. When I purchased one a few years ago, it sold for $299, and even though a newer version has been introduced, the company has kept the same price, so the Phono Box SE is still within reach of the average consumer. This unit is solid state and offers the flexibility of using a high-output moving-coil cartridge. Cartridge matching is accomplished with well-marked DIP switches on the underside of the unit. The Phono Box SE has a dual-mono circuit and features a subsonic filter, special low-noise ICs and gold-plated RCA jacks. Like the Bellari VP129, the Phono Box SE is powered by a wall-wart power supply. Because the VP129 and Phono Box SE are both small, I could put them on the same shelf. Still, the VP129 stood out with its unique color and look.
After listening to both units for many hours, several things became apparent. While the Phono Box SE turned in a respectable performance, it sounded almost analytical against the warmth and musicality that the Bellari VP 129 had to offer. The Phono Box SE simply could not match the presence and soundstaging abilities presented by the VP129, but it sounded more extended at both frequency extremes. This was particularly noticeable in the treble region, where the Phono Box SE was considerably more open than the VP129, giving a more accurate portrayal of brass, strings and the upper register of piano.
In sudden dynamic changes and climaxes, the Phono Box SE was more aggressive and on point; however, the VP129 sounded richer and, again, more musical. A good example of this was "Don't Come Around Here No More" from the Tom Petty and the Heartbreakers album Southern Accents [MCA 5486]. On this dense tune, Petty combines several elements that are sonically challenging, including female vocals, strings, guitar, a constant bass line, percussion and a sitar. While the Phono Box SE sounded a bit more detailed and gave a solid performance, the Bellari VP129 was just more enjoyable to listen to and more comfortable for me.
To contrast Petty's pop sound, I pulled out The Divine One [EMUS ES12009] by Sarah Vaughan. This record features arrangements by Jimmy Jones that are more intimate than most of Vaughan's recorded music. A classic tune in Vaughan's repertoire was "It Ain't No Use," where she used her incredible vocal range to sell this sad song. It was here where I truly got the sense of why I preferred the sound of the Bellari VP129 over that of the Phono Box SE: In the midrange, the Bellari unit was right on target -- lush and smooth. It really captured the mood of the music. In contrast, the Phono Box SE was a bit clinical and detached.
The analog bug
Our significant others and friends may believe that we have some sort of disease or disorder as they watch us mounting our cartridges, tweaking that tonearm, cleaning our old records religiously, and basically doing what it takes to get the best sound from those precious vinyl discs that we love so much. For those rekindling the fires of their analog obsession or updating their older equipment, the Bellari VP129 is a very good place to start -- and perhaps a good place to stay for a while as well. With its warm and pleasing sound, you will find it very difficult to do much better in the entry-level market, especially when you consider this unit's very modest price. With the money that you will save, you can go out and hunt for your favorite records at a local garage sale or take advantage of the superior new pressings from many of the vendors that serve the vinyl-buying community. Either way, get set for truly enjoyable listening with the little red Bellari VP129.
...Alfred Fredel
alfredf@soundstage.com
Bellari VP129 Phono Stage
Price: $250 USD
Warranty: One year parts and labor.

Rolls Corporation
5968 South 350 West
Murray, UT 84107
Phone: (801) 263-9053
Fax: (801) 263-9068

Website: www.rolls.com

North American distributor
Music Hall
108 Station Road,
Great Neck, NY 11023
Tel: (516) 487-3663
Fax: (516) 773-3891

E-mail: info@musichallaudio.com
Website: www.musichallaudio.com