June 2008
Ortofon 2M Black Phono Cartridge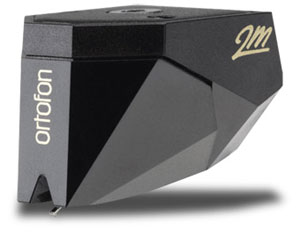 Review Summary
| | |
| --- | --- |
| Sound | "A stately, deliberate, precise, and slightly forward sound that never came close to crossing the line to slow, plodding, sluggish, or reserved." "One of the Black's bona fide strengths was its way with tone and timbre," which led to "a full, rich re-creation of three-dimensional instruments." "Soundstaging was superb, the 2M Black handling instrumental separation very well." "It doesn't match the sheer resolving power of the best moving coils," and it "fails to shine its light into the rear corners [of the soundstage] as well as I would have liked," but "the list of strengths far outweighed that of weaknesses." |
| | |
| --- | --- |
| Features | "The Black outputs a healthy 5mV, with a stated frequency range of 20Hz-31kHz. Load resistance is 47k ohms. Recommended tracking force is 1.5 grams with a total cartridge weight of 7.2 grams." "Its body is made up of a special Noryl plastic/glass mixture that Ortofon has found to offer high rigidity together with the elimination of unwanted resonances, and it gives the cartridge a pleasingly high-tech look. The Black uses a special upgraded engine different from those used in the less expensive 2M cartridges." "The stylus shape is nude Shibata, which is the same type used on Ortofon's upscale Jubilee moving-coil cartridge." |
| | |
| --- | --- |
| Use | "Oh, yes, in something of a departure from most high-end cartridges, whether moving magnet or moving coil, the stylus assembly on the 2M Black is user replaceable. I like that. It means that you won't have to send the cartridge in for retipping (thereby depriving yourself of music during its time away). Plus, it costs less to buy a stylus assembly than to get a cartridge retipped." |
| | |
| --- | --- |
| Value | "All in all, the Black is well-thought-out design with some top-notch features usually found on cartridges costing far, far more." |
Long before any of the grand old names of today's high-end industry were even out of diapers the Ortofon Company was a going entity. Ortofon, or, as it was first known, Electrical Fonofilms Company A/S, was founded in 1918 by two Danish Engineers -- Axel Petersen and Arnold Poulsen. No, they weren't making phono cartridges then, as there was no demand -- they wouldn't start down that road until later. Initially they wanted to create a way to put sound on film. That they were successful is seen today by the several patients they own, and by the fact that their creations are the basis for film with optical sound. It was during and after WW II that Ortofon began to produce record-cutting and -reproducing equipment, and the rest, as they say, is history. Today Ortofon is one of the largest makers of phono cartridges in the world, and the company doesn't just specialize in high-end cartridges either. Ortofon manufactures cartridges that fit all budgets and turntables.
In the spirit of innovation exhibited over almost 100 years -- something you'd almost have to do to survive that long -- Ortofon has come out with a new line of moving-magnet cartridges, the 2M series, designed to cater to the neophyte and on up to the hardcore enthusiast. At the very top of the 2M line is the Black -- with the Bronze, Blue and Red running downward. Due to Ortofon's size, the company has the ability to keep costs low, so the 2M's price line tops out at the Black's $599 USD.
The 2M Black is a fairly square-shaped cartridge trimmed at the front corners, along with a nice taper from front to rear. Its body is made up of a special Noryl plastic/glass mixture that Ortofon has found to offer high rigidity together with the elimination of unwanted resonances, and it gives the cartridge a pleasingly high-tech look. The Black uses a special upgraded engine that's different from those used in the less expensive 2M cartridges. It features split pole pins (an Ortofon invention used previously on the 500 series and Super OM cartridges) with a silver-plated copper wire. The stylus shape is nude Shibata, which is the same type used on Ortofon's upscale Jubilee moving-coil cartridge. The Black outputs a healthy 5mV, with a stated frequency range of 20Hz-31kHz. Load resistance is 47k ohms. Recommended tracking force is 1.5 grams with a total cartridge weight of 7.2 grams.
Oh, yes, in something of a departure from most high-end cartridges, whether moving magnet or moving coil, the stylus assembly on the 2M Black is user replaceable. I like that. It means that you won't have to send the cartridge in for retipping (thereby depriving yourself of music during its time away). Plus, it costs less to buy a stylus assembly than to get a cartridge retipped. Another couple of blessings are the tapped screw holes -- no fumbling with tiny nuts -- and an easy-to-use stylus guard.
All in all, the Black is well-thought-out design with some top-notch features usually found on cartridges costing far, far more.
System
I mounted the 2M Black to one of the headshells for my new SME 309 tonearm, which sits on my VPI HW19 Mk IV turntable, and aligned it with a Mobile Fidelity GeoDisc and a piece of mirror for adjusting azimuth. For comparison, I used Audio-Technica AT-OC9ML/II moving-coil and Clearaudio Maestro moving-magnet cartridges.
The signal is fed from the turntable to an Audio Research PH5 phono stage, then from there to my Audio Research LS17 line-stage preamp. The power amp is a Bryston 4B-SST. Power is filtered by a Blue Circle BC6000 power conditioner. Speakers are Paradigm Studio 100 v.3s. All cables -- phono, interconnects and speaker cables -- are Analysis Plus Solo Crystal Oval, with the speaker cables being a biwired set. The equipment sits on Symposium products -- both platforms and Roller Blocks, except the turntable, which sits on a Boos Brothers 3"-thick maple butcher-block cutting board that in turn rests on four Tonecones. All of this rests on two three-shelf Salamander Archetype racks. My records get a good cleaning on a VPI HW-16.5 record-cleaning machine, then static is eliminated with a Furutech DeStat. Before play, I brush with a Hunt/EDA record brush.
The 2M Black required a goodly while to break in, more than 50 hours, so if you're given the chance to listen to one before you purchase (an opportunity that is lamentably becoming more and more rare given the dearth of brick-and-mortar audio stores) make sure it's been well run in so you get the full picture -- otherwise you may dismiss the 2M Black for all the wrong reasons. An unbroken-in cartridge will sound flat, uninvolving and pinched, as if the musicians were watercolor figures cut out and pasted on the soundstage instead of real people inhabiting it.
Sound
I found the Ortofon 2M Black to offer a stately, deliberate, precise, and slightly forward sound that never came close to crossing the line to slow, plodding, sluggish, or reserved. Once broken in, it was always a pleasure to listen to, allowing me to relax into whatever musical event was on the album under its needle while still offering the sense of excitement that comes with analog, compelling me to continue my listening. "Excitement" is the hallmark of a truly good moving-magnet cartridge, and also one of those double-edged attributes. Some will find it attractive and others will miss the laid-back grace that more subdued cartridges can offer. With the 2M Black, you'll get the information off whatever record you're playing, and it will all be precisely laid out.
Hearing Blue
Listening to the Ortofon 2M Blue ($199) was like taking a trip down memory lane. The sound of this modestly priced cartridge reminded me of the sound from the analog rigs in my early days as an audiophile, only more up to date. The 2M Blue is warm and inviting, and while it's not quite up to the performance of its big brother, the Black, it comes far closer than one might think given the price and design differences. The 2M Blue uses a Nude Elliptical stylus instead of the Nude Shibata used for the Black, as well as a strictly plastic body as opposed to the plastic/glass of the Black, thereby making the Blue not quite as impervious to resonance. While the majority of the specifications are similar, the major differences are that the Blue puts out 5.5mV -- a .5mV increase over the Black -- and the recommended vertical tracking force is higher -- 1.8 grams for the Blue versus 1.5 for the Black.
The 2M Blue doesn't go as low with the same definition as its bigger brother, nor does it go as high with the same level of detail, and it doesn't dig as deeply into the record grooves nearly as well. On Madeline Peyroux's Careless Love [Mobile Fidelity MFSL 1-284], her voice, so reminiscent of Billie Holiday's, was done full justice. There was enough warmth and body to allow you to close your eyes and imagine that Ms. Peyroux was standing right in front of you. The band and their instruments were also given generous treatment by the 2M Blue. No, the soundstage isn't as wide and deep as with the Black, but what is there is enough to allow you full enjoyment of the music.
The 2M Blue is a cartridge I can heartily recommend to those audiophiles who have dipped their toes in the analog waters with an entry-level deck that came with a cheap (but serviceable) cartridge and now want to see how much more performance they can wring out without spending the kids' college tuition money. The 2M Blue is priced and designed to give you that next step up over the absolute entry level, and it can go along with your analog rig when you have the inevitable urge to upgrade.
...John Crossett
johnc@soundstage.com
One of the Black's bona fide strengths was its way with tone and timbre. Listen to how well it captures the brassy sound of both Chet Baker's trumpet and Paul Desmond's alto sax on Jim Hall's Concierto [Pure Pleasure CTI PPAN 6060]. Both musicians have that full, rich, brassy sound, but the 2M Black helps you appreciate the differences between the instruments -- the tone and timbre as well as the reedy mouthpiece of the sax clearly differentiated from that of the brass mouthpiece of the trumpet. This is no small feat for a $600 cartridge of whatever stripe. There was no bleached-out sound here, just a full, rich re-creation of three-dimensional instruments.
In keeping with this, soundstaging was superb, the 2M Black handling instrumental separation very well. I was reminded of this when I pulled out Maria Muldaur's self-titled debut album [Warner Brothers MS 2148]. This record is rife with acoustic instruments that lesser cartridges pack together in a sonic morass. The 2M Black portrayed each one in its own separate acoustic space. Yes, I know this is a studio album, but I could still get a sense of the space around each performer. The Black also let me hear the differences between two acoustic guitars by clearly differentiating the timbre of each. I've heard more expensive cartridges that just manage to match what the 2M Black does so easily.
Resolution is high -- the Black will dig down deep into the grooves, making it the equal of any moving-magnet cartridge in this regard, though it doesn't match the sheer resolving power of the best moving coils. The new Pure Audiophile double LP of the mastering-lab creation of Ray Charles meeting Count Basie, Ray Sings, Basie Swings [Pure Pleasure PA-012 (2)], was a good test. The orchestra was fully spread out across the soundstage, and I could easily pick out the different sections, though I couldn't quite make out the individual musicians. However, I could easily make out the difference in the recording venue between Charles's vocals and the Basie Orchestra -- as should be the case, given that they were recorded in two different places over 40 years apart.
While the 2M Black does an excellent job of re-creating whatever space is captured on an LP, it fails to shine its light into the rear corners as well as I would have liked. For instance, on the Music Matters 45rpm Blue Note reissue of LD+3 [Blue Note/Music Matters MMBST4012], I could hear in what position each of the musicians was located with ease, and the sound of their instruments directed at the mike was distinct. What I couldn't hear so well was the sound of those instruments bouncing off the walls of the recording studio -- something that's plain with my other cartridges.
Also, the top end isn't as extended as that of a good moving-coil cartridge -- or live music, for that matter. For instance, again on LD+3, the upper reaches of Gene Harris's piano and Bill Dowdy's cymbals were cleanly and clearly delineated. It's just that the air around the instruments and that of the recording's acoustic signature were slightly less obvious. The 2M Black doesn't do the greatest job of hiding surface noise either. Not that it's really bad in this regard so much as there are other cartridges in its price range that do a better job of lessening surface noise.
Even so, the list of strengths far outweighed that of weaknesses, and I enjoyed my time with the 2M Black.
Comparisons
If I had to compare and contrast the 2M Black to my reference Audio-Technica AT-OC9ML/II moving-coil cartridge (also $599 list, but with a deeply discounted street price) in terms other than audio, I would say that the 2M Black is chocolate mousse to the 'OC9ML/II's cheesecake. Both will satisfy your sweet tooth; they just go about their jobs differently. The 2M Black has a thick, rich and full-bodied flavor compared to the light, smooth and much more delicately structured OC9ML/II. The 2M Black slowly unfolds its wares while the OC9ML/II offers more instant gratification. Where the 2M Black bases its existence on a feeling of organic wholeness, the 'OC9ML/II digs deeper into the records and extracts more musical information to go along with that sense of completeness, both of which help suspend the disbelief inherent in listening to any audio system. The 2M Black, like most moving-magnet cartridges, tends to gloss over those micro details in favor of a top-to-bottom continuousness that, while enjoyable, may not capture everything each record has to offer. But, if you don't have the ability to run a low-output cartridge, then what I've just offered is only so many words.
For those with phono stages that don't have the gain for a moving-coil cartridge, my almost-twice-the-price Clearaudio Maestro moving-magnet cartridge ($1000) was a more even qualitative match for the 2M Black, though the two certainly don't sound alike. Those who doubt that the materials used in a cartridge's construction have anything whatsoever to do with the sound that a cartridge makes ought to take a listen to these two. The plastic/glass-bodied 2M Black is more precise, more firm, and a bit cooler. The wooden-bodied Maestro is more rich and earthy, and it sounds a touch warmer. Both offer good extension on each end of the frequency spectrum, and both will provide an expressive midrange. Both of these cartridges are their respective maker's top-of-the-line moving-magnet designs. I'd say that one of the two will meet a moving-magnet aficionado's expectations, but as the 2M Black is a little over half the price of the Maestro, I'd suggest thinking long and hard before making a final buying decision, and seeking out an audition.
Conclusion
The Ortofon 2M Black does a very good job of reproducing the music engraved in the grooves of your records. That it does so at about half the price of the best moving-magnet cartridge I've ever heard is icing on the cake. This is an Ortofon, after all, a company that knows how to build a top-quality moving-magnet cartridge at reasonable prices. The 2M Black sits at the pinnacle of Ortofon's new 2M lineup, so we can rest assured that it represents the company's up-to-the-minute thinking in moving-magnet design. No, it's not the best moving-magnet cartridge on the market -- no single cartridge can ever make that claim -- but it certainly can stand with anyone else's offering. The 2M Black is a contender for those seeking a high-quality moving-magnet cartridge. Well done, Ortofon, well done indeed.
...John Crossett
johnc@soundstage.com
Ortofon 2M Black Phono Cartridge
Price: $599 USD.
Warranty: One year parts and labor.

Ortofon, Inc.
500 Executive Blvd. Suite 102
Ossining, NY 10562
Tel: (914) 762-8646
Fax: (914) 762-8649

E-mail: hifi.us@ortofon.com
Website: www.ortofon2m.com