May 2008
Boston Audio Design Mat 1 Record Mat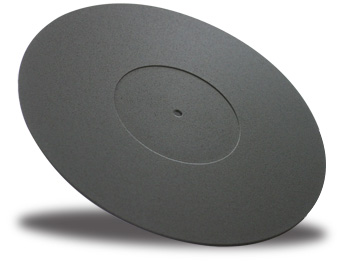 Review Summary
| | |
| --- | --- |
| Sound | "Acutely focused yet never damped to the point of crushing the music's intrinsic speed and dynamics." "I prefer the more neutral -- yet still rich and visceral -- sound with the Mat 1, which seems to even out sonic tendencies, making them harder to detect." |
| | |
| --- | --- |
| Features | The Boston Audio Design Mat 1 uses "a single material -- carbon graphite -- chosen purely for its sonic properties." "As revealed in Boston Audio's well-written and convincing white paper on the Mat 1, carbon graphite is very effective at absorbing and dispersing energy, and stray energy in the form of unwanted resonance and vibration is detrimental to analog playback. Carbon graphite and vinyl also have complementary physical properties, so vibration from vinyl passes efficiently into the Mat 1, where it is dissipated." |
| | |
| --- | --- |
| Use | "The finished product feels like an extra-heavy LP and doesn't seem especially brittle or fragile. It's thick enough -- about 1/8" -- that you'll definitely have to readjust VTA once you put it on your platter." |
| | |
| --- | --- |
| Value | "Here, the Mat 1 made a 30-year-old, nearly giveaway 'table sound more like one for which you'd pay a few hundred dollars." |
One of the most unexpected discoveries I've made since returning to analog playback is the interdependence of all parts of an analog rig and the sometimes amazing extent that a change in those parts can make. Whereas most other pieces of an audio system exist in a purely electrical realm, little affected by the physical world around them, a turntable is all about physicality, as it is the touch of a stylus to vinyl that initiates the sound. Anything that affects this tactile interface has the potential to change the character of the sound -- for better or for worse.
A record has the greatest surface contact with whatever is underneath it, which acts as a buffer between it and the turntable's platter. Hence, add-on record mats have become as necessary an accessory as there is in high-end audio, their composition occasionally influencing the quality of the sound to a shocking degree. Some record mats are nothing more than a 12" oval of a widely available material -- like felt -- while others use multiple high-tech or exotic materials bonded together to improve sound.
The Boston Audio Design Mat 1 ($199 USD) straddles these two approaches, consisting of a single material -- carbon graphite -- chosen purely for its sonic properties. We all know carbon graphite best when it is mixed with clay and used as pencil lead, but it is actually akin to diamond, which is another form of the same base material -- carbon. As revealed in Boston Audio's well-written and convincing white paper on the Mat 1, carbon graphite is very effective at absorbing and dispersing energy, and stray energy in the form of unwanted resonance and vibration is detrimental to analog playback. Carbon graphite and vinyl also have complementary physical properties, so vibration from vinyl passes efficiently into the Mat 1, where it is dissipated.
Turning a material similar to pencil lead into a record mat is a daunting task, but Boston Audio has achieved it through much trial and error. Each Mat 1 is CNC machined from a large pillar of pure carbon graphite, then polished at over 4000 rpm. The resulting slab is sprayed with four very thin coats of a proprietary sealant. This is done with the precision with which cars are painted, in order to maintain the acoustic properties of the base material and prevent the material from wearing away.
The finished product feels like an extra-heavy LP and doesn't seem especially brittle or fragile. It's thick enough -- about 1/8" -- that you'll definitely have to readjust VTA once you put it on your platter. An area for the label is sculpted out, so the LP can make intimate contact with the mat. Unlike mats made of rubberized materials meant solely to deaden, the Mat 1 makes a high-pitched sound when you tap it with your fingernail, rather like the shelves that Kevin Tellekamp of Silent Running Audio uses for his equipment racks. With those shelves, the idea is for vibration to drain down into polymer pads underneath where it is damped, but the Mat 1 has to deal with the unknown design parameters of the many turntables on the market, so its goal is not so simple. It isolates the vinyl from anything that tries to make its way up through the turntable's base and into the platter and drains off the stray resonance created by the act of the stylus moving through the groove. All of this translates into a sound that is acutely focused yet never damped to the point of crushing the music's intrinsic speed and dynamics.
You win some and lose some while scrounging for LPs at garage sales. At one recent sale, where boxes of '70s and '80s rock releases were advertised for 25 cents each, someone purchased the entire lot before the sale even began. But later that day, I went to another sale and hit a semi-jackpot: two piles of mostly uninteresting titles interspersed with some choice jazz titles, including a few original Verve LPs. These are not as coveted as those from Blue Note from the same era, but finding of few of them in good shape for cheap will still make your heart race.
So it was with Ella Fitzgerald's Sings the Gershwin Songbook Vol. 1 [Verve MGV 4013], whose cover bears the address label of its original owner in Whittier, California. With the Mat 1, Ella's silky purr had an eerie presence and was heavily outlined. Without a mat on the TW-Acustic Raven AC, the high frequencies were a bit more prominent, which may be preferable to some who hear the rich and visceral sound of this 'table and want more pizzazz. I prefer the more neutral -- yet still rich and visceral -- sound with the Mat 1, which seems to even out sonic tendencies, making them harder to detect.
Associated Equipment
Loudspeakers – Wilson Audio MAXX Series 2.
Power amplifiers – Lamm Industries M1.2 Reference and Luxman B-1000f mono amplifiers, Audio Research Reference 110 stereo amplifier.
Preamplifiers - Audio Research Reference 3, Aurum Acoustics Integris CDP, Luxman C-1000f.
Analog - TW-Acustic Raven AC turntable, Graham Engineering Phantom B-44 tonearm, Dynavector DRT XV-1s cartridge, Aurum Acoustics Integris CDP phono stage, Audio Research PH7 phono stage.
Interconnects – Shunyata Research Antares Helix, Crystal Cable Ultra, AudioQuest Sky and William E. Low Signature.
Speaker cables – Shunyata Research Orion Helix, Crystal Cable Ultra, AudioQuest William E. Low Signature.
Power products – Shunyata Research Anaconda Helix and Python Helix (Vx and Alpha variations), Essential Sound Products The Essence Reference power cords; Shunyata Research Hydra V-Ray power conditioner, Essential Sound Products The Essence Reference power distributor.
This mono album is hardly a sonic blockbuster, but I had plenty of those on hand to ensure that the Mat 1 didn't damp the life out of the music and squash the sonic potential of my analog rig. I have been very fortunate to receive a number of the test pressings for upcoming Music Matters Blue Note reissues, and as a group they are absolutely stunning. Of the six releases to date, the first two of which are already sold out, the latest two were created after the mastering chain was rewired with AudioQuest cables -- no surprise given that Joe Harley, a principal of Music Matters, is also vice president at AudioQuest. You can hear the difference. The releases made after the cable swap -- Hank Mobley's Soul Station [Blue Note/Music Matters MMBST4031] and Horace Parlan's Us Three [Blue Note/Music Matters MMBST4037] -- sound more effortless and finely nuanced than the ones before. Switching from no mat to the Mat 1 paradoxically helped this music sound even less encumbered by the equipment used to reproduce it.
Another garage-sale find put an exclamation point on the Mat 1's sonic properties. I found a dusty Dual 1237 turntable with Signet TK5E cartridge, which was made by Audio-Technica, for the grand total of $2. I worried that the stylus was shot, but it wasn't. It just needed a good cleaning, like the 'table itself. The only problem I encountered was one common to Dual tonearms that have funky removable cartridge-mounting brackets: The pins at the rear that make the connection to the tonearm's wiring were corroded, causing one channel to sound scratchy or cut out completely.
After a good scrubbing, the 1237 was spinning records like a champ, though it sounded gritty and had vague, disembodied imaging. So, I thought, why not try the Mat 1 on top of the 1237's rubber mat, which is somewhat recessed into the platter? The 1237 has a 10" platter, so the Mat 1 hung over the edge, but what this rig lacked in looks it made up for in analog purity, that sense of flow and liquidity that makes playback of an LP immediately recognizable. Here, the Mat 1 made a 30-year-old, nearly giveaway 'table sound more like one for which you'd pay a few hundred dollars.
Compared to the Millennium Audiotrade M-LP record mat ($350), the Mat 1 had a more evenhanded presentation. The sound with the Millennium mat, which is essentially a laminated carbon fiber disc, was more energetic in the treble, while the presentation with the Mat 1 was more natural and neutral. I can't say one was wrong and the other right, as I think both will have their devotees. Thomas Woschnick, the designer of the of TW-Acustic turntables, recommends the M-LP, but I prefer the Mat 1.
The Raven AC is a 'table that sounds just fine without a record mat, due to the copper plate affixed to its platter. Still, both the Millennium and Boston Audio mats are worthwhile additions, with the Mat 1's carbon graphite taking the prize over the M-LP's carbon fiber. Boston Audio is working on a thicker, better Mat 2. Until it's available, the Mat 1 will be holding a place for it on my turntable.
...Marc Mickelson
marc@soundstage.com
Boston Audio Design Mat 1 Record Mat
Price: $199 USD.
Warranty: Two years parts and labor.

Boston Audio
160 Westminster Ave.
Arlington, MA 02474
Phone: (617) 869-2623

E-mail: austin@boston-audio.com
Website: www.boston-audio.com