May 2008
TW-Acustic Raven AC Turntable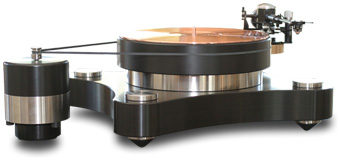 Review Summary
| | |
| --- | --- |
| Sound | "A muscular, dense presentation, rather like that of the Lamm amplifiers and Wilson Audio speakers I like so much." "The Raven AC is a tonal-color machine, presenting the music with a deep saturation that gives everything reproduced, cymbals to violin to electric bass, tremendous presence," yet it is "always suave and surefooted, adept at conveying the smallest of details like brush strokes on a cymbal, then letting loose with a thunderous din." "The Raven AC is a very human 'table, not one for audio thrill-seekers but rather those who want to settle down with their music." |
| | |
| --- | --- |
| Features | "The Raven AC ($13,800 USD)…was ten years in the making, during which time [Thomas Woschnick] developed the material from which the turntable's base and platter are made. As black as midnight and somewhat waxy in appearance, this material has four ingredients, only two of which -- Delrin and copper powder -- Woschnick is willing to divulge." "The tonearms -- up to four of 'em -- are seated on cantilevered armboards bolted to stainless-steel towers the can occupy each of the Raven AC's corners." "Thomas Woschnick is especially proud of his DC motor -- he has designed motors for other turntable makers -- and motor controller." |
| | |
| --- | --- |
| Use | "The only thing missing from the Raven AC is a dustcover, and that's by necessity -- there's simply no place to mount it. However, if your rack is like mine, there is room around the turntable, so you could have a cover fabricated that would rest on the shelf." |
| | |
| --- | --- |
| Value | "The Raven AC costs a lot, and it gives a lot in return. That's the very essence of an upgrade." |

A turntable has a seemingly simple goal that is incredibly complex in its execution, at least as it is attempted for the demanding audiophile market. Rotating the LP must occur at an absolutely constant speed, as small fluctuations are audible to those of us who listen intently to music. In tandem with this is the relationship between the quivering of the motor, the movement of the platter and the infinitesimal vibrations that create the musical signal in the cartridge. Vibration from the motor and even the friction of the bearing can wend their way to the record surface, where the cartridge will mix them with the music. There is also the matter of airborne and structureborne vibration that can affect the ultimate sound that a turntable helps create.
Turntable makers combat all of these bad vibes in a number of ways, including with the use of springs, special damping materials, and sheer mass. The best turntables employ a number of strategies, addressing the noise that can make its way to the record surface in a comprehensive, unified way. They also have sophisticated motors and power supplies that help maintain an unvarying ride for the stylus in the groove.
Recognizing and addressing all of the issues involved in creating a top-flight turntable is something Thomas Woschnick, the design mind behind the TW-Acustic turntables from Germany, has made his business. The Raven AC ($13,800 USD), Woschnick's "magnus opium," as we English undergrads used to say, was ten years in the making, during which time he developed the turntable's base and platter material. As black as midnight and somewhat waxy in appearance, this material has four ingredients, only two of which -- Delrin and copper powder -- Woschnick is willing to divulge. This material isn't as hard as Wilson Audio's X material, for instance, because it's easily scratched -- something I discovered when the first Raven AC was shipped: Customs opened the crate, didn't repack properly, and a loose footer rattled around, chipping and scratching the base. It is, however, very inert. Run your hand over it and you can feel its deadness.
Thick slabs of this material are CNC machined and form the foundation for the turntable and the record. On top of the base a plinth of stainless steel is affixed, adding a great amount of weight to the resulting turntable. Beneath, three assemblies are screwed in, these holding your choice of footer. TW-Acustic initially included a trio of rubber pods for each assembly, offering Stillpoints as an option. Now, however, some OEM Stillpoints footers are included with the Raven AC. I'm not convinced they are better than the standard Stillpoints, but they certainly are an improvement over the rubber pods.
The bearing, a thumb-sized pillar of hardened steel polished to a shiny crown on one end, is screwed into the plinth. The platter drops into place after you give the bearing a spritz of the included lubricant. Like what's underneath it, the platter is an amalgam of more than one material. On top of the mystery material is a thick sheet of polished and protected copper, and in the center of the platter is fluid. Jeff Catalano of High Water Sound, the North American distributor of TW-Acustic 'tables, has said that a poor translation from the German led people to believe that the platter uses "special glue," presumably to affix the copper top plate, when, in fact, the "glue" is actually that fluid center.
Altogether the Raven AC weighs about 100 pounds. Estimates have placed it at nearly 200 pounds, but they are not correct. I wouldn't have attempted heaving it to the top shelf of my rack if it weighed that much. Jeff Catalano is quick to point out that even though the Raven AC weighs as much as it does, it's not a mass-loaded design. "There's much more going on," Jeff says, including the damping properties of the base and platter, the use of disparate materials to impede vibration's path to the record, and some serious isolation with either of the Stillpoints footers.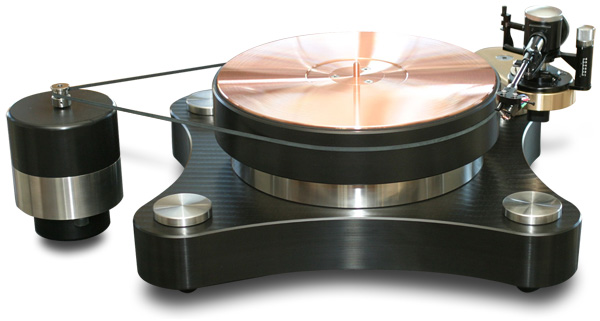 The tonearms -- up to four of 'em -- are seated on cantilevered armboards bolted to stainless-steel towers that can occupy each of the Raven AC's corners. I know that some people are suspect of the rigidity of cantilevered armboards, but the Raven AC's, machined from 3/4"-thick chunks of bronze, could easily be used to jack up a Hummer. They make mounting a tonearm very easy -- no cables to run through the base. Just screw on the tonearm, then attach the armboard with the centrally located bolt. The two rear arm-mounting positions flank a central footer, so the path for any vibration from the motor, which is on a different plane, is more circuitous than for either of the two front positions, which are on top of the front footer assemblies.
Thomas Woschnick is especially proud of his DC motor -- he has designed motors for other turntable makers -- and his motor controller. The motor is a heavily modified Pabst model, which other makers use in stock form, and it brings the Raven AC's platter up to speed pretty darned quick. The controller stores any speed adjustments you make and can synchronize up to three motors, which reportedly make for even greater rotational stability. Once adjusted and set, one motor was rock solid in terms of speed, but, in theory, three synched motors should be mo' betta'.
While there are certainly more eye-catching turntables on the market, the Raven AC looks every bit the serious product it is. I spot a certain Micro Seiki-ness to it. Micro Seiki, of course, is the legendary Japanese turntable maker famous for its metal platters, cantilevered armboards and outboard motors, all of which the Raven AC has. The only thing missing from the Raven AC is a dustcover, and that's by necessity -- there's simply no place to mount it. However, if your rack is like mine, there is room around the turntable, so you could have a cover fabricated that would rest on the shelf.
If the Raven AC's price is too daunting for you, Thomas Woschnick has another 'table, the Raven One ($6300 with bronze armboard and OEM Stillpoints feet), that's a bit more affordable. It uses his proprietary material along with the same motor and motor controller as the Raven AC, but it's slightly more compact, which, to my eyes, makes it more attractive. The difference in price would buy you a top-flight tonearm and cartridge.
Setting up
The Raven AC sat atop a Silent Running Audio Craz 4 Reference audio rack. More than with any other component, a stout, sturdy rack is important for use with a turntable, because of all the stray vibrations that can pollute a listening space, not to mention the effect of footsteps. The Craz 4 is ideal for such a heavy turntable -- it can seemingly support a battleship. I understand that Kevin Tellekamp of Silent Running is working on a dedicated platform for the Raven AC. Based on the effectiveness of Kevin's products with electronics, the Raven AC base should be really something and may become a necessary accessory for owners of the 'table.
I mounted a Graham B-44 Phantom tonearm on the Raven AC. I've found this 'arm to be absolutely delightful to set up and use. Adjusting azimuth and VTA couldn't be easier, and the removable armwand makes mounting a cartridge much easier than having to do it all while leaning over the turntable. Cartridges were a Zyx Atmos and a Dynavector XV-1s, both low-output moving-coil designs and rather different in terms of their sonic personalities.
Speakers were Wilson Audio MAXX 2s, whose wide bandwidth was especially suited to the Raven AC. Amps were Lamm M1.2 Reference monoblocks, Luxman B-1000f monoblocks, and an Audio Research Reference 110 stereo amp. Preamps were an Audio Research Reference 3, a Luxman C-1000f, and an Aurum Acoustics Integris CDP, which also doubles as a CD player. It also has a built-in phono stage, which split time with an Audio Research PH7. My other digital source is an Ayre C-5xe universal player.
Interconnects and speaker cables were from AudioQuest (William E. Low Signature with Sky interconnects mixed in) and Shunyata Research (Antares Helix and Orion Helix). Tonearm cables were an AudioQuest LeoPard, a Furutech Ag-12, and a Graham IC-70, all DIN to RCA. Power cords were Shunyata Research Anaconda Helix and Python Helix in both Vx and Alpha variations, and Essential Sound Products The Essence Reference. Clean power came courtesy of a Shunyata Hydra V-Ray power conditioner or an ESP The Essence Reference power distributor.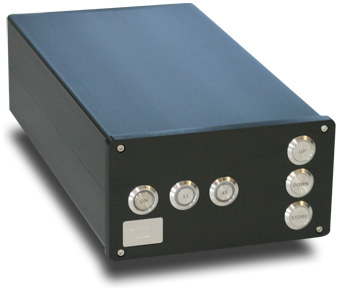 Near the end of my time evaluating the Raven AC, right before I was getting ready to publish the review in fact, Jeff Catalano let me know that Thomas Woschnick had upgraded the 'table in a couple of ways. First, there was a new motor controller with a beefier transformer, three-layer circuit boards, and 10,000 times the capacitance of the unit that initially came with the turntable. There were also the new OEM Stillpoints footers that replaced the recommended standard Stillpoints cones. While I always found the first motor controller to keep perfect speed, the new controller gives the music a better-defined sense of rhythm and pace. Regarding the new footers, I'm not yet convinced of their sonic importance, especially if you already own Stillpoints cones. They do seem to tighten up the sound a small degree, but the 'table loses a touch of its luscious liquidity. I would spring for the new motor controller without a second thought, but I'd want return privileges on the footers just in case I wasn't willing to live with the sonic tradeoff they represent.
Two accessories you won't want to return are both from Harmonic Resolution Systems. First, a single medium-size Nimbus Coupler (with the polymer pads above and below) underneath the motor stops any vibrations dead in their tracks. The Analog Disk record weight is sort of like a Nimbus without the polymer on top, and it's very effective at damping the vinyl and reducing groove noise.
There are other LP clamps and weights that are worth investigating as well, including the Millennium Audiotrade Silentor. Millennium also makes a very good record mat, the carbon-fiber M-LP. Thomas Woschnick recommends it, using it with its fuzzy side down. I also had impressive results with the Boston Audio Mat 1, which is a nicely sculpted slab of pure graphite.
The Raven's song
The Raven AC looks imposing. All of its bits'n'bobs are thick, heavy and seemingly overbuilt for the job of spinning a record, but everything works in concert to create a sound that's as unflappable as the 'table looks. The Raven AC's sound is not wispy and dainty, though it certainly doesn't gloss over fine detail, likely because it is so well isolated from the causes of noise that can mask detail near the noise floor. It has a muscular, dense presentation, rather like that of the Lamm amplifiers and Wilson Audio speakers I like so much. In fact, if what you love about playing LPs are those things that define analog playback, you will fall hard for the Raven AC.
What are those defining traits? To begin with, rich tonal color. Analog lovers appreciate -- and gloat about -- this all the more because so little digital gear is capable of it, and always to a lesser degree. The Raven AC is a tonal-color machine, presenting the music with a deep saturation that gives everything reproduced, cymbals to violin to electric bass, tremendous presence. This is not akin to tubey softness, but rather a rare kind of vividness that puts bodies behind every note. One of my most-prized recent finds is a mono Stan Getz LP recorded in 1949 and 1950 and remastered by Rudy Van Gelder for release in 1959. Long Island Sound [New Jazz 8214] is early Getz -- slow-moving, pensive, dreamy. It's a lost voice -- lost to me, at least, until I spied it in a big box of LPs I bought at a yard sale for $10 (the seller wanted $20). While the Raven AC can't do anything about the squeezed-in mono perspective of this LP, it does impart a sense of solidity to Getz's percolating, rhythmic playing, a corporeality extending to each piano note or tap on the drums as well. As I listened and let my mind wander, I was spooked by the fact that this music was nearly 60 years old, recorded when much of Getz's best work was still in front of him, and the LP was sitting in a box of records unplayed for who knows how long. What a shame! The copy I have is in exceptional shape and stamped "Not for Sale" on the back. Got that right!
Another of analog's strengths is great retrieval of musical detail that's realistically paced and naturally presented -- without the edge and grain that are, once again, part of the signature of so much digital gear. In truth, lesser analog gear can sound ragged and clumsy at times too, but not the Raven AC, which is always suave and surefooted, adept at conveying the smallest of details like brush strokes on a cymbal, then letting loose with a thunderous din. I have always been a sucker for Mike Oldfield's compositions, if you can call albums like Ommadawn [Virgin Records 27 493 XOT] that. What I like about Oldfield, and Ommadawn in particular, is his probing sentimentality. He writes pretty melodies, stringing them together into long pieces. At one minute there will be a single mandolin plucking out a melody and next what seems like an orchestra following it up. The Raven AC handled both with expert skill, conveying the fine texture of fingers running up a fret, then presenting a cacophony of instruments with crushing force. While we may focus on a single detail when listening, it is always part of something larger. The Raven AC makes this notion plain, never losing sight of the forest or the trees.
Ommadawn displays how a good LP can command attention and leave you with the feeling that something almost inexplicable is missing from a CD of the same music. While I still believe there are things that digital does better -- like conveying bass speed and power -- analog flows and ferries in a way that can't be measured but can be heard. In many ways, the Raven AC maximizes this, making the difference between analog and digital more pronounced.
I have many recordings on LP and CD, and a couple also on SACD. One of these is Dave Brubeck's Time Out, which I own on Columbia six-eye LP [Columbia CS 8192], remastered CD [Sony/Legacy CK 65122] and non-hybrid SACD [Sony/Legacy CS 65122]. I have no quibbles with the CD -- it sounds crisp and clean, and there's no surface noise. The SACD sounds much the same, but it puts a finer point on the finest of details, like Joe Morello's tasteful drum work. The LP, a war-horse found in the same box as the Stan Getz LP, pops and crackles, but the Raven AC blasts it through the speakers with a lifelike quality that, even amidst the surface noise, is clearly superior. Now to find a mint six-eye copy.
I had a strong response to the Raven AC, but one that I'm convinced everyone wouldn't share, taste being what it is. The Raven AC doesn't have the leanness that overtly detailed equipment often has, bleaching the sound to create the illusion of transparency. There's too much weight, power and color to the Raven AC's sound, and it retrieves too much detail to be considered dark or sloggy. Music skates along, able to stop on a dime and take curves with ease, always reminding you of its inherent beauty. The Raven AC is a very human 'table, not one for audio thrill-seekers but rather those who want to settle down with their music. More than a few times I lost track of time while listening to an LP, startled by the fup-fup sound of the stylus in the lead-out groove. With a war, rising food and gas prices, bum mortgages, and looming elections in the air, I want more of this oblivion.
Comparison
In a perfect world, I would have easy access to a turntable of commensurate high quality and cost as the Raven AC for direct comparison. I would mount my Dynavector cartridge on a VPI HRX with JMW-12.7 tonearm or Basis 2800 with Vector tonearm and settle in for some comparative listening. However, I had no such anvil against which to pound out this review. Instead, I had a Music Hall MMF 5.1SE, which costs $995 with Goldring cartridge. Before you shake your head at such a misguided venture, let me point out the obvious: Audiophiles often begin with a low-cost rig and upgrade as their finances and tastes allow. In the case of analog, I've owned a half-dozen turntables, each better than the one it replaced. Thus, it's not inconceivable that someone would upgrade from a Music Hall turntable to a TW-Acustic. If you are such a person, please write and identify yourself!
My Dynavector XV-1s spent some time on the MMF 5.1SE, so I know what it sounds like with this wonderful cartridge, and it was better than I would have thought. As I pointed out in my review, with the MMF 5.1SE I "easily discerned [the XV-1s's] character," which means that this expensive cartridge -- $4250 -- wasn't somehow wasted on a turntable and tonearm that cost one-quarter as much. Mount the XV-1s on a Graham Phantom that's in turn mounted on a Raven AC, though, and you hear even more of what the cartridge can do. The XV-1s is about smoothness, delicacy and nuance, and these things are more clearly obvious with the Raven AC than the MMF 5.1SE. However, the Raven AC brings its own set of sonic strengths to bear -- that dense, weighty presentation, one that I would characterize as "neutral," though not in the commonly held way, which signals a drab kind of sound. I will opt for the more evenhanded, palpable presentation of the Raven AC every time, as it sounds more like life than the thinner, leaner alternative.
Another area in which the Raven AC clearly outclasses the MMF 5.1SE is the bass, which is simply mined from deeper reserves than with the less expensive 'table and 'arm, whose sound is less substantial from the midbass on down. With the Raven AC, I have been literally surprised at how much low-frequency information is available on the Music Matters Blue Note reissues -- music that was recorded 50+ years ago. I have corresponding Blue Note CDs of a few Music Matters releases, and they often miss the low-end foundation that's clearly present on the master tapes -- and clearly conveyed by the Raven AC.
The more expensive 'table also surpasses the less expensive one in terms of retrieving detail, presenting large- and small-scale dynamics, and reducing groove noise. All, I suspect, are enhanced by the way the Raven AC deals with vibration. I could keep going, but by now you've gotten the picture. Still, the MMF 5.1SE gets so much right, and retains so much of what listeners will identify as the traits of analog playback. It is a very good source, and one that does right by a great cartridge like the XV-1s. However, put that same cartridge on a TW-Acustic Raven AC and you have the sort of analog front-end that will command your complete attention. The Raven AC costs a lot, and it gives a lot in return. That's the very essence of an upgrade.
In the end
The simple goal of spinning a record has a significant new manifestation in the TW-Acustic Raven AC. Designer Thomas Woschnick's decade of R&D has created a turntable that can stand among its top-of-the-line peers from other manufacturers. The Raven AC makes a strong statement about the right way for an LP to sound -- with the richness, body and tonal color inherent in live music -- and presents an effective model for dealing with unwanted noise that can blur or mask musical detail. The Raven AC addresses the issues of analog playback in thoughtful ways, and the sonic outcome is hard to argue with.
Turntable makers who are committed to their task with singular focus are a rare breed, but some of them do exist. VPI's Harry Weisfeld, Basis Audio's A.J. Conti, and Immedia's Allen Perkins have all created more than one well-received turntable, and each has his own ideas about how to do it. Add Thomas Woschnick to this list. The Raven AC is a rare accomplishment and presents a fresh new analog voice.
...Marc Mickelson
marc@soundstage.com
TW-Acustic Raven AC Turntable
Price: $13,800 USD.
Warranty: Two years parts and labor.

TW-Acustic
Harkortstraße 62 f
44652 Herne
(Wanne-Eickel) Germany
Phone: +49 (0) 2325 - 668484
Fax: +49 (0) 2325 - 668483

E-Mail: twacustic@aol.com
Website: www.tw-acustic.de

North American distributor:
High Water Sound, LLC
274 Water Street, #2F
New York, New York 10038
Phone: (212) 608-8841
Fax: (212) 571-5809

E-mail: highwatersound@earthlink.net
Website: www.highwatersound.com
---
TW-Acustic responds:
Thomas Woschnick and I would like to thank Marc Mickelson and SoundStage! for the wonderfully positive review of the TW-Acustic Raven AC. Marc quickly points out the AC's ability to honestly decipher the magic that lives within the grooves of any record, no matter vintage, pressing or condition. Thomas Woschnick didn't just make another "me too" turntable in order to turn a profit. Thomas reinvented what was possible in turntable design by looking at the essence of the turntable itself. Simplicity, ease of use, long life and trouble-free operation coupled with with the greatest respect for the TW owner is just part of TW design goal. Bringing the music to life with a purist's voice completes the TW-Acustic philosophy.
During the time Marc has had the Raven AC, there have been some significant changes. First off, the motor controller. I believe Marc has clearly stated the benefits of the new controller: quieter, more punch, dynamics, air, transparency, music. Second, the OEM Stillpoints feet. The OEM Stillpoints are essentially the same as a normal Stillpoints, just streamlined a bit with the addition of an attached inverse mini riser for even better isolation. With the addition of the OEM Stillpoints, the Raven AC has a redesigned housing for the OEM footer, which adds a slightly more elegant appearance.
TW-Acustic continues to push what is possible in analog reproduction. TW has just redesigned the armboard for even greater isolation and ease of use. Also added is an all-tube phono stage with three inputs, extreme flexibility and quietness that defies any other all-tube phono stage. Shortly, there will be a TW tonearm and "The Ultimate Table."
Once again, thank you Marc for your kind review and enthusiasm for what we at TW-Acustic are creating for the world's music lovers.
Jeffrey Catalano
High Water Sound