February 2008
Music Hall MMF 5.1SE Turntable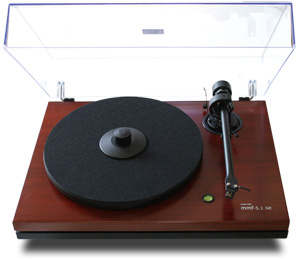 Review Summary
| | |
| --- | --- |
| Sound | "The warmth, the unforced resolution, the deep tonal color" were all there, along with "more inherent beauty than just about any digital gear I've heard." "Analog playback has…depth, and the MMF 5.1 SE revealed it." "One nagging sense I had about the MMF 5.1SE, however, was that it sounded somewhat dark and sluggish, at least compared to digital playback." "I'd say some experimentation with cartridges would be very worthwhile for MMF 5.1SE owners." |
| | |
| --- | --- |
| Features | Complete analog-playback system -- turntable, tonearm and cartridge. "The MMF 5.1SE's plinths are separated from each other with sorbothane disks, the bottom one being the platform for the two-speed belt-drive DC motor, on/off switch, and adjustable isolating feet. The platter, steel-and-Teflon bearing assembly, and tonearm reside on the top plinth in order to isolate them from the motor." |
| | |
| --- | --- |
| Use | "If all of the fine points of turntable setup are not your bag, the MMF 5.1SE is for you, as you can literally have this turntable playing music ten minutes after it arrives. On the other hand, if you enjoy futzing with your analog setup to discover the last molecule of ting from a triangle strike, the MMF 5.1SE supports it." |
| | |
| --- | --- |
| Value | "It's to hard the fault the Music Hall MMF 5.1SE given everything it offers. Yes, there are bulkier, sexier turntables on the market, but none that I know costs under $1000 and includes a fully adjustable tonearm along with all the accoutrements you'll need to use it for the foreseeable future." |
With his line of Music Hall turntables, audio veteran Roy Hall has made it easy for people with many different budgets to go analog. Music Hall turntables begin at $399 and top off at $1999. At these prices and stops in between, Music Hall includes a cartridge in the deal, which is mounted on a fully tweakable tonearm. All of the 'tables and tonearms are made in the same Czech Republic factory where Pro-Ject analog gear is made, so a resemblance exists, even if all of the components of Music Hall and Pro-Ject turntables are not alike.
At the low end, the Music Hall MMF 2.2 ($399) includes the same tonearm as the MMF 5.1SE ($995) under consideration here, but a few-frills Music Hall cartridge takes the place of the pricier 'table's Goldring 1022GX, a moving-magnet cartridge that sells separately for $375. Like the top-of-the-line MMF 9.1, the MMF 5.1SE has multiple plinths -- two for the '5.1SE and three for the '9.1. The MMF 5.1SE's plinths are separated from each other with sorbothane disks, the bottom one being the platform for the two-speed belt-drive DC motor, on/off switch, and adjustable isolating feet. The platter, steel-and-Teflon bearing assembly, and tonearm reside on the top plinth in order to isolate them from the motor. Differences between the standard '5.1 ($699) and '5.1SE include better vibration damping, a better cartridge, and the rosenut veneer that adorns the top plinth.
Even at its sub-$1000 price, the MMF 5.1SE comes fully equipped and accessorized. The platter is cast from an alloy that has good damping characteristics -- especially important for analog playback, where bad vibrations can so easily harm the good ones -- and includes a felt mat and screw-down clamp to aid in damping. The gimbaled tonearm allows adjustment of azimuth, anti-skating and vertical tracking angle (VTA), important for dialing in the sound of an analog rig but ignored with some pricier 'arms. All cables are included, as are accessories you will need if you decide to mount another cartridge on the MMF 5.1SE (more on this later). There's even a spirit level recessed into the top.
To adjust the speed, you change the belt from one pulley to the other, which requires removing the felt mat. The on/off switch is on the bottom of the turntable, near the front-left corner. These are the only operational quirks of the MMF 5.1SE, which means this turntable is chimp-simple to use. Music Hall touts that each of its 'tables comes "complete with cartridge mounted," but it pays to be skeptical and check the alignment anyway. Much to my surprise, given the vagaries of assembly and shipping, the MMF 5.1SE's cartridge was perfectly aligned. I only needed to place the turntable on my rack, level it, connect the wall-wart power supply and tonearm cable, install the platter and mat, slip on the belt, set the vertical tracking force, and I was ready to go.
If all of the fine points of turntable setup are not your bag, the MMF 5.1SE is for you, as you can literally have this turntable playing music ten minutes after it arrives. On the other hand, if you enjoy futzing with your analog setup to discover the last molecule of ting from a triangle strike, the MMF 5.1SE supports it.
Used with…
I used the MMF 5.1SE with my usual roster of electronics and speakers: Wilson Audio MAXX 2 speakers, Lamm M1.2 Reference mono amps, Audio Research Reference 110 stereo amp, Audio Research Reference 3 preamp, and Aurum Acoustics CDP CD player/preamp with internal phono stage and headphone amp. Yes, it's unlikely that a sub-$1000 turntable will be used with over $100,000 of electronics and speakers, but at least with this system I always thought I was hearing exactly what the MMF 5.1 SE sounded like. A Bellari VP129 phono stage/headphone amp also made a pit stop here on its way to another writer, who will cover it in detail.
For context, I also had a single-motor TW Acustic Raven AC turntable with a Graham Phantom tonearm and Dynavector DRT XV-1s cartridge -- a playback system that costs 20 times the MMF 5.1SE's price. For direct comparison, I borrowed an MCS Series 6700 turntable with Shure cartridge from a local seller of LPs and used audio equipment. Of course, I also listened to digital gear: an Audio Research Reference CD7 CD player, an Ayre C-5xe universal player, and a Zanden Model 5000S and Model 2000P DAC-and-transport combo.
Interconnects and speaker cables alternated between Shunyata Research Antares Helix and Orion Helix, Crystal Cable Ultra, and AudioQuest William E. Low Signature. Power cords were Shunyata Research Anaconda Helix and Python Helix in both Vx and Alpha variations, and Essential Sound Products The Essence Reference. Power distribution and conditioning came courtesy of a Shunyata Hydra V-Ray or ESP The Essence Reference.
Before playing any vinyl on the MMF 5.1SE or TW Acustic Raven AC, I cleaned it with either a VPI HW-17 or HW-27 record-cleaning machine. I'll be writing about the latter model soon, but I will say now that even with a turntable the costs under $1000, both of these cleaners justify their cost. They enhance listening in ways that no audio hardware can.
33 1/3 in 2008
As a few keen-eyed readers have reminded me, it has been a while since I've "done analog" in my own system. Twelve years to be exact, during which time I've concentrated on digital and genuinely haven't missed the extra work involved with setting up a turntable and maintaining a collection of LPs. A few things have changed for the better in those intervening dozen years. Turntables, tonearms and cartridges have increased in number and improved, and the quality of new LPs is far better now than it has ever been. While you can't buy every new release on LP, the ones you can buy are often pressed on thick slabs of pristine vinyl with utmost care, and remastered LPs regularly surpass the originals in terms of their surface quietness and sonic virtues. While the golden age of analog playback is often considered the 1960s, simply because the LP was the dominant carrier of music then, the quality of new LPs from that era simply wouldn't touch what we have today. The Music Matters, Speakers Corner, Mobile Fidelity and Cisco reissues of music from the '60s are ample proof of this.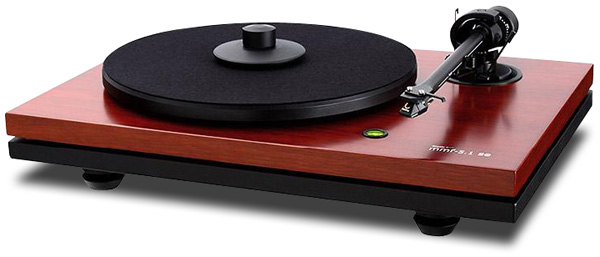 With all these good LPs about, serious listeners need good turntables, and the Music Hall MMF 5.1 SE easily qualifies as one of these. While listening to it, I discovered just how much about the sound of analog playback had remained in my memory -- the warmth, the unforced resolution, the deep tonal color. Analog has depth -- not in the sense of the perspective on the music, but in terms of the sensation of listening to it. Oenophiles describe wines with depth as having "layers of flavors that change over time." I suppose that analog changes over time too -- as cartridges and records wear -- but the "layers" aspect is especially pertinent. Analog playback has this kind of depth, and the MMF 5.1 SE revealed it, presenting music with more inherent beauty than just about any digital gear I've heard.
More seems to be happening with an LP -- from the way the soundstage unfolds to the multifaceted character of instruments. A case in point is Art Blakey & the Jazz Messengers' The Big Beat. I own the RVG-series remastered CD [Blue Note 7243 5 63800 2 8] and had grown used to the way it presented this vital music: with obvious linearity and speed, but with a somewhat flat soundstage and an overall grayish character that obscured the instruments' tonal color. I discovered all this when I played the glorious Music Matters 45rpm LP [Blue Note/Music Matters MMBST40] on the MMF 5.1SE. The LP improved upon the CD in every way save for background noise, which was essentially as low as the CD's. Here was depth -- the instruments displaying greater tonal and harmonic complexity, the soundstage expanding in all directions, the layers of musicians becoming more discernible. There was also bass weight that won't rumble your walls but was obviously greater, thanks, no doubt, to the LP's 45rpm cutting.
But such sound wasn't reserved for only expensive reissued LPs. I played many standard-issue, garage-sale and thrift-store albums on the MMF 5.1SE, and heard a similar complexity, though not always one that differentiated analog and digital to such a great degree. Iron & Wine's spare Our Endless Numbered Days [Sub Pop 630] sounded more grand, less spare and compressed on LP than CD, while an original pressing of Steely Dan's Aja [ABC Records AB-1006] that I bought for ten cents (!) surprised me with its dynamics, especially in the bass, but the recording's clean-as-whistle sound was equally well served on CD. The LP was very dusty, but the VPI HW17 made quick work of the grime, revealing quiet surfaces underneath.
One nagging sense I had about the MMF 5.1SE, however, was that it sounded somewhat dark and sluggish, at least compared to digital playback. With Dexter Gordon's One Flight Up, I found that I preferred an original stereo LP [Blue Note BST-84176] to the Cisco reissue [Cisco Music 7051] with the MMF 5.1SE, but with the TW Acustic Raven AC/Graham Phantom/Dynavector XV-1s combo, the Cisco LP clearly sounded better -- bigger and more balanced, less tinny in the treble. I began to wonder if the Goldring cartridge might be the cause of this discrepancy. I had only the Dynavector XV-1s on hand, and it cost over $4000. What the heck -- I mounted it on the MMF 5.1SE and easily discerned its character, which reduced the darkness and sluggishness to the point of irrelevance.
Therefore, I'd say some experimentation with cartridges would be very worthwhile for MMF 5.1SE owners. While you won't use a Dynavector XV-1s with the MMF 5.1SE, you should consider some other cartridges. At the top of my list for use with this 'table, given John Crossett's description of it in his review from last year, would be the Audio-Technica AT-OC9ML/II , a lowish-output (0.4mV) moving-coil cartridge whose list price is $599, but it can be purchased for half that. Its "speed, agility and articulation," as John put it, seem like the ideal sonic complement to the MMF 5.1SE.
Comparison
When the MMF 5.1SE arrived, it was the only turntable in the house, so comparing it to another 'table was impossible. Later on the TW Acustic/Graham/Dynavector rig arrived, and I was still without a suitable comparison product -- the difference in price (and performance, to be honest) was simply too great. Instead of digging up another high-end turntable to which I could compare the Music Hall -- a Clearaudio or Pro-Ject in the same price range, for instance -- I decided to find a working vintage 'table and use that instead. I reasoned that someone who would consider the Music Hall 'table might be coming from an older mass-produced turntable, the likes of which we've all probably owned at some point.
Enter an MCS Series 6700 turntable with unidentified Shure cartridge. This direct-drive 'table (marketing copy: "0.04% wow and flutter, +/- 0.06% speed deviation") cost $219 complete in the late 1970s. MCS was J.C. Penney's house brand of electronics, though this particular 'table looks like it might have been made by Technics. The unit I had was checked out and deemed to be in good working condition. The cartridge seemed to be OK, as did the tonearm. Even so, I didn't play any of my more prized records on it for fear of damage.
This will be short: The vintage 'table was no match for the MMF 5.1SE, which revealed more musical detail from every LP I played. In comparison, the MCS 'table and Shure cartridge presented the music with a limited palette of detail and compressed dynamics. One byproduct of this was a reduction of surface noise and especially noise from light scratches; however, it was obvious that with the noise went some of the music, and who would want that?
If you're using an older turntable and have wondered what something contemporary might bring to your musical life, don't wonder any longer. Based on my experience with the MCS 'table and Shure cartridge, a very limited sampling to be sure, any of the Music Hall turntables will have you lamenting all that you've been missing.
Lead-out groove
It's hard to fault the Music Hall MMF 5.1SE given everything it offers. Yes, there are bulkier, sexier turntables on the market, but none that I know costs under $1000 and includes a fully adjustable tonearm along with all the accoutrements you'll need to use it for the foreseeable future. I'm not the biggest fan of the Goldring cartridge that comes with the MMF 5.1SE, but it's good to have it mounted and ready for play as the 'table is delivered. Think of it as a starter cartridge, one you'll use until you can find another with which you can settle down. The MMF 5.1SE's tonearm allows you to tweak to your heart's content, or leave well enough alone and still bask in the analog glory. The price of the Music Hall 'table will leave you some money to buy stacks of thrift-store LPs and a few of the opulent reissues that are in increasing abundance.
The most profound moment I had with the MMF 5.1SE is one that only analog could deliver. A longtime favorite of mine, Bill O'Brien's Cool at the Union [Raven Records RR 80033] never made it to CD (except in a version I had made from my LP). These folksy songs will have special meaning to people who grew up in Madison, Wisconsin, my hometown, as so many of them are laced with local flavor, the details of this particular college town. However, there's enough humor and insight for anyone to appreciate.
One night, I cleaned the LP and put it on the MMF 5.1SE. I was flush with anticipation -- I hadn't heard this LP in a dozen years -- and I wasn't disappointed. I remembered every instrumental line, every vocal inflection, every lyric. When the second side was done, I played the entire album again.
If sitting through a whole album is a sign of involvement with music, sitting through it twice is a sign of something greater -- involvement with memories. Analog did this for me. The Music Hall MMF 5.1SE did this for me.
...Marc Mickelson
marc@soundstage.com
Music Hall MMF 5.1SE Turntable
Price: $995 USD.
Warranty: One year parts and labor.

Music Hall LLC
108 Station Road
Great Neck, NY 11023
Phone: (516) 487 3663
Fax: (516) 773 3891

E-mail: info@musichallaudio.com
Website: www.musichallaudio.com