August 2007
Found on Vinyl: Karrin Allyson, Annie Ross and Lauren White
There's something about the female voice that continues to intrigue music lovers and audiophiles of all persuasions. Perhaps this stems from the fact that right inside the womb we hear a female voice. It's practically coded into our DNA. Among audiophiles, female voice remains the benchmark for deciding whether a piece of equipment reproduces music properly or not, because nothing strikes at the heart like a woman singing. Jazz has used female vocals to great effect. Think about it -- from Bessie Smith to Billie Holiday, Ella Fitzgerald to Carmen McRae, on through the jazz divas of today, the majority of jazz vocals feature female voice.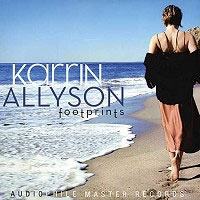 Of all the jazz divas singing today, Karrin Allyson reminds me the most of a mother singing lullabies to her child. She has one of the most tender, knowing voices I've ever heard. Each song she sings sounds as if she is giving a private recital. Footprints is Karrin Allyson's dream album. Not only did she get the chance to sing with musicians she had long admired, such as bassist Peter Washington, tenor sax man Frank Wess, and vocalists Jon Hendricks and Nancy King, but she was able to create a vocal album from numbers that had been strictly instrumental. She teamed up with Chris Caswell to write the words to songs such as Dizzy Gillespie's "Con Alma," John Coltrane's "Lazy Bird" and "Equinox," Wayne Shorter's title track, and Nat Adderley's "Never Say Yes." She also does songs by Sam Jones, Hank Mobley, Horace Silver, Oscar Brown, Jr. (who was supposed to appear on this album, but he passed away just before the sessions began), Duke Jordan, Jon Hendricks, Dave Brubeck, and Sonny Rollins -- songs that already had words written for them, though all lived long lives as instrumentals before lyrics were added.
Another aspect of Footprints that aids in the intimate feel is the sound. The LP is half-speed mastered by the legendary Stan Ricker, so you hear Allyson's voice with startling realism. This album exudes a quiet, confident sound that transports the listener to Sear Sound Recording Studio, where Allyson made this recording for Concord Records. The four dead-silent 180-gram surfaces allow all information embedded in the grooves to blossom -- yes, this is another of those single albums stretched over four sides. Combine all this with a wide, deep soundstage, excellent tonal balance, and good timbre and you get instruments that bloom fully in your listening room.
Pure Audiophile's practice of stretching a single album out over four LP sides ensures that all the music in the grooves -- from the deepest bass notes to the highest treble transient -- comes alive. Yes, you might think these records are a tad on the expensive side, but when you factor in all you get for your money the cost doesn't seem at all out of line. This version of Footprints is poised to become an instant audiophile classic. Don't miss it.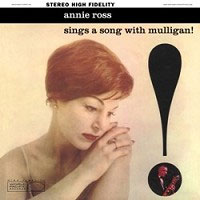 Jon Hendricks, who sings on Footprints, was a member of one of the all-time great jazz vocal trios -- Lambert, Hendricks & Ross. Annie Ross, the female member of that group, was born and raised in the UK and began her career as a solo act in France. She remained unknown outside Paris until she recorded with the Gerry Mulligan Quartet on Annie Ross Sings a Song With Mulligan [Pure Pleasure Records Stereo-1253]. Giving audiences the chance to hear her sing with musicians the caliber of Mulligan, Chet Baker, Art Farmer, Henry Grimes, Bill Crow, and Dave Bailey allowed Ross to take off internationally. Suddenly the whole jazz world became aware of her. Not long after this album was released, the trio with Hendricks and Lambert was born.
Much like Rosemary Clooney, Annie Ross did not rely on vocal gymnastics. Instead she relied on an inborn understanding of how to get inside each song and make it her own, and she had the voice of an angel. Here, she relies on material taken from the Great American Songbook and uses vocal inflection, the beat, and her talent in setting up a verse to make this such an enjoyable album. Listen to the way she sings "Give Me the Simple Life" with Mulligan, Farmer, Crow and Bailey, or "It Don't Mean a Thing" with Mulligan, Baker, Grimes and Bailey, for two superb examples of the synergy between singer and band. One thing that helps this album stand out is that it represents one of the very few times you get to hear a jazz vocal album done without piano accompaniment. A piano is almost standard equipment for a record of this type, yet Ross and Mulligan pull it off with nary a hiccup.
The packaging and sound are first-rate. So well done is this LP that if Pure Pleasure didn't put the obligatory identifying line on the bottom of the rear cover you might think you had somehow stumbled onto a mint original. The sound is mint as well. Annie Ross's voice is front and center, full-bodied and realistic. Mulligan's baritone sax comes off well, sounding full, deep and reedy. Bass is firm, strong and deep, and there's good snap to the drums. Only the trumpets fall short, sounding a bit thin and soft instead of full, bright and brassy. The surfaces are flat and quiet, lending to the realistic sound. Two additional songs (both mono takes) were added, and the album still comes in at under 23 minutes per side.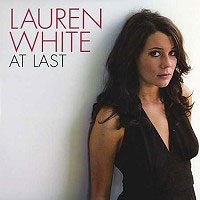 Finally we come to another new release from those crafty boys at Groove Note Records, Lauren White's debut LP At Last [Groove Note GRV 1037-1]. Ms. White's is a new name to me, but if this album is any indication we'll all be hearing a lot more from her. She bears more than a passing physical resemblance to Norah Jones, but her music isn't anything like that of Jones, and she doesn't sing like her either. She takes songs from such diverse sources as the Great American Songbook, her own original songs -- she has three such here -- and an eclectic mixture of popular material such as Roy Orbison's "Blue Bayou," Leon Russell's "Superstar," and Lee Ann Womack's "Why They Call It Falling" in putting together the program for this LP. As well, the caliber of musicians used to back her is as stellar as the material. Pianists Bill Cunliffe and Brian Piper, guitarist Anthony Wilson, tenor saxophonist Ricky Woodward, bassist Chuck Berghofer, Hammond B-3 organist Joe Bagg, and drummer Mark Forber make sure that the playing is as strong as the vocals.
This is a 45rpm, double-LP release put together by Groove Note's house unit of producer Joe Harley and engineer Michael Ross, so you just know it's going to sound good before you even drop it on the platter of your turntable. Harley and Ross have some of the best instincts and ears in the music industry, and they don't fail them here. White's voice is as realistic-sounding as I've ever heard. It's full, rich, well delineated and three-dimensional. You can hear every inflection, and you get a superb sense of the interplay between the singer and band. As with Ms. White's voice, the instruments are all clearly rendered with excellent timbre and tonality. At Last is a winner from the team of Harley, Ross and Groove Note.
All three of these albums are worthwhile additions, both musically and sonically, and by purchasing them you'll be telling Pure Audiophile, Pure Pleasure and Groove Note to continue producing such worthy LPs. Vote with your dollars -- can I get an "Amen!" brothers and sisters?
...John Crossett
johnc@soundstage.com