July 2007
Found on Vinyl: Mississippi John Hurt, Son House, and Buddy Guy & Junior Wells
When someone mentions the blues, what do you think of? Chicago? Muddy Waters' electric band? Chess Records? All of the above?
While those are all certainly elements of the blues, they are not the only ones, or even the major ones. The blues as we know it evolved from the shouts and field hollers that black slaves used to express themselves in their everyday work life on the plantations in the Deep South. Those were turned into song as a means to vent the anger, frustration, and helplessness of slave life in a way that both expressed the situation and made life easier to get on with.
One of the sad facts of the blues is that many of its greatest practitioners were virtually unknown for most of their lives. The eyes (and ears) of the general public were focused on what was happening in Chicago. While the electric blues that Chess documented was of great importance and would have a profound influence on the form of music we now know as rock'n'roll, it wasn't the only type of blues being played and enjoyed. After all, who were the ancestors of Waters, Otis Spann, John Lee Hooker, B.B. King and their ilk?
In the mid-1960s, the world got the answer from, of all things, the folk-music revival. Suddenly artists such as Mississippi John Hurt and Son House began to reappear on the scene for the first time in almost a half-century. And just as suddenly, people began to hear raw acoustic blues performed in the flesh by singers who had actually lived and sung it as they had heard it all their lives. So great was this renaissance that it caused more than a few of the electric bluesmen to re-examine their roots as well.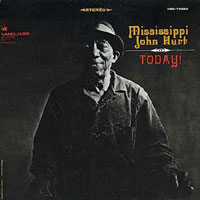 Mississippi John Hurt had originally recorded a few sides for the Paramount label in the 1920s. But due to poor recording and pressing quality and even poorer distribution, he had been relegated to life in Avalon, Mississippi, where he assumed he would be for the remainder of his life. Then, in 1963, blues collector Tom Hoskins rediscovered Hurt and brought him back into the public spotlight through folk festivals, folk clubs, and, most important, the recording studio. Today [Pure Pleasure/Vanguard VSD-79220] features just Hurt and his guitar playing the country blues he'd always played -- except now he was reaching a wider audience.
Listening to Hurt play was like hearing something new. He didn't play with the pain and suffering in the "done me wrong," raw, harsh style that most blues lovers of the day were used to hearing. His style has been described as more of a gentle, almost sweet sound that, while making his music that much more listenable, still managed to communicate the emotion of the blues.
One listen to Today and you'll hear why Hurt was such a big hit on the folk circuit -- he fit right in. Take the song "I'm Satisfied." On the surface it has a folk song melody and beat, but a deeper listen will uncover the heartache. Today is chock-a-block full of such surprises.
Pair Hurt's basic blues repertoire with Vanguard's excellent recording and Pure Pleasure's superb remastering and you can literally sit in your listening chair, close your eyes and envision Mississippi John Hurt in front of you. Add in deluxe packaging and a flat, quiet pressing and you have a winner in anyone's book. Today will make an excellent addition to any blues lover's library, especially those stuck in electric Chicago.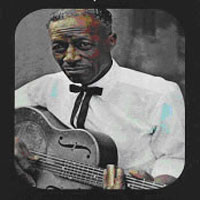 If Hurt's music could be described as sweet and gentle, the same could not be said for Son House. Born Eddie James House, Jr. in 1902, House put honest feeling into his music. When he launched into a song, you just knew you were going to hear the blues done in as real, raw and honest a manner as was possible. Perhaps that's because House had grown up playing the blues (and drinking whatever alcoholic beverage was available) with the legendary Charlie Patton. He also was an influence on the young Robert Johnson. A musician can't get any nearer to the foundation of the blues.
In 1965 Columbia Records, under the direction of the legendary producer John Hammond, Sr., brought Son House into the studio to record what would become his magnum opus, The Legendary Son House – Father of the Delta Blues [Pure Pleasure/Columbia CS 9217], which spanned his blues and spiritual sides. You can hear the blues in such songs as "Death Letter," "Levee Camp Moan," and "Downhearted Blues," while the spiritual side shines forth on numbers like "John The Revelator," Motherless Child," and "Preachin' Blues."
While not quite as realistically recorded as Hurt's Vanguard album, Father of the Delta Blues is still a well-recorded album -- as long as you can get past the early-stereo, left/right soundstage. House's vocals and guitar -- though recorded in different channels -- sound authentic. But what will really get you is the music. Sometimes accompanied by his National Steel guitar, sometimes with Alan Wilson's guitar or harmonica, and sometimes a cappella, House always sings the blues, and nothing but the blues.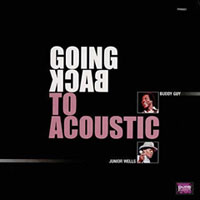 Albums like Today and Father of the Delta Blues caused some of the electric bluesmen of Chicago to re-examine their roots and go acoustic. Muddy Waters tried it with some success on Folk Singer. Two others who tried this together are guitarist Buddy Guy and harmonica wizard Junior Wells. Both had played together in Waters' electric band in Chicago, and both continued to record in the same style on their own. But a trip to Paris got them into the studio to do Going Back To Acoustic [Pure Pleasure/Isabel PPAN001] in 1981. Spurred on by the success of their inspirations on the folk circuit, Guy and Wells decided that they should show the world that they, too, could play the blues in an authentic manner. So well did Going Back turn out that once you hear the album it'll be hard to recall that many of these songs began life electrified.
Side one is mostly Buddy Guy and his guitar with occasional assistance from Junior Wells on vocals. Guy takes a crack at songs by John Lee Hooker as well as his own compositions. The sound is extremely three-dimensional and alive. You'll hear detail aplenty. Side two contains mostly Wells with help from Guy on guitar. Once again the sonics are top notch, allowing you to close your eyes and "see" Buddy and Junior playing the blues right in front of you.
So if you are truly interested in hearing the real, honest-to-goodness blues played and sung as it has been for centuries, any or all of these albums will give you a dose of what ails you. Pure Pleasure Records sumptuously packaged and carefully pressed them all. Thanks go out to Pure Pleasure's Tony Hickcott for reissuing these classic titles in such a pristine manner. Ironically, an Englishman has reminded us Americans what our own homegrown music is about.
...John Crossett
johnc@soundstage.com