April 2007
Found On Vinyl: Clark Terry, Rosemary Clooney & Duke Ellington, and Jim Hall
What two words spring to the minds of vinyl loving audiophiles everywhere whenever they contemplate listening to a well-mastered (or well-remastered) LP? Probably "pure pleasure." A simple, no-nonsense response to the unadulterated joy that we derive from hearing a well-done vinyl album.
Tony Hickmott must have had similar feelings, as those two words were the ones he chose for the name of his new vinyl reissue company. Like most LP-reissue labels, Pure Pleasure has picked one catalog in particular to mine. In their case, it's that of short-lived but very fertile Candid Records, the brainchild of Charles Mingus and Max Roach. Both had grown sick and tired of being treated as chattels by the major record labels of the day -- labels that could and did tell them what they could and couldn't record. Thoroughly disgusted, the two began Candid as an artist-driven label run solely by artists for artistic endeavors that the majors refused to endorse. Unfortunately Candid didn't survive for long. While Mingus and Roach were superb musicians, neither was much of a businessman. Still, Candid did release quite a few sonically and musically worthy albums that have long been unavailable to modern vinyl jazz fans. Pure Pleasure was formed with the intent of rectifying that situation by reissuing the Candid catalog on pristine 180-gram vinyl.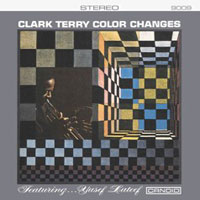 One shining example of the treasure is the Clark Terry album Color Changes [Pure Pleasure/Candid CJS 9009]. What made this 1960 recording special was that for the first time Terry had complete control over whom he would record with, what he wanted to record, and how the music was to be recorded. It also marked the first time that Terry was to record using an instrument that he has now become almost completely associated with -- the flugelhorn.
To say he chose his partners wisely would be an understatement. Terry didn't fall into the trap of picking an all-star lineup and hoping something good would come of it. He also didn't want just another blowing session. Instead he picked musicians he knew would work well together playing the music he wanted to play. The band was made up of Jimmy Knepper on trombone; Julius Watkins on French horn; Yusef Lateef on tenor sax, flute, English horn and oboe; Sheldon Powell on tenor sax and flute; Tommy Flanagan on piano; Joe Benjamin on bass; and Ed Shaughnessy on drums. Not all all-stars, but not chopped liver either.
Terry, with the assistance of Lateef, wove a musical tapestry that is at once accessible and at the same time a little bit out there on the free-jazz side. The mix of instruments Terry chose aided him greatly in gaining the sound he wanted: at times like the big bands he had for so long played in, and then at the drop of a hat like a simple quartet. Color Changes offers a true musical treat. Combining swing, bop and Middle Eastern free jazz, this album will challenge your ears while at the same time caressing them.
Color Changes was very well recorded and has been expertly reissued. Sound was one thing Candid seemed to have a handle on right from the get-go. All instruments on this stereo release sound exactly like they should. Each is easily identifiable. Each has its own place in the soundstage while still remaining a part of the sonic whole. They all blend well during the ensemble parts and stand clearly and cleanly apart during any solos. The pressing is both flat and quiet, allowing me to hear well into the music for those little sonic clues that aid in suspending disbelief. That Pure Pleasure has resurrected this little-known gem should be applauded by jazz lovers everywhere. It will make an excellent addition to any jazz library.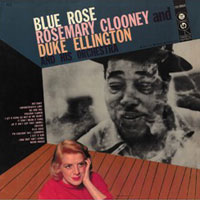 Pure Pleasure is, however, not married to the Candid catalog for all of its reissue material. They are smart enough to realize that even the largest of jazz catalogs is still finite. Thus, Pure Pleasure also reissues albums they consider musically worthy no matter the label. The proof? How about the Rosemary Clooney/Duke Ellington collaboration Blue Rose [Pure Pleasure/Columbia CL 872]. This 1956 mono recording was among the first to demonstrate that Clooney, who up until then was considered a pop novelty singer, possessed the chops to sing the music of one of the jazz world's finest writers and arrangers, Duke Ellington. That Blue Rose succeeded is borne out by the string of jazz albums Clooney recorded on the Concord label in the 1970s, after her brief retirement to raise a family.
Not that Clooney sings on all the tracks, because she doesn't. But she does sing on most of them. She showcased a vocal prowess that demonstrated her way with a tune, her timing and her voice, showing that she really could sing jazz. For instance, a number that should be immediately identifiable to the majority of listeners: "It Don't Mean a Thing (If It Ain't Got That Swing)." Clooney uses no vocal tricks, no slurring or bending of words, no lagging behind the beat to get her message across. Instead, she simply uses her incredibly supple voice and inflection to make the song her own. And it works. She sings these songs as Ellington wrote them: straight, simple, forceful or gentle. In other words, pure Ellington. It's said that Ellington was especially pleased with the results of this album.
Clooney's voice is front and center. It's fully realistic, as are any of the other soloists. The band as a whole is set well back behind the singer and can, at times, sound a bit muffled and congested. I have to admit that this wasn't one of Columbia's best recordings. The band fares much better sonically on the tunes where they get to be the star attraction, such as the beautiful version of "Passion Flower." Here, you can follow the entire band section by section and get a real feel for the power and precision that Ellington drilled into his band by keeping them on the road over 300 days a year. The 180-gram pressing is superb. While this album may not be one that cracks anyone's top-ten list, I'll end up listening to it almost as often as any on my list.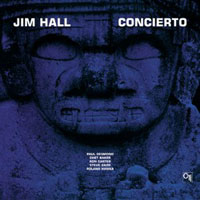 Finally we come to another album from yet another label -- C.T.I. Jim Hall's Concierto [Pure Pleasure/CTI PPAN 6060] is fast becoming a modern-day audiophile classic, thanks in no small part to the excellent SACD put out by Mobile Fidelity. But as good as that SACD is -- and it's very, very good -- this double-LP set runs rings around it sonically. How so? Well, for one thing, to these ears, digital formats have audible problems. For example, getting the sound of the plucked strings of a stand-up bass right but losing that of the body resonance. This creates a feeling of only getting half the music. Good vinyl replay doesn't suffer from this problem. (Granted, vinyl has its own set of difficulties to overcome, but that's another story.) I hear both the string sound and the wooden-cavity resonance. This holds true of any instruments or vocals. Then toss in the fact that Pure Pleasure stretched this music over four sides of two LPs. This allows for all the music, from the deepest bass notes to the last wafting of a cymbal strike, to be fully presented. One listen and you'll hear why this LP thumps all comers.
When you add in the excellent pressing, the purity of the instrumental tones and the sense of 3D presence accorded to each musician, and you have an album that takes vinyl replay about as far as it can go. I was mesmerized by the true-to-life sound of Chet Baker's trumpet, Paul Desmond's alto sax, and Hall's guitar. The rhythm section gets equally fine treatment. Roland Hanna's piano, Ron Carter's bass and Steve Gadd's drums are accorded the same fine treatment. About the only sonic nit I can pick is that the soundstage has shrunk and is contained just between the speakers. Yes, it's stereo, but the sound here could just as easily be considered fat mono. Despite that, the feeling that the musicians are all playing together is palpably real.
I'm not going to dwell on the musical merit of this album overmuch, as there has been enough ink spilled on that subject. Suffice to say that this LP is a perfect example of a recording session where all the planets aligned to create a recording of cool, swinging, powerfully beautiful jazz. If you really want to hear this album at its absolute best, you'll need two things: a good vinyl replay system and Pure Pleasure's reissue. Yep, it's definitive.
Pick any one of these three albums, give it a spin on your turntable, kick back and give it a listen. No doubt you'll feel the same as Tony Hickmott. Listening to great music on vinyl really is pure pleasure.
...John Crossett
johnc@soundstage.com