March 2007
Found On Vinyl: Claire Martin, Madeline Peyroux, and Gerry Mulligan with Scott Hamilton
For an old-timer such as me, raised on the LPs of Billie Holiday, Ella Fitzgerald and Carmen McRae, today's new troupe of jazz singers takes some getting used to. After all, Billie, Ella and Carmen's repertoire came almost exclusively from the Great American Songbook. For them, it was all in the interpretation and the singing style. Oh, and the voices too. But today, the songbook that jazz singers turn to has changed from those hoary standards of yesteryear to a newer, more modern repertoire. Whether or not it's a successful change will come down to the very quality that set Billie, Ella and Carmen apart in their day -- talent.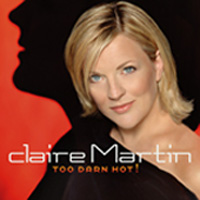 Linn Records has been recording English jazz singer Claire Martin for a number of years, but as far as I can tell, Too Darn Hot! [Linn AKH 272] is the first release of one of her albums on LP. When you've been recorded as often as Ms. Martin, it's an indication of talent. As she demonstrates here, she can sing, and sing well. By mixing in a collection of old Tin Pan Alley songs to keep us oldsters happy, such as Cole Porter's title track, "Black Coffee," and "When I Fall In Love," with more modern counterparts such as Leonard Bernstein and Stephen Sondheim's "Something's Coming," Rogers and Hammerstein's "The Gentleman is a Dope," and Bryant and Bryant's "It's Raining In My Heart," Ms. Martin melds together a musical program that is timeless.
For the most part, she uses either a quartet or quintet as backing and mixes in some string arrangements to flesh out tunes. Because this album comes from Linn -- those analog mavens who demonstrated the turntable's superiority -- you know the sound will be first-rate. The soundstage is both wide and layered. Each instrument occupies its own space, and they all come across as tonally correct. Ms. Martin's voice -- the star attraction here -- is lovingly recorded to sound like that of a real person, not a cardboard cutout. I love the sense of space Linn captured here.
The recording allows listeners to hear every little inflection Ms. Martin uses to make these interpretations her own. She demonstrates excellent control, whether she stays on the beat or, when the song calls for it, lagging slightly behind. She understands when to slow the pace down or pick it back up. I am very impressed with this LP, the first I've heard from Linn, and you can bet it won't be the last I hear. Highly recommended.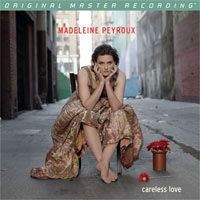 Careless Love [Mobile Fidelity MFSL 1-284] by Madeline Peyroux has me questioning my belief in reincarnation. I mean, how else can I explain the eerie similarities between Ms. Peyroux's voice and that of Billie Holiday? It is not that Madeline Peyroux is simply being a copy-cat -- that would be doing a grave injustice to both singers. While it is true that Madeline Peyroux sounds very similar to Billie Holiday, she's missing the sense of utter hopelessness, the sense of complete immersion in a song, that came to Holiday so naturally. But if you've ever wondered what Billie Holiday would sound like were she alive today, then Careless Love is going to be your cup o' Joe.
The CD of Careless Love has rocketed up the charts, catapulting Ms. Peyroux into musical superstardom. But if you really want to hear what all the fuss is about, Mobile Fidelity's new 180-gram LP is the best way to do it. The LP can almost lead you to believe you are hearing an entirely different album, so much new information is revealed in those grooves. Half-speed mastered by the man who perfected the process, the great Stan Ricker, this album truly shines sonically. Madeline Peyroux's voice is so much more present, so much more three-dimensional via the LP that it's spooky. The sparse instrumentation goes a long way toward aiding in this feeling, and it is given the same sonic treatment as Ms. Peyroux's vocals. Thanks to the overwhelming sense of space surrounding all of the performers, the soundstage is huge. A sonic tour-de-force if ever I've heard one.
Musically Careless Love runs the gamut. From the self-penned "Don't Wait Too Long," to covers of tunes by the likes of Leonard Cohen, Bob Dylan, W.C. Handy, and Hank Williams, Ms. Peyroux demonstrates her interpretive skills. Her choice of producer, Larry Klein, (Joni Mitchell's longtime producer) was an inspired one. Klein understands this type of music intimately and never allows it to do anything other than support Madeline Peyroux's singing. What all this adds up to is an album that can stand with the best of its breed from today or yesterday.
Staying in the jazz vein but moving from vocal to instrumental, Mobile Fidelity has mined the vaults of Concord Records and pulled out a hidden -- and almost forgotten -- gem in the Gerry Mulligan/Scott Hamilton recording Soft Lights & Sweet Music [MFSL 1-286]. This album was to be the first in a series of encounters between Mulligan and other jazz stars of the day, much in the same vein as the Verve Gerry Mulligan Meets… albums of the 1950s. That the series never got beyond this single LP may explain why this music escaped notice all these years. Fortunately, Mobile Fidelity has seen fit to resurrect it, and we are the beneficiaries.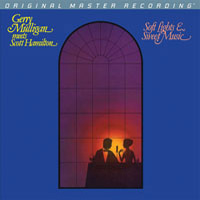 Soft Lights & Sweet Music brims with a feeling of late-night intimacy. Both Mulligan and Hamilton were in fine fettle on this date. The rapport the two share, the love of simply playing, is clearly evident. Mulligan wrote most of the numbers recorded for this specific date. This should come as no real surprise to any Mulligan fan, as he was one of the greatest writer/composer/arrangers the genre has ever known. His desire was always to place whomever he was playing with in the best of possible settings -- and here he accomplished that feat with the Zoot Sims-inspired Scott Hamilton.
It was Mulligan who also chose the rhythm section, having heard pianist Mike Renzi, bassist Jay Leonhart and drummer Grady Tate playing together behind a singer in NYC. They completely justified Mulligan's choice by being the perfect foils for the two leaders. They play the support role to perfection, and were also ready to step into the infrequent spotlights when given the chance. To attempt to pick any one number here as better than the others would only serve to undermine the cohesive wholeness of this album. Swap out any of the tunes chosen and you'd end up with a completely different LP, and one that's not necessarily more enjoyable.
We all own albums that contain great music but whose sonic worth is of negligible quality. Soft Lights & Sweet Music will never be numbered among those. This album, also half-speed mastered by Stan Ricker and MoFi's Shawn Britton, really shines. Both saxophones, Mulligan's baritone on the left and Hamilton's tenor on the right, are presented in a realistic manner. But to my surprise, the real sonic stars here are in the rhythm section. They are captured as well as the two headliners. The bass is deep, woody and full, the piano -- apart from the lessening of its true size -- is tonally correct and precise, and the drums thump, snap, and rattle.
This album (along with the Madeline Peyroux LP) joins the illustrious reissues pressed by Mobile Fidelity over the years -- many of which now sell for big bucks on the used market. That it, like all its predecessors, is a limited edition should tell you all you need to know regarding how quickly you'll want to add it to your collection. Based on its musical content alone, it should be held near and dear. Add in the outstanding sonics, and you have a "don't miss it" LP.
...John Crossett
johnc@soundstage.com