June 2006
Aqvox Phono 2 CI Phono Stage


Review Summary
| | |
| --- | --- |
| Sound | "A neutral, even-handed performer with surprisingly potent bass and astounding retrieval of detail considering its modest price." "From slamming rock to delicate jazz, from art-noise to full-throttle classical, the Aqvox Phono 2 CI handled it all with aplomb." "The Phono 2 CI rose to the challenge, rendering itself essentially invisible in a distinctly non-budget manner." |
| | |
| --- | --- |
| Features | "Circuit-wise, the Phono 2 CI runs in pure class A and uses no op-amps in the signal path." "The front panel contains the power switch; a well-chosen rumble filter (it kicks in at 10Hz); left and right gain knobs, which are much more logical and easier to deal with than DIP switches (although there are DIP switches around back for gross adjustments, with up to 68dB of gain available)." Around back "there are both single-ended and balanced inputs and outputs" and "a comprehensive set of DIP switches for both capacitance and impedance." |
| | |
| --- | --- |
| Use | "While the Phono 2 CI does have single-ended connections, it is fully balanced from one end to the other, and Aqvox strongly suggests that these connections be used in order to allow the Phono 2 CI to perform at its best." "I can't imagine that there would be a cartridge out there that would give the Phono 2 CI much trouble in the gain department." |
| | |
| --- | --- |
| Value | "If you're in the market for a sub-$1000 phono stage -- heck, even if you have twice that to spend -- you have to check out the Aqvox Phono 2 CI." |

The arrival of a component from a hitherto unknown company is an event fraught with excitement and peril. Excitement? Who doesn't like a surprise? Decanting an electronic product is fun enough, but add in the spice of the unknown and you've got the recipe for a racing pulse.
But peril? What kind of peril could possibly accompany a piece of audio gear? Well, maybe peril is a bit strong, but with products from unknown companies, we reviewers have no point of reference, so the work of understanding such components is harder. Personally, I flounder around for awhile, trying to determine, in a vacuum, where the product fits in. Also, if it seems to work either very well or very poorly, I often end up second-guessing myself, wasting valuable reviewing time trying to figure out if this thing is the audio equivalent of the Rosetta Stone or just a James Ossuary.
Well, let me tell you about the Aqvox Phono 2 CI phono stage from Germany, which is passing along analog signals from across the years in my listening room right now. Never heard of it? You will.
The details
Aqvox is a relatively new German company that's pretty much unknown in audiophile circles. Suzanne Candeias founded the company in 2003 with the intention of offering inexpensive recording and reproduction components to studios and multimedia companies. But, as we shall see, Aqvox products have some serious crossover appeal. In addition to the Phono 2 CI, Aqvox also produces a USB-connectable DAC and a microphone preamp with an A/D converter.
The most immediately distinctive feature of the $900 USD Aqvox Phono 2 CI is its firm reliance on both balanced outputs and inputs. While the Phono 2 CI does have single-ended connections, it is fully balanced from one end to the other, and Aqvox strongly suggests that these connections be used in order to allow the Phono 2 CI to perform at its best. Phono signals are naturally balanced, with a positive signal, negative signal and ground, and although most phono stages simply shunt that negative signal off to ground and use only the positive, there's some serious merit to the idea that the miniscule signals that squeak out of a moving-coil cartridge could use all the noise-canceling help they can get. While it's not that hard to reterminate your RCA connections with XLR plugs, Aqvox thoughtfully includes well-made RCA-to-XLR adapters along with the Phono 2 CI so you can get going right away. I tried them, and they seem to work quite well.
Considering its price, the Phono 2 CI is reasonably well made, with a CNC-milled aluminum front panel, extruded-aluminum side panels, and all-aluminum chassis work. At a touch over 6 pounds, the Phono 2 CI is not heavy, but it does feel reasonably solid. The front panel contains the power switch; a well-chosen rumble filter (it kicks in at 10Hz); left and right gain knobs, which are much more logical and easier to deal with than DIP switches (although there are DIP switches around back for gross adjustments, with up to 68dB of gain available).
'Round back, things get somewhat more intricate. There are both single-ended and balanced inputs and outputs, although you can only use only one set of inputs at any one time. Power arrives courtesy of an IEC connector. There is also a comprehensive set of DIP switches for both capacitance and impedance, but these aren't as straightforward as they may seem.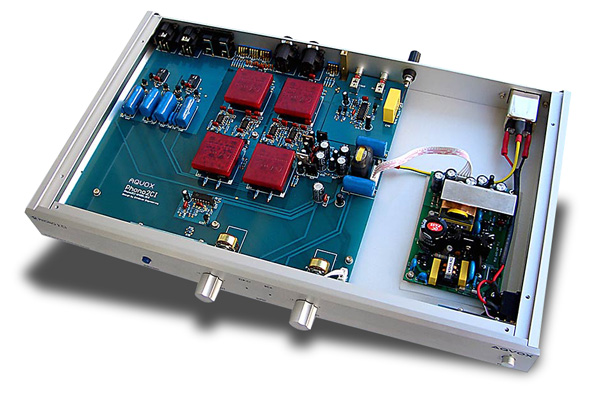 Aqvox recommends that MC cartridges be connected via the XLR inputs, but in this configuration, the DIP switches have no effect. They affect only the RCA inputs, which are recommended for moving-magnet cartridges. But most moving-magnet and high-output moving-coil cartridges are designed to be run wide open at 47k ohms, so having this level of adjustability is redundant, it seems to me. I would have imagined that the DIP switches would only be required for low-output MC cartridges, which, once again, should be used with the XLR inputs that don't have adjustments. Should you so desire, you can use MC cartridges with the RCA inputs, and in doing so avail yourself of the manual DIP-switch settings, though there's really no need, as that's all done automatically via the balanced inputs.
My head began to spin, so I contacted Norman Luebke at Aqvox in Germany, who explained to me that there's no need for impedance adjustments on the XLR inputs because MC cartridges supply very little voltage, but they do have adequate current. The Aqvox Phono 2 CI works with this current instead of the voltage. According to Aqvox, all moving-coil cartridges produce similar levels of current, while the voltage differences are considerable. The Aqvox Phono 2 CI has a low 20-ohm input impedance, and the current does not require impedance corrections into this. As a side benefit, MC cartridges are said to be electrically self-damped into this circuit.
Circuit-wise, the Phono 2 CI runs in pure class A and uses no op-amps in the signal path. Despite the class-A appellation, the Phono 2 CI runs very cool, with only the power lamp indicating its operational status.
System
For the Phono 2 CI's stay here in Canada, I used it via its balanced outputs, as that's the way Aqvox designed it to sound its best. However I did try the single-ended inputs for a short period and found the sound quite acceptable, although not up to the quality of the balanced inputs. My fully balanced Ayre P-5xe phono stage provided a topical comparison.
The source in this system consisted of a Pro-Ject RPM 9.1 turntable with a Shelter 501 Mk II cartridge. A Roksan Shiraz moving-coil cartridge made a guest appearance near the end of the review period. Signals moved from the 'table to the phono stage via a Kimber Timbre RCA cable (very easy to reterminate with XLRs) and from the phono stage to the preamp via Analysis Plus Solo Crystal Oval interconnects. My well-used Sonic Frontiers SFL-2 preamp accepted the balanced signal from the Phono 2 CI and routed it to an Anthem P2 Statement amp, once more via Analysis Plus Solo Crystal Oval.
Speakers alternated between Hales Transcendence Fives and the over-the-top, fully active WLM Gran Viola speaker system (replete with dual 18" subs!) that you'll read about shortly on Ultra Audio. When the WLMs were in the system, alternate amplifiers were multiple pairs of Song Audio SA-300 MB tube monoblocks and an Audio Aero Capitole stereo amp.
Let's get this current-source, impedance-matching business out of the way. My Shelter 501 Mk II likes to be loaded at 100 ohms and sounds positively icy when run wide open. With all DIP switches set to their default positions (which is wide open), the Shelter sounded smooth, calm and clean into the Phono 2 CI's balanced inputs. Who would have known?
Functionally, the Phono 2 CI had more than enough gain for my not-very-demanding Shelter 501 Mk II, which puts out a plump 0.5mv. My Roksan Shiraz is a touch more high-maintenance at 0.3mv, but there was still plenty of gain left, with one more notch available on the DIP switches and the gain knobs on the front panel only at half-throttle. I can't imagine that there would be a cartridge out there that would give the Phono 2 CI much trouble in the gain department.
Break-in was mercifully short. During the first few hours the Phono 2 CI exhibited an annoying band of shrillness in the lower treble that set my teeth on edge. After a half-dozen album sides, this aggressiveness faded from perception and left a nicely rounded, even-handed character.
Sound
As I mentioned, I had no idea what to expect from the Aqvox Phono 2 CI, and due to some rapid-fire system changes, it took me longer than usual to get a handle on exactly what it was contributing to the sound of these varied configurations. However, despite being somewhat off-balance due to the shifting nature of my system, I quickly acquired the sneaking suspicion that this unassuming silver box was doing some really neat things.
Once I had shown the door to several electronic house guests, I sat down and gave the Phono 2 CI some serious ear time. The Aqvox phono stage revealed itself to be a neutral, even-handed performer with surprisingly potent bass and astounding retrieval of detail considering its modest price.
I recently experienced some of the best analog performance I've yet heard in the Coup De Foudre room at the Festival Son & Image in Montreal. Listening to Ella Fitzgerald sing "One for My Baby (and One More for the Road)" from Let No Man Write My Epitaph [Classic/Verve V6-4043] was revelatory through this beyond-megabuck system, so I was hesitant to attempt to reproduce the experience in my home, especially through a budget-priced phono stage like the Aqvox Phono 2 CI. Well, I gave it a shot anyway, and you know what? I didn't feel deprived. Via my modest Pro-Ject/Shelter front-end, that same tune retained all of its warmth and sopping-wet emotionality, sacrificing only some of that depth-and-space magic, which, as we all know, comes at a price tag that's much higher.
As I mentioned earlier, the Phono 2 CI retrieved detail beyond any expectation of its modest price. There's a lot going on in the background of Back to Back - Duke Ellington and Johnny Hodges Play the Blues [Verve/Classic Records MB VS-6056], and the Phono 2 CI sorted it all out, right from the low, choppy inflections of Ellington's piano to Leslie Spann's graceful guitar on "Wabash Blues." Each instrument was precisely delineated, occupying its own space, without smear or blur, which, in my experience, is very rare in the price range where the Aqvox Phono 2 CI competes. Back to Back is a very dynamic record, one that contains equal amounts of musical exuberance and outright schmaltziness. The Phono 2 CI dug deep and preserved all of that juicy, jammy emotion. Excellent stuff, and an auspicious beginning.
The Phono 2 CI helped in my quest to figure out what this Mahler business is all about. Just when I think I'm starting to get a handle on the constantly shifting, counter-intuitive melodic structures, I come across a piece as bizarre as The Symphony of a Thousand [Classic Records/Vanguard VSD-77120/1]. I can be somewhat contrary; I don't think I should have to research a piece of music in order to appreciate it, so I've been struggling to gain insight into Mahler's music solely by listening. While it's a hard slog, obstinacy does have its virtues. Side three of The Symphony of a Thousand starts off with a delightful children's chorus and a counterpoint that's absolutely belted out in a clear, powerful tenor. I'm still not sure what everyone is going on about, but the Phono 2 CI kept it all distinct, refusing to overload even on the most dynamic passages. To tell the truth, this recording is a bit of a torture test for a phono stage, as it rockets from quiet and delicate to absolutely explosive in zero seconds flat. So in order to survive this musical roller coaster, a phono stage has to be able to track these dynamic extremes without muddying the quiet sections or compressing the loud ones. The Phono 2 CI rose to the challenge, rendering itself essentially invisible in a distinctly non-budget manner.
In the tonal-balance department, no news is good news with the Phono 2 CI. It's pretty much neutral from top to bottom. That really solid bottom end is never overblown, and blends well into a nicely balanced midrange that neither pushes forward nor retreats backward. The top end of the Phono 2 CI is very clean and extended, never sounding bright, etched or shrill.
A grunting, crackling, late-career Tom Waits album is territory where lesser phono stages and milque-toast reviewers fear to tread, but we here at SoundStage! do the dirty work for you. Waits' Real Gone [Anti 86678] continues the challenges laid down by Alice [Anti 86632] and Blood Money [Anti 86629], with noise for its own sake interspersed with melody that sounds like it was written while coming down off a week-long coke bender. It was early in the review period when I gingerly placed Real Gone on to the 'table, expecting this unprepossessing phono stage to scurry back to Deutschland with its tail between its legs after being assaulted by this noisy, abrasive album. Color me surprised. There's some serious bass on "Green Green Grass," not the 40Hz bloom that often passes for low bass, but mid-20Hz-to-low-30Hz rumble, and the Phono 2 CI reproduced it with authority, digging in and decoding it, all the while untangling the wildly convoluted melodies that lie hidden in this challenging music. Even at obscenely high levels -- which can be toxic with this album -- the Phono 2 CI never tipped over the edge into abrasiveness.
Miles Davis's Filles de Kilimanjaro [Columbia PC 9750] is another bass challenge, but this time due to its rhythmic complexity. It's not enough for a component to extend deep; in order to present Filles with all of its meaning intact, the whole system has to be basically in tune. I remember when this album was released. My father, who was a hardcore bop fan, was horrified. "He's lost his mind," he said of Davis, certain that the drugs had finally addled him beyond hope of salvation. Well if my pa was alive today, I'd sit him down in front of the system and we'd groove to Filles, and I'm sure that he'd get it. The Phono 2 CI presented Ron Carter's bass as a crystalline entity, with every note enunciated clearly and precisely, driving the album along with the rhythmic intensity that's required in order to make sense of this brilliant album. Rhythmic assurance is one of the Aqvox Phono 2 CI's strong suits, and Filles -- which I listened to repeatedly during the review period -- drove that point home. This complicated album flowed and swung hard, almost as if the Aqvox was showing off, leading the music along in a larger-than-life manner. In part, this feeling of swing emanates from the Phono 2 CI's solid bottom end, but it's more than that. It feels as if the Phono 2 CI grips the notes firmly and then lets them go in a particularly timely manner. Whatever the reason, it made jazz and groove-based music an absolute pleasure to listen to.
Up top the Phono 2 CI was equally well behaved. There was neither grit nor edge to the Aqvox's treble; instead the Phono 2 CI proved itself to be exceptionally well extended and smooth, which, when added together, yields an accommodating, self-effacing nature. The highs were there, they were as they should be, and I could forget about them and simply groove to the music that I was listening to at the time. While I'm not a big fan of much of the pop that's released these days, Beth Orton's Central Reservation [Classic Records/Arista RTH-2011] has charmed me. There's a core of honesty to Orton's music, and her strength is as much in evidence as her sensitivity. I don't like listening to the whining of a victim, and Orton avoids this mistake even as she peels off every layer of protection, leaving herself fully exposed. With lines like "What use are regrets/they're just things we haven't done yet," Orton reveals wisdom that's far beyond her years. On "Stolen Car" there's a delightful sparkle to the acoustic guitar, which makes a wonderful contrast to Orton's world-weary vocals, and the Aqvox Phono 2 CI separates and delineates the overtones of the instrument and extends the harmonics. This, my friends, is as it should be, and not as it often is with a phono stage of this modest cost.
Comparison
OK, if you've read this far, you've probably got the idea that the Aqvox Phono 2 CI is a pretty darn good unit. In order to find out just how good the Phono 2 CI is, I compared it to my Ayre P-5Xe phono stage ($2350). On the face of it, these two units seem cut from much the same cloth. Both take in and spit out a fully balanced signal, and both use class-A amplification stages. Both are silver, and both use blue LEDs. However, the Aqvox has an unobtrusive rumble filter and an impedance-matching circuit.
Sonically, the Ayre and the Aqvox phono stages are also more alike than they are different. Both units present a crisp window to the music, with excellent imaging and soundstage delineation, a clear, uncolored midrange, grainless highs and a firm, well-rounded low end. While the P-5xe is no slouch in the bass, the Aqvox does dig in a little deeper, although the Ayre counters with slightly tighter control and recovery from transient impacts. Which was better down low? Well, it all depended on which speakers I was using. With my Hales, which are a touch dry in the bass, the Aqvox came out ahead. When listening to the howitzer-like WLM Gran Viola sub, the Ayre better kept things under control.
The P-5xe was a touch more refined up top, but not by much. While both units had a very similar tonal balance in the treble, the Ayre phono stage floated the image of cymbals in a more believable manner, with just a tiny bit more detail of the overhanging harmonics. It was much the same story through the midrange, with both the Ayre and the Aqvox phono stages sounding almost too close to call. The Ayre was just a leetle more sophisticated through the midrange, fleshing things out with some full-fat cream compared to the thinner milk of the Aqvox. While there's no way you could describe the P-5xe as lush, its sound does have just a teensy bit more body than that of the Aqvox, which could sound the slightest bit cool in comparison.
To tell the truth, there were times when I forgot which phono stage was in the system, and in those instances I had to really pay attention if I wanted to determine, with any degree of certainty, which one was playing. With some concentration I could usually pick out the Aqvox's stronger bottom end or the Ayre's very slightly more sophisticated treble, but in all honesty it wasn't remotely easy.
Conclusion
And therein lies the best way to view the Aqvox Phono 2 CI. It's a $900 phono stage that sounds frighteningly close to a $2350 phono stage. This doesn't reflect badly on the Ayre, which is a superb unit. I purchased it for my own use, and I am still extremely happy with it. Instead, this photo finish highlights just how good the Aqvox Phono 2 CI really is. Essentially, the Phono 2 CI was unflappable. None of the music that I threw at it forced it to lose its composure. From slamming rock to delicate jazz, from art-noise to full-throttle classical, the Aqvox Phono 2 CI handled it all with aplomb.
If you're in the market for a sub-$1000 phono stage -- heck, even if you have twice that to spend -- you have to check out the Aqvox Phono 2 CI.
...Jason Thorpe
jason@soundstage.com
Aqvox Phono 2 CI Phono Stage
Price: $900 USD.
Warranty: Two years parts and labor.

Aqvox Advanced Quality Audio Devices
Kegelhofstr. 29
20251 Hamburg, Germany
Phone: +49-(0)40-410 068 90
Fax: +49-(0)40-467 797 14

E-mail: info@aqvox.de
Website: www.aqvox.de