February 2006
Ortofon Rondo Blue Phono Cartridge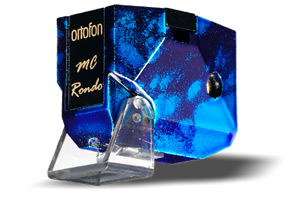 Review Summary
| | |
| --- | --- |
| Sound | "A crisp, articulate, well-behaved cartridge with an admirably neutral tonal balance." "While the uppermost registers lacked the utmost in air, the entire treble region exhibited a most admirable coherency that refrained from any glare or etch." "The most notable performance characteristic of the Rondo Blue was its bass" -- " an overachieving whip-crack quickness that added a seriously enjoyable foundation." |
| | |
| --- | --- |
| Features | "The new Rondo series features cartridge bodies made of powdered wood suspended in a resin matrix that is injection-molded into shape." "Ortofon employs neodymium magnets in the Rondo cartridges in order to achieve the respectable .5mV output, which means that they shouldn't give any reasonable moving-coil phono stage much to complain about." |
| | |
| --- | --- |
| Use | "Ortofon recommends loading the Rondo Blue at 100 ohms, which is exactly what I did. The only specification that might raise an eyebrow is the slightly higher-than-normal recommended tracking force -- at 2.3 grams, the Rondo tracks about .5 gram higher than the majority of moving-coil cartridges with which I'm familiar." |
| | |
| --- | --- |
| Value | "Ortofon has done a splendid job of maximizing the strengths and minimizing the weaknesses in this reasonably priced cartridge." |
Here's a newsflash for you: Ortofon is still going strong in the cartridge business. Of course, you knew that, but this is the kind of information that should be trumpeted from the rooftops. In this digital age, it's rather like finding out there's a factory in Pennsylvania still churning out buggy whips and making a handy profit at it to boot. In business in Denmark since 1918, Ortofon has been steadily and reliably producing moving-coil cartridges for the last 61 years. And just so you get the point, keep in mind that they're still producing their SPU cartridge pretty much unchanged from the original version -- introduced in 1958! That's Danish persistence for you.
But a successful company doesn't rest on its laurels, even in the fly-trapped-in-amber world of LP playback. While Ortofon doesn't exactly rush things, they've kept their product line current, servicing the audiophile world with such well-respected products as the Kontrapunkt cartridges (the Kontrapunkt a and b are relative newcomers, introduced within the last decade). Now, at roughly the same time as the launch of digital radio here in Canada, Ortofon has announced an entirely new line of cartridges. For playing LPs. On turntables. I just love these guys.
The new Rondo series features cartridge bodies made of powdered wood suspended in a resin matrix that is injection-molded into shape. This process is relatively new, and the bodies are made in Japan, where Ortofon also takes advantage of local artisans who lacquer each body with the respective color that gives the name to each model in the Rondo line.
Retailing at $699 USD, the Rondo Blue sits right in the middle of the Rondo line, with the upscale Bronze at $849 adding a Fritz Gyger (FG) 80 stylus in place of the Blue's FG 70 stylus. The $499 Rondo Red represents the entry into the line, substituting an elliptical stylus. All three cartridges use the same coil wire, which features two-layer gold plating over copper. When the cartridge ends its useful life, Ortofon will allow 25% of the current retail price of the Rondo Blue (or indeed any Ortofon moving-coil cartridge) toward another movng-coil cartridge of equal or greater value. Ortofon doesn't believe in re-tipping cartridges, and prefers that you simply give the old one back and purchase another at a substantial discount.
Ortofon employs neodymium magnets in the Rondo cartridges in order to achieve the respectable .5mV output, which means that they shouldn't give any reasonable moving-coil phono stage much to complain about. The mounting holes are threaded, which is a boon for those of us with minimal levels of dexterity. Ortofon recommends loading the Rondo Blue at 100 ohms, which is exactly what I did. The only specification that might raise an eyebrow is the slightly higher-than-normal recommended tracking force -- at 2.3 grams, the Rondo tracks about .5 gram higher than the majority of moving-coil cartridges with which I'm familiar. Of course, a tracking force that's on the high side is preferable to one on the low side, as an inordinately low down force can result in mistracking, which will destroy your records right quick.
How many turntables?
For a large part of the review period I had the Rondo Blue mounted on a Pro-Ject 2 Xperience turntable, but to do the apples-to-apples thing I swapped the cartridge over to my own Pro-Ject RPM 9 'table. The phono cable for this experiment was the decidedly non-audiophile-looking stock Pro-Ject interconnect. The phono stage was, for the majority of the time, my own Ayre P-5xe, with a guest-appearance late in the review period by the new-to-me AQVOX Phono 2 CI. I also made good use of the HRS Analog Disk record clamp.
My Sonic Frontiers SFL-2 preamped exclusively. Power amps ran the gamut of extremes -- my own Anthem P2 Statement solid-state bruiser shared duties with the Song Audio MB-300 SE single-ended tube amplifiers.
Hales Transcendence Five speakers resumed their old positions after the return of the Verity Audio Parsifal Ovations to the manufacturer. A word to the wise: Hales speakers and SET amps do not play well together. Power-filtration duties remained solely in the domain of a Chang Lightspeed CLS6400 ISO. All interconnects were Analysis Plus Solo Crystal Oval, other than the aforementioned Pro-Ject phono cable, and Acoustic Zen Satori speaker cables remained in the system for the entire review period. The only power cords of note were Cardas Hexlink Fives.
Sounds like…
On first listen, even without any break-in, the Rondo Blue immediately impresses. It's a crisp, articulate, well-behaved cartridge with an admirably neutral tonal balance. Those who say that vinyl's appeal comes from distortion and tonal aberrations should take a listen to the Rondo Blue mounted on a Pro-Ject turntable. I can almost taste the large helping of crow pie, even though I wouldn't be the one eating it.
To tell the truth, I was a little apprehensive about plunging into a full-scale analog workout, as the idea of listening to a near-budget turntable and cartridge for months on end didn't exactly thrill me. However, during that time the Rondo Blue surprised me, drew me in and converted me, in exactly that order.
More from Ortofon: Kontrapunkt c and MC 15 Super Mk II
Kurt Martens of Essential Audio, the distributor of both Pro-Ject and Ortofon here in Canada, knows how to dangle a carrot. Back before Christmas, Kurt asked in passing if I'd be interested in comparing three different Ortofon cartridges on three identical Pro-Ject 2 Xperience turntables.
"Why, yes," I replied cagily. "I may well be interested in such an exercise." Gotta be cool when someone offers you three fully loaded turntables.
Several weeks later, Kurt arrived with said turntables and we prepared for an evening's listening. In our extreme hurry to get things going, we proceeded in precisely the wrong order. The first 'table we pulled out of the box had the most expensive cartridge bolted to it. The Kontrapunkt c (there's also an a, b and h, making up the four letters in J.S Bach's last name), which retails for $1599, proved to be a real smoothie, with a seamless top-to-bottom coherency that was an absolute delight on all forms of music, but especially acoustic jazz. The Kontrapunkt c's bass was especially notable for its control, which it handily combined with outstanding articulation. Although the Kontrapunkt c initially seemed a little soft down low, I quickly came to realize that it's far from cushy, with outstanding delineation of each note of acoustic bass, and a delicious roundness and articulation of kickdrum overtones.
Next out of the gate was the MC 15 Super Mk II, which retails for a meager $250. Initially, the swap over to this inexpensive transducer came as a bit of a letdown, as it didn't have anywhere near the refinement of the Kontrapunkt c (and how could it, really?). The soundstage depth, which was stupendous on the pricier cartridge, flattened into one single plane. However, it didn't take that long for the memory of the Kontrapunkt c to evaporate, and I quickly came to the realization that the MC 15 is a crackerjack of an entry-level cartridge. The MC 15 is exciting, but not too much so, as exciting in this price range can easily cross the line to coarse, which wears thin all too quickly. With quick, taut, tuneful bass and excellent dynamics, the MC 15 doesn't deserve the budget appellation with which it's often stuck.
The third cartridge was the subject of the review that you've been reading, the Rondo Blue. As you hopefully know by now, I was pleasurably surprised by the disparate qualities of refinement and slam displayed by this mid-priced momma bear. A telling moment came when I plonked Classic Records' Led Zeppelin II [SD-8236] on to the platter. We were using the Kontrapunkt c-mounted 'table at that point, and it sounded very good indeed. Kurt suggested a switchover to the Rondo Blue, and sure enough, the lower-priced cartridge actually sounded more appropriate on this aggressive, slamming album. The Kontrapunkt c, while refined and accurate, lacked the guts of the Rondo Blue. The cheaper cartridge actually seemed to have more extended, authoritative bass than the Kontrapunkt c, although it lacked some of the subtlety in the nether regions offered by its more expensive cousin.
In the end, what impressed me most about this comparison was the close familial resemblance shared by these three cartridges. Although they each have their own tonal flavors, and although the strengths become more numerous and the weaknesses fewer as you ascend the ladder, each cartridge was immediately identifiable as coming from the same stable. The top-dog Kontrapunkt c consistently impressed and seduced, with a seamless, musically coherent presentation, one that I'd be happy to listen to on a daily basis. The Rondo Blue, while significantly less expensive, captures a healthy dollop of the refinement of its big brother, the implications of its lower price only manifesting themselves in a less silky treble and reduced image depth. But don't forget that butt-kicking bass, which is an added bonus the Kontrapunkt c can't quite match. Rob at Applause Audio, my local hi-fi emporium, says that he sells a ton of MC 15 Super Mk II cartridges, and it's easy to hear why, as it fails to do anything much wrong. At its price, that's a major virtue.
What fun! Kurt, you can come over anytime.
...Jason Thorpe
jason@soundstage.com
Surprised? Yep. Although the Rondo Blue isn't exactly a budget cartridge at $699, I've found that analog bliss generally comes at a higher price tag. Sub-grand cartridges often share a number of audible traits that you need to be able to look beyond if you want to enjoy your LPs. Most notable of these characteristics are coarseness in the treble, foreshortening of image depth, and compression of dynamics.
While not exactly lush-sounding, the Rondo Blue in no way sounded harsh in the treble. In fact, the most startling aspect of this Ortofon cartridge's high end was that it in no way called attention to itself. While the uppermost registers lacked the utmost in air, the entire treble region exhibited a most admirable coherency that refrained from any glare or etch.
My wife recently made the mistake of admitting she was unaware that Pink Floyd's The Wall [CBS/Sony 40AP 1750-1] was a concept album. So I marched her down to the listening room and forced her to listen to the entire album. While she was initially resistant to the exercise, she softened up, and by the middle of side two she was captivated. Kim is very sensitive to any etch in the treble -- more so than I, and that's saying something -- and even with the volume up higher than she's usually comfortable listening, the Rondo Blue kept its composure. David Gilmour's scorching guitar solo in "Young Lust" can get a bit bitey, and the Rondo Blue faithfully portrayed all of that sizzle, but it also behaved itself and refused to annoy.
Of course, one thing led to another, as it so often does with music, and long after Kim had retired to bed, I was still up pulling out Pink Floyd albums that I hadn't listened to in years. Worthy for its long-buried-but-still-relevant imagery is Animals [Columbia JC 34474]. While it's not quite as profound as I remember, it still holds up, and the Rondo Blue was more than capable of floating Gilmour's chunka-chunka backbeat guitar in the refrain from "Dogs." Although it's an absolutely wretched domestic Canadian pressing (please e-mail me if you have a Japanese or German copy for sale), the Rondo Blue's Fritz Gyger stylus and its attendant quietness in the groove aided and abetted my system in making the best of this limited resource. That classic Pink Floyd complexity came through in spades, with instrument piled upon instrument in a dense mix and every layer admirably delineated.
To my ear, the most notable performance characteristic of the Rondo Blue was its bass. No review of mine is complete without a Tom Waits reference, so I decanted Heartattack And Vine [Asylum Records X6E-295] and cued up side one. Tom Waits' music makes me smile in much the same way as Charles Bukowski's poetry. There's an honesty to both of these artists' works that warms my heart. With its faux-live ambience, "In Shades" perfectly captures the image of the cheap juke joints in which Waits likely imagines himself performing. The pauses in this track are punctuated by tight, percussive bass notes, and here the Rondo Blue trumped my reference Shelter 501 Mk II, and even the Rondo Blue's big-brother, the Kontrapunkt c. There's an admirable gutsiness to the Rondo Blue's bass, an overachieving whip-crack quickness that added a seriously enjoyable foundation to the entire Tom Waits album.
If you've read between the lines so far, you no doubt realize that the Rondo Blue is a great cartridge for reproducing rock music. There's considerable dynamic snap boiling around within this unassuming transducer, but it's by no means a one-trick pony. Ella Fitzgerald's soundtrack to the film Let No Man Write My Epitaph [Classic/Verve V6-4043] is as far removed from a rock album as it's possible to get, and it's an absolute bitch to reproduce cleanly, as the nuances of Ella's voice, and the closeness of the recording, leave a low-quality cartridge nowhere to hide. Listening to "Black Coffee" (I wonder if Kim "stays at home to tend her oven" when I'm not home?) showed that while the Rondo Blue is indeed slightly lean in the midrange, it's in no way thin, and it makes up in harmonic integrity what it loses in richness. While it didn't pile on any extra warmth, and maybe even stripped off the first layer of insulation, the Rondo Blue clearly revealed the textured, sugary-sweet halo that surrounds Ella's voice, and in doing so, it retained all of the overtones that make this vintage recording such a joy to hear.
On other, equally civilized recordings, the Rondo Blue continued to earn its keep. I've been having good luck lately with records on the Pablo label, finding the majority of them to be uniformly good-sounding, well-pressed, and, most importantly, really cheap. The Alternate Blues [Pablo Today 2312-136], with Clark Terry, Dizzy Gillespie, Oscar Peterson and friends, was a recent boxing-day find (half-price!) and is a perfect example. It's a crisp, breezy session with unbelievable separation between the instruments. While I could be cagey and describe the Rondo Blue's presentation of this album as adequate, I just can't bring myself to do it. The Alternate Blues exemplified everything that this cartridge does so well. The low end was very full and well defined, almost verging on forceful, while the midrange retained its clear accuracy, and the highs were refined and anything but coarse.
So once more, the Rondo Blue showed itself to be well behaved, somewhat polite, but with a resolute core of integrity, strength and honesty -- similar to how I imagine Danish people to be.
Comparison
At this point I can sense you reaching for your wallet. Hold on -- not so fast. Let's think about this for a minute. While the Rondo Blue certainly reaches above its price point, it's not the final word in analog reproduction. In order to discover what exactly it is that the Rondo Blue doesn't do, we need to compare it to another overachiever. My own Shelter 501 Mk II, at $850, is slightly more expensive, but not outrageously so. For the extra bucks, this hand-built Japanese cartridge offers an almost diametrically opposed presentation. Where the Danish cartridge is the picture of accuracy through the midrange, it trades richness for neutrality. As a consequence, the Rondo Blue can deliver a slightly unemotional presentation, one that certainly doesn't offend, but which may not make you fall in love. The Shelter, on the other hand, can seduce you with a midrange that's floating in warm oil. The Ortofon cartridge is the more neutral of the two, but that may not matter if you hear the Shelter and decide that neutrality is for the Swiss and has no place in audio.
But these observations must be considered in context. All of my listening to these two cartridges was performed on Pro-Ject turntables, and they're nuts-on neutral themselves. On a 'table that's somewhat more romantic or lush itself, you might just find that the addition of the Shelter 501 Mk II takes things over the top and into the land of whipped marshmallow. In such cuddly conditions, the Rondo Blue might well steal the day, its crisp midrange and tight bass tempering any overly warm tendencies.
The Rondo Blue's kick-ass low end doesn't come without a tradeoff either. On acoustic jazz the Rondo Blue can sound a tiny bit mechanical in the bass, trading off the subtle dynamic shadings of which the Shelter is capable, for its trademark quickness and extension. It's important to realize that this tradeoff is a sin of omission, and that the Rondo Blue's bass performance can easily stand on its own merit. Over the three months that I listened to it, I never once felt that it was missing anything in the low-end department. It took the switchover to the Shelter and some serious concentration to nail down the fact that anything was actually missing.
Don't wrap it up; I'll wear it out
While the Rondo Blue isn't perfect, and the old adage "you get what you pay for" still applies, Ortofon has done a splendid job of maximizing the strengths and minimizing the weaknesses in this reasonably priced cartridge. If you own a bouncy British turntable and want an accurate cartridge to complement it, or if you're just looking to get into analog without breaking the bank, the Rondo Blue may be just the ticket. In fact, there are so many potential purchasers for the Rondo Blue that I hesitate to try to list them all. The wide range of potential applications for this unassuming and affordable cartridge speaks volumes about its success.
In the end, if you're looking for a sub-$1000 cartridge with great bass and an exceptionally neutral presentation, be sure to check out the Rondo Blue. Someone pour me a Carlsberg so that I can toast Ortofon's continued success.
...Jason Thorpe
jason@soundstage.com
Ortofon Rondo Blue Phono cartridge
Price: $699 USD.
Warranty: Two years parts and labor.

Ortofon A/S
Stavangervej 9
DK-4900 Nakskov Denmark
Phone: +45 54 91 19 15
Fax: +45 54 91 19 11

Website: www.ortofon.com

Canadian distributor:
Essential Audio Corporation
1692 Canadore Crescent
Oshawa, Ontario L1G 8A7 Canada
Phone and Fax: (905) 728-0320

E-mail: essentialaudio@sympatico.ca