June 2005
Ayre Acoustics P-5xe Phono Stage
by Jason Thorpe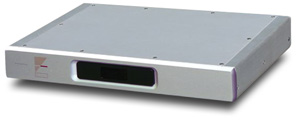 Review Summary
| | |
| --- | --- |
| Sound | "A distinct lack of a sound" -- "what it does contribute is, in large part, defined by absence." "Missing are noise, glare and tonal aberrations. Even more important, in place of any noise, the P-5xe substitutes a velvety black background and a complex, harmonically correct presentation." "Utterly transparent -- a clear window into the musical performance." |
| | |
| --- | --- |
| Features | A fully balanced dual-mono phono stage. "There are two sets of impedance DIP switches on the back panel, one for each channel. These provide the most common choices of impedance -- 100, 1000 and 47,000 ohms -- but an infinite combination of settings is available by soldering resistors to the type of connector (RCA or XLR) that is not being used and plugging these connectors into the P-5xe." "Gain is selectable via internal switches, with the choices being 50, 60 or 70dB for the balanced outputs, and 6dB less for the single-ended." |
| | |
| --- | --- |
| Use | "If you're experiencing interference from other electronics, or picking up radio broadcasts from your interconnects due to your ultra-low-output moving-coil cartridge, running a balanced signal into the P-5xe may well be the answer." |
| | |
| --- | --- |
| Value | "Even at its $2350 price, the Ayre P-5xe has to be considered a very good buy. One thing that's for sure is that returns will diminish very rapidly when you attempt to buy a 'better' phono stage than this one." |
Half a lifetime ago, as a side trip during holidays in Morocco, a friend and I climbed up Mt. Toubcal, which is the highest peak in North Africa. We spent the night in the open at 11,000 feet -- it got rather chilly, what with us equipped only with summer sleeping bags -- and we woke up the next morning to a stunning sunrise over a barren, almost lunar landscape.
In retrospect, what impressed me the most -- other than the fact that we survived -- was the crystalline clarity of the air and the way everything looked: crisp, almost surreal, with perfectly delineated details. While this may have been the result of oxygen deprivation, I think it more likely was the result of the clear, thin air and lack of pretty much anything between me and that landscape. On our return journey to Marrakech later the next day, I was acutely aware as we descended, and as the air became warmer and denser, that this remarkable feeling of clarity was diminishing, until we were back in the dense, close confines of the smoky medina and it was lost for good.
I'm normally not the most poetic of chaps, but over the past three months I've been listening to the Ayre P-5xe phono stage, and it has served to dredge up these memories, and is thus responsible for reminding me of that startling morning in the mountains. Read on to find out why.
Sea level
Housed in a stout but svelte silver box, the $2350 USD Ayre P-5xe exudes elegance. The P-5xe's 171/4"W x 13 3/4"D x 2 3/8"H chassis is made entirely from aluminum, with the top panel being of a thicker gauge than average. A rap on its top cover yields a dull thud, which, I must admit, I found very reassuring. With its low-profile chassis and understated front panel, the P-5xe looks refined, and the blue power LED adds a cool, high-tech touch. Weighing in at 12 pounds, the P-5xe is well built but not over built.
The Ayre phono stage is jam-packed with features, which is ironic for a unit that has no visible controls. Connectivity is very flexible on this little beast; while balanced outputs aren't exactly rare on phono stages of this caliber (the P-5xe features both balanced and single-ended outputs, and the unit is fully balanced internally), you don't see balanced inputs every day. Since the output of a phono cartridge is fully balanced by nature (you've got left and right positive, left and right negative, and ground, after all), it makes sense to offer this type of input to a phono stage so that you can take advantage of the natural noise-canceling attributes of a balanced signal. If you're experiencing interference from other electronics, or picking up radio broadcasts from your interconnects due to your ultra-low-output moving-coil cartridge, running a balanced signal into the P-5xe may well be the answer. The instruction manual shows how to wire up your own balanced connections.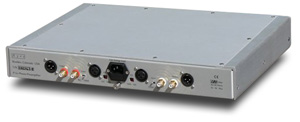 Also on the back panel is the IEC connector which, inconveniently enough, happens to be right above the ground terminal and requires that you disconnect the power cord whenever you want to swap cables. I realize that this will likely only be a pain in the butt for reviewers and inveterate cable-swappers, but -- what the heck -- I needed something to complain about ergonomically, and that's the best I could come up with.
The P-5xe is a fully dual-mono design so every control is duplicated. There are two sets of impedance DIP switches on the back panel, one for each channel. These provide the most common choices of impedance -- 100, 1000 and 47,000 ohms -- but an infinite combination of settings is available by soldering resistors to the type of connector (RCA or XLR) that is not being used and plugging these into the P-5xe. For the record, I chose 100 ohms for my Shelter 501 Mk II cartridge and never looked back. Gain is selectable via internal switches, with the choices being 50, 60 or 70dB for the balanced outputs, and 6dB less for the single-ended.
When the P-5xe is plugged in, it's powered up, and because it runs ice cold I doubt that it's drawing much juice from the wall. For the duration of its stay in my house I left the unit plugged in and ready to go.
System
The Ayre P-5xe bumped my Sonic Frontiers SFP-1 Signature phono stage from shelf number three of my equipment rack. In this position, the P-5xe received signals from a Shelter 501 Mk II cartridge, which was mounted on a Pro-Ject RPM 9 turntable/tonearm combo. The turntable communicated with the phono stages via Kimber Timbre interconnects. Preamplifiers alternated between my own Sonic Frontiers SFL-2 and a Blue Circle BC3000, both of which took in and put out balanced signals by way of Analysis Plus Solo Crystal Oval interconnects.
Amplifiers were an Anthem Statement P2 and a Blue Circle BC202. Speakers were Focus Audio FS-888s, and, toward the end of the review, my Hales Transcendence Fives made an appearance.
Power cords for this exercise alternated among Virtual Dynamics David series, Cardas Hexlink 5, and GutWire PowerClef 2. Either a Chang Lightspeed or a GutWire MaxCon Extreme conditioned the power.
Stratosphere
There's a distinct lack of a sound to the Ayre P-5xe, but rest assured that this isn't an it's-so-neutral-it's-hard-to-describe copout. No siree, there is plenty happening in terms of the P-5xe's sound, but what it does contribute is, in large part, defined by absence.
Missing are noise, glare and tonal aberrations. Even more important, in place of any noise, the P-5xe substitutes a velvety black background and a complex, harmonically correct presentation. However this phono stage isn't just correct -- it's complete, and that's an important distinction. Because I went hog-wild on a vinyl-buying binge at CES, I've spent a lot of time listening to various Classic Records' Duke Ellington reissues. Of the four recent acquisitions, which are beautifully pressed on 200-gram vinyl, Piano In The Background [Columbia/Classic Records CS 8346] is most assuredly my favorite. At times gutsy, at others delicate, this Ellington recording contains oceans of information and a depth of emotion that just blows me away on each and every listen. At least part of my reaction to this LP is due to the P-5xe's contribution, whereby this unassuming silver box stood to one side and allowed the music to steal the show. Via the Ayre phono stage, for instance, the trombones on Piano In The Background resonated to the point where I could almost sense physical lips vibrating on the brass of the mouthpiece, and amplified right out of the bell.
The P-5xe's almost complete lack of a sonic signature is much more than just a lack of obvious characteristics. In the manner of a good tube preamp, which simply gets out of the way and lets the music shine, the P-5xe allows the natural depth and texture to steal the show, without imposing its own personality. I don't do it often, but the P-5xe's feeling of ease and depth of image encouraged me to pull out some of my London FFRR opera boxed sets. These are two-LP sets that have sides one and four on one record and two and three on another, for ease of stacking on the old 'changer. That's nostalgia in action. Puccini's La Boheme [London Stereo OSA-1299] is sung in Italian, of course, so I don't even bother trying to understand what everyone is going on about. Instead I just listen to the music. This is a recording of a live performance. The images of the singers move around the stage, increasing and decreasing in apparent size as their proximity to the microphone changes. Assisted by its clean, expressive midrange, the Ayre P-5xe tracked the performers and acted as a clear window into the musical performance.
Another excellent candidate for the open, unencumbered, holistic sound that turned out to be an Ayre trademark is found on Ray Brown's Soular Energy [Pure Audiophile PA-002], a copy of which fellow SoundStager John Crossett literally forced me to buy at this year's Montreal Son et Image show. John was right about this LP, as it's one of the biggest, juiciest, meatiest recordings of a jazz combo that I've heard to date. It is one for the ages. The P-5xe handled this recording with both delicacy and drama, resolving the fine overtones of the cymbals in exquisite detail, while also portraying Brown's bass with the size and scale that are required to highlight his place as leader of the group. Once again, image specificity was superb, but the Ayre phono stage didn't resort to pinpointing the instruments in an unnatural manner. Brown's bass is big and round on this recording, and it may even be a bit on the prominent side, but still it sounds fantastic. The P-5xe displayed admirable grip on the low frequencies, never devolving into sloppiness, while at the same time it allowed this big, honking instrument to develop a wonderful feeling of overt, physical volume.
The P-5xe is equally at home with large-scale, aggressive recordings. The macro-to-micro intensity that permeates Medeski, Martin and Wood's End of the World Party – Just in Case [EMI 7243 5 95633 1 2] is a full-scale system workout, what with the jamming bass, crisp drums and layered keyboards, all of which just snapped into focus with a viscerally charged, well-delineated presentation. However, even though the P-5xe managed to master these dynamic swings, there was just the tiniest bit of rhythmic assurance missing from its presentation of this album. Not enough to register as a problem, mind you, but just enough to take away a smidgen of the strut that underlies songs such as "New Planet." However, the P-5xe's natural, accurate tonal balance and articulate imaging are about as far removed from sloppy as it's possible to get. So a better description of the P-5xe might be that it's a bit cerebral -- able to convince more than merely impress.
While I'm waxing philosophical, I'd like you to consider that it's very easy to add some bounce to the sound of a vinyl rig. The turntable is the most critical component, and any of the Rega rigs, for example, excel at portraying the ebb and flow of that moving river which is music. But in some ways, the bouncy-bouncy British sound could be considered an additive tonal characteristic, one that isn't strictly neutral, and once you've injected it into a system, this coloration is impossible to remove.
So you've got to be very careful about which components should and shouldn't be overtly rhythmic. When I first received the P-5xe, it didn't seem to do anything obvious to propel it to the forefront of my listening consciousness, but I very quickly came to the realization that it was doing nothing in an absolutely superb manner, and that by only amplifying the signal -- adding and subtracting nothing -- it was, in fact, doing something really special. And this is what I think the ideal phono stage should do.
Back to earth
So yeah, the Ayre P-5xe phono stage performs all of the audiophile tricks -- it images well and, has a grain-free treble, a clear, expressive midrange, and admirable bass -- but so do many of the other components I've heard or reviewed over the past few years. What makes the P-5xe special is that time and again I found my attention drawn back to that sense of deep, black quiet and overwhelming feeling of space around the music. This feature is one that is distinctly missing from my Sonic Frontiers SFP-1 Signature phono stage ($1695 when still available). Part of the reason for this is the very nature of the SFP-1 Signature. It's a tube-based unit, and tubes are inherently noisier than solid-state devices. While the SPF-1 is pretty darn quiet -- I certainly can't hear any hiss from the listening position -- it feels like the higher noise floor subtly overlays the entire musical presentation with a fine dusting of talc ("grit" is too strong a word here). The amplification of the microscopically low voltage of a phono cartridge is a kind of sonic surgery in its complexity and sensitivity. Nobody wants to be operated on in anything less than the most sanitary of environments, and the Ayre P-5xe sounds electronically spotless.
Another area in which the Ayre phono stage trumps the Sonic Frontiers SFP-1 Signature is depth of image. This surprised me, as the SFP-1 Signature is no slouch in the imaging department. In comparison to those of the P-5xe, the SFP-1 Signature's images are flaccid and indistinct, with an aura of haze around them. The crystalline P-5xe projects instruments and voices in a realistic, man-sized format, requiring less suspension of disbelief in order to remove the recording from between you and the music.
Pretty much the only place where the SFP-1 Signature comes out on top is the manner in which it adds a tiny bit of tube euphony into the picture. From my point of view, tubiness is always welcome, so I hail its arrival in pretty much any form. The Sonic Frontiers phono stage isn't overtly tubey, and I've always found it to be a nice balance of rich and lean -- a well-marbled rib-eye steak if you will. The P-5xe is more of a strip-loin. It's leaner, but just as juicy and flavorful. The choice is a matter of taste, I suppose, just like everything else in audio.
In some ways, the P-5xe manages to combine the best aspects of a solid-state phono stage -- namely, the low background noise and natural tonal balance -- with the emotional complexities of a fine tube unit. The P-5xe never sounds thin or harsh, even in comparison to the tube-based SFP-1, and this draws back to that harmonic delicacy and tonal integrity I keep harping on about. So even though the Ayre phono stage definitely sounds less lush than the SFP-1 Signature, it's a far, far cry from being aggressive or analytical.
Wrap-up
This review turned out to be very difficult to write. When a component is utterly transparent, as the Ayre P-5xe is, rather than actively taking notes I tend to just sit there listening to music, and as such, I find myself struggling to excavate the required verbiage.
My pain will end up being your pleasure. Writing troubles aside, I thoroughly enjoyed my time with the P-5xe, as its crisp, uncolored sound never once crossed the line into brightness, and indeed had a purity to it that is unique in my experience. Even at its $2350 price, the Ayre P-5xe has to be considered a very good buy. One thing that's for sure is that returns will diminish very rapidly when you attempt to buy a "better" phono stage than this one.
...Jason Thorpe
jason@soundstage.com
Ayre Acoustics P-5xe Phono Stage
Price: $2350 USD.
Warranty: Five years parts and labor.

Ayre Acoustics, Inc.
2300-B Central Ave.
Boulder, CO 80301
Phone: (303) 442-7300
Fax: (303) 442-7301

E-mail: info@ayre.com
Website: www.ayre.com