April 2005
Bel Canto Design PHONO1 Phono Stage
by John Crossett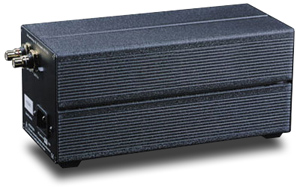 Review Summary
| | |
| --- | --- |
| Sound | "I found the PHONO1's sound to be precise, well delineated, well rounded -- though nowhere near as fully rounded as the sound of many tubed phono stages -- and tonally accurate." Most of all, "what the PHONO1 accomplished eerily well was to immerse me in the experience of the music, allowing me to groove on the tunes and not think like an audiophile -- or worse, like an audio reviewer. The music mattered." |
| | |
| --- | --- |
| Features | "The [solid-state] Bel Canto PHONO1 is factory set for moving-magnet operation," but "the well-written owner's manual has easy-to-understand instructions for opening the unit up and resetting it for either low (54dB at 1kHz) or high (60dB at 1kHz) gain via internal pull-on/push-off jumpers." "A small DIP-switch panel…allows for easy cartridge loading." |
| | |
| --- | --- |
| Use | "I encountered a bit of hum when I set the PHONO1 atop my Audio Research SP16 preamp. Separating the units a few inches cured this disturbance." |
| | |
| --- | --- |
| Value | "Ups the performance ante while still retaining affordability." |

Listening to less-than-bank-breaking analog replay is akin to driving an economy car. Both will get you where you want to go, both will provide comfortable passage, and both will leave you enough change in your pocket to fill the tank with the appropriate fuel. Neither, however, will turn heads for providing the luxury and refinement, the thrills and chills, that top-of-the-line models routinely achieve.
Somewhat paradoxically, I get a larger sense of satisfaction from coming up with a recommendation of a piece of audio equipment that retains its affordability while still allowing for maximum enjoyment than from advising on costly, state-of-the-art gear, which is expected to perform superbly. And yet, every so often, both the car and audio industries surprise us by bringing out a model that ups the performance ante while still retaining affordability.
In the audio world, the Bel Canto PHONO1 is one such surprise. Because most of my audio-oriented friends looking to reacquaint themselves with the virtues of the vinyl have no desire to spend to the moon doing so, a product like the PHONO1 is a good thing for both my reputation as well as the industry as a whole.
Kinda small, ain't it?
OK, so the solid-state Bel Canto PHONO1 ($900 USD) will never win any awards for its appearance. It is not a piece of audio jewelry. But, in the form-follows-function arena, the PHONO1 can stand with any product. Situated at each end of this small, black, rectangular box -- it measures a svelte 3 5/8"H x 3 5/8"W x 9"D and weighs only 3 1/2 pounds -- are gold-plated RCA input and output connectors. Right between the input jacks is a small DIP-switch panel that allows for easy cartridge loading. The default setting is 50k ohms, but, should your cartridge need a different setting, the choices range from 10-50k ohms. Below that is a grounding post. Below the output jacks on the other end is a green LED that indicates the unit is powered up. As there is no on/off switch, the PHONO1 is continuously powered as long as the unit is plugged in.
The Bel Canto PHONO1 is factory set for moving-magnet operation. However, if your needs run to the use of a moving-coil cartridge, the well-written owner's manual has easy-to-understand instructions for opening the unit up and resetting it for either low (54dB at 1kHz) or high (60dB at 1kHz) gain via internal pull-on/push-off jumpers. No soldering or other technical expertise is required. You can also have your dealer set up the PHONO1 for you as part of the sale.
And just where ya gonna put the little guy?
The system into which the Bel Canto PHONO1 was installed consists of a VPI HW19 Mk IV turntable with a Butternut Audio-modified Rega RB300 tonearm and a Clearaudio Aurum Beta S moving-magnet cartridge. The preamp is an Audio Research SP16 with built-in MM tubed phono stage. The power amp is a Bryston 4B SST. Speakers are Magnepan MG1.6/QRs. Speaker cables and interconnects are Alpha Core MI2 and TQ2, respectively, along with a set of Harmonic Technology Pro Silway Mk II interconnects. I've replaced all stock power cords with Harmonic Technology Pro AC-11 or LAT AC-1 cords, except for the cord to the VPI turntable's motor, which doesn't allow for replacement. Everything is plugged into a Monster Cable HTS-1000.
To drain unwanted vibrations, I use Golden Sound DH cones and squares under most components, and, the newest addition in the vibration-control sweepstakes, a Symposium Svelte Shelf that alternates between the SP16, if I'm listening to vinyl, and a Marantz 8260 SACD/CD player during digital replay. There is also a Panasonic DVD-F65 for DVD-A playback. All components except the power amp sit on a Target TT3 rack. The power amp sits on a homemade sand box and granite slab on the floor.
There really isn't much to using the PHONO1 -- connect it and plug it in -- but I would suggest a modicum of attention be paid when placing the PHONO1 within your existing system. I encountered a bit of hum when I set the PHONO1 atop my Audio Research SP16 preamp. Separating the units a few inches cured this disturbance. Once I had the placement issue settled the PHONO1 gave me nary a hiccup during the time it spent in my system.
What does a small fry like that sound like anyhow?
Music played back via the PHONO1 made me feel like I was 17 again. I was tucked away in my bedroom, listening to my favorite LPs as reproduced by the built-in phono stage of my old Sansui integrated amp. Now, before you start laughing, I am not saying that the Bel Canto PHONO1 was no better than the phono stage in my old Sansui -- it's far, far better. But what the PHONO1 accomplished eerily well was to immerse me in the experience of the music, allowing me to groove on the tunes and not think like an audiophile -- or worse, like an audio reviewer. The music mattered.
For instance, I've owned Neil Young's Decade [Reprise 3RS 2257] for well over two decades. I've listened to it on many, many different systems over that span and know almost all of the songs by heart. I never gave even a moment's thought to soundstaging, depth, tonality, clarity, or any other audiophile buzzwords you can think of. Sure, the PHONO1 got all of those things right, or at least those that were imbedded into the grooves. But, more importantly, it just plopped me down in a forest of music and let me find my own way home, a journey that music used so easily to take me on before I became consumed with sound.
Because the Bel Canto PHONO1 is a solid-state phono stage, its sound leans firmly in that direction, avoiding any overt tubey warmth. However, it lacks the sort of cold, sterile, bright, edgy sound that some audiophiles often associate with transistor-based equipment. I found the PHONO1's sound to be precise, well delineated, well rounded -- though nowhere near as fully rounded as the sound of many tubed phono stages -- and tonally accurate. Wayne Shorter's tenor sax and Lee Morgan's trumpet from the album Blues and Roots by Art Blakey and the Jazz Messengers [Blue Note BST 84347] were both clearly burnished brass instruments, but the manner in which the musician's breath was blown through them was easily identifiable. The tonality and dynamic range of each instrument were also very well developed.
I found the PHONO1's ability to reproduce acoustic instruments, such as the guitar on "Weasel and the White Boys Cool" from Rickie Lee Jones' self-titled debut album [Warner Brothers BSK 3296], to be superb. The sound of finger on string, string vibration, and those vibrating string sounds rolling around inside the wooden cavity of the guitar was pure pleasure, as was the PHONO1's ability to reproduce Jones' slightly raspy, cigarette-stained voice.
The PHONO1 can do the soundstage thing exceedingly well, too. My initial foray to Sin City in January for the CES yielded a treasure trove of new vinyl. One album that I was really anxious to hear when I got home was a Mercury Living Presence pressing of Mozart's Eine Kleine Nachtmusik [Mercury SR90121] with Antal Dorati conducting the London Symphony. While the recording lacked the deepest of bass lines, the orchestra was spread out at one end of my listening room, with good width, depth, and definition of each section. Strings were never steely and not quite as full as I've heard from tubed phono stages. The dynamic extremes were faithfully reproduced, just as Robert Fine and George Piros laid them on the master tape. Have I heard better? Sure. Were those phono stages even close to the same price as the PHONO1? Nope. That's another thing that sets the PHONO1 apart from the crowd: it gives more in musical pleasure than it asks for in dollars.
Another aspect of the Bel Canto PHONO1's performance that impressed me to no end was its way of allowing me to hear the differences in styles of musicians playing similar instruments. Trumpeters such as Lee Morgan, Art Farmer, and Miles Davis; tenor sax men Johnny Griffin, John Coltrane, and Hank Mobley; the bass work of Paul Chambers and Wilber Ware; and the piano of Wynton Kelly and Sonny Clark were all over the batch of Classic Records Blue Note LPs I purchased at CES, and each was easily identifiable as a different individual playing his own brand of jazz. This indicated to me that the PHONO1 did not smear notes or instrumental lines, instead allowing them to bloom and swell as clearly as the recording allowed. The PHONO1 made each musician's sound and style clearly distinct from that of his fellows.
The one album that showed off this aspect most excellently was Johnny Griffin's A Blowing Session [Classic Records Blue Note 1559]. This wonderful example of modern jazz features the tenor saxophones of Griffin, Coltrane and Mobley, and each was easily recognizable. Griffin's fast, tough sound contrasted nicely with Coltrane's more muscular, thought-out lines and Mobley's smoother, more melodic phrases. And the PHONO1 was equal to the task of helping each of them be the special performers they are.
A little competition
In an effort to make this as fair and equable a comparison as possible, I re-tubed my Audio Research SP16 preamp's phono section (a $500 premium over the line-stage-only version of the preamp) before comparing it to the PHONO1. Once done, I was surprised at how close these two phono stages sounded. Oh sure, they offered contrasts, as they should, one being solid-state, the other tubed. The Bel Canto was cleaner, clearer, and more precise, with slightly deeper, tighter bass and a strong emphasis on transients. The SP16 was a bit darker and fuller, more three-dimensional, not as deep or tight in the lows, though maybe a tad fuller, and with its emphasis focused on the harmonics. The SP16 rendered the sound of the recording's place more clearly, while the Bel Canto PHONO1 allowed the individual notes to be more fully delineated.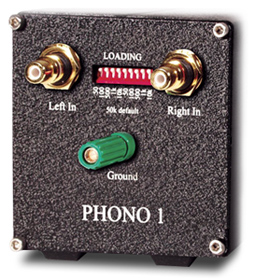 But, for the most part, vinyl replay via the PHONO1 and the ARC SP16 were very similar in effect. Both caused me to get lost in the music, as both presented the music as an entire entity, not just as collections of attributes. One facet in which the Bel Canto PHONO1 clearly held an advantage was in noise. It was dead quiet, which allowed the music to emerge from a darker background. I could crank albums like Joe Walsh's So What [ABC Dunhill DSD-50171] and hear all the odd instruments on the short little ditty "All Night Laundry Mat Blues" as clear as a bell -- like the one that closes the song. The SP16's phono stage, on the other hand, wasn't nearly as quiet. Putting my ear near the speakers presented me with a very discernable, but also very low-level, tube-rush sound.
The other area in which the PHONO1 showed a marked superiority was its flexibility. The built-in phono stage for the SP16 is for moving-magnet cartridges only. The PHONO1, on the other hand, offers easy set up for either moving-magnet, or high- or low-gain moving-coil cartridges via the DIP-switch panel and internal jumpers. As the owner of only moving-magnet cartridges, I never had to test the PHONO1's abilities in this regard, but based on the clearly laid out instructions, I would have felt no fear if I had. Should you be in the market for an outboard phono stage, I would think that one such as the Bel Canto PHONO1, which offers full flexibility to handle any and all types of cartridges, would be a mandatory consideration.
Summing it all up
Consider the state of small econo-cars available today. There are Mazda, Nissan, Hyundai, Kia, and all the compact entrants from US manufacturers. All are priced about the same, and all offer similar performance, if not reliability. Now think Honda, whose cars are also realistically economical and come with solid performance specs. Yet, they just seem more fun to drive, offering that little something extra that the others don't.
The Bel Canto PHONO1 is like that, too. In a field littered with contenders, the PHONO1 sets itself apart by offering solid build quality, flexibility, and terrific sound, all at an affordable price. It also comes from a highly reputable manufacturer. And then it adds in that one hard-to-define quality that makes it so special: it makes music a whale of a lot of fun to listen to.
There is no better time to enter (or re-enter) the world vinyl playback than now, especially via the Bel Canto PHONO1. It's a mid-level sedan at an economy price.
...John Crossett
johnc@soundstage.com
Bel Canto Design PHONO1 Phono Stage
Price: $900 USD.
Warranty: Five years parts and labor.

Bel Canto Design
212 3rd Ave. North, Suite 345
Minneapolis, MN 55401
Phone: (612) 317-4550
Fax: (612) 359-9358

E-mail: info@belcantodesign.com
Website: www.belcantodesign.com