February 2005
Origin Live Resolution Modern Turntable and Illustrious Tonearm
by John Crossett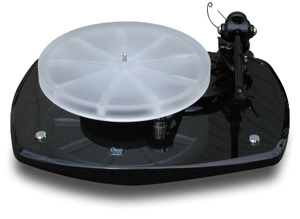 Review Summary
| | |
| --- | --- |
| Sound | "The Origin Live Resolution Modern 'table and Illustrious tonearm are certainly light on their feet, lively in their sound, and offer a superb sense of space and definition." "The sheer resolution…had me clawing at my record racks for any recordings heavy on percussion." "The excitement the Resolution Modern/Illustrious combo brought to the music I played was invigorating. This is a 'table and 'arm tailor-made for rock fans." |
| | |
| --- | --- |
| Features | "A suspended/suspensionless 'table": "one fairly heavy spring -- and two hard points, which sit in special dimples --… balance the main of the three contact points of the sub-plinth, to which the platter bearing (and by extension, the platter) and armboard are attached." "The Illustrious tonearm…is made of, to quote Origin Live literature, 'large diameter, high-strength, tapered aerospace aluminum to give it massive torsional strength.' It uses…a "revolutionary design for the yoke and 'arm base to decouple the widely spaced bearings, thus isolating the 'arm tube.'" |
| | |
| --- | --- |
| Use | "The Resolution Modern has an outboard power-regulating box with a wall-wart power supply that stabilizes the load fed to the motor. This also acts as a speed control, so there's never any fussing with the belt when you wish to go from 33 to 45." |
| | |
| --- | --- |
| Value | "If you're in the market for your last analog rig, and a completely original one at that, seek out the Origin Live Resolution Modern turntable with Illustrious tonearm. They're a thrill." |
Turntable designers, like some of their speaker-building brethren, are audio's original thinkers. They almost have to be. Although the goals of a good turntable are clear, the methods and materials used to meet those goals are as unlimited as the designer's imagination. That freedom from narrow constraints, such as those imposed upon electronics manufacturers for instance, gives turntable builders immense latitude for expressing their creativity in unique ways.
Take Mark Baker of the British firm Origin Live, for example. Despite the turntable's almost simplistic requirements, Baker has used both his love of music and unorthodox design bent to craft a line of long-playing-record systems that, while fulfilling their technical goals, stand out in the turntable crowd.
Original thought dissected
Most people, even in this digital age, can still tell you what a turntable looks like and what some of its features are. It has a boxy shape, it's bouncy (suspension, remember), and it's none too heavy. Even now, this paradigm is valid in varying degrees. I should know -- my VPI HW19 Mk IV fits this bill, although it is refined a great deal.
Mark Baker, however, thinks outside the box. Taking his design one slow, thoughtful step at a time, Baker tinkered, listened, and tinkered some more until he was satisfied that both the sound and performance of his creation met his critical standards. The results? The Resolution Modern ($2970 USD), the penultimate Origin Live turntable, finishes out at a svelte 19 1/4"W x 15 3/4"D x 6 3/8"H and 20 pounds -- no bigger than my VPI. Its shape is anything but boxy, although Baker does offer a Resolution Classic turntable that is said to be identical to the Resolution Modern in terms of performance and price, but has a traditional boxy appearance.
The Resolution Modern falls under the heading of a suspended/suspensionless 'table. Say what! How can it be both? Well, it isn't really a suspended 'table, at least not as one would normally define it. Baker uses one fairly heavy spring -- and two hard points, which sit in special dimples -- to balance the main of the three contact points of the sub-plinth, to which the platter bearing (and by extension, the platter) and armboard are attached. Somewhat surprisingly, this arrangement works well at keeping most outside vibrational noise away from the LP. The plinth itself is made of MDF, but it is shaped and contoured in such a way as to give the impression that there are no equal or opposite sides. It's finished in a lovely, deep piano-black lacquer. The sub-plinth is made of some sort of composite material, but it has enough cutouts to keep it from storing almost any significant vibration. This makes for an interesting and, as far as I know, unique design.
The platter is a thick, though somewhat lightweight piece of acrylic, and it sits on an inert sub-platter, which in turn rests on the highly polished steel spindle and bearing. There is no provision for a record clamp with the Resolution Modern, something I've encountered with many British 'tables I've used over the years, and another marked difference from my VPI. Still another change from my VPI is the standalone, ironless DC motor that arises through a hole cut in the plinth, thereby eliminating any chance of motor vibration from affecting the platter -- a good idea. The motor drives the sub-platter via a rectangular rubber belt.
The Resolution Modern has an outboard power-regulating box with a wall-wart power supply that stabilizes the load fed to the motor. This also acts as a speed control, so there's never any fussing with the belt when you wish to go from 33 to 45.
The Illustrious tonearm ($2395) is made of, to quote Origin Live literature, "large diameter, high-strength, tapered aerospace aluminum to give it massive torsional strength." It uses what Origin Live calls a "revolutionary design for the yoke and 'arm base to decouple the widely spaced bearings, thus isolating the 'arm tube." The headshell is also machined from a solid block of high-strength alloy to minimize flexing during play. Internal wiring is high-grade Litz; the external interconnects are of Mark Baker's own design. The Illustrious uses the tried-and-true string-and-weight method of anti-skating, eliminating internal springs and magnets that Baker feels compromises sound quality. VTA is fairly easily adjusted via a sleeve-and-Allen-screw arrangement, just not during play. The counter weight is attached via an Allen screw as well, again cutting down on a potential source for added vibration.
All in all, both the Resolution Modern turntable and Illustrious tonearm convey a thoughtful understanding of the perils a turntable and tonearm face when asked to relay the information contained within the grooves of a long-playing record. Just on their looks and build quality alone, one sees all the original thought that Mark Baker put into his creations.
System
I placed the Resolution Modern/Illustrious combo on a 1"-thick sheet of MDF, which sits on four Tonecones atop the top shelf of my Target TT3 equipment rack. This is the same position in which my VPI HW-19 Mk IV/Butternut Audio-modified Rega RB300 rig sits. With both rigs, I used a Clearaudio Aurum Beta S moving-magnet cartridge. I connected the tonearm wires of the Illustrious to the phono section of an Audio Research SP16 preamplifier and tightened the ground wire. I plugged the wall-wart power supply into one of the outlets on a Monster Powercenter HTS1000. The SP16 is connected, via a meter and a half of Alpha Core TQ2 interconnect, to a Bryston 4B SST power amplifier. The Bryston is, in turn, connected to Magnepan MG1.6/QR speakers with a biwire set of Alpha Core MI2 speaker cables. The balance of my system is a Marantz SA8260 CD/SACD player, and a Panasonic DVD-F65 for two-channel DVD-A playback. Interconnects are more Alpha Core TQ2, or Harmonic Technology Pro Silway Mk II. I've replaced all stock power cords -- except that of the turntable -- with Harmonic Technology Pro-AC 11 power cords, or, in the case of the Panasonic DVD-A player, an LAT International AC-2.
The sound of original thinking
The Origin Live Resolution Modern 'table and Illustrious tonearm are certainly light on their feet, lively in their sound, and offer a superb sense of space and definition. They also pack a serious wallop. If I were to compare them to a boxer, it would be to Roy Jones, Jr. The Origin Live combo may not look like a true heavyweight, but it is able to stand toe-to-toe and slug it out with the big boys. It'll shake you out of your listening-chair stupor with its way of bringing detail to the forefront.
The sheer resolution of Resolution Modern/Illustrious combo had me clawing at my record racks for any recordings heavy on percussion, such as Duke Ellington's Jazz Party In Stereo [Classic Records/Columbia CS 8127]. On "Malletoba Spank," the opening track of side one, Ellington uses a full complement of percussion instruments, everything from his piano to a xylophone to vibraphone to congas spread out across the soundstage. The Origin Live pair not only differentiated the instruments, but also dissected the soundstage, placing each instrument firmly in its own space. Transient information was wonderfully reproduced, with snap and lots of decay.
I heard the same sonic splendor from any of the jazz albums I plopped onto the platter. From drumkits to acoustic bass, the Resolution Modern/Illustrious combo imparted a more heightened sense of realism than I was used to. And the pair's ability to dig up small details, such as the sound of a saxophone's keys, added to the enjoyment.
The wide, deep soundstage made classical listening an exercise in pure pleasure. I've been enjoying lately David Oistrakh's album of Mozart's Violin Concertos Nos. 3 and 4 [EMI 2C 069-02324]. The Origin Live pair reproduced the Orchestre Philharmonique de Berlin from wall to wall and all the way back, with each layer rendered just where I supposed it should be -- given that I wasn't at the original recording session. And Oistrakh's violin was glorious -- all resin, string and body sound superbly reproduced. This album also highlighted another of the Origin Live duo's strengths, its upper-octave purity. Both the initial notes and the harmonics of the violin were as pure as the driven snow (as seen here in the frozen north of Vermont). You can wallow in it, as I did, record after record.
The excitement the Resolution Modern/Illustrious combo brought to the music I played was invigorating. This is a 'table and 'arm tailor-made for rock fans. This pair boogies, moving the music along just as quickly as the musicians intended. My well-worn but still-playable copy of Joe Walsh's So What? [ABC DSD-50171] is a case in point. Walsh's guitar sang, Joe Vitale's drums propelled the music to a level just short of live, and the sound kept me entranced for each side of the album.
Original thought vs. traditional thought
There is an easily heard difference between the Origin Live Resolution Modern/Illustrious combo and my VPI HW19 Mk IV/Butternut Audio-modified Rega RB300 setup ($2625 when purchased new a few years ago). Where the fully suspended VPI/Rega combo, which uses a screw-down record clamp, is full, deep and, dare I say, a touch ponderous, the Origin Live pairing is all detail, light, and nimbleness. The two vinyl replay systems make for an apt comparison in the methods of LP replay, and vocal music makes the most of this.
The new S&P remasters of Eva Cassidy's Songbird [S&P 501] and Roy Orbison's All-Time Greatest Hits of Roy Orbison [S&P 507] display perfectly the differences. With Songbird, the Origin Live combo makes Cassidy a living, breathing female singer. Its fast, energetic presentation gets the balance between chest and throat almost perfectly correct. The VPI/Rega system, on the other hand, puts just enough emphasis on the chest sound, at the expense of the throat and mouth, to lose that female-in-the-room feeling the Resolution Modern/Illustrious reproduces so superbly. But, when you move to male vocals, as with the Orbison LP, the situation almost reverses. Here, the VPI/Rega combo is closer to accurate, at least as far as my ears go. It's not that the Resolution Modern/Illustrious combo sounds remotely bad -- far from it -- as much as it doesn't reproduce enough midbass energy to portray the full, deep-chested male vocals as accurately as does the more massive VPI turntable. This is truly one of those, "you pay your money and you make your choice" deals.
Many of the sonic qualities I've described can be attributed to the Illustrious tonearm alone. For fun and because the Illustrious fits any pre-drilled Rega mounting hole, I slipped it on my VPI turntable in place of my modified Rega RB300. The Illustrious produced a quick, rhythmic, and highly present sound, with excellent definition of each instrumental line. Its bass definition was superb -- very tight and with wonderful pitch. It just didn't go as deep as my modified Rega RB300 when used on the VPI 'table. But it sure got my toes tapping and allowed me to fall into the music. The soundstage reproduced, both in terms of width and depth, was fully as large as with my Rega 'arm, but instrumental placement was a tad better, more flowing as opposed to terraced.
But, while mating very well with my VPI 'table, I think the Illustrious matches better with Resolution Modern 'table. The two have attributes that the other may be lacking -- which should come as absolutely no surprise, given they are made by the same company and were most likely designed to be used together. I found that the nimbleness of the Illustrious tonearm was compromised by the more bass-heavy VPI turntable. I think the less massive, and suspensionless, Resolution Modern turntable frees the Illustrious tonearm to dance a bit more freely, which in this case is all to the good of the music they reproduce together.
Still, should you already own a good fixed-plinth 'table and be looking for a higher-quality tonearm, the Illustrious may hold the key to your long-term happiness. While its price is right up there with that of other high-quality tonearms, I found its performance to be among the best I've heard. It can certainly hold its own among the upper echelon of tonearms available today.
Are you an original?
So, just how original a thinker are you? Do you yearn to hear far (quite far!) into your favorite LPs? Do you enjoy vinyl replayed via a unique turntable? Do your tastes run toward the quick, lively and detailed? Are you willing to pony up over $5000 for a well-thought-out, well-engineered 'table and 'arm? If so, the Resolution Modern turntable and Illustrious tonearm may be for you. Together, they reproduce an energetic replica of whatever is on the LPs they spin, and their sound is lively, detailed and fast -- wonderful.
If you're in the market for your last analog rig, and a completely original one at that, seek out the Origin Live Resolution Modern turntable and Illustrious tonearm. They're a thrill.
...John Crossett
johnc@soundstage.com
Origin Live Resolution Modern Turntable and Illustrious Tonearm
Prices: Resolution Modern, $2970 USD; Illustrious, $2395.
Warranty: Two years parts and labor.

Origin Live
Unit 5
362B Spring Road
Sholing, Southhampton, UK SO19 2PB
Phone: +44 (0) 2380 578877

E-mail: originlive@originlive.com
Website: www.originlive.com