November 2004
Pro-Ject RPM 9 Turntable
by Jason Thorpe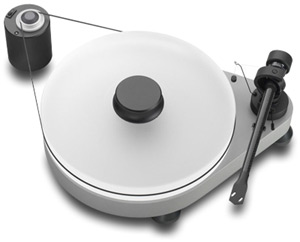 Review Summary
| | |
| --- | --- |
| Sound | "Delicacy and overall lack of coloration" -- "although the RPM 9 is almost completely free of that loosey-goosey, I-love-vinyl romanticism that LP detractors love to hate, it isn't the slightest bit bright." "The RPM 9 simply sounds so transparent and focused that comparisons to other 'tables within its price range reveal colorations such as additive rhythmic drive or an overly crisp treble, which, in turn, can sound nice and all, but inevitably deviate from neutrality." |
| | |
| --- | --- |
| Features | A "suspensionless, belt-drive turntable that is deceptively simple and surprisingly elegant." "The vestigial plinth is constructed of thick MDF that's painted a flat, unpretentious silver. It's almost completely round and has only a small protrusion on which the included [Pro-Ject 9c] tonearm is mounted. The platter is precision-machined from 4cm-thick acrylic and is topped with Pro-Ject's brass record clamp/weight, which press-fits on to the spindle." "The motor is a standalone AC synchronous unit" and "the belt is made from square-sectioned rubber." |
| | |
| --- | --- |
| Use | "With the [cueing] lever in the up position, the tonearm will not clip down into the armrest, and it seems a little precarious hanging out in the wind like that." Also, "the absence of a full-sized plinth means that there's nowhere to steady your hand as you attempt to maneuver the tonearm into position." |
| | |
| --- | --- |
| Value | "The Pro-Ject RPM 9 is a no-nonsense, well-made, attractive turntable that provides sound and build quality that's significantly higher than you'd expect for its $1499 price." |

I love turntables -- all turntables. There's a purposeful elegance about them, a complete lack of ambivalence as they go about their business of spinning a record at a measured speed and rubbing music off its surface. The turntable's apparent simplicity -- most have less than ten moving parts -- belies the complexity of the task at hand. And that's part of the appeal -- a complex job and a simple machine to perform it.
Think about that ten-moving-parts bit. The motor spins the platter, the tonearm moves up and down, left and right, and the cantilever oscillates at the micron level. It's all mechanically beautiful, especially when compared to the workings of a CD player, which could be nuclear powered for all that we-the-people truly comprehend about it.
Some turntables are more complicated than others, though. Suspended designs, and those with multiple motors, can easily drive the parts count up to 20 or even 30. Imagine that! Simple is better, especially when price is an object, and apparently Pro-Ject, the venerable turntable manufacturer based in Austria and the Czech Republic, agrees with me. Although Pro-Ject does indeed make suspended turntables, the $1499 USD RPM 9 is a lean, mean, suspensionless, belt-drive turntable that is deceptively simple and surprisingly elegant. The vestigial plinth is constructed of thick MDF that's painted a flat, unpretentious silver. It's almost completely round and has only a small protrusion on which the included tonearm is mounted. The platter is precision-machined from 4cm-thick acrylic and is topped with Pro-Ject's brass record clamp/weight, which press-fits onto the spindle. The clamp is a substantial chunk of metal that communicates tactile pleasure with each use.
The motor is a standalone AC synchronous unit, and it's a weighty little guy. The motor perches on a small platform that is also fairly heavy. This combination sits dead solid, and the pulley is true, with no run-out. It's a well-made combination that inspires confidence. Pro-Ject thoughtfully includes a spacer with which to measure the recommended distance from the platter to the motor pulley, and once placed, the motor -- and the riser that puts it at the correct height -- remains stable in its position. The power switch is on the top of the motor, so flipping it doesn't move the motor, as it did with the side-mounted switch on the Clearaudio Emotion turntable I recently reviewed.
The belt is made from square-sectioned rubber. After initial installation it only takes a couple of revolutions to unkink itself, and from that point on it doesn't waver or oscillate, as round belts are prone to do. Switching speeds between 33 1/3 and 45 is accomplished by moving the belt to a different position on the pulley. The RPM 9 employs an inverted platter bearing that uses a stainless-steel axle carrying a ceramic ball, which runs on a ceramic bearing thrust plate. The bearing requires neither maintenance nor lubrication.
The RPM 9 comes equipped with Pro-Ject's top-line tonearm, the 9c. The 9c shares the same basic structure as the less-expensive 'arms in Pro-Ject's line, but distinguishes itself visually with its tapered carbon-fiber armtube, and internally by higher-spec ABEC-7 bearings. Anti-skating is achieved by way of the familiar weight-and-line outrigger method. VTA and azimuth are adjustable on the 9c, though not while the record is in play.
I only had two ergonomic bones to pick with the RPM 9. First off, I like to leave the cueing arm up when the tonearm is in its resting position. That way I don't forget about it when cueing up the next record and end up dropping the tonearm with an alarming clunk. With the lever in the up position, the tonearm will not clip down into the armrest, and it seems a little precarious hanging out in the wind like that. It's not a big problem, but as an analog addict I am obliged to be intensely anal.
Secondly, the absence of a full-sized plinth means that there's nowhere to steady your hand as you attempt to maneuver the tonearm into position. When there's a large plinth present, you can steady your hand by resting your pinkie on a solid surface. This complaint is not unique to the RPM 9; rather, it's a difficulty that I've experienced with every such turntable I've used. Should your hands be steadier than mine, you might not find this to be an issue.
The very nature of the RPM 9 'table speaks volumes about Pro-Ject. It's an exceptionally well-made product, with no tricks or extraneous fluffery that would cost money without a corresponding return in sound quality. Throughout the review period the 'table and 'arm performed flawlessly.
Greater than the sum of its parts
Kurt Martens of Essential Audio Corporation, which distributes Pro-Ject products here in Canada, supplied the RPM 9 with a Grado Reference Sonata cartridge, as he wanted me to hear the 'table with a cartridge that he felt was ideally suited both in price and performance. I used the Grado cartridge for much longer than I should have, as Kurt was one hunnerd percent right -- the Grado was a superb match for the RPM 9. Had I not been beholden to my task as a reviewer, I'd have left this synergistic combination alone. As it was, I swapped to my Roksan Shiraz cartridge about halfway through the review period.
The RPM 9 fed its signal to a Sonic Frontiers SFP-1 Signature phono stage by way of a generic interconnect that Kurt provided with the turntable. Preamplifiers included my reference Sonic Frontiers SFL-2, an Emotive Audio Poeta, a Song Audio SA-1 (review forthcoming) and the FT Audio LW-1 passive preamplifier. I used the Anthem P2 Statement amplifier (review also forthcoming) for the entire period.
Speakers were the Ascendo Acoustics System Z-f3s and my own Hales Transcendence Fives. Speaker cables were Ascendo's own while using the System Z-f3s and Virtual Dynamics David series when my Hales speakers were in the system. For interconnects I used a medley of brands, including Analysis Plus Solo Crystal Oval, Virtual Dynamics David, and Acoustic Zen Matrix. Power cords were all over the place, from Cardas Hexlink 5C and Virtual Dynamics David series, to homebrew AudioQuest AC12 and generic black'n'uglies.
Back to the beginning again
Cleaning up and playing garage-sale buys is one of the choice pleasures that come with owning a turntable. I recently purchased a linear foot of classical records for $1 each. A mixture of Decca, Angel and Telefunken pressings, my allergies have taken a turn for the worse since I brought this treasure-trove into the house. Upon opening a three-LP box of Bartók string quartets Nos. 1-6 (Végh-Quartett [Telefunken SKH 25083-T/1-3]) I found out why: mold! A quick shpritz with some Windex saved the day, though, and I spun up String Quartet No. 1, which proved to be a great-sounding and challenging work. I was expecting the standard Vivaldi/Bach type of breath mint, but instead I was confronted by something that sounded more like Zappa's Yellow Shark. The convoluted interplay between the instruments on this album is a torture test that the Pro-Ject turntable passed handily. Most impressive were the RPM 9's delicacy and overall lack of coloration, with each jangling string standing out in clear contrast from its neighbor. This neutrality came to characterize the RPM 9's performance throughout the turntable's stay in my house.
I'm always somewhat uneasy when the sound quality of a component mirrors its physical appearance, as I second-guess myself as to whether there's some sort of placebo effect about to trip me up. It's more complicated than that, though. The sound of the RPM 9 is a direct result of its no-nonsense design, and that design essentially is its appearance (ten moving parts, remember?), so I see a functionally oriented turntable, and I hear crisp, detailed sound without romanticism, bloat or sloth.
There's a new Giant Sand album out, and it's available on vinyl! The music is as good as that on Chore of Enchantment [Thrill Jockey 79] (the album I've raved about incessantly for the last year -- please tell me you've bought it) and the sound quality is even better. There's a clippity-clop, wagon-train stride to many of the tracks on Is All Over the Map [Thrill Jockey 142], but that doesn't mean that it's a country album. Instead, it's a slice of southwestern Americana, where the accent is on rhythm and the space between the notes. The RPM 9 doesn't embellish the sound by putting the focus on timing or pace as do 'tables such as the Rega P-series or, to a lesser extent, my Roksan Xerxes. The dead-solid pitch and controlled attack and decay of the RPM 9 present the listener with a precise, focused soundstage that's entirely devoid of artifice.
Although the RPM 9 is almost completely free of that loosey-goosey, I-love-vinyl romanticism that LP detractors love to hate, it isn't the slightest bit bright. There's no aggressive edge to its presentation, none of that slight crunchiness a lesser 'table might use to announce -- as if it's proud of the fact -- that man, do I have detail. Part of the credit is likely due to the quiet motor, flat-ground belt and high overall quality of the machining. The quiet neutrality of the RPM 9 stands out. A good example of this is my gold-label Warner pressing of Van Morrison's Moondance [Warner 1835]. This is by far the creamiest album I own. Its rich delicacy evokes the smoothness that comes with a record that's slightly worn out, but the heaps of detail and extended treble belie that possibility. Via the Pro-Ject, Morrison's voice retained its distinctive golden glow, while the backing instruments on "Crazy Love" came into a sharp, detailed focus.
The RPM 9 delivered the appropriate goods down low as well. While there was nothing about the Pro-Ject's bass performance that startled me in any way, it was certainly solid and tight. There was no flab or overhang, and indeed, the RPM 9's bass mirrored its performance in other areas: solid, neutral and well-fleshed without calling attention to itself in any way. Although it doesn't contain much in the way of pyrotechnics, Duke Ellington's Blues In Orbit [Classic Records/Columbia CS8241] gives a good indication of the low-end composure of a component, and here the RPM 9 showed its chops. The trombones on "Three J's Blues" had a delightful weight and solidity that weren't overblown and didn't feel sluggish. The wide spread of Ellington's orchestra (it's just a bit too big to call a band) benefited from the low-end solidity, even though the string bass that backs up the band was low in level (obviously, as it has to fight with a full-on reed and horn section). However the bass could still be heard chugging away in the background, and sounding like a real instrument to boot. Very nicely done, especially considering the near-budget price of this turntable.
The new Tom Waits album Real Gone [Anti 86678-1] is another startling low-frequency case-in-point. "Green Grass" has some incredibly solid bass, and the Pro-Ject RPM-9 lent a distinctly non-budget foundation to this combination of crunching noise and rockin' blues. While they give strong hints of bass such as that found on the Waits album, lesser turntables can't approach the effortless manner with which the RPM 9 holds down the rhythmic drive of complicated music such as this. The RPM 9's controlled, wide dynamic range is a contributing factor to the high quality of its bass reproduction. All of the way up through the midrange, the shadings from soft to loud are crisp and well delineated, which serves to breathe a feeling of life into whatever album is placed on the RPM 9's platter.
If I had to pick some fault with the RPM 9, it would be that because it lacks any lushness or richness, it can sound the slightest bit boring. Not sterile, dry or rolled-off, mind you -- and this is a very sharp razor on which to balance -- instead the RPM 9 simply sounds so transparent and focused that comparisons to other 'tables within its price range reveal colorations such as additive rhythmic drive or an overly crisp treble, which, in turn, can sound nice and all, but inevitably deviate from neutrality. These colorations are, in my opinion, what give most budget turntables their personality, and it's this personality that helps compensate for some of their shortcomings.
Mechanically, the RPM 9 is un-fussy, dead solid and thoroughly reliable. As I stated earlier, the review unit functioned flawlessly and gave me no indication that it might lose this stability and reliability in the foreseeable future.
Enter Roksan
At more than three times the price (over $5000), my Roksan Xerxes/Artemiz combo should decimate the RPM 9. It didn't. While the Xerxes does have some of that endearing British rhythmic bounce that I mentioned earlier and which the RPM 9 lacks, and while it does have slightly better bass, the Roksan rig fails to blow the doors off the RPM 9 in any other area when using a commensurately priced cartridge.
When it comes to analog, more money generally buys more refinement. Listening again to Moondance, I did notice that the British 'table is just the tiniest bit more coherent through the midrange, imparting a finer-grained texture to Morrison's voice. However, understand that this is a very small difference, and one that I'm pretty sure I wouldn't pay an extra four grand to hear.
The RPM 9 also lacks some of the depth magic that the Roksan rig can eke out of a top-notch cartridge such as the Roksan Shiraz. The Xerxes reveals some of the additional richness, composure and treble refinement of which the Shiraz is capable, and this is as it should be, given the relative difference in price. But the RPM 9 is unlikely to be used with a cartridge that's twice as expensive as the 'table itself, and with an appropriately priced cartridge such as the Grado that Kurt Martens supplied, the qualitative differences between the RPM 9 and the Xerxes shrink to insignificant levels.
These are two somewhat different-sounding turntables, but it's not difficult to draw some conclusions and value judgments from their relative performances. The Roksan was a top-flight deck in its day, and is still considered to be right up there in sound quality with some of today's heavy-hitters. Accordingly, the Xerxes presents music with a tightly controlled focus, a deep, wide soundstage and superb dynamics. But the Pro-Ject largely achieves these same feats, and for significantly less money. In comparison to the Xerxes, the RPM 9 performs far above its price point.
An old man in a dry month
The Pro-Ject RPM 9 is a no-nonsense, well-made, attractive turntable that provides sound and build quality that are significantly higher than you'd expect for its $1499 price. It's rare for me to so thoroughly enjoy using what is nearly a budget-priced component.
In fact, the RPM 9 turntable raises some serious questions about value. The $1000 mark seems to be the dividing line between what are generally considered budget turntables and their more expensive brethren. There's a sharp quality demarcation at that point, and my experience with the RPM 9 has shown me that you get a lot of extra quality and performance when you pony up the extra money. You might think that you should get more of everything if you're increasing the price by 50%, but it's important to consider that we're talking about $500. I hate to be sound flippant or careless with your money, but when it comes to high-end audio $500 doesn't buy much. However, in this case, that money buys you the difference between a good turntable and a near-great one.
The Pro-Ject RPM 9 is highly recommended and a choice of this reviewer.
...Jason Thorpe
jason@soundstage.com
Pro-Ject RPM 9 Turntable
Price: $1499 USD.
Warranty: Two years parts and labor.

Pro-Ject Audio Systems
Margaretenstrasse 98
A-1050 Vienna, Austria
Phone.: +43 1 5448980
Fax: +43 1 5456697

E-mail: info@project-audio.com
Website: www.project-audio.com

Canadian distributor:
Essential Audio Corporation
1692 Canadore Crescent
Oshawa, Ontario
L1G 8A7 Canada
Phone and Fax: (905) 728 0320

E-mail: essentialaudio@sympatico.ca