February 2003
Lamm Industries LP2 Phono Stage
by Andrew Chasin

Review Summary
| | |
| --- | --- |
| Sound | "Very low noise floor," "tremendous bass weight and definition," "magnificent midrange," and "nicely extended treble"; has the ability "to define the physical layout of performers in the recording space" as well as "deliver realistic dynamic contrasts at both the micro and macro levels"; "the level of transparency…was second to none." |
| | |
| --- | --- |
| Features | "A single-ended pure-class-A design utilizing four "specially selected" Western Electric 417A/5842 vacuum tubes (a fifth tube, a 6X6/6202, is used for rectification), no loop feedback, and components from the best names in the biz"; "selectable inputs for moving-coil and moving-magnet cartridges, these providing 37.65dB and 57.5dB of gain respectively." |
| | |
| --- | --- |
| Use | "Offers nothing particularly exotic in the way of features -- no adjustable loading or gain." |
| | |
| --- | --- |
| Value | "A real contender for state-of-the-art honors" -- with a price to match. |

While the heyday of the full-function preamplifier has long passed, a handful of manufacturers -- including Audible Illusions, Audio Research, Convergent Audio Technology, Hovland, and Aesthetix -- continue to mate line stages with high-quality phono sections and mount them on a single chassis. Besides the economic advantage of a single case, power cord, and power supply, combining the phono stage and line stage in a single package eliminates the need for a set of cables to carry the fragile equalized signal from the phono section to later stages of amplification.
Still, the majority of high-end preamplifier manufacturers offer line-level-only models and separate phono stages so that consumers with all-digital sources will not have to incur the cost of a phono stage. One such manufacturer is Lamm Industries, which has recently added the LP2 phono stage to its stable of highly regarded all-tube and hybrid preamplifiers and power amplifiers.
The LP2 phono stage is the first product from Russian designer Vladimir Lamm aimed at the flourishing analog market. The LP2 is a single-ended pure-class-A design utilizing four "specially selected" Western Electric 417A/5842 vacuum tubes (a fifth tube, a 6X6/6202, is used for rectification), no loop feedback, and components from the best names in the biz, including Cornell Dubilier, Dale, Electrocube, Hammond, Jensen, and Roederstein.
There are, in fact, two versions of the LP2, standard and deluxe (I received the deluxe version for review). About the differences between the two, Lamm states:
"In the deluxe version, the power supply stores more energy, all film capacitors in signal path are bypassed by polystyrene capacitors of the highest available quality, and a custom-designed massive damping panel significantly reduces all types of mechanical vibrations which, in turn, leads to a more extended, coherent and natural bass reproduction."
That damping panel adds significantly to the unit's weight, which increases from 22 pounds for the standard version to 41 pounds for the deluxe. There is also a difference in price: $6290 USD for the standard iteration and $6690 for the deluxe. Although relatively heavy, the LP2's reasonable 19"W x 4 1/2"H x 14"D size should be accommodated comfortably by most equipment racks.
T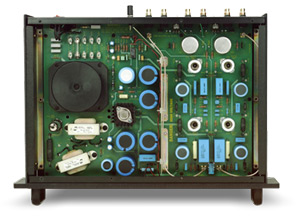 he LP2 offers nothing particularly exotic in the way of features -- no adjustable loading or gain are provided, which is surprising at the LP2's price point. On the plus side are two selectable inputs for moving-coil and moving-magnet cartridges, these providing 37.65dB and 57.5dB of gain respectively, and an electronic protection circuit that mutes the LP2's outputs until its tube voltages stabilize. An IEC socket is provided for those who wish to experiment with power cords, and all input and output jacks are of the gold-plated RCA type.
Aesthetically, the LP2 is firmly in the plain-Jane category, sporting a basic black chassis, a simple-but-elegant brushed-aluminum front panel containing a single red power LED, and rack-mount handles.
Setup
The LP2 was auditioned as part of my usual review system: VPI Aries turntable/SDS speed controller/Graham 2.0 tonearm/Transfiguration Spirit phono cartridge analog rig, the line-level section of the Audible Illusions Modulus 3A preamp, and a Simaudio Moon W-5 power amplifier. Speakers used during the review period included Magnepan MG3.6/Rs, Silverline La Folias, and ProAc Response One SCs. All cabling was by Harmonic Technology -- Pro Silway Mk II interconnects, Pro-11 Plus loudspeaker cables, and Pro-AC11 power cords. All components were placed on a Finite Element Pagode Master Reference rack. The LP2 was auditioned exclusively in its moving-coil mode, as I had no suitable moving-magnet cartridge on hand. Fortunately, the LP2's moving-coil input had more than enough gain for the 0.4mV Transfiguration Spirit cartridge.
Although my sample of the LP2 had seen some action before it arrived for review (and all LP2s are run in at the factory for 72 hours prior to shipment), I burned it in for an additional 20 hours before doing any serious listening.
Listening
From the moment I began listening to the Lamm LP2, I knew I was in for a real treat. Immediately apparent was the LP2's very low noise floor, a pleasant surprise given the LP2's all-tube design. Recorded details at the threshold of audibility were fully laid bare, rather than being obscured by tube rush or other unpleasant noises. Although I've always been aware of Bill Evans' subtle comping during Scott LaFaro's bass solos on Waltz for Debby [Riverside/Analogue Productions AAPJ 009], the LP2 flung it into stark relief against the background chatter and tinkling glasses captured during this live set at New York's Village Vanguard. I was similarly struck by the level of recorded detail heard while listening to the title track of Holly Cole's Temptation [Blue Note/Classic Records JP-5003]. Cole's unique vocal inflections, the hauntingly strange bass melody that pervades the track, as well as the sound of Cole's whimpering dog (!), were presented more clearly than I'd heard before.
Aside from its impressively low noise floor, the LP2 had tremendous bass weight and definition, giving up nothing to its solid-state brethren. The kick drum on "Growing Up" from Peter Gabriel's Up [Classic Records PG-UP] exploded with authority, and the low bass line heard throughout Cole's Temptation pulsed and throbbed without the bloat or overhang heard with lesser gear. Even the superb yet somewhat bass-shy ProAc Response One SC speakers sounded more authoritative in the lower registers when fronted by the LP2 -- truly remarkable performance for an all-tube design.
Another strong suit of the LP2 was its magnificent midrange, which struck just the right balance between clarity and liquidity. As my listening progressed from recent favorites by Tori Amos (Under The Pink [Atlantic 82567]) and Norah Jones (Come Away with Me [Blue Note/Classic Records JP-5004]) to old standbys by Billie Holiday (Songs for Distingué Lovers [Verve/Speakers Corner MG VS-6021]) and Ella Fitzgerald (Ella Swings Lightly [Verve MG VS-6019]), the LP2's beautiful rendering of each singer's unique phrasing and vocal texture never failed to fully engage me.
I've heard others opine that the LP2 is not the last word in top-end extension and, as a result, sounds a bit soft on top. Perhaps this is a matter of system matching or recording quality, but I heard no evidence of such treble softening during my listening. Besides being smooth and utterly grain-free up top, the LP2 possesses nicely extended treble, exhibiting abundant air and detail.
Those, like myself, who find the concepts of soundstaging and imaging completely congruent with the live-music experience will find much to like in the LP2's ability to define the physical layout of performers in the recording space. In particular, the LP2 rendered soundstage depth exceedingly well, making it a simple matter to discern such things as the distinct rows of the orchestra on classic RCAs and Mercurys and the relative offset of the orchestra and off-stage brass in a well-recorded Mahler's First.
In the area of dynamics, the Lamm LP2 was astonishing. Time and time again the all-tube LP2 stunned me with its ability to deliver realistic dynamic contrasts at both the micro and macro levels. Orchestral climaxes pushed me back in my seat, yet didn't become hard or glassy. Plucked guitar strings startled with their speed and clarity, yet never sounded forced or etched. As heard via the LP2, the opening guitar cords of "Sky Blue" from Peter Gabriel's Up startled me as they instantly punctured the black backdrop of the listening room.
Finally, the level of transparency exhibited by the LP2 was second to none in my experience. At one point during the review period I was bothered by what sounded like a subtle blurring of instrumental lines and a slight opacity in the midrange. After some investigation, I discovered that my cartridge's vertical tracking force had somehow slipped to 1.7 grams from its usual 2.0 grams. That the LP2 allowed me to so readily hear such a tiny discrepancy in cartridge setup was shocking. Prospective purchasers should be aware that the LP2's high level of transparency will demand the most precise system setup and only the finest partnering components.
Comparisons
Although I've listened at some length to the Aesthetix Io and Herron VTPH-1 phono stages, neither of these were on hand for comparison during the review period, so I hesitate to come to any real conclusions as to which product sounds "best" in the context of my review system.
However, I will say that despite a warm, lush signature that may not be the last word in neutrality and the fact that it runs as hot as hell as well as takes up an acre of shelf space, the Aesthetix Io sounds more like real music than most of the competition. In comparison, the LP2 sounds more neutral through the midrange and treble and, therefore, less like a classic tube product than the Io, although the Io's bass slam and definition are most impressive for a tubed phono stage. I've heard the Herron VTPH-1, a SoundStage! Reviewers' Choice, partnered with its matching line stage on many occasions and have always been enamored by its neutrality, excellent dynamics and overall musicality. While I felt that the LP2 bettered the VTPH-1 in terms of low-level resolution, transparency and performance at the frequency extremes, the Herron, at nearly half the price of the LP2, represents incredible value.
Because many prospective purchasers of the LP2 will be upgrading from internal phono stages or less expensive external models rather than looking to replace their big-bucks unit, it's worth considering whether or not the LP2 represents a big enough leap to warrant the additional cost. In comparison to the John Curl-designed Gold moving-coil boards in my Audible Illusions Modulus 3A (a $500 option) and the Lehmann Audio Black Cube ($600), the LP2 was more extended at the frequency extremes, had far better detail retrieval, and was considerably more dynamic -- all of which should be expected for more than ten times the price. Although the Gold boards held their own musically and weren't embarrassed by the LP2, had I a spare six grand and change burning a hole in my pocket, I could certainly justify the upgrade to the LP2. The many audible improvements the LP2 brought to my system held much musical significance for me.
Conclusions
As a committed vinylphile, I'm giddy about the significant number of superb phono stages currently available. In this era of digital everything, it's nice to know that there's still a viable market for LPs and the gear with which to enjoy them.
Although a relative latecomer to the analog party, the Lamm Industries LP2 offers truly extraordinary performance and is a real contender for state-of-the-art honors. With its benchmark-setting noise floor, explosive dynamics, see-through transparency, and superb extension at the frequency extremes, the LP2 should be on the proverbial short-list of anyone who's looking for a phono stage at or well above its price range.
...Andrew Chasin
andrew@soundstage.com
Lamm Industries LP2 Phono Stage
Price: $6690 USD deluxe version, $6290 standard version.
Warranty: Five years parts and labor, two months for tubes.

Lamm Industries
2621 East 24th Street
Brooklyn, NY 11235 USA
Phone: (718) 368-0181
Fax: (718) 368-0140

E-mail: lamm.industries@verizon.net
Website: www.lammindustries.com