August 2000

Audio Research Reference Phono Preamplifier

by Bill Cowen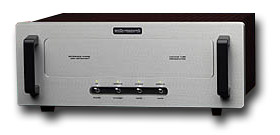 Review Summary
| | |
| --- | --- |
| Sound | "Most noteworthy are its sheer detail, dynamic agility and extremely low -- almost nonexistent -- noise level with low-output cartridges"; Bill "cannot find fault with the performance of the Reference." |
| | |
| --- | --- |
| Features | Tubed circuitry -- uses 14 tubes total; high build quality and standard ARC good looks; adjustable loading and capacitance; inputs high- and low-gain cartridges; mono switch. |
| | |
| --- | --- |
| Use | Large size that may even require floor space in some setups; adjusting the cartridge loading and capacitance requires soldering in resistors and capacitors. |
| | |
| --- | --- |
| Value | Surely one of the best-sounding phono stages available -- and at a commensurate price. |
It's interesting when reading Internet discussions about analog playback systems these days that the subject of phono preamplifiers is rarely mentioned. Most times such discussion centers around turntables and cartridges, occasionally wiring and isolation. It would seem that the phono stage is almost an afterthought, and this is unfortunate. Just as a digital system is only as good as its weakest link, so it is with a phono setup, and the phono preamp is just as important as the turntable, tonearm, and cartridge to which it's connected. The introduction of ARC's Reference phono stage to my system has made this all the more clear.
Big box full 'o stuff
The Reference, as its name would imply, is the ultimate offering from Audio Research in a standalone phono preamp. Housed in a single and huge chassis, it is easily recognized, even from a distance, as an ARC component. The front is adorned with the familiar brushed-aluminum faceplate and black handles, and the impeccable fit and finish are classic Audio Research. The unit arrived in a thickly padded box and survived the rigors of ground transit without a blemish. The tubes are removed for shipment and carefully packed inside the unit encased in foam blocks. The folks at ARC are even thoughtful enough to include a screwdriver for removing the top-cover screws.
Along the bottom of the front panel are four toggle switches for main power, standby, mute, and stereo/mono as well as LEDs to indicate positioning (the mono switch is something I wish every phono stage had). The back panel hosts a standard IEC power connector, line-fuse holder, RCA (single-ended) output jacks, and two pairs of inputs -- one pair for low gain (i.e., moving-magnet or high-output moving-coil cartridges), and the other pair for high gain (low-output moving-coil cartridges). A toggle switch is provided for selecting the inputs chosen, and a hefty grounding lug sits conveniently nearby. All connections are logically arranged and quite easy to work with thanks to the large size of the back panel.
The 20 screws securing the top cover must be removed to install the tubes. With a total complement of 14 tubes -- 12 Sovtek 6922s, one Chinese (Ruby) 5AR4 and one Svetlana 6L6GC -- installation of the tubes takes on a whole new meaning. A damping ring is installed on each of the 6922s to reduce microphonics. Although the accompanying literature advises due caution while inserting the tubes, I had no problems, even with my rather large hands.
The interior is a photo-perfect picture of construction quality and thoughtful layout. Two large toroidal transformers grace the front corners of the chassis, and the power-supply and signal circuit boards are separate and have ample space in between. Jensen transformers made to ARC specs provide moving-coil step-up duty. Changing the cartridge load is made possible by soldering resistors between posts located on the input board. The Reference is set up for 47k ohms (low gain) and 280 ohms (high gain) initially. Several high-quality resistors are provided for additional loads of 30, 60, 100, 200 and 800 ohms, but any load desired can be achieved by purchase and installation of the corresponding resistor value(s). The default 180pF capacitance can also be changed by soldering a capacitor between the posts, but none are supplied with the unit.
Setup
The first (and only) issue I had to deal with was the size of the chassis, which was too tall to fit on the shelf in my SolidSteel rack. As luck would have it, after I removed the maple shelf and Black Diamond Racing cones, the compliant footers of the Reference sat perfectly on the cross supports of the rack. This removed a couple of isolation barriers, but it was certainly a better choice than placing the Reference on the floor. During the review period, I never noticed any sonic problems with this arrangement, although it did remove the ability to try different isolation/tuning products.
Associated Equipment
Loudspeakers – Coincident Speaker Technology Super Eclipse.
Amplifiers – Cary Audio Design 805C, monoblocks, Audio Electronic Supply AE-25 Super Amp.
Preamplifiers – Cary Audio Design SLP-98, Cary Audio Design PH-301 MC/MM phono stage (with outboard step-up transformer), Audio Electronic Supply PH-1 MM phono stage.
Digital – Audio Electronic Supply CD-1 (modified).
Analog – Basis 2000 turntable, Graham 2.0 tonearm, Benz-Micro MC-SCHEU and Grado Reference cartridges, Greater Ranges Neuance isolation shelf.
Interconnects and speaker cables – Coincident Speaker Technology interconnects and speaker cables, Coincident and Cardas Golden Cross (phono).
Power conditioners and power cords – PS Audio P300 Power Plant, Shunyata Research PowerSnakes King Cobra.
Accessories – Black Diamond Racing cones and Round Things, SolidSteel rack, home-brew sandboxes, Silent Running Audio amp stands (custom for the 805Cs), ASC Half Rounds and Tower Traps, Marigo Audio Labs VTS tuning dots, Michael Green Design Pressure Zone Controllers.
The Reference was fed signal by Benz-Micro MC-SCHEU (.33 mV output) and Grado Reference (4.5 mV output) cartridges, both fitted to a Graham 2.0 tonearm on a Basis 2000 turntable. The Benz received most of the listening time as it offered an enhanced sense of air and space, and all listening notes to follow are based on impressions with it tracing the groove. Arm-to-phono-stage cable was either Cardas Golden Cross or the new (and superb) phono interconnect from Coincident Speaker Technology. The Basis sits atop the too-cool Greater Ranges Neuance isolation shelf, which is perched on three Black Diamond Racing #4 cones before connecting to the SolidSteel stand (itself spiked through the carpet to the concrete-slab floor underneath).
I put about 200 hours of music signal through the Reference prior to any serious listening. Audio Research recommends at least one hour of warm-up after a cold start, but I found that the unit really needed about four hours to achieve the best sense of space and midrange groove. With all of those tubes, the Reference runs quite warm in operation, but much cooler in its standby mode. I switched it to standby when not listening, unless I knew that I would have several days of a gap in listening time, in which case I turned it off completely.
Stop forgetting the phono stage
Although I'm no stranger to the sonic compromises that exist with, well, compromised phono stages, I was a bit startled when the Reference hit my system. When I first re-entered the world of analog about ten years ago, my sonic palate was demanding things that my wallet couldn't afford. So like most people, I purchased the best turntable and cartridge I could, and the poor phono stage was left as an afterthought. Knowing my budget was shot, my friendly dealer suggested a $179 solid-state unit manufactured by a respectable maker. I bought it, listened to it for two weeks and ended up melting my VISA on something better -- no, make that something listenable.
I'm not suggesting that you become an instant candidate for divorce or bankruptcy court by jumping head-first into an expensive phono stage, especially if you have a starter analog rig. What I am suggesting is those who have moved up the ladder should consider the phono stage before plunking down $2000 or more on a new cartridge. You may find that an accomplished cartridge/tonearm/turntable setup will only shine its brightest when supported by an equally accomplished phono preamp. You may also be quite surprised to find that the same expenditure on a better phono stage will reap greater rewards than the traditional cartridge upgrade. Seriously.
First to hit the turntable with the Reference in use was Stevie Ray Vaughan's "Chitlins Con Carne" from The Sky Is Crying [Epic, E47390]. Whoa! What's the deal here? I was expecting the usual low-level hiss between tracks (.33 mV output doesn't win the lowest-output-cartridge contest, but it's well on down there). Nothing. Dead silence. The first notes nearly took my head off, as I had the volume up way too high. An emergency remote-control response saved both my speakers and my ears. This particular album is in pristine condition, but I had always heard surface noise when it was played at normal listening levels. Not now. The Reference was nearly as quiet as CDs between tracks. I don't mean to make a real big deal about this, as most normal people actually listen to music instead of silence. The point is that achieving convincing dynamics and a low noise floor with a low-output moving-coil cartridge is not an easily accomplished task.
Back to the music. The low-level detail was astonishing -- things like fingers on strings, a feedback buzz from the studio equipment and a better developed sense of space all became much more obvious. The increased resolution and detail were not distracting, however; they simply made the recording more involving and realistic. Flipping over to "Little Wing" proved equally astonishing. Or perhaps the increased resolution made even more apparent the mind-numbing agility and ability in SRV's sadly departed fingers.
Jimmy Buffet's "Honey Do," from One Particular Harbor [MCA, 5447], is one of my long-standing favorites on LP. With the Reference phono in use, the individual voices in the opening chorus were better separated and came across as a collection of vocals rather than the mass of sound I was used to. When the sax cut in, there was a very noticeable increase in the sense of throatiness in the instrument itself, while at the same time a slight loss in warmth and body. It was like I was hearing the instrument more clearly, but in a smaller, unfurnished room. Very enjoyable, regardless. Having been a dedicated Parrot Head and concert attendee in my youth, the slight gruffness in Buffet's voice was recognizable for the first time as just that -- his real-life voice rather than a perceived recording flaw.
Next up was Little Feet's Let It Roll [Warner Brothers, 25750-1, LP version]. I have copies on both CD and LP, so I played one against the other for contrast. On "One Clear Moment," the CD is somewhat irritating on the louder piano notes and a bit harsh on vocals. The LP had previously been much easier on the ears as it lacked these artifacts, but it also lacked punch and bass heft, and was thus less exciting to listen to. With the LP played through the Reference, however, the bass was better than the CD version's. It had more impact, more extension, more jump and better definition. And "they" say LPs can't do bass as well as CDs? Hogwash.
So much for the rock-and-roll side of things. Classical music demonstrates the superiority of LP as a musical medium to my ears more clearly than anything else. Brahms' First Symphony is one of my favorites, and while I have most every recorded performance on CD, I'm stuck with only two on LP. Bernard Haitink conducting the Concertgebouw Orchestra [Philips, 6500 519] is adequate, but I'm still looking for a Gunter Wand LP version, even if I have to settle for an Angel recording. Timing is everything with Brahms' First, and the Reference stepped right up to the plate with its dynamic and rhythmic capabilities. String tone from violin and cello was downright spooky. Perhaps Haitink isn't really as much a second fiddle to Wand as I thought.
Finally, Anton Bruckner's Symphony No.9, with Herbert von Karajan conducting the Berlin Philharmonic [Deutsche Grammophon, 139011] is another piece that scales new heights of artistic impression when the noise is gone, the dynamics unrestrained and the micro-detail is displayed clearly (and more importantly, intimately entwined with the fabric of the music). I was so enthralled with the re-creation of this through the Reference that I listened to it twice, and then almost pulled out his Eighth Symphony. But only almost -- even the invitation to a live performance would cause serious thought on that symphony.
Anything not to like, you ask? To be honest, I cannot find fault with the performance of the Reference. It behaved perfectly, both mechanically and sonically, during the entire review period. It does have a sound to it, however, and this sound is consistent with many other ARC pieces I've heard over the years. The best description I can offer is that of reduced bloom and body in the midrange and lower treble -- a reduction of warmth, if you will. Bear in mind that this is in comparison to other vacuum-tube components, not to solid state. Is it more accurate or neutral? Hell if I know. I'm only offering this as an observation, and whether it is a positive or a negative depends on your sonic desires and to a greater extent the synergy with your other components.
Comparison
To compare the Reference to my Cary PH-301 -- at one third the Reference's retail price -- is not only unfair, it's pointless. I was fortunate enough to receive the Balanced Audio Technology VK-P10 shortly before writing this review, but not soon enough to get it fully broken in for any meaningful A/B comparisons. The VK-P10 is the top-dog phono preamp from BAT, and what I have heard of it leads me to believe that it may be a worthy contender to the Reference. You'll see the review on it shortly. For now, it mimics the nearly absent noise level that is so captivating with the Reference. It is warmer in the midrange and possibly a hair less dynamic, but whether these are colorations, break-in issues or simply the sonic character of the BAT in comparison to the ARC remains to be seen. Stay tuned.
Conclusion
The Reference sets a high benchmark for phono-preamp design and performance. Most noteworthy are its sheer detail, dynamic agility and extremely low -- almost nonexistent -- noise level with low-output cartridges. As with any other component, the Reference phono has its own sound, but there is nothing that calls attention to itself in an amusical way. I can say that the Reference has opened my ears to the contribution the phono stage makes in the context of the analog system, and has probably also ruined my ears for the ability to enjoy music with anything less. Very highly recommended.
...Bill Cowen
bill@soundstage.com
Audio Research Reference Phono Preamplifier
Price: $6495 USD
Warranty: Three years parts and labor.

Audio Research Corporation
3900 Annapolis Lane North
Plymouth, Minnesota USA 55447-5447
Phone: (763) 577-9700
Fax: (763) 577-0323

Website: www.audioresearch.com