October 1999

Margules Magenta FZ47dB Phono Stage

by Greg Weaver

In today's two-channel audio world where digital playback has come to reign, the familiar lack of a phono stage in most new preamplifiers is understandable. The pervasiveness of digital in the world of music playback has had a beneficial effect, however; it has left analog audiophiles with a surprisingly large assortment of affordable phono stages that for the most part are quite good. Well, I'm here to tell you about a sonic standout -- and one that won't set you back as much as that used car you bought to send Junior off to college. The Margules name will not be completely new to those of you who've been paying attention here at SoundStage! because you will recall that this wonderful line of products from Mexico has rightfully caught the ear of many a staffer.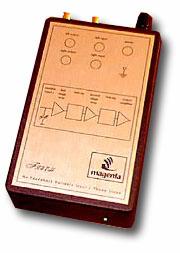 Review Summary
| | |
| --- | --- |
| Sound | "Treble is "lusciously developed and nicely outlined while never being aggressively in your face"; has a hint of the "breath" of very high-quality phono stages; bass is "full, but somewhat slurred and flattened." |
| | |
| --- | --- |
| Features | Two-box phono stage; has 16 different settings for impedance and 45dB of gain. |
| | |
| --- | --- |
| Use | Has a "higher-than-expected noise floor." |
| | |
| --- | --- |
| Value | Sits alongside the Lehmann Audio Black Cube as a very fine budget phono stage. |
As a family-owned specialty company founded in 1954, Margules Audio performs all their own research and design, and manufactures all their own products. Their history with reproduced sound dates back to 1926 when Jacobo Margules founded Emporio Electrico, which specialized in electronic components for radio broadcasters, radio amateurs, service technicians and students. Now the company is managed by the third generation, and Julian Margules is the designer of all products, encompassing both the high-end line, Margules Audio, and Magenta, a more cost-to-performance-oriented line, of which the FZ47db is a member.
The package
The design is a two-box unit, based on a circuit topology that does not use any negative feedback and incorporates all passive equalization. An input amplifier raises the voltage and lowers the impedance. This is followed by the first step of equalization, a second stage of gain and a current amplifier, then the final equalization and output stage. The unit incorporates internal DIP switches with 16 different input impedance levels, allowing a range of from 27k to 390k ohms for matching just about any cart's requirements. To help improve the signal-to-noise ratio, the FZ47db utilizes an outboard dual-regulated power supply. In keeping with the ambitious design effort, precision metal-film resistors, polypropylene capacitors, silver-core interconnect cable and gold-plated RCA connections are used throughout.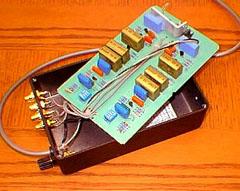 As I mentioned, the unit is made up of two smallish black project boxes, both roughly 7 1/4"W by 4 3/4"D by 2 1/4"T. This redundancy, the use of the same-size package for both boxes, helps reduce needless production costs as the power supply (below right) only fills about half its case, while the actual phono-equalization circuit (left) nicely fills out the chassis in which it resides. The power-supply case has no remarkable features and is fitted with a standard-looking gray power cord and a gray umbilical retreating from its back and connecting to the phono circuit.
The phono stage itself has a simplified block diagram on its top, along with labeling for the back of the unit. It also declares the Margules product logo and model number. The front of the case sports only a small green LED near the bottom-right corner indicating that the unit is powered. The rear panel of the unit houses the single-ended inputs centrally, the single-ended outputs to the right, with the ground post to the left, just above the entry point for the umbilical from the power supply. Input is a standard 47k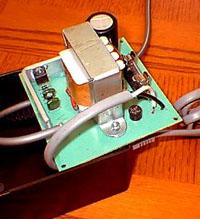 ohms with a maximum rated output of 13 volts. The unit is said to offer 45dB of gain with a signal-to-noise ratio of 89dB.
The performance
Though just a touch dry right out of the box, the unit is spry and deft. Once run in (I didn't do any real critical listening for at least 30 albums), it offers an amazingly live look into recordings. I must say that even though I wasn't always paying strict attention to the sound during the run-in period, the sounds being recreated by the FZ47db were captivating. I was quite taken to find so early that there was that hint of the "breath" that I come to expect from only the very best phono stages.
Dissecting the FZ47db's tonal performance was a pleasant surprise. The upper treble was lusciously developed and nicely outlined while never being aggressively in your face. Just let go and drift with the cymbal rides on "Hereafter" from the Direct Disc Labs half-speed master of The Dixie Dregs' Dregs of the Earth [SD 16622]. It has an uncanny ability to nail that "bronzy" flavor of a good cymbal with both a flare and an inherent rightness. Though not flawless, the "whitishness" so commonly associated with inexpensive phone stages is virtually nonexistent. While the FZ47db seems to homogenize just the very finest of decay detail and omit the final resolution of instrumental air, its upper-treble performance is heads above other units I've heard below and in this competitive price range.
Voices, from Donald Fagen and Stevie Ray Vaughan to Ann Wilson and Rickie Lee Jones, were faithful and alive -- assuming the recording was up to the task. Turning to the ruthlessly revealing piano to uncover any shortcomings, the scaling runs during the first movement of Beethoven's Piano Concerto No. 4 [RCA LSC 2680] were handled with poise and vibrancy. There is a warmth to piano (and guitars, and violins and … well you get the picture) that makes this little two-boxer a real charmer. Many a lesser phono stage has the tendency to contribute a tizzy shimmer to the harmonics of the uppermost keys of the piano runs, completely breaking down that convincing illusion of the live piano. The Margules held right in there with some of the best in this category.
Henryk Szeryng's violin on the Lalo Symphonie Espagnole [RCA LSC-2456] was as biting and sweet with this little contender as with my reference Threshold phono stage. On short, abrupt violin or cello bowing, you could hear and almost feel the rosin on the strings. Brass instruments on orchestral recordings and things like harmonica or saxophone on smaller, more intimate jazz and blues recordings are voiced so wonderfully that you don't for a second have the feeling that you are listening to a "budget" component. Just delicious performance here.
Associated Equipment
Loudspeakers – Von Schweikert VR-4 Generation II.
Amplifiers – Clayton Audio S-40, Pass Labs Aleph 3.
Preamplifier – Threshold FET nine/e.
Analog – Linn LP12 turntable, Magnepan Unitrac 1 tonearm, Sumiko Blue Point Special cartridge.
Digital – Pioneer Elite PD-41 transport; Audio Alchemy DTI Pro 32 and DDE v1.2 via I2S connection and powered by a Power Station 2, all three with full Channel Islands Audio upgrades.
Interconnects – Harmonic Technology Pro-Silway Mk II.
Speaker cables – Harmonic Technology Pro-9 Plus.
Digital cable – Harmonic Technology Cyber-Link Copper.
Power cords – Harmonic Technology Pro-AC11.
Accessories and room-tuning devices – Source Component Electronics Harmonic Recovery System, Vibrapods, Cascade Audio Engineering products and home-brew room-tuning devices.
Bass and midbass are very good, but may indeed be the Achilles heel of this little guy. Full, but somewhat slurred and flattened in its re-creation, bass is rendered with enough detail to make it very engaging, but it is shy of the mark for realistic presentation. Listening to "Crazy on You" and "Magic Man" from the Nautilus half-speed release of Heart's Dreamboat Anne [Nautilus NR3/MRS 5005], I thought the drum tonalities came through loud and clear; just the slightest loss of the flavor of the individual drum heads is apparent.
Macrodynamics are better than average, while the microdynamics, though quite impressive for the price, are a bit of a weakness. For macrodynamic involvement, try the Steely Dan classic Katy Lied [MFSL 1-007] or the Holland pressing of Roger Waters' audiophile smorgasbord Amused to Death [Columbia/Legacy 53196]. The drive that gets through on songs like "Everyone's Gone to the Movies" and "Daddy Don't Live in that New York City No More" from Katy Lied is invigorating. And the power of the explosion at the end of "Late Home Tonight -- Part 1" comes through with the all the pressure I've come to expect and -- as an added treat -- never breaks up or loses its location or individuality.
One of the most pleasant surprises was this little guy's sheer agility and its capacity to hold the curves. The intricacies of Respighi's Pines Of Rome [Classic RCA LSC-2436] were unraveled with delicacy and a superb degree of instrument placement. The veritable cacophony of orchestration from the opening of Prokofiev's Scythian Suite [Mercury SR-90006] was thrown into near-perfect focus. In fact, the only hint of congestion or loss of location during this extremely dynamic and quite complex passage was more likely attributable to the cartridge, not the Margules phono stage.
Some of the problem in the microdynamics department may be attributable to the higher-than-expected noise floor. The unit, with the volume at normal listening level and no music playing, was a good 15dB louder than my reference, as measured with my Radio Shack analog SPL meter. While I will acknowledge that this is not the most accurate of test instruments, the fact remains that the FZ47dB offers a much louder background than I had expected.
Both the FZ47dB's performance and price lead to the inevitable comparison to the Lehmann Black Cube. I must admit that it has been over a year since I heard Norbert Lehmann's wonderful little two-box phono preamp. To my memory, the Black Cube is slightly more forward in its presentation and offers slightly more truthful bass and midbass articulation. It also seemed a bit more lush in the midrange, which is not meant to be interpreted as more accurate -- and in fact, may have been the result of the tubed amplification. But, to my recollection, the Margules offering is a bit more honest in both timbre and overall presentation.
If you are shopping for a great affordable phono stage, don't make a final purchase until you've heard the FZ47db from Margules Audio. You may find you can save a lot of coin -- all the better for buying more vinyl!
...Greg Weaver
gregw@soundstage.com
Margules Magenta FZ47dB Phono Stage
Price: $450 USD
Warranty: Three years parts and labor.

Margules Audio Group USA
14038 Tanglewood Court
Dallas, TX 75234
Phone: (972) 243-5905
Fax: (972) 243-6081

E-mail: dkeats@airmail.net
Website: www.margules.com