November 1998

Blue Note+Vinyl=Classic Records

For the vinyl lovin' jazz-o-holic like myself, the late '80s and early '90s were really a desert of sorts. These days jazz-on-vinyl collectors have never had it better -- except for the heyday of great jazz LP releases in the '50s and '60s. But then they didn't have the plethora of great turntables and cartridges that we have today. Back in the early part of the '90s, most labels gave the LP the old heave-ho. A few companies like Fantasy's OJC reissue label kept great records from the Riverside, Prestige and Contemporary labels in print on LP. Acoustic Sounds began reissuing some titles from the Fantasy/OJC vault around this time as well. However, for the most part, jazz-LP lovers were forced to hunt garage sales, peruse auction lists or hope that there weren't other savvy treasure hunters combing the same used-vinyl outlets.

Things have gotten better in the last couple of years as Classic Records, one of the labels responsible for the vinyl renaissance in recent times, has begun dipping into the Blue Note, CBS/Epic and Mercury record vaults. You have to hand it to them for their fine work on the RCA Living Stereo classical series and the great stuff from the Verve catalog. Despite the debates that rage about originals vs. reissues, I laud Classic's overall efforts to make these LPs available to folks other than just well-healed collectors. In fact, some of these titles are very rare and change hands for big dollars on the collector's market. Visually, these Classic jazz titles are very painstakingly reproduced in terms of their covers and labels. I will warn you, however, that with a couple of exceptions, none of these records will sonically overwhelm those weaned on modern "audiophile" recordings.

When I first heard that Classic had gotten rights to do Blue Note titles, I was very excited. I think that any of us who admire Blue Note founders Alfred Lion's and Francis Wolff's contributions to jazz history had high hopes. If you're like me, you had a list of a least 50 titles, and I'm sure it was tough for Classic's Mike Hobson and Co. to walk a fine line between the popular (i.e. Dexter Gordon's Swingin' Affair) and the wonderful but obscure (Ike Quebec's Soul Samba). Then there's the legal issue of what Capitol would allow Classic the rights to.

Engineer Rudy Van Gelder was the primary sculptor of the Blue Note sound. Debates rage about the quality of his work among both jazz and hi-fi aficionados. I love his work, although audio purists rank on him for using echo chambers and hard stereo panning (although this was general practice overall in the early days of stereo). The main thing I notice is a fair amount of variation in his recordings, and his work favors horns and drums over piano, which often sounds distant on Blue Note titles.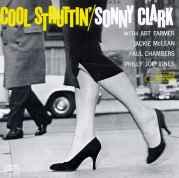 Luckily, out of the gate Classic picked a classic -- Sonny Clark's Cool Struttin' [Blue Note 1588]. I think Sonny Clark is one of jazz's unsung piano heroes. He played with such notables as Dexter Gordon, Serge Chaloff, Jackie McLean as well as in numerous Blue Note sessions during the '50s and early '60s. Tragically, he died in the early '60s, and despite being apart of the first tier of Blue Note session players (along with Horace Silver, Wynton Kelly and Bobby Timmons), he remains largely unknown. I think if I had to pick a top-10 list of all-time great hard-bop LPs, this would be one of them. Look at the lineup: Art Farmer, Jackie McLean, Paul Chambers and Philly Joe Jones on drums. This is the A Team. Sonically, I think Classic has done a great job on this title. Their version stomps the '80s EMI Blue Note pressing I own. Original copies in good condition have been too pricey for my blood for some time, so no direct comparison here. Overall, I find the reissue smoother on top and more spacious than the later Blue Note pressings. Sonics aside, this is a record to own if you love great hard-bop jazz and Blue Note.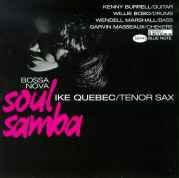 Ike Quebec was a soulful tenor sax player out of the Coleman Hawkins and Ben Webster schools. He recorded a number of fine albums for Blue Note and even served as an AR man for the label. Tragically, his career was dogged by drug problems, and like Clark, he died in the early '60s. Soul Samba [Blue Note 4114], recorded in 1962, was an attempt to emulate the Bossa-Nova sound, a craze ignited by the Getz/Gilberto hit "Girl from Ipanema." This album features a front-line of Quebec and Kenny Burrell on guitar supported by drums, bass and percussion. Musically this album has a late-night feel (they used to call this stuff make-out jazz) with Latin rhythms. Classic and Bernie Grundman have done a great job of capturing Ike's tenor tone. This may be one of Rudy Van Gelder's best recording efforts. Original copies are rare and usually beat up, so this was a first hearing for me. This LP is spacious and warm-sounding and will have the most appeal for those who love sonics. Also, dig Burrell's great comping. In fact, you can tell he's barely using his amp on some cuts and playing acoustically. This is probably one of Classic's best efforts to my ear. A great record to relax with.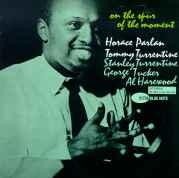 I was glad when I read that Classic was doing Horace Parlan's On the Spur of the Moment [Blue Note 4074]. This is one of the few Blue Note releases I was not very familiar with. Horace is a tasty piano player who made some good LPs for the label. Though not a virtuoso player like Horace Silver or Sonny Clark, Parlan made albums that always featured compositions which served to highlight the other musicians to good effect. I assumed from the lineup on this one, featuring the Turrentine Brothers (Stanley and Tommy) and a rhythm section of George Tucker and Al Harewood, that this would be an enjoyable record. I was right. This is a solid, funky hard-bop outing in the classic Blue Note vein. Overall Classic did a nice job on the transfer, although this isn't one of the more outstanding Blue Note issues in terms of overall sound.
So there you have it, three slabs o' Blue Note jazz from Classic Records. I think Classic has made some interesting choices, and I'm looking forward to all subsequent efforts. All three of the titles I mention are worth owning, but if you're on a budget, I suggest picking up the Sonny Clark and Ike Quebec titles first as musically and sonically they are standouts. Overall, I think the Classic reissues are getting better. Whether this is due to a learning curve or the new tube mastering chain, I can't say. All I know is it's working for my ears.
...Tony Fafoglia
tonyf@soundstage.com