October 1998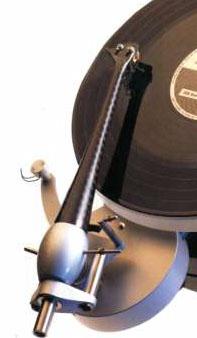 Wilson Benesch ACT 0.5 Tonearm
Once upon a time, in a quaint English village, there lived three merry pigs. Every morning the three pigs went to work in the coal mines, and after a grueling day of backbreaking labor, they returned home to enjoy the sweet sounds of Sam Cooke and The Sex Pistols on their home stereos. Their journey home through the dark forest was always treacherous because of a wicked wolf that lay in wait. The wicked wolf worked for an evil Japanese audio giant who wished to rid the world of the pigs' glorious vinyl and spread an evil virus called "Myfisherpricesoundsbetterthandigitalopus." It is on this night that our tale begins...
Wicked Wolf: Little Pig! Little Pig! Let me in!
Pig #1: Did you vote Tory or Labor?
Wicked Wolf: Labor…and if you don't let me in, I'll huff and I'll puff, and I'll blow your house down!
The little pig, knowing full well that his wooden house would never withstand the full force of the powerful blast, did the only thing that a respectable pig would do under the circumstances. He gathered up all of his glorious records and shielded them with his body as the wood beams fell all around him.
Wicked Wolf: Little Pig! Little Pig! Let me in!
Pig #2: Scary or Sporty?
Wicked Wolf: Scary…and if you don't let me in, I'll huff and I'll puff and I'll blow your house down!
The little pig, knowing full well that his pre-fabricated stucco house full of Ikea furniture would never withstand the full force of the powerful blast, did the only thing that a respectable pig would do under the circumstances. He gathered up all of his "Top of the Pops" recordings and shielded them with his body as the Ikea furniture came tumbling down on top of him.
Wicked Wolf: Little Pig! Little Pig! Let me in!
Pig #3: Tom Selleck with or without the mustache?
Wicked Wolf: With the mustache…and if you don't let me in, I'll Huff and I'll puff and I'll blow your house down!
The little pig, knowing full well that his carbon-fiber walls were completely impenetrable, smiled as he lowered his new Wilson Benesch ACT 0.5 tonearm onto his favorite Sam Cooke record. The wolf huffed and puffed, and huffed some more until he finally realized that vinyl was here to stay. The exhausted wolf peered through the glass of the front window and sighed in envy as he watched the little pig fall groove to the soulful sounds coming from his tube-driven Quad ESLs...
In the early 1990s, the designers at Wilson Benesch convinced the bureaucrats at the British Department of Trade and Industry (something that no other audio company in Britain had done up to that point) to award them £25,000, half of the start-up money that the company required. This Yorkshire-based high-end company set the British audio scene on fire back in 1994 with its groundbreaking carbon-fiber turntable and ACT One (Advanced Composite Technology) tonearm. Not being ones to rest on their laurels (not to mention numerous awards), Wilson Benesch introduced a more advanced turntable/tonearm (ACT 2), a series of phono cartridges and a line of loudspeakers.
Starting a high-end audio company in the 1990s that specialized in turntables and phono cartridges showed a great deal of entrepreneurial spirit (or some might say stupidity) and it would appear that the gamble has paid off. My only complaint when I first listened to an ACT 2 turntable/tonearm setup about three years ago was that it was too expensive, especially at a time when sales of turntables had all but fallen off of the charts. I have lived quite happily with my Audiomeca Romance for over four years, but I have always wanted a Wilson Benesch setup. Last year, Wilson Benesch introduced an affordable turntable/tonearm package called the Circle, and much to the dismay of the Royal Order of turntable manufacturers in Britain (Linn, Rega, Roksan, Michell, Voyd), it is an absolutely killer setup that has raised the bar to a whole new level. After comparing the ACT 0.5 tonearm to some of the ultra-expensive tonearms made in North America, I knew that I found the ideal upgrade for my Audiomeca Romance 'table. This arm takes no prisoners!
The technology
The ACT 0.5 tonearm is a one-piece armtube/headshell constructed of resin-injected, triple-layer carbon fiber. The armtube's shape (almost a hyperbolic curve) is designed to inhibit narrow-band resonance, and Wilson Benesch has placed several foam look-alike disc bulkheads inside the armtube to minimize airborne resonance. Wilson Benesch decided to use carbon-fiber composites in order to force resonances higher in frequency and to fine-tune their damping with a greater degree of accuracy. The shape of the armtube forced Wilson Benesch to make some compromises in terms of the arm's stiffness, but based on my experience with it, the arm seems to ignore even the worst of disturbances (kicking my stand, taping on the plinth of my 'table, yelling at it). I know that I can't prove that this arm is totally impervious to vibration, but compared to the other arms that I've tried (Audiomeca Romeo, Graham 2.0, Rega RB900, Rega RB300), it was the only arm that didn't pick up the vibration from the motor, or the taping of my fingers on the plinths of the turntables that I used. The technology does work.
The ACT 0.5 is a uni-pivot design, and I have to offer this word of caution to first-time users of a uni-pivot arm: This arm feels unstable when you lift it up, and it will drop like a stone if you let go of it (possibly ruining your cartridge). Use of the cueing lift/lower mechanism will prevent this, but I discovered that leaving the lever in the up position is not necessarily the best thing for the arm. It seems to stiffen up in your hand, and I found that the probability of having an accident (wouldn't that be embarrassing!) with the arm increased with the lever up. Practice does make perfect, and I got used to moving the arm after a few records. There is a clip to lock the arm when not in use and it does a good job of holding the arm securely in place.
Setup
This is where things became really interesting. Wilson Benesch offers an arm-mount for its own turntables and for other turntables. Great, but not so fast there Bronco Billy. Setting up the tonearm isn't all the difficult (more diagrams would help), but mounting it on my Audiomeca Romance became an adventure in a hurry. The ACT 0.5 comes with its own cable, and you have to connect it through the bottom of the base. This would have worked without a hitch if only there were a hole in the plinth of my 'table to allow this. I was determined to make this work, so off I went to have a 1.5"-wide hole drilled through the plinth of my turntable (humble thanks to Matt Brazeau of Analog Emporium and his high-speed precision drill). I wasn't overly thrilled about this, but it was 100% necessary and the supplied arm-mount does a terrific job of securing the arm to the 'table. Adjusting the VTA with the supplied Allen key was very easy, as was adjusting the azimuth. The ACT 0.5 uses two outriggers, enabling mass to be located adjacent to the bearing to assist lateral mechanical stability. The anti-skate is very easy to set, and there are two rubber O-rings provided to keep the nylon cord from slipping out of the grooves. My Benz Micro Glider mounted without any problems, and the arm can handle cartridges between 5-16 grams.
The Oval Office system in the White House...
The Wilson Benesch ACT 0.5 tonearm replaced my Audiomeca Romeo arm on my Audiomeca Romance 'table. I also listened to the Benesch ACT 0.5 arm mounted on Wilson Benesch Circle, Oracle Delphi Mk V, and Wilson Benesch ACT 2 turntables. For comparison purposes, I also listened to a Graham 2.0 tonearm mounted (there sure is a lot of mounting going on in the oval office!) on the aforementioned Oracle Delphi Mk V, and I tried a Rega Planar 9/RB900 combination and my own Rega Planar 3/RB300 setup.
The Copland CTA-301 MK II RC preamplifier (review coming) and EAR 834P phonostage saw plenty of action during the review process. I used OCM 200, Copland CTA-501, and Copland CTA-505 power amps to drive my Martin-Logan Aerius and Meadowlark Kestrels. I used a Benz Micro Glider and Benz Micro MC Gold in the various tables. Cables included Cardas Golden Cross; van den Hul the First, Second, Revolution; and the terrific and affordable Axon cables from France. I plugged everything into Chang CLS 6400 and CLS 3200 line filters.
The future is now!
The Wilson Benesch arm is quite honestly the best tonearm that I have ever used, and I don't think that I am going out on a limb by saying that it is better than the Graham arm in many respects. The Graham 2.0 is a superb arm (at $4000 Canadian, it better be) that is much easier to adjust than the Wilson Benesch ACT 0.5. The Wilson Benesch arm just has that funky, soulful groove thing going that the Graham lacks. There is a greater sense of immediacy and naturalness with the Wilson Benesch arm. Listening to Bruce Springsteen's The Ghost of Tom Joad [Columbia C67484], I could clearly hear the differences between the Wilson Benesch arm and the rest of the group. Springsteen's voice was much more natural-sounding and his harmonica playing didn't send me running from the room. The difference in the degree of immediacy was significant. I felt more involved with the music.
I love Tori Amos, and Under the Pink [Atlantic 82567-1] is one of those recordings that I listen to when I need some proof that life isn't just about terrorist bombings, hurricanes, and over-zealous GM dealers. When I listened to this album for the first time with the Wilson Benesch ACT 0.5, I clearly heard why this arm is better than the rest. The soundstage and depth of the recording improved to a degree that I was not prepared for. Everything, and I mean everything, sounded more realistic with the ACT 0.5. Amos' voice sounded harder with the other arms and there was certainly less detail. I listened to numerous jazz albums (John Coltrane, Ella Fitzgerald, Eric Dolphy), and I loved every second of it. I don't know the origin of the supplied tonearm cable, but I will say that Wilson Benesch picked a winner.
Endnotes
The Wilson Benesch ACT 0.5 tonearm is to vinyl in the 1990s what the Rega RB300 tonearm was to vinyl when it was released in the 1970s. This tonearm takes any 'table that it resides on to another level and not at an unreasonable price. If money were no object, I would still buy the Wilson Benesch arm over the Graham 2.0. If vinyl still matters to you and you are looking for a way to upgrade your system for the next century, then the Wilson Benesch ACT 0.5 tonearm is a must-listen.
...Ian White
ian@soundstage.com
Wilson Benesh ACT 0.5 Tonearm
Prices: $1495 USD

Wilson Benesch Ltd.
Falcon House
Limestone Cottage Lane
Sheffield, England S61NJ
Phone: +44 (0) 114 2852656
Fax: +44 (0) 114 2852657

Canadian distributor:
Tri-cell Enterprises:
4 Newlove Court
Rexdale, Ontario, Canada
Phone: 416-748-8300
Fax: 416-748-6937

US distributor:
Pro-Audio Ltd.
111 South Drive
Barrington, Illinois 60010
Phone: 847-526-1660
Fax: 847-526-1669

E-mail: proaudio@aol.com