It's hard for me to believe, but it's true: I wrote my first review of a Vladimir Lamm product nearly 15 years ago. Back then I bought the review samples -- a pair of Lamm M1.1 mono hybrid amps -- and used them as my reference until I replaced them with another Lamm amp. Then another, and another after that. I've used two different Lamm preamps as well. I still own Lamm amps, a pair of M1.2 Reference monoblocks, the amps that eventually replaced the M1.1s. So I've come full circle, using Lamm electronics as my reference for, well, nearly 15 years.
But there was one Lamm product that I had never heard. Vladimir Lamm is a great advocate of analog playback, and his LP2 phono stage, in both Regular and Deluxe versions, has garnered reviews that are as positive as those for his other products, including a review here at SoundStage! Since the LP2's introduction, Vladimir has subtly prodded me, often remarking after he talks about it, "Ah, but you don't have a turntable." Of course, all that changed a year and a half ago, and I've been immersed in analog as keenly as any diehard. I couldn't wait to mention this to Vladimir, waiting for his surprised response. Instead, he congratulated me on my good sense -- no jokes, please -- and immediately offered to send me an LP2 Deluxe to finish off the Lammification of my audio consciousness, so to speak. How could I resist?
As I've mentioned, the LP2 comes in two versions: Regular ($6890 USD) and Deluxe ($7290). They are so close in price, and so expensive to begin with, that I wonder how many LP2 Regulars Lamm can sell. The differences are all internal -- the two look identical. The power supply of the Deluxe version stores more energy, and all the film capacitors in the signal path are bypassed by polystyrene types "of the highest available quality," according to Lamm. A more obvious difference is revealed when you try to pick up the LP2 Deluxe and find that it feels glued to whatever surface is underneath it. There's "a custom-designed massive damping panel" affixed to the bottom of the chassis. It is said to reduce the effect of mechanical vibration, which "in turn, leads to a more extended, coherent and natural bass reproduction."

Both versions of the LP2 are bare-bones in terms of features -- just the ability to switch between moving-magnet and moving-coil cartridges, and thus between 37.65dB and 57.5dB of gain. There is no adjustable cartridge loading; the value is fixed at 47k ohms for the MM input, and a low 40 ohms for MC. Capacitance is 200pF. The LP2 derives its gain from active devices in the first, MM stage -- four "specially selected" Western Electric 417A/5842 tubes -- with a step-up transformer switched in for the MC stage. A single 6X6/6202 tube is used for power-supply rectification.
Loading my Dynavector XV-1s cartridge down with 40 ohms would not be my choice. I would expect some truncation of the highs and overall lifelessness to the sound. But the LP2 Deluxe sounded anything but truncated and lifeless with the XV-1s. The treble was finely drawn and as extended as I've heard with my cartridge, this aided by one notable aspect of the LP2 Deluxe's performance: extremely low noise. No phono stage, let alone one that provides nearly 60dB of gain, is dead quiet, but the LP2 Deluxe gets as close to this ideal as I've encountered. Only the internal phono stage for the CAT SL1 Ultimate preamp equals it, and both are tubed products, which makes their low-noise nature all the more improbable -- and significant.
The LP2 Deluxe is rather matter-of-fact in the way it lays out the soundstage, not big, bloomy and billowy as you might expect a tube phono stage to be. Oh, it portrays lots of space, but this quality doesn't immediately stand out and will seem somewhat diminished compared to other phono stages. I recently purchased an original copy of Creedance Clearwater Revival's Willy and the Poorboys (Fantasy 8397). It cost me 50 cents; what music isn't worth taking a chance on for 50 cents? I am familiar with the CD, a couple of versions, in fact. The LP creams them, delineating the instrumental lines and carving out a space in which the musicians do their thing. The music no longer sounds canned and homogenized, like it's coming out of an AM radio. The LP2 Deluxe resolved all this and made listening to this LP a true event. And it did this without goosing the treble, which can often give the illusion of greater delineation and space. The vaunted Lamm naturalness was in full glory.
The bass, perhaps due to that damping plate in the chassis, is exceptionally detailed. It's untubey -- lacking the bloom (or bloat) that tubes can sometimes display. The bass line of Donald Fagen's The Nightfly (Warner Bros. 23696-1), for example, is deep and resonant; it sounds like it's the product of an electric bass. On CD, it's somewhat synthesized -- unreal. The bass region displays no midbass emphasis either, the LP2 Deluxe remaining taut and controlled as it descends. All of this is especially significant when I'm playing some of the Music Matters 45rpm Blue Note reissues, none of which has great low frequencies, but all of which (as far as I can remember) feature an upright acoustic bass. This instrument can often become lost in the 50-year-old mix, but the people responsible for the sound of these masterful remastered LPs have gone to great lengths to make sure it is restored. So does the LP2 Deluxe, which carves it out of a mix that's often less than ideal, presenting it in proper proportion to the rest of the music -- likely for the first time.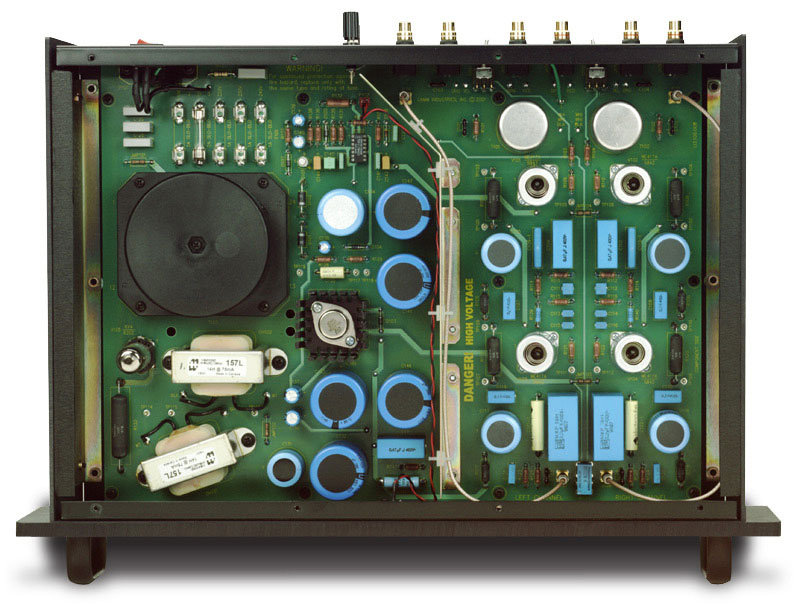 The Audio Research PH7 ($5995) is an interesting comparison piece to the LP2 Deluxe. The PH7 is very flexible, offering five different loading options via its front-panel buttons or remote control. It derives all of its 57.5dB of gain from active devices, using no step-up transformer. Like the LP2 Deluxe, the PH7 uses tube rectification in its power supply, relying on a trio of 6H30s for this. The PH7 is quiet, especially for a unit without a step-up transformer, but the LP2 Deluxe is quieter still. Where the PH7 eclipses so much of its competition is where Audio Research products are historically unparalleled: the ability to portray vast amounts of space and realistically scaled dynamics. The LP2 Deluxe isn't as attention-grabbing as the PH7, offering the music in a more modest way that is obviously and abundantly natural. The midrange of the PH7 is more lush than that of the LP2 Deluxe, and its highs are slightly thinner and more delicate. The LP2 Deluxe counters with solid image outlines and a physical treble that gives brass, for instance, greater punch and blat. In the bass, the LP2 Deluxe also has greater punch than the PH7, which has the more prominent midbass.
Ultimately, the performance of the LP2 Deluxe mirrors that of its companion preamps and power amps instead of complementing it -- balancing a cloying midrange with bleached harmonics, for instance. It extends all that defines the Lamm sound to LP playback. And it is this to which I have responded for 15 years -- a characteristic combination of sonic traits that sounds close to live music to my ears. I don't need specifications or measurements to tell me something sounds right; I know it when I hear it.
I've finally heard Vladimir Lamm's phono stage, which has been on the market unchanged for more than seven years. Don't let this longevity lull you into overlooking the LP2 Deluxe if you're on the hunt for a truly state-of-the-art phono stage. "New" doesn't always mean "improved."