High-value DVD player featuring built-in Dolby Digital and DTS decoding, along with outstanding picture, sound and build quality for the money.

April 2000
Panasonic DVD-A320 DVD Player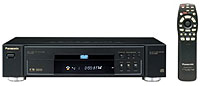 Son of Kong!
Okay, I'll admit that I am finally having fun with home theater. I doubt that my neighbours would share that same sentiment, but I am having a blast watching movies until three in the morning. Unless you really enjoy watching Bernard Shaw and Judy Woodruff drone on about which presidential candidate does the best impression of Pat Robertson, television is incredibly boring. Fortunately, a lot of really good movies are finally showing up on DVD and not a moment too soon in my opinion. For those of us who wish that a gas line would go "BAM!" in Emeril's kitchen, there is some salvation.
If you look back into the SoundStage! archives you'll come across my review of the Panasonic DVD-A310, a DVD player that I felt was outstanding value for the money, and a very fine performer. In the year that has passed since my review, a number of really good (and some not so good) DVD players have been released by most of the major manufacturers, including some really high-end models from Denon, Theta, Pioneer, Proceed, Runco, CAL, and Panasonic. It's now possible to spend more than eight thousand dollars on a DVD player, which I think borders on sheer lunacy. Unless you are in the process of building a real movie theatre in your home, complete with a HDTV projection unit, Stewart screen, and fresh hot-buttered popcorn, I'd have to conclude that spending eight thousand dollars on a DVD player is a tad foolish.
However, the big question still remains -- is there a huge difference between the DVD players that cost fifteen hundred dollars and up compared with those that are priced at under one thousand dollars? In some cases, the answer is yes. The ultra-expensive Denon, Theta, and Panasonic players, for instance, are outstanding when connected to a HDTV monitor and they do set a very lofty benchmark. Unfortunately, most of us can't afford to spend that kind of money on two pieces of video equipment; that is where a DVD player such as the Panasonic DVD-A320 fits nicely into the equation. Although its current retail price is listed at $499.95, I managed to pick one up for $400 and I have even seen the DVD-A320 go for as little as $349.97.
Better than a poke in the eye with a sharp stick…
Aside from some aesthetic changes to the front panel, the DVD-A320 is as uninspiring as the DVD-A310 in the looks department. This player has no sex appeal whatsoever. To make matters worse, they slapped a gold sticker on the front panel (again) and it looks extremely tacky. The remote looks a lot like the remote that was supplied with the DVD-A310; however, I did find that it felt more comfortable in my large hands. The main functions are on luminescent buttons and they are really easy to use in the dark. The rear panel of the DVD-A320 gets a major thumbs up for offering many outputs and for providing ample space for reasonably thick interconnects. At its price point, the Panasonic offers more than the competition with component, S-video, composite, 5.1 line outputs (with volume control), stereo outputs, coaxial and optical digital outputs.
Features SnapShot!
Panasonic DVD-A320 DVD Player
Price: $499.95 USD

Dimensions: 16.9" W by 3.9" H by 10.5" D
Weight: 7 lbs.
Warranty: Five years parts and labor

Features:
Built-in Dolby Digital and DTS decoding capability
Built-in preamplification section with volume control to allow direct connection to a power amplifier
Advanced Virtual Surround Sound technology which simulates surround sound from stereo speakers
Dialogue Enhancer to help make movie dialogue more intelligible
Outputs:
Digital - one coaxial, one TosLink
Video - two composite, one S-Video, one component
Audio - one left/right analog, 5.1 analog
Internally, Panasonic has added DTS decoding to the DVD-A320 (which is somewhat redundant as most surround-sound receivers now come with DTS decoding), an addition which will only appeal to those of you who own DTS-encoded films and music. One annoyance that still lingers from the DVD-A310 is that you still have to access the digital-output menu on the player to make changes if you wish to watch or listen to a DTS-encoded disc.

From a features perspective, Panasonic has made three changes that are worth mentioning. The first feature (and it works quite well) is the "Dialogue Enhancer," which boosts the center-channel volume in order to keep film dialogue from being drowned out by all of the surround effects. My Denon receiver allows me to do this through its own settings, but I did find that dialogue was more intelligible with this feature turned on through the DVD-A320. The second feature, a "Digital Picture" Mode (Normal, Fine, Soft, Cinema, and User) allows you to adjust brightness and contrast, and the detail level of the picture. I tried all of the settings with a number of films and in each case I preferred the normal setting. You may experience something different with your own television, but on my Panasonic set the other modes just didn't cut the mustard. The final feature is a "Monitor Select" switch which optimizes video output for direct-view, rear-projection, CRT-based front-projection or LCD front-projection. I was only able to use the direct-view setting, so I really can't comment on the other modes.

If you decide to use the 5.1 line outputs, you have the option to control the volume through the DVD-A320. All you need to do is connect the DVD-A320 to a five-channel amplifier and use the internal Dolby Digital and DTS decoders. This might sound like a terrific idea for those people who only want to use DVDs, but it is a short-term solution that will only cost the consumer in the long run. For the price of a really decent five-channel amplifier, you can buy a very good surround-sound receiver that will fulfil almost all of your needs. For the purposes of this review, I borrowed a Bryston five-channel amplifier from a local retailer and used the DVD-A320's internal volume controls. On Dolby-Digital soundtracks the combination was rather spectacular with the Bryston amplifier providing unlimited power and an incredibly clean sounding midrange. I was almost convinced. Almost. I switched over to some DTS soundtracks and all hell broke loose. For some reason, the DTS soundtracks sounded really harsh when going direct, and I was afraid to turn up the volume. I have twenty DTS-encoded movies and they all had this annoying harshness to them. I could not live with that.

Does she go? Eh, Eh…nudge, nudge, a nod's as good as a wink to a blind bat…

It didn't take that many movies for me to see that the DVD-A320 is a major improvement over the DVD-A310 in the video department. While watching The Best of Sessions at west 54th - Volume 1, I was struck by how much blacker the blacks were. Through the DVD-A320, colors looked a lot more natural and the level of detail was quite impressive. It may seem odd that I was checking out Sinead O'Connor's facial marks, but the reality was that I could really make them out while sitting ten feet from the screen. Talk about a crisp picture!

I watched the Dolby-Digital encoded version of Saving Private Ryan first; I was just blown away by the video quality. The "beach landing" scene ( which made me cry the first time in the theater and damn close at home as well) has a very gritty look, and the Panasonic made it look all too real. The DTS-encoded version of Saving Private Ryan was superior from an audio perspective. With this accomplishment, I knew that I had found the right DVD player.

I have always been really fond of Dances with Wolves, even though Kevin Costner really should stick to directing, and I was hoping that the DVD-A320 would do this great transfer justice. How did the DVD-A320 do? I watched the entire film twice in the same weekend.

Can she dance?

A number of my fellow SoundStage! writers have been enthusiastically espousing the use of affordable DVD players as transports in their own systems. After connecting the DVD-A320 to my modified MSB Link DAC and an Audio Note DAC Kit 1.1, I'd have to say that I am going to pass on this one. The DVD-A320 does not allow you to output a 24/96 signal through its digital outputs (although you can through the analog), so you are automatically at a disadvantage. The DVD-A320 sounds better with music through its analog outputs, and I would strongly suggest going this route. It is a good CD player, but not a great one. My Rega Planet wipes the floor with it, in my humble opinion, with a more natural sounding midrange, tighter bass, and a cleaner treble.

Do I think that you should run out and buy the DVD-A320? Other than its above-average sound with CDs, the DVD-A320 excels in so many other categories, that it would be impossible not to make it a "Reviewer's Choice" selection. It wipes the floor with my fully tricked-out Monarchy Audio laser disc player (which, with tweaks, was only $2300 more) and that alone is rather impressive. The DVD-A320 has every possible connection that you can think of, and its build quality is very good for the money. I think you would be a fool for spending a dime more for anything else.

...Ian White
ian@soundstage.com

Manufacturer Contact:
Panasonic (Matsushita Electric Corporation)
U.S. Contact Information
One Panasonic Way
Seacaucus, New Jersey 07094
Phone: (800) 211-7262

Website: www.panasonic.com
---
GO TO
[ Current Video Online Issue ] [ Equipment Review Archives ]