October 1998
Panasonic DVD-A310 DVD Player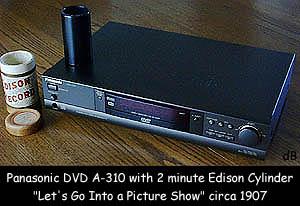 I must confess that until quite recently, I hated home theater. I do not consider myself a couch potato (although those who have been fortunate enough to live with me during the past 28 years would probably point to my collection of Bernard Shaw coffee mugs and Two Fat Ladies cookbooks as proof otherwise), and I have always preferred standing in line in the cold, eating stale popcorn and feeling up my date, to the phony exercise of pretending that watching a film in your basement in surround sound constitutes going to the movies.
I can understand why a lot of people enjoy home theater. It is convenient, affordable, and you never have to worry about finding a parking spot. It was my love of movies that forced me to buy a laserdisc player (so that I could enjoy my favorite films in cinematic splendor) a number of years ago, and not because I had a yearning to go deaf watching films at unbearable listening levels. When your favorite films consist of the works of Akira Kurosawa, The Marx Brothers, and Alfred Hitchcock, surround sound is not exactly a primary concern. Investing any money in a home-theater system was never really a priority of mine until I watched a movie on a second-generation DVD player about four months ago. I wandered into one of Toronto's audio/video shops and spent a solid 90 minutes comparing a DVD player from Denon to one from Panasonic. The Panasonic DVD-A310 and Denon DVD-3000 share the same internal guts and the difference in picture quality was so small that I was going to buy the Denon because it was so much more appealing to look at (how utterly shallow!). When I flipped over the Denon's price tag, I turned to the salesman and said, "I'll take the Panasonic." The Denon was close to $500 more, and to be honest, I still don't understand why.
Particulars
The Panasonic DVD-A310 is a second-generation unit with a 10-bit video D/A converter (that supposedly is an enormous improvement over the first-generation 9-bit video D/A converter) and a 24-bit/96kHz D/A converter suitable for high-resolution PCM audio. The DVD-A310 has a number of features, which I think make it a must-audition for those really interested in buying an affordable DVD player that does everything (well, almost everything) really well.
Aesthetically, this eight-pound (16"x11"x3 1/2") DVD player leaves a lot to be desired. The DVD-A310 looks like most audio/video components that hail from Asia. It comes in one color (take a guess) and its buttons and dials are all of the cheap plastic and rubber variety. When I removed the player from its box, I was amazed by how light it was. It doesn't feel very substantial, but believe me, it takes no prisoners in the performance department. The faceplate (which among other things includes a headphone jack and shuttle dial) has the usual array of play, pause, and stop buttons. The dreaded remote controls most of the player's really cool features, and I highly suggest that you don't lose it. Through the remote, you can cycle through what seems to be an endless number of menus that allow you to access the DVD-A310's abundance of features. If you want to watch Austin Powers [New Line N4577] in French (not sure why, but it's your call), then you can access the DVD and watch the film in any language that you desire (as long as it was included on the disc). If adult entertainment is your bag, then you can use the angle button on the remote to watch Nina Hartley from some very interesting positions. If adult entertainment is not your bag, then the remote allows you to ensure that the little ones don't enjoy Nina Hartley from many interesting angles (how does she do that?) The remote lets you access anything that exists on the DVD, but it also controls the digital signal that goes into your receiver or preamp.
While going over the DVD-A310 with SoundStage! technical maven Doug Blackburn, we discovered that all is not well with this unit if you decide to use the coaxial/optical digital outputs. Before I detail that problem, I should probably describe the rear panel. Around the back you will find one pair of composite video outputs, an S-video output, one set of stereo analog audio outputs, component video outputs, 5.1 audio outputs and coaxial/optical digital outputs. The power cord is removable (I can hear the stampeding feet of the "my $500 power cord sounds better than your $700 power cord" crowd at this very moment).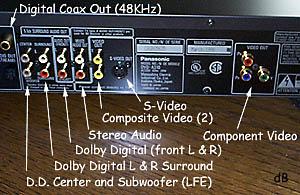 The DVD-A310 may have a 24-bit/96kHz D/A converter inside, but you'll never find out how good it is if you use the digital outputs. If you use the coaxial/optical outputs (if you are thinking about using the DVD-A310 as a transport), then I must make you aware that through these outputs, PCM audio comes out at 16-bit/48kHz. This means that ANY conventional CD, HDCD, XRCD and 24-bit/96kHz DAD (which are PCM audio discs the last time I checked) are output at 16-bit/48kHz. So much for using this unit as a transport. If you want to use an external DTS decoder (which the player is set up for), you can output the digital signal through the coaxial output and connect it that way. Before you can use DTS (PAY ATTENTION!), you have to access the digital output menu with the remote and turn the DTS function on. To avoid DAMAGING your speakers and precious other equipment with a very nasty blast of digital noise, make sure when using the coaxial/optical outputs with an amplifier that does not contain Dolby Digital or DTS decoding, that you select "PCM" or "Off." Do not turn on the "Bitstream" function.
While the digital outputs seem to negate the value of the DVD-A310 as a transport, the sound quality of the main analog outputs (24-bit/96kHz with 24-bit recordings) is quite exceptional, and I think that once people listen to CDs (even 16-bit recordings) through the DVD-A310, they will only want to use it as a standalone player. For those of you who have no interest in using an external D/A processor, you just saved a bundle of money that can be spent on software.
The home-theater setup in the Oval Office
The Panasonic DVD-A310 was connected to my Hitachi Ultravision 35UX70B with a Monster Cable Supervideo3 S-video cable. The Denon AVR-2700 Dolby Digital receiver and OCM 200 power amplifier were used to drive the Coincident Speaker Technology Super Conquests, Triumph Signatures and Triumph center channel speakers. I used my Monarchy Audio DT40A laserdisc player to compare the DVD and laserdisc formats, and everything was plugged into a Chang CLS 3200 power-line filter. WireWorld Polaris III speaker cable and interconnects, and Axon interconnects were used throughout the system.
Movie night
After inviting what few friends I have left (mostly disgruntled family members who had better things to do) and finally deciding on which films that we were going to watch, we settled in and watched one of my sci-fi favorites, Starship Troopers [Tri Star 71719]. The sharpness of the picture and the degree of detail were very impressive. Starship Troopers is excessively gory, and the scenes where the bugs shred the troopers (that describes most of the film) into a million bloody pieces, were all too real looking for some in the room. I was too consumed by Dina Meyer's prowess with a rifle to notice most of the human body parts being severed before my eyes. While the picture quality was outstanding, it was the sound quality that impressed everyone in the room. The report of hundreds of rifles and the ground-shaking movements of the bugs caused the group to utter (like 13-year-olds reading Playboy for the first time) a collective "ahhhhhhhhhh...ooooohhhhhhh...ahhhhhhhhhh...." The clarity of the dialogue made the film easier to follow (not like it was going to win the Oscar for original screenplay anyway!), and I could see that people were enjoying this movie.
Next up was a real pick-me-upper of a film (not!), Das Boot: The Director's Cut [Columbia Pictures 22219]. The picture quality here was vastly superior to the videotape that I also own (cleaner, more detail,) and I was tremendously impressed by the sound. I have watched this film over a dozen times, and the DVD version has an enormous edge in the sound department. Very few films (of the tens of thousands in existence) have any surround-sound information that really adds to the experience for me. Das Boot is one of those rare exceptions where the surround-sound information makes the film much more enjoyable. The sound of crashing waves and the noises inside the submarine are greatly enhanced by the Dolby Digital soundtrack, and I watched the film again by myself in the weeks that followed, just to pay greater attention to the sound.
One of the aspects of the first-generation of DVD players that I really disliked was the noticeable artifacts and pixelization on many DVDs. Films that had a lot of movement and explosions seemed to suffer from this problem. Glory [Tri Star 70289] is one of my favorite films, and I knew that if the DVD-A310 could handle the explosive action without the picture losing its sharpness and detail, then I had a winner on my hands. I never noticed any obvious artifacts, and I am convinced that the DVD is as good or slightly better than the laserdisc.
People
Home theater still isn't my bag, even if I am enjoying the few DVDs that I have purchased so far. I find it most interesting that the same people who have yelled at me for years about the volume of my music are the same people who rush over to the volume control and feel the need to watch Crimson Tide [Hollywood Pictures 13679] at levels that are far more dangerous.
I have no regrets buying the Panasonic DVD-A310. It delivers stunning picture and sound quality, and at about $700 (it can be purchased for less at various online audio/video stores) was a real bargain. If I were a person seriously considering getting into home theater and going to buy a player based on quality, Dolby Digital and DTS compatibility, features, and price, then the Panasonic DVD-A310 would be my only choice. Enthusiastically recommended, even if I am a little deaf as a result.
...Ian White
ian@soundstage.com
Price: $699 USD
Manufacturer:
Panasonic (Matsushita Electric Corporation)
US Contact Information:
One Panasonic Way
Secaucus, New Jersey 07094
Phone: 800-211-7262
Website: www.panasonic.com
---
GO TO
[ Current Video Online Issue ] [ Equipment Review Archives ]