November 1999
Dynaudio Audience 5.1 System 30A
Before the Audience 5.1 System 30A, the only speaker from the Danish company I had ever heard was Dynaudio's Contour 1.3. The first time I heard this speaker, they sounded big as life. They threw a huge wall of sound with a punchy bass, a lively, yet neutral mid-band and a very smooth treble. (How about that! A bonus review of the 1.3!) About a year later, I heard them at another dealer and they sounded dull, drab and lifeless. Their closed-in sound was devoid of detail and completely robbed the music of its "spirit." Naturally, I was eager to listen to some Dynaudios in my own home to see which demo more accurately exemplified the Dynaudio experience. I can now report to you that they both did. Read on and let me explain how.
System description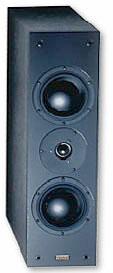 The Audience 5.1 System 30A is comprised of four Dynaudio LR120+ monitors, a C120+ center channel and a subwoofer called the SUB-30A. The C120+ looks almost identical to the LR120+ monitor, but there are some technical differences including a different dispersion pattern for the tweeter because it lies horizontally instead of standing vertically. Physically, the LR120+ and C120+ are the same size. These tallish (for stand-mounted monitors) and rear-ported speakers house, in a D'Appolito configuration, two of Dynaudio's 6" polypropylene-cone mid/woofers which are crossed over to a 1.1" soft-dome tweeter at 2510Hz. Dimensions are 22.4" H by 6.5" W by 12.6" D and they weigh in at a meaty 25 lbs. each. Input is via a single pair of gold-plated five-way binding posts and finishes are rosewood, black ash and light cherry vinyl veneers. Price is $1499 per pair and Dynaudio specifies a frequency response of 37Hz-22kHz, +- 3dB and a sensitivity of 86dB/2.83V/1M. Impedance is given as 6 ohms.
The SUB-30A is a bass-reflex-powered subwoofer. The 12" driver is a magnesium-silicate polymer cone and is vented by two ports on the sub's rear. On paper, the amplifier power that is stated as "90W maximum amplifier output" looks a little bit weak, but let me get to that too. Inputs are via L/R RCA connectors, a mono RCA connector and an in/out RCA utility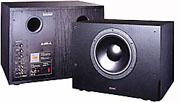 jack (used to daisy-chain two or more subwoofers). The sub measures 16.9" H by 22.4" W by 15.7" D and weighs in at 52.8 lbs. Dynaudio specifies a frequency response of 29- 150Hz +- 3dB. Finish is black ash and the price is $1599 each. Dynaudio offers a transferable 5-year warrantee on parts and labor. While if purchased separately the total climbs to $5346, Dynaudio offers a system price of $4999 -- a savings of $347.
At first glance
First impressions of these speakers were all good. They are very solid and their sheer size alone is impressive. Though vinyl-clad, the review samples were at least in what would usually be the premium rosewood finish and from a few feet away, the LR120+ is a very handsome speaker. Still, in this price range one comes to expect certain things and a good fit and a natural finish are usually on that list. However, if I can be convinced that the savings on an extravagant finish were spent on the drivers, I can be very forgiving.
Getting acquainted
I initially placed two of the LR120+s in my music room. I hooked them up to a Music Hall CD32 CD player via a Conrad Johnson PV-12a pre-amp and Conrad Johnson MV100 power amp and proceeded to get an answer to the question I posed in the introduction: What exactly do these sound like?
Well, the word "disappointed" doesn't even come close to describing my state of mind. It seemed that the dull and lifeless presentation was the one I was in for. It certainly wasn't the fault of the electronics; due to my previous experience, I chose the lively, yet neutral Conrad - Johnson over my slightly darker and more reserved Classe gear. It wasn't a matter of break-in either since this system had already made the reviewer's rounds and was fully broken-in.
Disgruntled, I turned the system off and went about my duties of the day. Some 24 hours later I returned to the scene of the crime. Leaving the CJ electronics in the system, I turned my attention to the speakers and their positioning within the room. I had dropped them into the same spots that had worked so well with the NHT Pro A-20 system and as I looked at them, I wondered if maybe there wasn't too much space between them. So I moved both speakers toward the center of the room and gave them a listen. I was definitely on to something. A few more moves this way and that and some fussing with toe-in, I was able to completely transform the sound. I was now a living shampoo commercial -- I had gone from lifeless and limp to lively and bouncy! Now my previous experiences with the Contour 1.3s started to make sense. If they were half as picky about placement as these LR120+s, then the differences I had heard could be attributed to set-up.
Once satisfied that I had perfected the placement of the LR120+s within my room, I introduced the SUB-30A. While the LR120+s are no lightweights, I was now treated to a full- range presentation and I was astounded at the overall transformation. This was more than "acceptable" sound; I was thoroughly enjoying this system. Bass was smooth and articulate, midrange was clean, detailed, and, for my tastes, perfectly balanced. It was very much the same perspective as the Audio Concepts Sapphire III, which put it between the NHT Pro A-20 system and the B&W Nautilus 805 which had occupied the room only a couple of weeks before. The midrange flowed beautifully into the treble, which was elegant and extended. Where I had been disgruntled, I was now smitten.
Deepening my infatuation for the Dynaudio system was its imaging and soundstaging. They put me to mind of one of my all-time imaging champions- the Avatar Paavani. Even before I adjusted the positioning of the speakers, I was treated to a wall-to-wall soundstage and a very solid center image. Once I adjusted their positions the imaging properties only intensified. Soundstage depth too was so good it was uncanny -- the rear wall just disappeared.
If only this was a two-channel review I could have left this set-up and lived happily ever after. But alas, Dynaudio was kind enough to send me three additional speakers and it was the least I could do to put some sonic miles on their odometers before sending them back.
A new home
Grudgingly, I disassembled the system in the music room and dragged the Dynaudios into the theater room. But don't get me wrong, even though I knew that they were going to sound good on movies, I was nonetheless reluctant to disassemble the music room. When one finds that kind of magic on music, one is hesitant to sacrifice it to the theater, where demands are less stringent and the qualities that make for great music go largely underutilized ...or do they?
I placed the Dynaudios intended for the front right and left positions on 24-inch sand/lead shot- filled stands about 28 inches into the room. The C120+ center-channel speaker was placed in its horizontal orientation directly beneath my 80- inch front-projection screen. This set up placed the three front speakers' tweeters on the same axis. Rear speakers were placed at the rear of the room on very solid (and full) bookcases, heavily toed-in to the center of the room, and 44 inches off the floor. The SUB-30A was located behind me on the rear wall about 1/3 of the way into the room from the side wall.
After completing all the connections and adjustments to my Yamaha DSP-A1 amplifier I settled down for some movies using a Marantz LV520 Laser Disc player or my Sony DVP-S500D DVD player.
The LR120+ is no lightweight and the first thing I tried was running them all full range and not using the SUB-30A at all. While this set-up wasn't exactly threatening the integrity of my home's foundation, it was surprisingly complete. Of course, the activation of the SUB-30A augmented the experience considerably.
This system was every bit as enjoyable in the theater as it was on music. As a matter of fact, the music soundtracks of movies took on an importance and presence I had never experienced before. When called for (which is most of the time), theme music had a fantastically enveloping presence that I don't think I've ever experienced before. Rather than being immersed in a nebulous field of "sound," I was surrounded by a sonic ring of focused music as one speaker seamlessly blended with the next. Movie after movie, I was struck by this new experience. I would say that this was the single most defining aspect of the Dynaudio experience- this total coherency.
I live about 1/6 of a mile off of a very major thoroughfare and about a mile from the police station and two miles from the firehouse. On more than one occasion I've been on the phone and friends on the other end of the line thought I was sitting in the middle of a riot zone due to the siren noise. Suffice to say that over the last few years I've become an expert on the sound of sirens. Well, while watching movies on this system I was completely fooled into thinking that I was hearing the sounds of live sirens leaking through an open window into my theater room. Twice, while watching True Lies, I turned down the sound of the system in order to hear exactly what was going on outside (were they going up the main road or turning down my street?), only to find that I had muted the sound of the sirens too. Fool me once, shame on me, fool me twice- kudos Dynaudio! Truly the LR120+'s detail and the accuracy of timbre can indeed be appreciated in the home theater. I found that dialogue intelligibility was always excellent and the neutral tonal balance I had experienced in the music system will always serve the movie soundtracks- many of which tend to be brighter than life.
Features SnapShot!
Model: LR120+ (mains and surround)
Price: $1499 USD per pair, 25 lbs. each

Model: C120+ (center)
Price: $749 USD each, 25 lbs.

Model: SUB-30A (subwoofer)
Price: $1599 USD each, 52.8 lbs.

Finishes:
Black Ash, Rosewood and Light Cherry

Warranty: Five years parts and labor (transferrable)

Features
Pure aluminum wire voice coil
Magnetically shielded
Polypropylene capacitors in crossover
Gold-plated binding posts
Together with the Yamaha A1, the Dynaudio system just melted away the walls in my rather narrow theater room when listening to music. This is no small feat, believe me. With every system I've ever used in there, I've had a hard time suspending my mental image of those walls when listening to music with my eyes closed. Listening to the Eagles Hell Freezes Over DVD sans video image was the first time I have ever heard a soundstage that surpassed the rear and side walls -- they had just disappeared. The soundstage was wide with plenty of depth and rather than the all-too-typical "arching" soundstage, there was an excellent sense of depth in the rear soundstage corners. Soundstage height was quite good and while instrumental images were not placed as high as some larger speakers enable, there was none of that feeling that the stage ceiling was right over the performer's heads. Rather, there was an excellent sense of "space" above the band.
I'm not as enamored as some with listening to music in surround and I usually make use of the "Warehouse Loft" setting, which I find to be the subtlest of all the Yamaha surround modes. Additionally, this mode does not make use of the center channel, which is usually a blessing, particularly when the center channel used is not a perfect match for the mains. With the Dynaudios, I was particularly indifferent regarding the use of the center channel. First, the use of identical speakers all around means that you suffer no deleterious effects of a mismatched center channel. Second, the LR120+s throw such a solid and well-defined center image that you can easily get away with not using a center channel at all. Time and time again I left my seat to put my ear to the center channel, which seemed to be in use, although it never was.
I was a smidgen less impressed with the SUB-30A. On music I found it to be an admirable performer given its smooth and powerful blending with the mains. But in the theater, it seems to be of dual personalities. On music it was no less svelte than I could have hoped for, but on bombastic soundtracks things were not as simple. When called for, the sub can really rattle the walls. While Dynaudio claims a 90Wpc amplifier built into the 30A, it sounds much more powerful. However, on transient bass, such as the shotgun fire from the shoot-out scene from L.A. Confidential, I was disappointed with a decided lack of "punch." With other subs, the shotgun fire from this scene really energizes the room and gives me a swift kick in the...uh, sofa. While the room was indeed energized, I was missing that swift kick. If I tried to compensate for this lack of punch by increasing the volume on the sub, things got plenty louder with no sign of strain, but the upper bass became muddy and took on a bass "drone" -- something very uncomfortable on the ears. This drone is not a problem with the Dynaudio in particular -- it happens when you advance the volume on any sub too far. I tried placing the sub in different parts of the room to no avail. Experimentation was marked with deteriorated smoothness or problems with localization. I was forced to return the sub to its original "tried and true" position.
To be fair to the SUB-30A, this lack of punch was only in comparison to excellent subwoofers and full-range speakers. My NHT 3.3s give me more punch, as did the woofer sections from the Polk RT3000 and NHT 2.9 systems. The fact is that prices on capable subwoofers are plummeting and the price of the $1599 SUB-30A puts it in real tough territory. It puts it in competition with the big Velodynes, B&Ws and Bag Ends, just to name a few.
It's show time!
Men In Black and the repeated use of the "Neuralyzer" demonstrated the excellent transient response of the entire system. All speakers and sub "flashed" as a single unit. "The little dude inside the big dude's head" was a good test for dialogue intelligibility and I understood every word the little dude uttered. At the end of the movie, when Agent K retrieved his gun, he made a real sonic mess in my room. Fortunately, I didn't get any on me!
I was a little late to The Fifth Element party and I confess that I only bought it about a month ago (everybody was using it as a demo at January's CES- so I had seen much of it already). I have been watching it regularly, but only over the Dynaudio system. One particularly interesting observation was made right at the beginning of the movie. While the Professor is reading the inscriptions on the wall, while the camera is on him, I was made aware of cycles of reverberated echo repeating in waves until they diminished to nothing and all emanating from between the rear speakers behind me. It was as though you could hear them reverberating down a long corridor. Let's see a pair of dipoles pull that one off!
One of my favorite sonic events comes at the end of Die Hard: With A Vengeance. When Bruce Willis shoots the electric line, which brings down the helicopter, I'm submerged in the sonic bath of superfluous metal-on-metal screech and excessive low bass explosion as good triumphs over evil. Over the Dynaudio system, vengeance was indeed sweet!
Conclusion
Where the SUB-30A is concerned I am conflicted. While it's considerably more powerful than it looks on paper and while it's a very clean and articulate sub, in my heart of hearts I think that you may do better for the money in terms of ultimate slam and impact. Keep in mind, though, you can do much worse! This is a very good subwoofer, but if you are a fan of the deepest, most heartfelt bass possible, I recommend careful auditioning of the SUB-30A against whatever sub you would consider in your own room and see what you think.
I am completely smitten by the Dynaudio LR120+ monitor and C120+ center channel loudspeakers. Not only do I forgive Dynaudio for their decision to wrap the speaker in vinyl, I commend them on making available a $1500 pair of monitors that are fully competitive (in terms of neutrality, accuracy of timbre, soundstaging and imaging) with any $2K monitors I can think of. They have no major failings and what differentiates them from other leaders of the pack comes down to pure matters of taste. But they are a speaker that demands careful set-up. Don't drag them home, plop them down just anywhere and expect to get what you paid for. Treat them right and with a little patience you will be richly rewarded. For those looking for top-notch theater and music performance they earn my highest recommendation.
...John Potis
johnp@soundstage.com
Manufacturer Contact:
Dynaudio North America
114 Tower Lane
Bensenville, IL 60106
Phone: (630) 238 4200|
Fax: (630) 238 0112
Website: www.dynaudiona.com
---
GO TO
[ Current Video Online Issue ] [ Equipment Review Archives ]