"I find it impossible to understand how anyone would not find either receiver to be a tremendous bargain considering how much is packed into both boxes."

April 2000
Denon AVR-2800 and AVR-3300 Audio/Video Receivers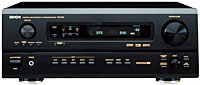 At CES '99, I was fortunate enough to sit through not one, but two demonstrations of the state-of-the-art Mark Levinson/Proceed/Revel surround-sound system. I can't speak for anyone else in the press (although Jim Saxon had a "I finally found something better than three Costa Rican girls in a cake" smile on his face), but I was emotionally moved by the brilliant system that Revel head-honcho Kevin Voecks put together. Reviewers have a tendency to become defensive when they hear something that really makes them skeptical about the quality of their own system.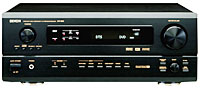 After sitting through some of the finest sound that I had ever heard, I was prepared to pack my bags, head off into the wilderness of the Negev and spend the rest of my days selling sticky Krispy Kreme doughnuts to hitchhiking Israeli soldiers. It was that good, folks. What would have made this entire experience even more earth shattering, was a price sticker that didn't say "you have a better chance of getting a date with Denise Richards than being able to afford this system." You don't even want to know how expensive it was…let's just say I do have a better chance of dining with the lovely Ms. Richards.
At last we will have revenge…
I think that it is fair to say that I was out of my proverbial mind, the night that I lined up in the rain so that I could be one of the first to see The Phantom Menace. Not only did the prequel to the greatest fairy tale ever told stink to the high heavens of the forest moon of Endor (I have cut back to only one replay of the fabulous NPR radio series each month), but it actually dampened my enthusiasm towards home theater. George Lucas' abuse of sound and visual effects actually turned me off of the entire experience. As far as I was concerned, there was nothing wrong with the hundreds of films in my collection that were recorded in stereo and mono. The hundred or so laser discs in my collection that were recorded in Dolby Surround were icing on the cake. I was so angry at myself for being duped by "gimmicks", and abandoning the real reason why I love films so much, that I nearly ran myself through with one of my bamboo kendo shinai.
As I lay mortally wounded on my carpet (okay, I had really bad splinters in my abdomen), I came to the realization that all was not lost. No, my numerous stock options were not going to become liquid overnight and give me the cash to buy the Levinson/Proceed/Revel system. No, Denise Richards (hey, what's a nice Jewish girl like you doing in a dingy, villain-filled spaceport like this?) was not going to spend the better part of the afternoon tending to my wounds and make me a bowl of matzo-ball soup.
As someone who doesn't mix his milk/meat, I wasn't interested in mixing my music and film either. There was no way that I was going to replicate the sound quality of my he-man audio rig with the budget that I had to work with. So I decided to look for components that sounded fantastic with films, and if they only sounded okay with music, I'd live. With not enough money for a separate Dolby Digital/DTS processor/preamplifier and a five-channel amplifier, I had no choice but to look at surround-sound receivers. At the time, there were slim pickings in the sub-$1500 category and I ended up going through four different models from two different manufacturers (I won't mention the one that exploded), before I was certain that I had a model that fulfilled all of my needs, and did not break the bank.
Depending on the strength of your relationship with your local retailer, you may be lucky enough as I was, to take home a number of different models and try them with your own speakers. With a Denon AVR-3300 and AVR-2800 under my arms, I trudged home through the wretched cold that is Toronto in January and put each receiver through a living hell before I made my selection.
The AVR-3300 (105W per channel) has a lot more power than the AVR-2800 in both theory and reality. The AVR-2800 at 85W into all five channels is not exactly underpowered. It was rather noticeable while watching films with a lot of bass that the larger AVR-3300 can reproduce low-frequency information with a lot more gusto. The "beach landing" scene in Saving Private Ryan drove my neighbors crazy as I watched the same thirty-minutes over and over again, switching between the two receivers and both the DTS and Dolby-Digital versions of the film. Both receivers did a superlative job of making me grateful that I did not have to storm the beaches in June of 1944. Machine-gun fire had a very unnerving degree of realism to it and the dialogue was clear and intelligible.
My living room is 16' x 15'6" x 9' and I barely had to turn the volume up on the AVR-3300 to achieve the kind of sound levels that cause a superintendent to pay an unwelcome visit at two in the morning. The Ani DiFranco segment on The Best of Sessions at West 54th - Volume 1 DVD was a really great reason why one should consider investing money in this crazy home-theater thing. Not only was the quality of the performance superb, but the 5.1 soundtrack was very cool. As the camera moved from DiFranco, across the stage and behind the drummer, so did the sound. I really felt as if I was sitting over the drummer's shoulder as both receivers excelled with this entire recording. The AVR-2800 needed to be pushed a little to illicit threats of violence from the former Canadian Minister of Foreign Affairs, whose living room is on the other side of the wall. My building is a solid pre-war structure with very thick walls…apparently not thick enough.
Features SnapShot!
Denon AVR-3000 Surround Receiver
Price: $999.99 USD

Dimensions: 17.1" W by 6.7" H by 16.4" D
Weight: 33.1 lbs.
Warranty: One year parts and labor

Denon AVR-2800 Surround Receiver
Price: $799.99 USD

Dimensions: 17.1" W by 6.7" H by 16.4" D
Weight: 25.4 lbs.
Warranty: One year parts and labor

Features:
105Wpc (AVR-3300), 85Wpc (AVR-2800)
Dolby Digital and DTS decoding capability (AVR-3300 and AVR-2800)
Analog Devices SHARC 32-bit DSP processor (AVR-3300)
4 digital inputs, 1 coaxial, 3 optical (AVR-3300 and AVR-2800)
Phono stage and tone controls (AVR-3300 and AVR-2800)
Both receivers decode Dolby Pro Logic, Dolby Digital, DTS, and the usual garden variety of DSP modes, including a five-channel surround mode for music. Adding to their versatility are a series of inputs for extra surround channels, if/when the new formats are available. Both use 24-bit, 96kHz DACs on all channels. There are enough inputs on each receiver for two complete systems, and after connecting a VCR, DVD player, CD player, LD player, DSS, Sony Playstation, and television, I still had room for my George Foreman Grill.

The AVR-3300, unlike the AVR-2800 has component video inputs/outputs and enough pre-outs to use an external five-channel amplifier. The AVR-2800 allows you to use an external amplifier to power the left/center/right channels, but not the surrounds. From a construction perspective, both units are rather heavy, and appear to be well built. One serious gripe that I have with the AVR-2800 is the quality and spacing of the binding posts. The posts on the AVR-2800 are of the cheap plastic variety that I had hoped were a thing of the past. Forget about using speaker cables that are terminated with spades. As is becoming increasingly common today spade terminations don't work, in this case because they put a piece of plastic at the base of each post. On the AVR-3300, Denon gives users the option to connect both direct-radiating and dipole surrounds, which is something that might appeal to people who prefer the "spaciousness" of dipoles for movie soundtracks. This feature is not available on the AVR-2800, which instead allows you to connect a second pair of main speakers that can be used in another room. My advice to Denon – Get rid of the "B" posts, use better quality ones, and include a second set for the surrounds on the next incarnation of the AVR-2800. Just my two cents…

Both receivers are equipped with a tuner and MM phono stage. I would have to give them an above average rating. The phono stage does not have enough gain to accommodate even medium output MC cartridges and I would not suggest selling your own external phono stage if you have one. The tuner on the AVR-3300 was better at pulling in more stations, but the tuner section in the AVR-2800 equaled its reception quality. Neither receiver came close to the quality of my Naim NAT 03 FM tuner, which did a better job of reproducing really strong signals and giving music some meat.

Denon, for some peculiar reason, seems to prefer toslink to coaxial digital connections. They included three toslink inputs on the AVR-3300 and AVR-2800, versus only one coaxial digital input. For some people this may not present a problem, but for people such as myself, who use a laser-disc player, DSS, and eventually an HDTV tuner, this is a major pain in the behind. Monster Cable's latest toslink digital cable, the Interlink LightSpeed 100 has proven to be a lot more open sounding than some of the more expensive toslink cables that I have tried over the years, and I would recommend it highly with either Denon unit.

From a switching perspective, both units do an admirable job, but I still think that going directly into your television is the best option. My 32" Panasonic GAOO television has enough component and S-VHS inputs for me to go direct from each component, but I know that this set is an exception to the rule. After readjusting my set with the Video Essentials disc, I compared the two units and would have to give the nod to the AVR-3300 in the switching department. You don't lose a lot going through the AVR-2800, with the S-VHS output, but I did feel that there was a larger difference when using the component output on the AVR-3300. Aside from a decrease in the amount of video noise, there was an increase in the picture detail, and colors seemed to be more vibrant. Going directly from my Panasonic DVD-A320 DVD player through its component outputs gave me the best video quality, overall.

I know that all of the bass freaks are wondering when I am going to mention the LFE part of the equation, but the reality is that you are going to have to wait for my follow-up, as I did not have access to a subwoofer during the review process. To be quite frank, while my Meadowlark HotRod Shearwaters are not the last word in bass response, in the context of my living room, they played deep enough for me to hear both receivers deal with bass. They went deep enough that my superintendent came to have a word with me. Both receivers have a subwoofer output and I'll let you know how they worked out in a few months.

Aside from the difference in power, I could not hear a major difference between either receiver while watching films in any format. After watching The Thing, Stalingrad, Aliens, Glory, Talking Head's Stop Making Sense and Crimson Tide, I came to the conclusion that both receivers were quite exceptional. During the review process, I connected both receivers to a number of stereo and multi-channel amplifiers. I was very impressed by their performance as processor/preamps. If you are looking to go this route, the AVR-3300 imparted less of its sonic signature on the sound, with the same treble sibilance coming through the AVR-2800.

Funny, you don't taste like Cherry Garcia…

At the beginning of the review I mentioned that I was willing to compromise a little bit on the music side, if the surround sound was really outstanding. After listening to Jerry Garcia and David Grisman's Shady Grove [Acoustic Disc ACD-21], I forgot about compromising on the quality of the audio. The five-channel surround mode doesn't work well with every disc, but on the Garcia/Grisman recording, the center and surround channels added depth and spaciousness to the sound. I'm still not completely sold on the concept using stereo recordings, but I do believe that the time has come for people to try Dolby Digital and DTS music recordings. If the Best of Sessions DVD is any indication, there is great promise for the format. Neither receiver really compares to my Blue Circle/Martin Logan system from a transparency or tonality perspective, but the sound quality was a lot better than I expected from a receiver. My Rega Planet CD player tramples all over the Panasonic DVD player (tonally, pace, spatially) and I really liked how it sounded through both receivers. Its slightly warm presentation helped to tame some thinness in the midrange that I thought was audible in both receivers.

Decisions, decisions…

It may come as a surprise to some of you that I did not end up with the AVR-3300, which based on performance alone, is the superior unit. But with the ridiculously low Canadian dollar and our punishing taxes, I simply could not afford it. The difference in the United States is only two hundred dollars, but in the Great White North, the difference was close to four hundred dollars. With the money that I saved, I was able to buy a Panasonic DVD-A320 DVD player as well.

After returning the AVR-3300 to the dealer and watching fourteen hundred dollars disappear from my bank account, I returned home, slightly unhappy, but rather confident that I had made a solid choice.

The AVR-3300 has more power, and the specs do not lie in this case. It sounds more powerful and does have a greater number of connections that will certainly matter to some users. I find it impossible to understand how anyone would not find either receiver to be a tremendous bargain considering how much is packed into both boxes. The AVR-2800 proved to have more than enough magic for a source-rich film nut like myself, and it's a steal at the price. Long Live Film!

...Ian White
ian@soundstage.com

Manufacturer Contact:
Denon U.S.A.
Denon Electronic Group Ltd.
222 New Road
Parsippany, New Jersey 07054
Phone: (973) 396-0810
Fax: (973) 396-7459
---
GO TO
[ Current Video Online Issue ] [ Equipment Review Archives ]