High-power multichannel amplifier with excellent build quality, refined sound and a very
reasonable price.


January 2000
Anthem MCA 5 Multichannel Power Amplifier (Review Follow-up)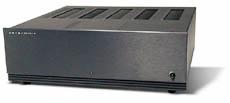 In his review of the Anthem MCA 5 from the November 1999 edition of SoundStage!, Doug Schneider stated that he believes "many of today's high-quality solid-state amplifiers, when properly designed, sound quite similar." While I do agree with this, I would say that it is truer of cost-no-object designs rather than for more economical designs where compromises invariably have to be made due to budget constraints. Where these compromises are made will ultimately determine the overall sonic character of the component. However, the MCA 5 appears to have been built with surprisingly little compromise considering its neutral sound, high power output, and its very reasonable price of only $1399.
After the MCA 5 arrived from Doug, I immediately set out to get an idea of what it was capable of by placing it in my two-channel system. This consists of a Krell KAV-300i integrated amplifier, MSB Link DAC, Audio Alchemy DTI Pro 32 and DTI v2.0, Infinity Composition P-FR loudspeakers and Nordost cabling. I also used the Anthem as it was intended, in a home-theater system made up of a Panasonic DVD A110, Sherwood Newcastle AVP-9080R, Carver AV-705X (which also spent time in the two-channel system), Definitive Technology BP-10s (mains), Boston Acoustics 555X (center), NHT 1.5s (surrounds), and Paradigm PW-2200 subwoofer.
You can still use it for stereo, can't you?
While some might think that such a reasonably priced amplifier with very high power ratings would lack refinement, especially in a two-channel system, the MCA 5 is actually one of the more refined amplifiers that I have heard at anywhere near its price point. When I inserted it into my two-channel system, I was amazed at how neutral it sounded. Compared to my Krell integrated amplifier it was not quite as smooth and polished, but it never drew undue attention to itself. It actually seemed to better the Krell in terms of resolution and imaging. Doug described the sound of the MCA 5 as not being "the least bit bright or edgy," but I found that because the Anthem's sound is so fast and transparent, the treble may sometimes seem slightly exaggerated. However, it is so slight that it may or may not require any real component matching considerations. It was not a problem in my system, which is otherwise quite balanced. The similarly priced, but now discontinued, Carver AV-705X five-channel amp which sounded pleasantly warm and full-bodied in my two-channel system, now sounded a little muddy and congested in comparison.
Something else to take note of with the MCA 5 is its incredible dynamics and thunderous bass. It plays considerably louder than the 150Wpc Krell without strain and has an even more potent bass, if you can believe that. However, the Krell's bass is more articulate with better definition in both attack and decay. This was evident on Dadawa's Voices From the Sky [Warner CD 18768] where the massive drum whacks were a little leaner with the Krell, but more detailed. The Anthem was able to clamp down on these massive bass transients with a power and authority that is remarkable for an amp in this price range. More subtle and refined bass, such as that from the stand-up basses on Ray Brown's Super Bass [Telarc CD-83393] resonated beautifully and possessed a sound that was big and solid, but never overblown.
Features SnapShot!
Anthem MCA 5 Multichannel Power Amplifier
Price: $1399 USD

Dimensions: 17.25" W by 5.25" H by 17" D
Weight: 56 lbs.
Warranty: Five years parts and labor

Features:
200Wpc power output at 8 Ohms
Two transformers
Auto-on switch
Trigger-on switch
Single-ended and XLR inputs
Detachable power cord
Custom binding posts
Going to the movies
Putting the MCA 5 into the context for which it was intended, a multichannel home theater system, was a revelation. Its ability to sort out very complex soundtracks with its precise imaging, excellent low-level resolution, and bass control was awesome. Chapter 29, "Lobby Shooting Spree," from The Matrix [Warner Brothers 17737] was a prime example of this. There are several distinct elements to this mix: the driving bass line and synthesizer melody of the music track, the relentless sound of gunfire, shell casings as they are ejected from automatic weapons and hail down to the ground, and various foley effects such as footsteps, kicks, and punches. The sound of the shell casings was very distinct from the much louder gunshots, as was the music track whose pounding bass made the scene visceral and exciting. The combination of the Anthem amp and the Definitive BP-10 main speakers (which feature a transmission line design) resulted in awesome bass. While not necessarily up to the standards of a really good separate subwoofer, this pairing went down to 30Hz without hesitation and with little distortion. Even at 20Hz, the output was down by only a few decibels!
The low-level resolution of the Anthem also brought out nuances to soundtracks that I had not noticed before. Both ambient and localized foley effects that originated outside of the loudspeakers or far back in the soundstage were now more discernible and natural sounding. The wind in the surround channels of the opening credits of The Sweet Hereafter [New Line N4654] were more enveloping and realistic. Voices that originated off screen during the opening dance sequence of Austin Powers: International Man of Mystery [New Line N4577] were much more focussed and intelligible.
The Anthem was able to outperform my previous budget-reference multichannel amp, the Carver, in almost every conceivable way. Even at a respectable 125 THX approved watts-per-channel and with up to 200Wpc available to any one channel with its patented "Power Steering," the Carver did not have the same authority on dynamic movie soundtracks. The Carver has a more "forgiving" sound, while the Anthem tends to not gloss over any details and presents recordings just as they are, blemishes and all. I am sure that many people would favor the Carver for its more relaxed and laid back sound, but I preferred the Anthem because it gives you a little bit more of everything -- a little bit more power, a little more detail, and a little more transparency.
Wrap it up. I'll take it!
When Doug said that this was "one of the more exciting products that we would see this year," he was right. The Anthem MCA 5's sound (in particular, its fine transparency and powerful bass), high power output, and excellent build quality make it my choice among affordably priced multichannel amplifiers. If you are looking for a multichannel amplifier that can really rock on movie soundtracks, but is equally at home in a high quality two-channel system, look no further. You may find that the Anthem MCA 5 is what you are looking for. I did.
...Roger Kanno
roger@soundstage.com
Manufacturer Contact:
Sonic Frontiers International
2790 Brighton Road,
Oakville, Ontario, Canada.
L6H 5T4
Phone: (905) 829-3838
Fax: (905) 829-3033
Website: www.sonicfrontiers.com/anthem
---
GO TO
[ Current Video Online Issue ] [ Equipment Review Archives ]