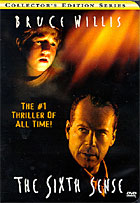 June 2000
The Sixth Sense: Special Edition
Reviewed by Greg Weaver
DVD Format
| | |
| --- | --- |
| Overall Enjoyment: | |
| Picture Quality: | |
| Sound Quality: | |
| Packaged Extras: | |
Starring Bruce Willis, Haley Joel Osment, Olivia Williams
Directed by M. Night Shyamalan
Theatrical Release: 1999
DVD Release: 2000
Dolby Digital 5.1
Widescreen (Anamorphic)
---
At just under 100 minutes of content, the third feature film project by this relatively new director (screenwriter for Stuart Little) may seem short by today's feature standards. Wrapped in the guise of a psychological thriller, The Sixth Sense is crafted with care and with attention to detail. While I have to admit that I put the clues together early on in the film, I was nevertheless satisfied to discover the relevance of the whole story when the final secret was disclosed in the end. You too will be glad you made your way through this remarkable, if somewhat unevenly paced, piece.

Compelling performances, especially from young Haley Joel Osment, make this film a must see. You will be hanging on every word, intonation, inflection and gesture from this troubled character as he delivers one of the year's finest performances. Most of you will remember Osment as Forrest Gump, Jr. Here again in The Sixth Sense Osment's overwhelming ability to captivate audiences with his tremolo or near whispered delivery is superb. His performance alone is reason enough to see this film. But it isn't the only reason.

Bruce Willis, as Dr. Malcolm Crowe, faced quite a challenge playing opposite this commanding young star; however, he was ripe for the task. Willis shines in this role despite its departure from his usual over the top and exaggeratedly heroic characters. One of the attributes that allows Willis to pull off his roles so convincingly, whether it be a New York policeman in L.A. or a Rock Hound on an asteroid, is his recognized down to earth quality. This serves him well here, and in fact, it is wonderfully understated. It is hard to imagine how any actor could be upstaged by the power of the performance of young Osment, and not overreact, or attempt to compensate with too powerful a performance, but Willis does neither. This is finely acted, gripping and passionate material.

Supporting performances, especially by Toni Collette as Osment's mother Lynn and Olivia Williams as Willis' wife Anna, are also superbly delivered. Lynn Sear, Cole's mother, is an especially complex role as she must often portray a host of emotions, ranging from confusion to rage to terror, and often within the same camera shot. That such a new director could land such box office draw as Willis and evoke such stirring performances from Osment, Williams, and Collette, speaks very highly of both this particular project and his future potential.

The film to optical transfer is very well done. I detected no real faults during my three viewings of the DVD. The sound editing, however, could have benefited from closer attention. Numerous scenes are lacking even with the re-equalization provided from THX processors. Consider for instance when Cole overreacts to his teachers staring at him in class and when he is locked in the small closest at the head of a stairwell at the party. In both these instances, the sound quality leaves much to be desired. The soundtrack often becomes strident, harsh and downright bright. Dialogue is momentarily lost in the chaos of the soundtrack and effects. For the most part, the sound is done adequately, but this film is not a particularly stirring testament to the fine art of sound recording.

On a strongly negative note, this disc is the first I've encountered that offered five feature previews! Full theatrical trailers for Mission to Mars (an abomination in and of itself), 13th Warrior, From Dusk to Dawn 3, In Too Deep and Summer of Sam unabashedly assault the viewer upon dropping in this disc. You cannot fully bypass the selections, though you can fortunately track skip past them. This is an abomination! For the most part, those who buy DVD's are well aware of theatrical as well as video releases and likely collect films. They do not typically benefit or respond to the inclusion of trailers. Most of them know what is out, when new films will be released and what they want to see. For these reasons, the inclusion of trailers on special edition DVD's serves no real defendable purpose. The last thing I want to do is be forced to sit through full promos for five other entirely unrelated films. This is particularly offensive when purchasing a special edition release optical disc of a favorite film. To be so obliged is, in my opinion, reprehensible.

Ok, now on to the good news. This disc is a shining example of what "Bonus Material" can mean. It took me over an hour to go through all the extras included on this disc. To me, aside from the obvious advantage of superior picture and audio, a good part of the appeal of the optical disc video format is the ability to include behind the scenes footage, out takes, production highlights and other juicy tidbits that film buffs eat up. This disc comes close to defining what can be done.

Aside from the essential chapter selection, set up and preview trailers, there is an entire multitude of extras. Firstly, by browsing through the "Storyboard to Film Comparison" we are privy to how a director, using sketches to storyboard out a scene, gets the exact live action shot he wants by communicating his specific vision of the scene in question to the camera operators and crew. "The Cast" is a series of live action interviews discussing casting choices while "Reaching the Audience" offers live action detailing how the film was received and promoted. Switching to "Music & Sound Design" brings you behind the scenes chat about what kind of thought and effort went into the scoring of the film with film score veteran James Newton Howard.

Next up is "Rules & Clues" but DON'T WATCH THIS UNTIL AFTER YOU'VE SEEN THE FEATURE! This discusses the deliberation and planning that went into maintaining the integrity of the plot. After following through the "Deleted Scenes," which is self-explanatory, you arrive at "Conversation with M. Night Shyamalan", a feature probing the history and motivation behind this promising young writer/director. "The Publicity" section contains the theatrical trailer as well as both the 60 and 30 second television spots. Then there is the "Filmmaker and Cast Bios." Wow! There is more info here than you will likely ever want to know about nearly everyone involved in the project. This section is all print, rather than live action, and is further broken down into two distinct sections. "The Filmmaker" section contains ten very detailed and informative biographies. "The Cast" section contains nine bios, again very detailed.

Finally, there is a picture of a gift box -- reminiscent of the box Cole is presented with to give to the father of the poisoned girl. This contains a short clip and some background information from one of Shyamalan's early horror films shot on videotape. It is delightful in that we are permitted to see a bit of the person that has known all his life what he has wanted to do.

Even though I didn't find the subject matter of this film particularly compelling, the strength of the performances and the way the very texture of the film was crafted combine to encourage me to give this film a very strong recommendation. The Sixth Sense is a must-see film, offering absolutely compelling performances and a well-crafted plot. Keep your eye on both Haley Joel Osment and M. Night Shyamalan, you will no doubt be seeing much more of both of them.
---
GO TO
[ Current Video Online Issue ] [ Video Review Archives ]