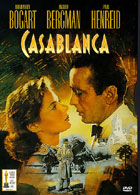 September 2000
Casablanca
Reviewed by Greg Weaver
DVD Format
| | |
| --- | --- |
| Overall Enjoyment: | |
| Picture Quality: | |
| Sound Quality: | |
| Packaged Extras: | |
Starring Humphrey Bogart, Ingrid Bergman, Paul Henreid
Directed by Michael Curtiz
Theatrical Release: 1942
DVD Release: 1998
Dolby Digital
Full Screen
---
Released during the fervor of World War II, this classic film may well represent the highest potential of the old studio-system method of making pictures. Called by some a "perfect" film, Casablanca was awarded Best Picture, Best Director and Best Screenplay Oscars in 1943. It now occupies the number two position on the American Film Institute's list of the top 100 American motion pictures, second only to Orson Well's superb Citizen Kane, which has yet to be released on DVD.

But back then, who knew? When it was released, it was just one of fifty pictures being churned out by the Hollywood Dream Factory that year. Based on an unproduced play called Everyone Comes To Rick's, it is hard to put one's finger on just what makes this film so enduring and special. Is it the heroic love story, the overt nationalism, the mysterious and colorful characters, the anti-Nazi patriotism, the suspense and drama, the rapid pace (for 1942), the ironic humor, or the mysterious and exotic settings? After more than fifty viewings myself, I have to say it is the synergy of all of them.

Produced by studio mogul Hal B. Wallis, it was directed and beautifully crafted in black and white by Michael Curtiz. Written by committee, the script owes its uncanny stamina to the combined efforts of Philip and Julius Epstein's ironic wit, Howard Koch's political underpinnings, and the romantic twists infused by Casey Robinson. It has fostered one of the greatest movie quotes that isn't a movie quote, "Play it again, Sam." Though the piano player at "Rick's Café Americana" is indeed asked to play "As Time Goes By" once again, no player in the film ever speaks those exact words. And who at least once in their life hasn't heard or said, "Here's looking at you, kid?"

Casablanca is essentially a suspense-filled love story. An underground Free French patriot (Paul Henreid) and his wife (Ingrid Bergman), stranded in German Reich controlled Casablanca, can only elude the Nazis and exit safely to America if they can procure a set of stolen letters of transit. These documents find their way, via an entrepreneurial mercenary (Peter Lorre), to a popular local night spot and end up in the possession of the clubs owner, an American named Rick (Humphrey Bogart). The big wrinkle in the otherwise straightforward plot comes when we learn that the wife of the Free French activist is a former lover of Rick's.

The film is a cleverly woven, non-stop collage of humor, drama, and intrigue and tells one of the most memorable love stories ever put on film. With an all-star cast including Claude Rains as the irascible (and scene stealing) Captain Louis Renault, Conrad Veidt as the arrogant Nazi Major Strasser and Sydndy Greenstreet as competing club owner Senor Ferrari, their performances serve to create some of the most memorable characters in film history. It moves at extraordinary pace for its day and is shot in vivid black and white.

The conversion to DVD is very good for a film from its era. There are flaws to be seen, scratches and other similar artifacts, and some scenes reveal many more than others, but on the whole it is extremely well transferred and though slightly distracting, not at all hard to watch. I admit to having a passion for the stark contrasts and imagery only possible with black and white. Yet this film is so well done that even if you find monochrome films tedious, you will be so taken up by the unfolding events that you will soon easily overlook this fact.

The audio is nothing to write home about, especially in comparison to sonic extravaganzas like the Matrix or Starship Troopers. Keep in mind, this film was made in the forties and the soundtrack is indicative of the period. No surround effects, no complex bedded scoring, just strong dialog and swelling orchestration when called for. The story is the star here, not the sound effects. While the soundtrack is clear and completely intelligible, it varies widely in amplitude over the course of the film. Though somewhat annoying, it is easily tolerated given the power and dynamic of the story telling.

Special features are slight, but include a delightful and highly informative 35-minute documentary, the original Casablanca trailer, and the trailers of other golden-age Hollywood films. Languages and subtitles are selectable in either English or French.

Casablanca is without question one of the finest films ever made and deserves to be in every collection. Its story and passion transcend the years with more dignity than one would expect, leaving it as moving today as the day it was released. Whenever I offer to screen it for any of my Generation-X colleagues or friends, their uniform response is "Not that black-and-white old thing!" At that point, I invariably issue this simple challenge. "Give it fifteen minutes. If at the end of that time you still want me to shut it off, I will." Just as invariably, I've never had to hit the stop button. And when Bogie finishes uttering the now immortal final line of the film, "Louis, I think this is the beginning of a beautiful friendship", I get taunted with, "Why didn't you tell me it was this good?" Sorry, I thought I had.
---
GO TO
[ Current Video Online Issue ] [ Video Review Archives ]