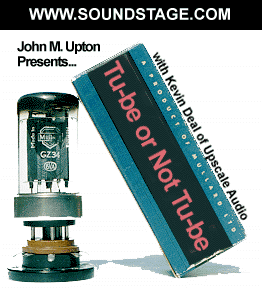 Questions and Answers on New Old Stock Tubes
Introduction and Part 1 - N.O.S. Basics
Part 2 - Sonic Characteristics of N.O.S. Tubes
Part 3 - Where to Find N.O.S. Tubes
Part 4 - Tips for Buying N.O.S. Tubes
Part 5 - Care and Maintenance of N.O.S. Tubes
John M. Upton can be contacted at jmu@soundstage.com
Want to find out more?
Kevin Deal
Upscale Audio
2504 Spring Terrace
Upland, California 91784
Voice: (909) 931-9686
Fax: (909) 985-6968
Email: kevin@upscaleaudio.com
Special Note: While Kevin Deal and Upscale Audio are committed to offering the highest level of customer service, time constraints prevent them from offering individual assistance (by email or telephone) in identifying long lost or vintage tubes. These types of questions should be posted to the rec.audio.tubes newsgroup, where Kevin and others will try to help.
---