March 2010
Giggle, Gaggle, Goggle: My First CES
For years, I've been reading -- in Stereophile, The $ensible Sound, Stereo Review (now Sound & Vision), Audio, etc. -- about the high-end audio gear shown at the annual Consumer Electronics Show. All of these reports read as if written by kids in candy stores -- the writers enthuse about impossibly expensive gear in greatly compromised venues, replete with inflated claims and deflated expectations. So when I bought my ticket to Las Vegas for the 2010 CES, I had some idea of what to expect. I had no inkling of the show's humongous size and scope.
The portion of CES devoted to high-end audio was held in the Venetian Hotel, far removed from the Big Show at the Las Vegas Convention Center. (The good news was that the SoundStage! Network crew was staying at Bally's, a short walk down the heart of the Strip from the Venetian.) Navigating a Vegas hotel is no simple matter. Dominating every hotel is its casino, invariably the only area accessible from the street. It is through the casino that every path wends, and your job is to find anything that isn't the casino. The Venetian was no exception. Although the show's yellow-hatted "Ask Me!" guides tried to be helpful, the signage was, um, challenging -- if you weren't already familiar with the Venetian, finding even something as huge as the high-end show wasn't easy. A number of false starts later, I found the Press Registration room, got my badge, and headed off for the high-end demo suites in the lobby meeting rooms, and on the 29th and 30th floors.
The Venetian consists of three enormous wings radiating spoke-like from a central elevator core, and each of the three halls on floors 29 and 30 was lined with demo suites -- easily 25 per hall, for a total of about 150. I'd like to say that I hit every one in my three days at CES, but I'm pretty sure I didn't. Even a kid in a candy store can eat too much, and after six or seven hours of listening to a dazzling assortment of equipment, music, and sales pitches, I'd usually had enough for the day. Still, you have to be pretty jaded not to drool in anticipation and giggle in excitement at the opportunity to wander the suites and listen to a wondrous panoply of gear so extensive that your local Hi-Fi Shoppe couldn't carry it all in a zillion years.
One facet of CES 2010 that I found intriguing was the ubiquity of music servers -- anything from the sublime Bladelius Embla to garden-variety notebook PCs. Of course, the tube'n'turntable rooms had nothing but LPs -- some in dire need of cleaning -- and several rooms played CDs, but the exhibitors that used servers were easily the sonic equal of both, and that's not even counting the rooms (Wadia Digital's comes to mind) in which the servers themselves were on display.
However, too many rooms were characterized by two things. First, factory reps and publicists seem to believe that louder is better, and that deafeningly loud is best. But if there's one element of the frenzied CES gallop from room to room that's guaranteed to wear one out, it's the onslaught of demo after demo, all at virtual concert-level volume. It's often said that the best test of audio systems, and especially of speakers, is of their ability to play accurately at high volumes without distorting the signal or inducing fatigue in the listener. Whether or not that's true, it seemed to be the governing principle in the CES demo rooms. The high volumes also seemed intended to lure into demo rooms representatives of the gaggles of buyers, dealers, and reporters crowding the halls -- and, in some instances, to drown out the competition across the way.
Second, in too many rooms the level of chatter rose above even the deafening level of the music. Indeed, in some of those rooms, chatter seemed the order of the day. I suppose this is, ultimately, the point: the manufacturers are there to make sales. But sometimes it was difficult, in these rooms, to get a factory rep to play any music at all, however grudgingly.
For all I know, these two phenomena characterize all audio shows, and mine is just the latest chuff of empty wind -- but they are distractions in an environment where you don't want any. Lord knows you don't need any.
But even with so much to goggle at, some rooms stood out. (All prices listed in USD.)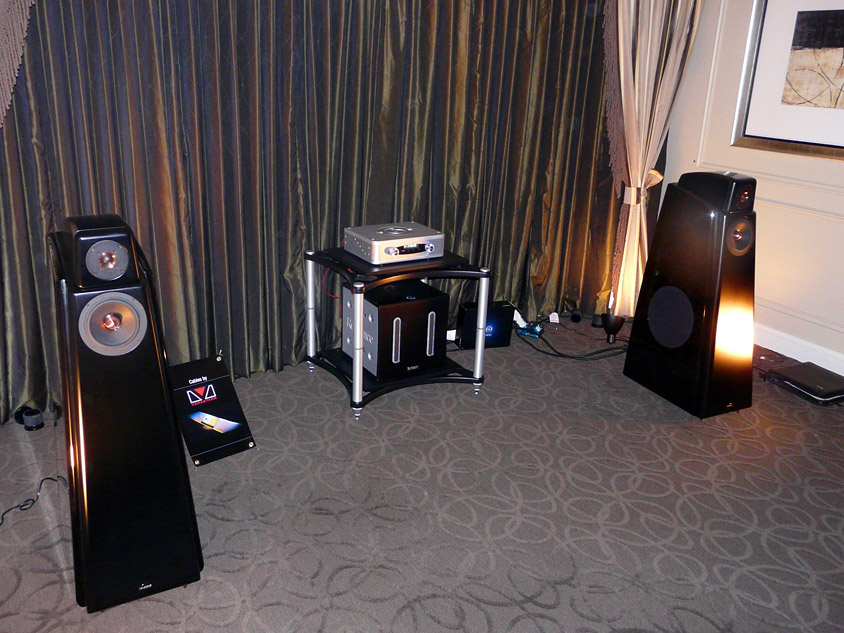 Audes showed off their mid-priced Maestro 155 loudspeaker ($3500/pair), a three-way design, with Chapter electronics: the Couplet 250S power amplifier ($12,000), Preface S preamplifier ($9500), and Sonnet S CD player ($9000). The Maestro 155 was a bit out of its league with all these highfalutin electronics, but couldn't help rendering the sweet, full, balanced sound that Audes is known for.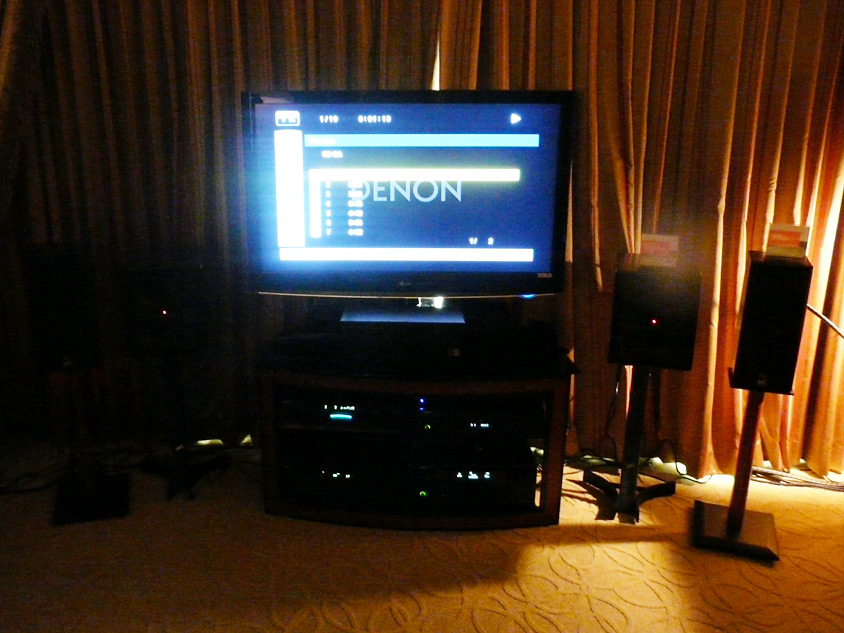 Denmark's MK Sound scored again with their lovely LCR 950 loudspeaker ($599 each), alternately demonstrated with their S150 professional studio monitor ($1199 each). The LCR 950 is designed to be used as a front main or center-channel speaker in a home surround-sound system. Indeed, the demo I sat in on was of only three LCR 950s, driven only by an Onkyo receiver and a Denon DVD player, supporting the notion that you don't need exotic electronics to get great sound from a well-designed speaker.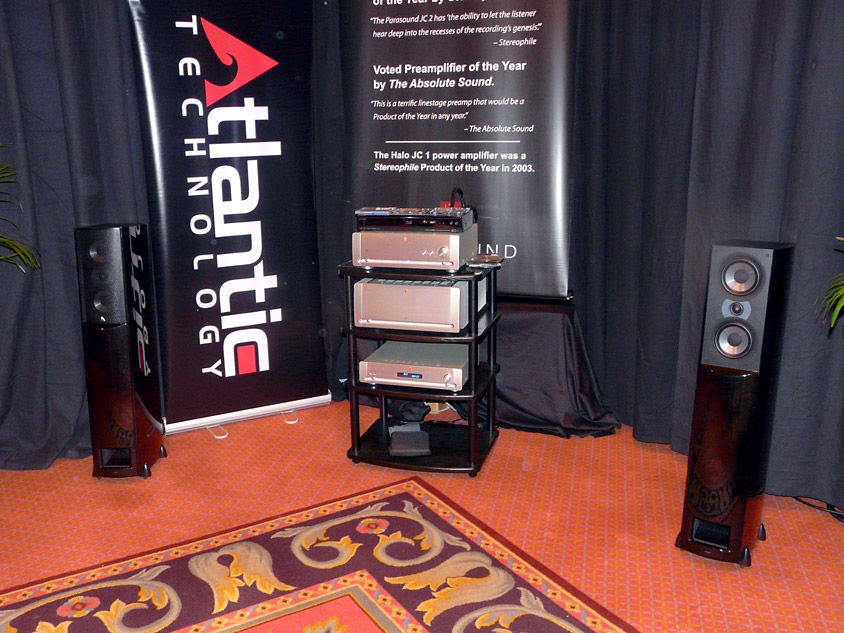 One of the speakers debuted at CES that made a big bang was the Atlantic Technology AT-1 H-PAS ($1995/pair). Driven by a pair of Parasound Halo JC 1 monoblocks ($6000/pair) and a JC 2 preamplifier ($4000), the AT-1s threw an immense soundstage with gobs of prodigious bass. The factory reps made a big deal of making the crowd "try to find the subwoofer behind the curtain." Of course, there was none -- the AT-1s were producing their own impressive bass via advanced designs of cabinet and crossover. However, the music was played way too loud for me to fairly judge the AT-1's midrange and treble responses. Nonetheless, this is one product to audition, especially at this price.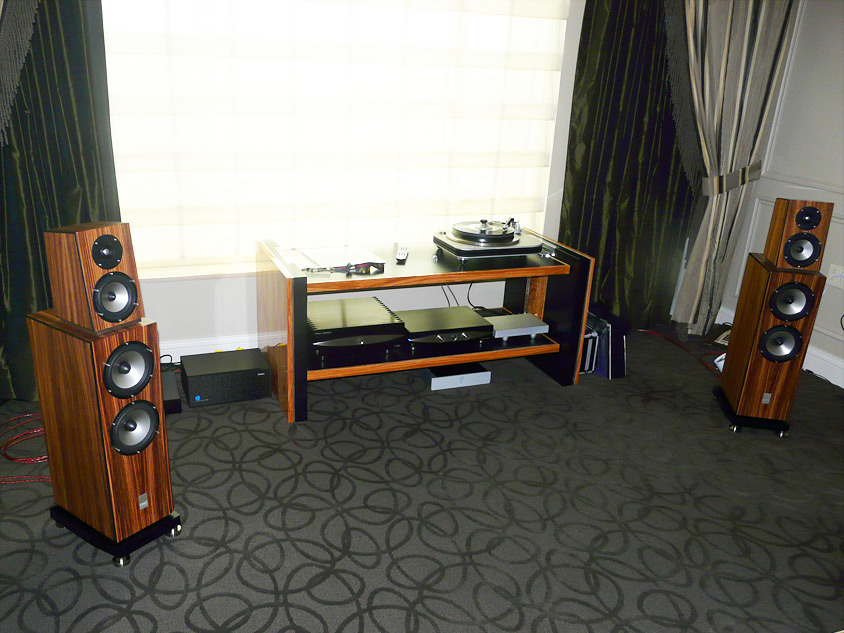 One room soared above the noise. Allen Perkins showed off his Spiral Groove SG-1 turntable ($25,000) and Centroid tonearm ($6000), on which was mounted a Lyra Titan i moving-coil cartridge ($5780). These fed his 60A amplifier ($15,000, due in July) and DP1 preamplifier ($15,000, due in September), these in turn driving Sonics by Joachim Gerhard Allegra 2.0 speakers ($8995/pair). Perkins showed off the system with a vintage Nat King Cole album that, even with the inevitable pops and cracks, plopped the King's silky baritone right in my lap. Here was a system that started at $75,775, before adding in cables and whatnot, but its sound was as sublimely smooth as any I heard the entire week.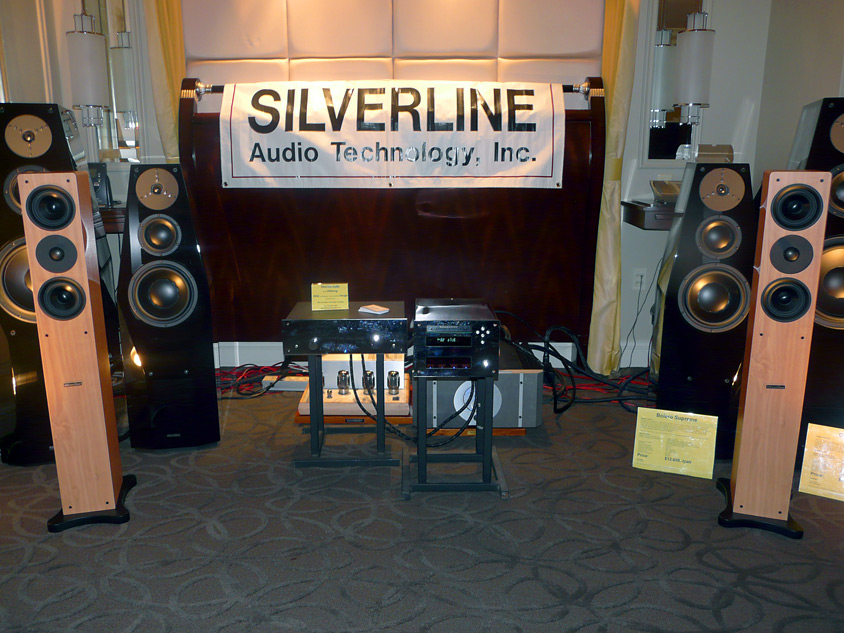 Alan Yun's Silverline Audio Prelude loudspeaker ($1200/pair), a diminutive two-way tower, delivered amazingly coherent, balanced sound in a dinky room that was hardly optimal for an audio demonstration. The Preludes were driven by a Pass Labs X250.5 amplifier ($8250), and Silverline's Stereo Console preamp and CDP CD player. While I firmly believe that the sonic differences among solid-state components are far less audible than those found among tube gear, and am not yet convinced that megaton DACs make significant audible differences in the sounds of digital sources, I wonder if all the firepower Silverline threw behind the Preludes somehow enhanced their performance. Silverline originally sold its preamp for $5000 and its CD player for $25,000, both now discontinued. Still, the sound of the Preludes was impressive enough that I'd seek them out, but only if I could audition them with more suitably inexpensive electronics. They may have been the steal of the show.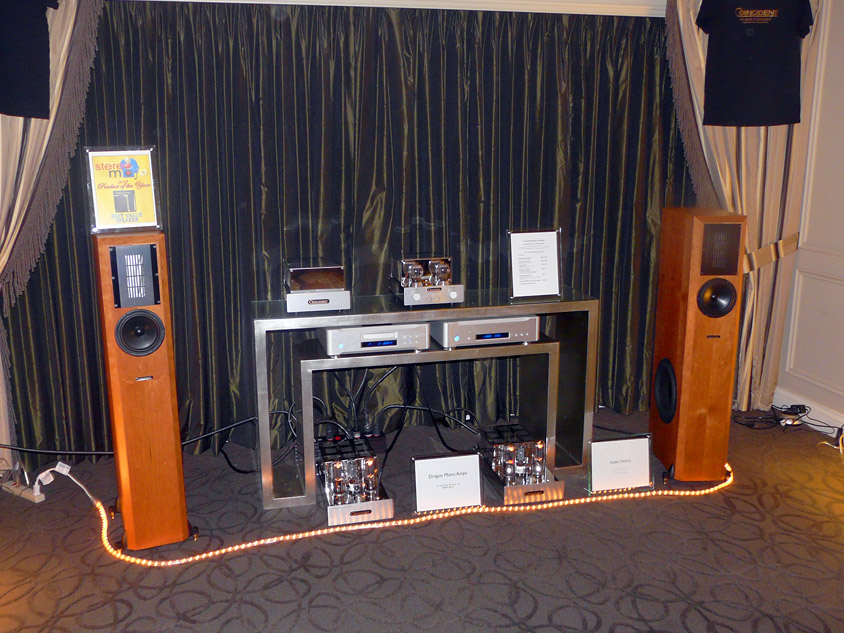 One of the less well known but still impressive Canadian loudspeaker makers is Israel Blume's Coincident Speaker Technology, whose breakthrough Triumph and Grand Triumph models I reviewed for The $ensible Sound some time ago. Coincident's demo system included the Super Victory speakers ($9499/pair), Dragon 211PP tube monoblocks ($8999/pair), and Statement Line Stage preamplifier ($4999), hooked up to an Esoteric P-05 SACD/CD transport ($7500) and D-05 DAC ($7500). Like every other Coincident product I've heard, the Super Victory glistened in the midrange, and had unstrained lows and delicate, unforced highs. I'm a bit disappointed that Coincident seems to have abandoned affordability -- their least-expensive speaker, the Triumph Signature Extreme bookshelf model, costs $2499/pair. Still, the sound of the company's solid, handcrafted products epitomizes musicality.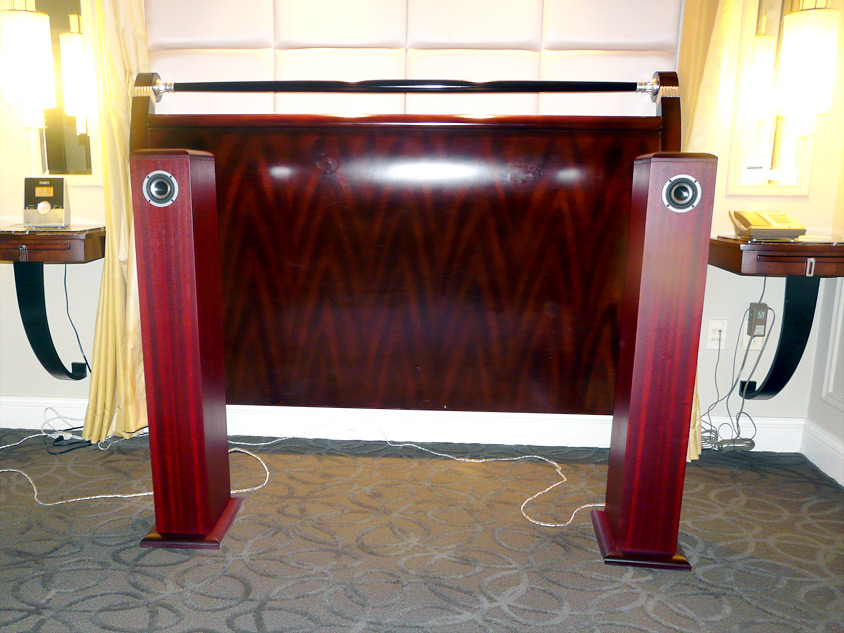 Acoustic Technologies may have put on the Venetian's most interesting and astonishing demo. Their Classic loudspeaker ($2650/pair) consists of one -- you heard me, one: single, uno, eine, un -- 3" titanium-cone driver housed in a 43"-tall tower. Driven by an Ayon CD2 CD player ($5499) and powered by a Pass Labs X1 preamplifier (discontinued) and a First Watt F3 amplifier ($2800), the Classics threw a huge soundstage that didn't waver a skosh, no matter where I stood or sat. At one point, one of the demonstrators turned one speaker 180 degrees, so that its driver was facing away from the audience. No change whatsoever in the sound. Designer David Maeshiba warned that the Classics have no sweet spot at all, and by golly, he wasn't kidding. I'd have to spend some time with the Classics and put 'em through their paces in a real-world room, but what I heard at CES made me want to spend time with them. Big, huge, full sound. Remarkable.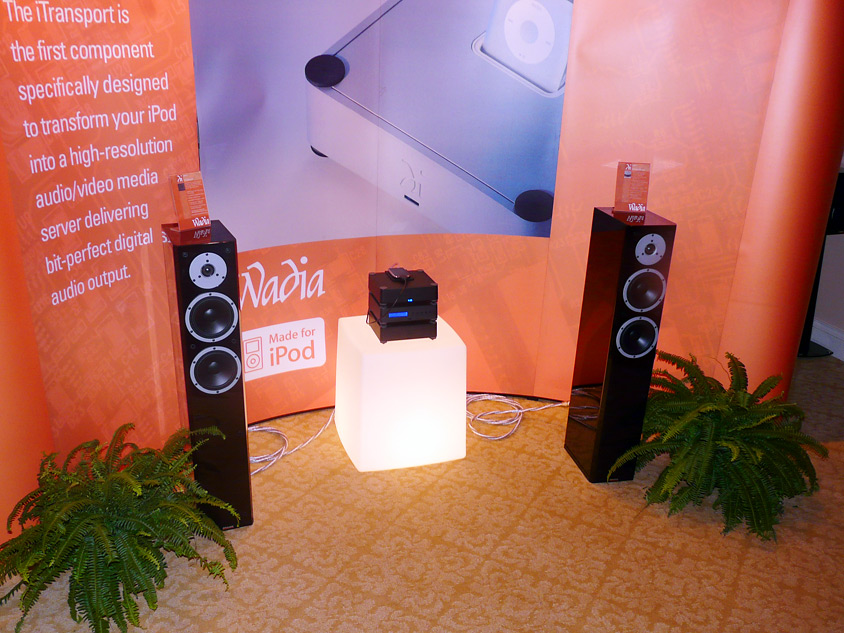 Of all the digital servers on display, perhaps the most impressive was the most affordable: the Wadia 171iTransport ($579, due in April) and 151PowerDAC mini DAC/amplifier ($1199, due in March), which drove Dynaudio Excite X32 speakers ($2800/pair). The 171iTransport is an iPod dock that has been engineered to also accommodate an iPhone. The 151PowerDAC mini, with TosLink and USB inputs, puts out a modest 25Wpc into 8 ohms. The sound, using uncompressed files from an iPod, was sublime, with crystal-clear highs, and a sumptuous midrange with enough midbass to suggest that it could very well be the ultimate high-end digital desk system. The inputs, of course, will accommodate other sources -- e.g., a CD player or outboard file server -- making this little combo as close as I've yet seen to a straight wire with gain.
The most utilitarian product wasn't exhibited at the high-end show, but in the Convention Center. The Livio Radio ($199) is a WiFi appliance designed to receive and play Internet Radio signals without the need for an audio system. Well, it's a table radio! It solves the problem of your wanting to listen to your favorite Internet station in a room other than the one housing your audio rig. The radio is aimed straight at the boomer set; so far, Livio has badged three models with the Pandora, AARP, and NPR logos, and promises more to come. The badges are mere marketing -- any version of the radio will play any of the 16,000 Internet Radio stations you care to dial in, and accommodate an Ethernet feed if desired. But despite the radio's plethora of options, all the electronic interference in the Convention Center meant that Livio couldn't get one to play. We've asked for a review sample; if one arrives, we'll report on its performance.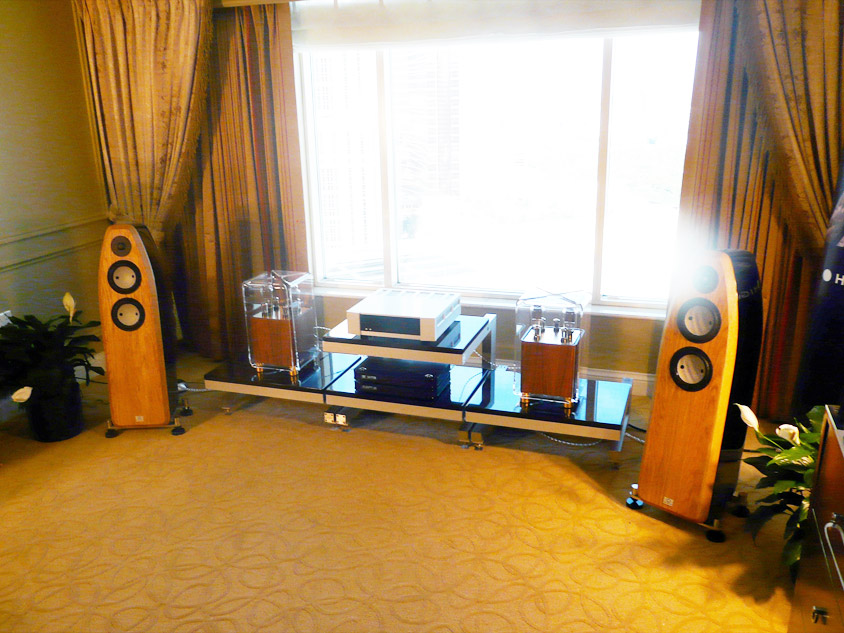 One room captured my heart as well as my ears. In Danish firm Engstrom & Engstrom's demo of amplifiers, their Lars XLS monoblocks ($90,000/pair), pumped out a jaw-dropping 32Wpc (!) to effortlessly drive a pair of Mårten Coltrane Soprano speakers ($54,000/pair). The sound source was the Bladelius Embla CD player/server/preamplifier ($9000), a unique device that will play a CD if you want it to. What you really want it to do is rip the CD to its flash drive, upsample it to 192kHz, and play the file through its proprietary DAC. For about this system's cost, a few years ago we expanded our house with a two-story addition and a two-story freestanding garage. If I had that kind of scratch today, I'm not sure I wouldn't pop for this system -- there just aren't enough "o's" in smooooooooooth to describe its utterly captivating sound. Well, an old fart can dream, can't he?
Wrapping it up . . .
If I approached my first CES with one thought, it was to not expect too much. Like the confections a kid might goggle at through a candy store's window, the wares at audio shows often aren't as satisfying as they look. But despite demos that were too often too loud, my cautious expectations were generously exceeded. While some rooms were over the top in terms of styling and outright weirdness, I didn't hear a truly bad sound in the entire show, and came away with a renewed respect for the real heroes of high-end audio: the designers of electronics and loudspeakers. Some of these folks were politely earnest, others cast the neon aura of the born huckster, and still others weren't shy about revealing precisely why their competitors' designs sucked. However, every one of them was clearly passionately committed to delivering bona fide high-fidelity sound.
Finally, after five exhausting days, I returned home and told my wife where I'd spent most of my time. She travels to Sin City nearly every year for the International Builders' Show, and spends a lot of time at the Venetian. "Did you take a gondola ride on the canal?" she asked.
What canal? What gondola? I'd been so absorbed by the Consumer Electronics Show that I'd missed them completely. Then again, the 2010 event was my first CES.
It won't be my last. Next time, I'll spend more time scoping out the home-theater gear at the Convention Center, something I neglected this time around. And if the high-end show is again held at the Venetian, I'll be sure to take a gondola ride on the canal.
. . . Kevin East
kevine@soundstagenetwork.com