February 2009
Surprising, Satisfying, Stunning, Sane: Four Special Speakers at CES 2009
When it comes to high-end-audio products, loudspeakers interest me the most. I like to look at them, listen to them, and talk about them. There are just so many ways to go about creating one that the possibilities seem almost endless, and that's what makes speakers so intriguing.
It's no surprise, then, that when I walked the halls of the Venetian Hotel at CES 2009 last month in Las Vegas doing coverage for our SoundStage! Network Las Vegas 2009 special show site, I looked mostly at loudspeakers -- all shapes, sizes and prices. Of all the new models I saw there, here are four that stood out to me as being something quite special.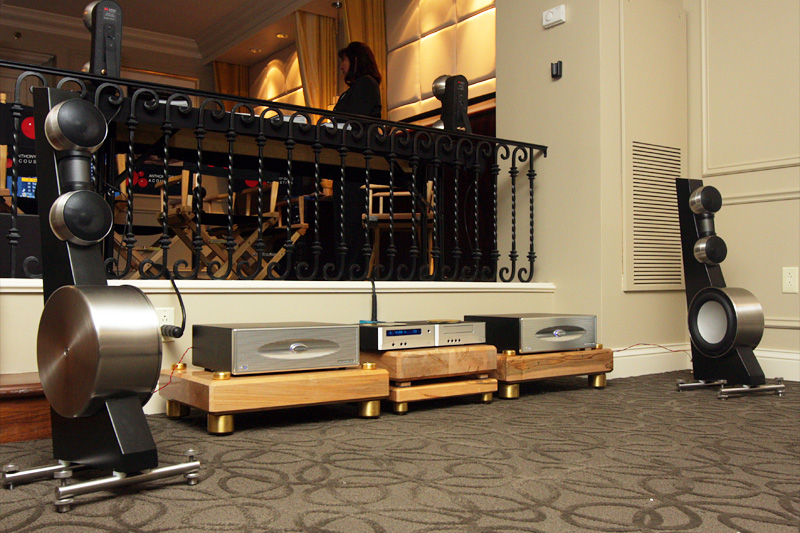 Anthony Gallo Acoustics' Nucleus Reference 3.5
The most surprising loudspeaker demonstration was that of Anthony Gallo Acoustics' new Nucleus Reference 3.5, the successor to the very-popular Nucleus Reference 3.1 model that's been out for a number of years. The 3.5 is set to hit the market by the third quarter of this year and the company estimates that it will cost $6500 a pair.
What was surprising about the demonstration of these speakers was the large and authoritative sound that the new Reference 3.5 had despite their being only about three feet tall. What's more, the mids and highs sounded exceptionally clean and clear, even when chief designer Anthony Gallo hammered who knows how many watts into them via high-powered Spectron amps. The 3.5s stayed ultra-clean all the time. Suffice it to say that I was bowled over by the expansive, refined sound that the Reference 3.5s delivered, both at low and high volume levels. I also like the styling -- small but distinctive and kind of funky-looking -- along with the build quality. When you try to lift them up, you'll find that they're sturdy and quite heavy.
The Nucleus Reference 3.1 received a lot of praise from the press in the past, and from what I could tell at CES 2009 the 3.5 seems destined to go the same way. We've never reviewed the 3.1 on the SoundStage! Network -- and it's probably too late now, given how many years it's been around and how many reviews have already been written about it -- but I'm hoping that Gallo will send us the Nucleus Reference 3.5 the moment that its released.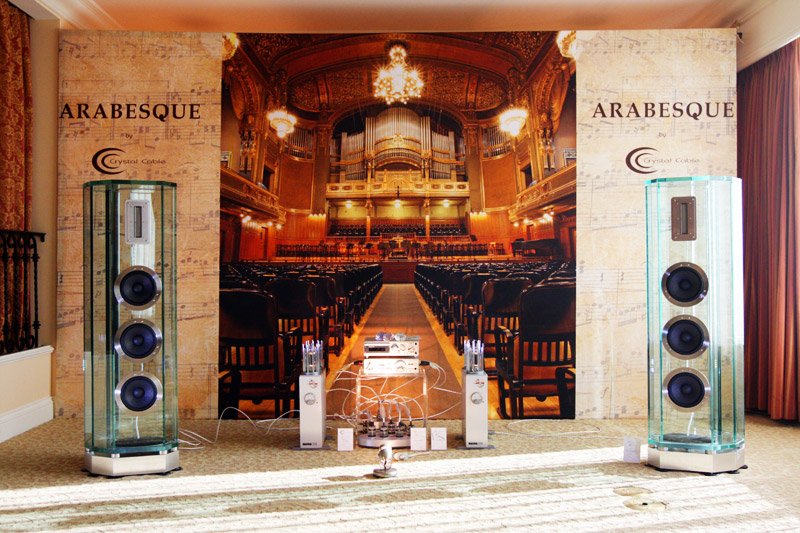 The Crystal Cable Arabesque
I seemed to go out on a limb when I hopped on a plane in November and headed off to The Netherlands to get the world's first glimpse of Crystal Cable's new Arabesque loudspeaker. I wrote about it all in January to give SoundStage! readers the world's first look at this thoroughly unique and inspiring loudspeaker design before it made its official debut at CES 2009.
But my trip wasn't as risky as it seems. I had been talking to the company about the speaker for some time, and I had a sense from these conversations that they were creating something quite special. My trip to The Netherlands simply confirmed that. As a result, it was very satisfying for me to come to Las Vegas and see and hear a more refined version of the Arabesque playing in Crystal Cable's elegantly set up display room, impressing other reviewers the way it first impressed me.
That said, it still might be tempting to look at this speaker and say, "That can never work." After all, its cabinet is made from glass. Who does that? But when you sit down and listen to it, you realize that it can work because the Arabesque sounds really good -- deep bass, a super-extended top end, ultra-clear and -detailed mids, and jaw-dropping dynamics. That's because when you look beyond the eye-popping exterior, there is some solid engineering that went into the Arabesque to make it work.
The Arabesque is a two-way design that uses three top-quality Scan-Speak Illuminator woofers working in parallel and crossing over to a Raal ribbon tweeter. The transition point is at about 2000Hz. Using three woofers results in deep bass, high output levels, and low distortion. The Arabesque sounds authoritative, cohesive, and quick on its feet. The real trick appears to have been how the company actually made the cabinet. To do so, Crystal Cable used sophisticated computer-simulation software to get the dimensions and shape just right, and they employed Finiglas of Germany to build it. All in all, the Arabesque was a complex undertaking.
The Arabesque is priced at 45,000 euros, which translates to about 63,000 US dollars with today's exchange rate. Obviously, that's not inexpensive, and this speaker won't be bought by just any guy who lives down the street. The Arabesque has been created for a well-heeled crowd that not only wants something that sounds great but is distinctive-looking and has a real sense of style to it as well. Right now, there's nothing else quite like it.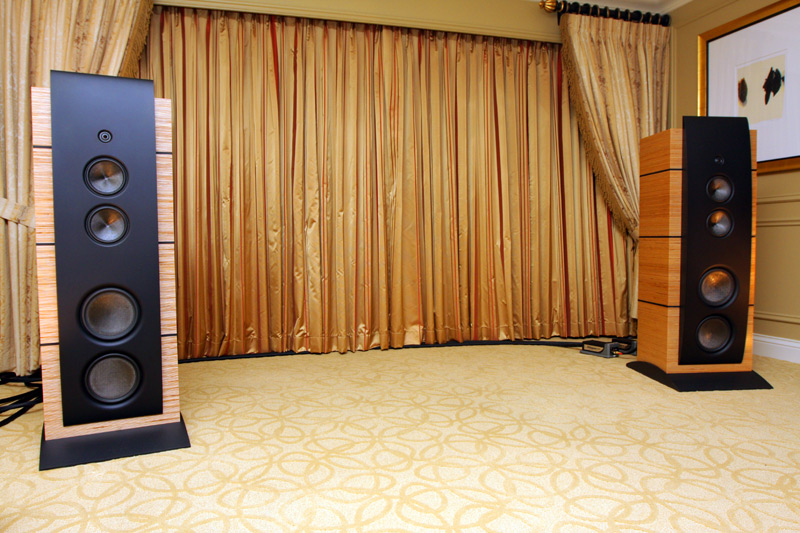 Magico's M5
There are few companies in the extreme high end that have generated more buzz and more controversy recently than Magico. Magico is a relatively new company based in San Francisco. Part of that buzz and controversy has to do with the company's owner, Alon Wolf, who's not afraid to speak his mind about loudspeaker design -- what he believes is right and, also, what he thinks is wrong. Stereophile's interview with him last year, for example, seemed to light the audio world on fire and was a hot topic of discussion in the online forums for quite some time. The other part has to do with the products themselves. In particular, the company's Mini II and V3 designs have received high praise from critics and consumers alike, some of whom feel that they're the best things out there. So, when you release something that's supposed to be that good, it's obviously going to challenge the status quo and ruffle some feathers.
When I heard that Magico was releasing two new models at CES, I was eager to see and hear them. Honestly, before this year's CES, I had never listened to Magico's speakers all that closely and had never even written about them. I just had no real interest, mostly because they carry such high prices. But, with all that went on in 2008, I made sure to take notice this time and see what all the fuss was about, and if it was warranted. I actually contacted Alon Wolf ahead of time and arranged for a private demonstration for our team the night before the show opened.
First, I'll talk about the M5. It's a tall, heavy four-way, sealed-box design that has a layered birch cabinet fronted by a solid-aluminum baffle. Everything is firmed up by tensor rods that run from the front baffle through to the back. The M5 is a substantial speaker that's impressive to look at but more impressive to hear.
I'm not one to heap high, high praise on ultra-expensive speakers -- usually I feel they are grossly overpriced, particularly given the often so-so performance, at least under show conditions -- but what I heard in that hotel room that evening was nothing short of stunning. In fact, I'll go so far as to say that this M5-equipped room was the very best at-show demonstration I've ever heard. Yes, ever. Wolf used some massive Soulution amplifiers from Switzerland to drive the speakers, and at the front end was a music server of the company's own design. The sound was rich, powerful and full range as all hell. The bass was super-deep and ultra-tight. I'd love to get these speakers in NRC's chamber and see the kind of output they're generating at 20Hz -- it has to be a lot. The highs were extended and clean; the midband rich and textured; and no part of the audio band seemed emphasized or recessed. Resolution and detail, something I always listen for in super-expensive speaker systems, seemed beyond reproach. Granted, I am not familiar with the equipment used or the recordings he played, but the sound that came out of those speakers was absolutely awesome.
The only thing I could find fault with was the price. A pair of M5s will cost you 89 grand -- that's more than my first house! You can buy a luxury car for less than that! Lexus, anyone? How 'bout BMW? That's not to say they're not worth that amount, at least to someone willing to pay that much for speakers. But $89,000 for a pair of speakers -- any speakers -- is something that I have trouble rationalizing. To me -- me I'll stress again -- it seems, well, insane. Then again, I'm sure there are others who will disagree strongly with me -- rich folks, probably. Perhaps I'm just jealous.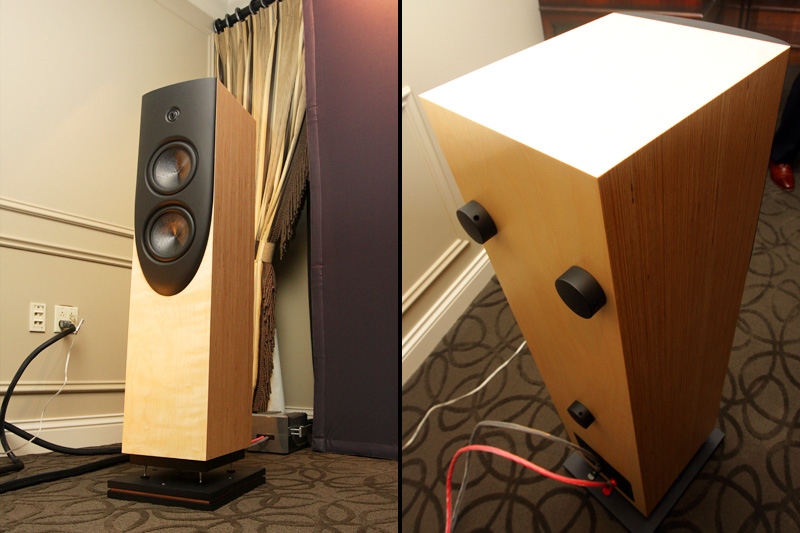 Magico's V2
Luckily, Magico also showed something that seems a little more sane and didn't cause my head to spin. One floor down, the company was showing the new V2, which can be thought of as a down-sized M5 (or V3, for that matter). The V2 is a two-and-a-half-way design that retails $18,000 per pair. Whew! That's about what my wife's Toyota Corolla cost. In a two-and-a-half-way configuration like this one, the top woofer handles the frequencies from the low bass up to where it transitions to the tweeter. The lower woofer just augments the bass and is tapered off before it reaches the midrange. With this kind of approach, you tend to retain the the benefits that a simple two-way design has, but with more extension and authority in the bass. Like its bigger brothers, the V2 has a layered birch cabinet, aluminum baffle, and those rods that run front to back. Its cut from the same cloth, just scaled back some.
Granted, $18,000 is still not cheap, but it's certainly not $89,000. What's more, except for the deep bass and the unrestrained dynamics that the M5 delivers, the little V2 sounds a lot like the big M5. In this room Magico was using a CAT tube amp to drive the speakers instead of the solid-state jobs from Soulution, but I heard that same rich, robust sound along with similar detail and resolution. The M5 may have stunned me, but the V2 is much more my kind of speaker and the kind of thing I'd enjoy reviewing.
In fact, Alon Wolf promised SoundStage! a pair for review. As with Gallo, we've never actually reviewed one of Magico's speakers. When the V2s arrive, I plan to take them to NRC to be measured in the anechoic chamber and then I'll review them myself. Being someone who likes smaller, simpler speakers, particularly two-way types, I'm really looking forward to reviewing the V2 and seeing what it offers and what all the Magico fuss is about.
As I said, I love speakers, and this year's CES gave me a great start for 2009. But there's still more to come. Right now I'm planning a trip to Verity Audio, the well-known maker of the Parsifal, Sarastro and Lohengrin models, among others. The company is located in Quebec City, a gorgeous French-Canadian city that's about four hours from my home. Verity also had some new speakers in Las Vegas, the Finn and the Leonore, which we featured in our show report. I'm going to visit the factory to get the lowdown on those new models and report on them in the months to come. Who knows -- maybe we'll be reviewing those too! Stay tuned.
...Doug Schneider
das@soundstage.com