November 2008
Three Days at the Sound Museum: RMAF 2008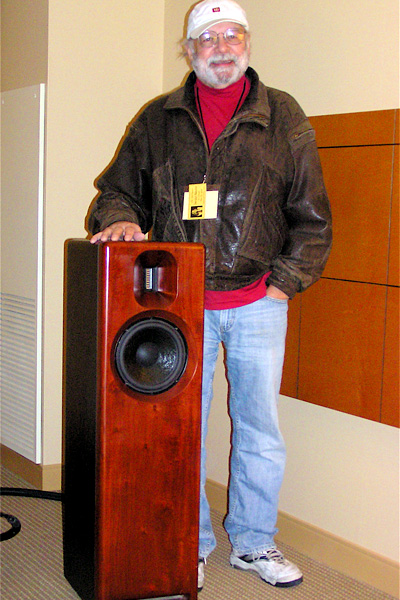 Visiting an audio show as big as the Rocky Mountain Audio Fest -- RMAF for short -- can be a dizzying experience for any audiophile: 160 rooms filled with over 300 exhibiting brands, gear new and unknown mixed in with standbys, and the presence of old friends and platoons of acquaintances. When I went to my first show, it was nearly impossible to bear up amidst the onslaught of the manifold micro-samples of audio I was taking in, flitting from room to room, scurrying through the audio galleries as though a child let loose in an amusement park. After only one day, I felt as though information overload had defeated the enjoyment of listening.
But I managed to save myself and find the deep character of these experiences by falling back on a completely different style of excursioning I'd developed while going to museums. Rather than spending a few minutes with Electrocompaniet's new line of electronics or scant seconds in a ballroom filled with Feastrex-driver speakers, I began to allow myself to drift almost casually along until I found something curious, voluptuous, or startling that compelled me to stay a while and take things in more slowly, to let both the relaxed and the acute take part in my listening. I started to approach the hi-fi show less as a commercial bazaar and more as a museum of contemporary audio art. My movements began to reflect the shambling pace of museum-going -- slow and wending, with long, extended stays before the provocative and alluring. I try to listen the way I gaze at a painting, achieving as much education as response.
What follows, then, is a sampler of rooms that I thought taught me something not only about equipment but also about my own listening.
First, I must point out Randy Bankert's Sonist Concerto 3 floorstanding two-way speakers (shown above right, $3495 per pair). These were driven by the Royal Device Sara 300B stereo amp (10Wpc, $3295) with preamplification by the deHavilland Mercury 3 ($3995, $4495 with remote control), and sourced by a Cary DVD 8 all-format player ($1200). With Silver Series wires from Cable Research Lab (speaker cables, $1700 per six-foot length; interconnects, $1400 per meter pair, Mk II and Mk IV power cords $795 per six-foot length), this was a standout demo. I brought in an LIM K2HD CD of Richard Strauss's "Thus Spake Zarathustra," performed by the Los Angeles Philharmonic conducted by Zubin Mehta and asked Randy to play the first two movements -- the magnificent Prelude featuring uplifting fanfares and thunderous bass-drum thwacks, followed by a second movement of lush and melancholic strings. The Prelude is most familiar from the soundtrack to 2001: A Space Odyssey, but folks rarely listen to the mordant tones of what follows. Together, they create a great, fulminating exercise in dynamics, tonal richness, and midrange harmonies.
Randy cranked the volume up and the music blasted off with the low groan from the pipe organ, drums rattling the walls, fanfares blazing into the hallways so that a small crowd was attracted into the room. The tonal quality of the horns was perfect -- brassy bursts and shimmering decays rising and falling in concerto-like opposition to the whole orchestra, attacks sudden, decays fading into the low rumble of the organ's unceasing, galactic bass. And when the second movement finally swept in, it seemed we'd moved from near-terrifying cosmic grandeur into a meadow of orchestral strings, ripe and luxuriant as summer wheat leaning into an anxious autumn.
The next demo that struck me was in the AudioKinesis room put together by designer Duke LeJeune. It featured a new speaker array called the Planetarium Beta Two -- a pair of two-way, sealed-enclosure floorstanding speakers augmented by four subwoofers decorously placed around the room -- a combination Duke calls "the Swarm" -- that were driven by a rack-mount Parts Express 1000Wpc class-D amplifier. The entire assemblage costs $10,000 -- a reasonable figure when you consider that the speakers alone are $8000. Electronics were the excellent Atma-Sphere S-30 Mk III stereo amplifier ($3600) and Atma-Sphere top-of-the-line MP-1 Mark III two-box preamplifier ($10,950, $12,100 with phono). The source was the Resolution Audio Opus 21 two-box CD player ($3500) and cabling was by Magnan Audio, featuring the supple flat copper-ribbon Signature speaker wires ($1090 per eight-foot pair). The choral passages on my reference CD, Mozart's Mass in C Minor performed by Le Concert d' Astrée conducted by Louis Langrée, had a light and airy presentation on "Kyrie" and "Laudaumus Te," but the period-style orchestra had lots of drive and inner definition. The soloists, Natalie Dessay and Veronique Gens, both superb sopranos, had sweet top notes and liquid melismas and glissandi, and the system tracked all the dynamics and subtleties of these most difficult vocal performances. I felt as though I could listen all day, as everything came together to produce a system of wondrous clarity, texture, and presence.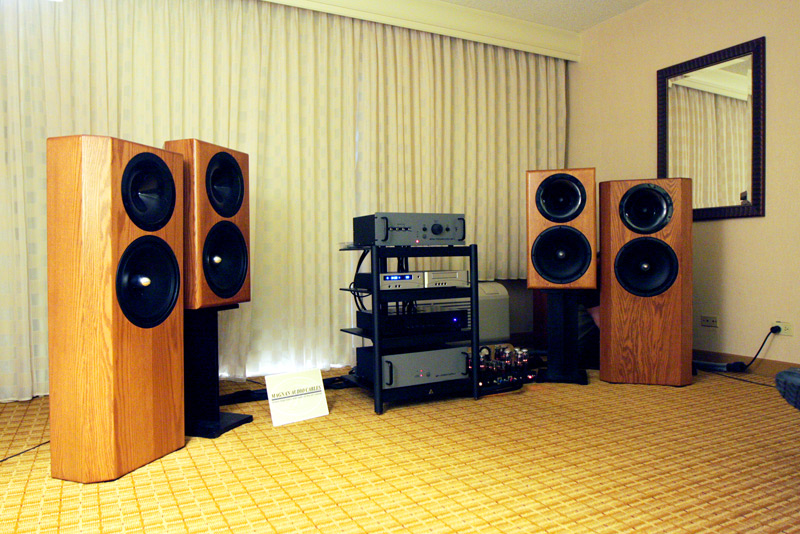 AudioKinesis
Later on the first day, a discovery for me was Lou Hinkley's Daedalus Audio Ulysses speakers ($10,950 per pair), three-way floorstanders featuring proprietary twin pairs of Daedalus woofers, modified Fostex full-range drivers, and Eton dome tweeters. These were driven by Manley Labs Neo-Classic 250 monoblocks ($9000 per pair). The system was computer sourced and used a Logitech Squeezebox Duet ($399) with a Gill Audio Designs Elise DAC ($6000). Preamplification was handled by the Gill Audio Alana ($5000). All cables were Lotus New Generation by Dynamic Design ($650 per meter pair of interconnects, $950 per eight-foot pair of speaker cables, $500 per one-meter digital cable, $900 per six-foot power cord). The sound on "Agnus Dei" from Samuel Barber's "Adagio for Strings," as transcribed for chorus and organ and sung by the Robert Shaw Festival Singers, filled the largish corner room of the Marriott with a loveliness and fine delicacy of choral sound. The system produced a clear, clean, and airy choir with good separation of voices, a fine tone, and an overall naturalness that allowed the hallowed religiosity of Barber's composition to come through. I'd remembered the clarity and tonal richness of the Gill Audio Lissa integrated amp (45Wpc, $2995) from the CES earlier this year, and my estimation of Gill electronic designs only grew here, along with my admiration for Mr. Hinkley's Ulysses speakers.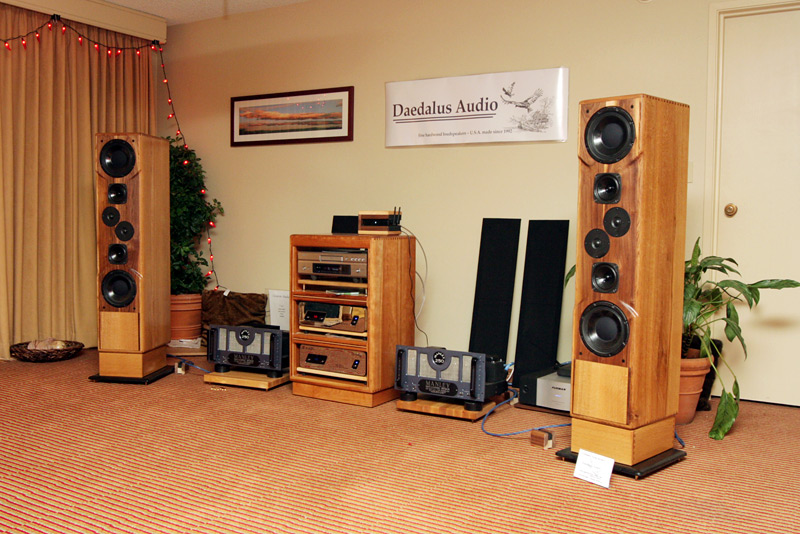 Daedalus Audio
At the beginning of the second day, Saturday morning, I ran into Albert Von Schweikert and we walked up together to his demo in a huge room on the mezzanine of the Marriott. This was a magnificent presentation, featuring the Von Schweikert VR-9 SE speakers ($90,000 per pair) and a handsome stack of Kevin Hayes's Valve Amplification Company electronics. Making their debut were two VAC Phi 200 stereo amplifiers (100Wpc, $9800 each) used in vertical bridged mode. The source was an Oracle CD-2000 transport ($8500) combined with a VAC tubed Phi Alpha DAC ($7500). The preamp was the VAC Signature Mk II ($14,000 in line-stage version). Though perhaps second in the line to the vaunted VR-11s, the VS VR-9 SEs are themselves near-statement-level units -- a pair of two-piece, six-way, four-foot high, 350-pound behemoths, featuring time-alignment, phase-coherence, and room-correction and equalization capabilities.
The first thing Albert played was the Japanese taiko drum group Za Ondekoza, and I heard tight, jar-rattling drum strikes with realistic depth and speed. Then he played José Carreras singing a solo from "Misa Criolla," and the first notes sent chills. I could not discern any handoff from the Audax midrange driver to the dual-concentric Revelator tweeter, but only Carreras's plaintive tenor voice. On Nils Lofgren's "Keith Don't Go," Albert turned the midrange up 2dB to "open up his voice." And in terms of volume, he was right, as once we switched to Victoria Mullova playing the Mendelssohn Violin Concerto, though I could hear the clean, sweet top to her playing, the orchestra still seemed muffled and damped down in its accompaniment. Albert went behind each speaker, dialed up the midrange decibel adjustments one more dB and, to my ears, achieved the correct balance. I could appreciate the inner detail of Mullova's rough bowing technique on legato passages and, overall, the sound had the best upper midrange of any speaker in my experience. I suspect the VAC amplification and Cardas Golden Cross cabling ($1044 per meter pair of interconnects, $2732 per eight-foot pair of speaker cables) had something to do with it, and, for me, this was the standout demo of the show.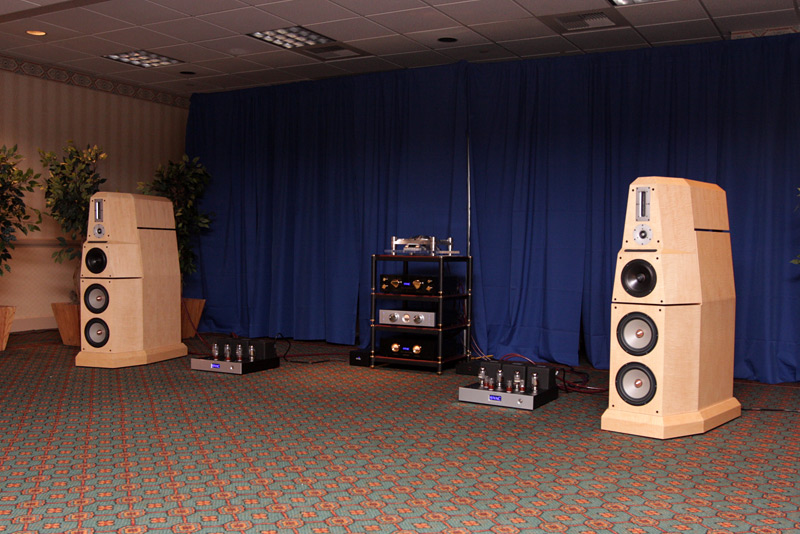 Von Schweikert Audio
Dan Meinwald of EAR USA/Sound Advice put together a lovely demo in a small room with Marten FormFloor loudspeakers ($6500 per pair) and a Marten FormSub ($4500). The speakers feature ribbon tweeters and ceramic midrange/bass drivers. As powered by the EAR 890 class-A stereo amp (70Wpc, $7300), they filled the room with good sound. The preamp was the full-function EAR 868 ($5300) and the source the EAR Acute CD player ($5900). Wires were by Jorma Design (No. 1 interconnects, $3,800 per meter pair; No. 3 speaker cables, $1850 per eight-foot pair). The all-chrome-faceplate EAR electronics resting on gleaming stainless steel Townsend Size 2 Seismic Sinks ($1350 each) made quite a visual statement. The system not only possessed tremendous clarity but was rather warm, rounded, and full in every good way on Stravinsky's "Rite of Spring" as performed by the Kirov Orchestra conducted by Valery Gergiev. Clarinets and bassoons were sweet, woody, and wonderfully resonant; piccolos were sharp and strings lavish. And the dynamic range and transient speed were remarkable, the flavor and intensity of the Modernist composition both fulfilled. The relatively modest-sized Marten speakers produced drum strikes of satisfying snap, depth, and impact. Finally, there was an unmistakable sense of ease to the entire system. As an added bonus, EAR/Yoshino designer Tim de Paravacini stood at one end of the room, nodding along to passages in the music, seeming to approve of it all.
On the third and last day of the show, I encountered the loquacious Vinh Vu of Gingko Audio, who presided over a smallish corner room at the Marriott that featured his new ClaraVu 88 speakers ($3995 per pair, $750 for stands). Matched with Atma-Sphere electronics -- the S-30 Mk III stereo amp ($3600) and MP-3 Mk III preamp ($3950, $4,600 with phono) -- and sourced with a Modwright Signature Truth Sony 9100ES player ($3500), the system sounded neutral, liquid, and highly resolving. I listened contentedly to Raul Malo's beautiful tenor voice on "Blue Moon" and to rich gospel harmonies on "Noah" by the Fairfield Four from a mix-CD-R brought in by a couple of guests with three-day passes. I hung around as another guest asked about the monitor's construction, and Vinh explained how the ClaraVu 88 was a two-way ETL -- an embedded transmission line with woofers at opposite ends of a sealed tube suspended in the enclosure. "While one pushes," Vinh explained, "The other pulls!" The sound was sparkling -- clear, engaging, and realistic. These are qualities I've now come to expect from Atma-Sphere electronics when matched with speakers with a fairly flat impedance curve or of a high-impedance design. Gear from Atma-Sphere always seems to produce a sublime clarity coupled with a fine organic flow to the music.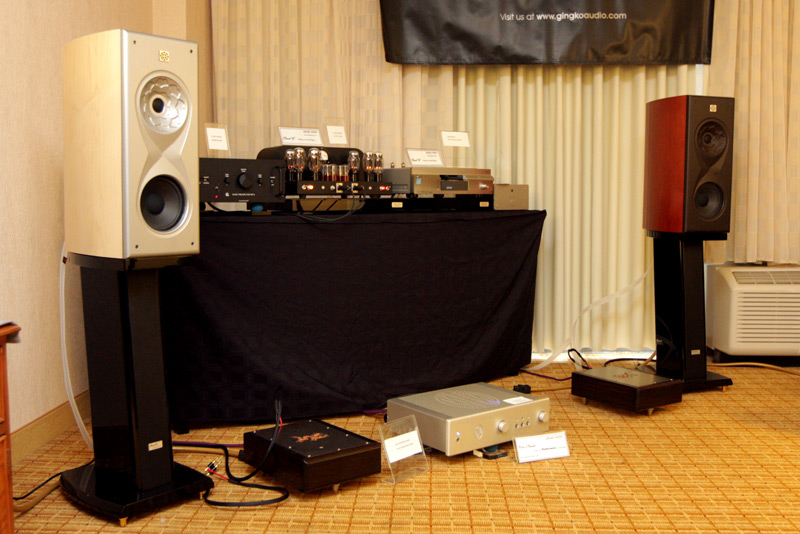 Gingko Audio
While it's an established cliché to complain of the high cost of audio equipment, it's perhaps more useful to place its prices within another cultural scheme of luxury -- that of works of art. While the $90,000 Von Schweikert VR-9 SE speakers may cost as much as a modest home in Dallas/Fort Worth, that's still less money than Adieu Batista, a wall-sized painting by contemporary artist Julian Schnabel that went for $360,000 at a Christy's auction. Or, to make another comparison, the whole EAR/Yoshino/Marten/Jorma system is -- when you think of trying to decorate a living room with contemporary sculpture, pottery, and visual art -- not such an extravagant expense at somewhat less than $50,000 all told. Where can you get a handsome wood sculpture as inexpensive as the Sonist Concerto 3 at $3495? Not in the good galleries of Taos or Scottsdale, or on La Cienega in Los Angeles, certainly.
Great audio equipment comes from the result of hundreds if not thousands of hours of thinking, testing, and experimenting by our artisans in the art of audio. Like Brunelleschi's dome in Florence -- a miracle of architecture -- fine audio equipment places me in the space of sublime art and affords me an immeasurable enjoyment of that experience. And, more than that, I believe the products themselves to be works of art -- designers puzzling over their creations at all hours, dreaming in circuits and crossovers, trying to find that golden mean of electronic or acoustic formulation that will let the music through unimpeded yet glorified by its own purity. Like cultural artifacts, audio gear emerges out of the pursuit of pleasure and defines us. I look at the basic black boxes of various electronics, the gleaming silver chassis and combed spaghetti of wires and capacitor leads therein, the embossed wooden and acrylic faceplates, the geometric lines and exotic wood veneers of speaker cabinets, the sculpted shapes of waveguides and baffles, and I think of Renaissance artisans doing the math and bending over their work in wood and paint, in gold and in glory.
...Garrett Hongo
garretth@soundstage.com