August 2008
VSAC 2008
The reconstituted Vacuum State of the Art Conference (VSAC) took place over Memorial Day weekend, May 24-26. Originally the brainchild of Dan and Eileen Schmalle of Bottlehead and held bi-annually in Silverdale, Washington, VSAC touted the use of vacuum tubes over solid-state devices, building quite a following among the DIY crowd from 1997 to 2003. Revived by Carolyn and Michael Kilfoil after a five-year hiatus, VSAC 2008 took place in Vancouver, Washington, just across the Columbia River from Portland, Oregon and was housed in three floors of the downtown Vancouver Hilton, adjacent to Propstra Square, a lovely tree-filled park that provided bucolic surroundings for the three-day conference of assorted tube-heads. It was smallish and intimate by comparison to VSAC in past years; there were 19 exhibitor rooms and a total of 39 announced vendors (not including the smattering of DIY exhibitors), so it was easy for attendees to get around to all of them, with plenty of time for talk, lunch breaks, and excursions to Portland and environs. I roamed around free to listen, gab, and take notes, while my son Alex Hongo snapped pix with his Nikon.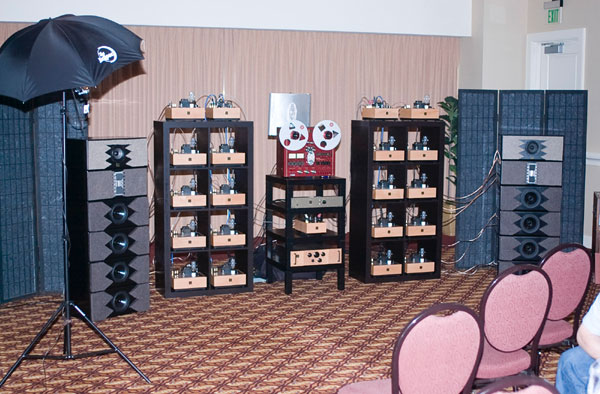 The Tape Project in full glory.
An early highlight of the show was the Tape Project room, featuring the Bottlehead Reproduction Technics RS-1500 tape deck (a $675 modification charge provided you have the deck), the Bottlehead Reproduction amp (the two sets of amplifier banks), a custom preamp, a tape preamp, low-frequency speakers from DIY Cable, ATD midranges, and dual ribbon tweeters. There were separate amps for the tweeter (300B-based monoblocks), midrange (four 300B monoblocks wired in series), and low-frequency outputs (two mono towers). With a tape of Portland bluesman Robert Cray's band doing "Playing in the Dirt," the sound was mellow, rhythmic, and flowing, with Cray's lead vocal and its smoky tone extending pleasingly forward into the room.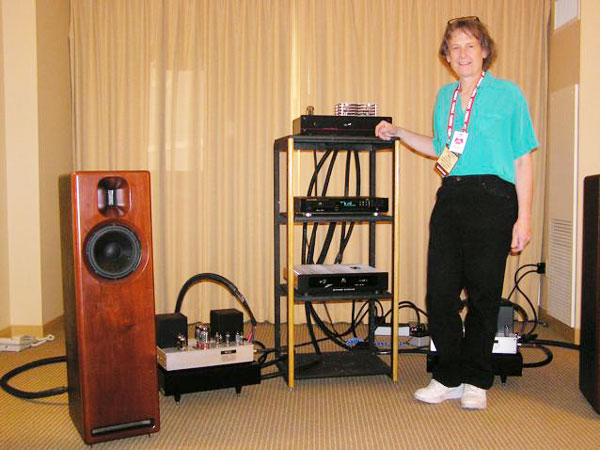 Kara Chaffee poses with her new Model 50A mono amplifiers ($7250 per pair).
Making their debut at VSAC were the deHavilland Model 50A amplifiers ($7250 per pair, 40W in class A), interstage transformer-driven monoblocks using Genalex Gold Lion KT88 output tubes operating in triode. Chief engineer Kara Chaffee resurrected circuits from the original Fisher 50A and redesigned the amps using up-to-date parts and NOS signal, rectifier, and driver tubes. There is a stamped tag rather than a faceplate on the raw aluminum chassis, and it says "Kara Chaffee Engineering" rather than "deHavilland." This is Kara's bow to the original designers of the Fisher 50A. With the new 40" tall Sonist Concerto 3 two-way floorstanders ($3495 per pair), a Marantz transport, a modified Metronome Technologies DAC, a deHavilland Mercury 3 preamp ($3995), and cabling by Cable Research Lab, the system's sound on a CD of the Handel Organ Concertos Op. 4, as performed by Richard Egarr (organist) conducting the Academy of Ancient Music, was detailed, dynamic, and quite fulsome with plenty of top and bottom extension.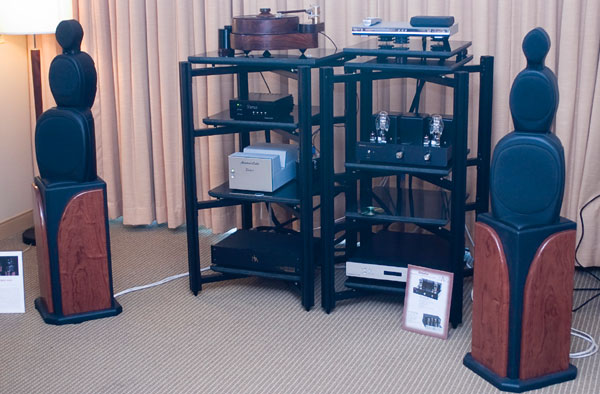 Green Mountain, Marigo, et al.
Marigo Audio Labs of Portland created a fine demo with Green Mountain Audio Calypso HD speakers ($10,000 per pair with Marigo internal wiring), an Oppo DV-983H CD/SACD/DVD player, a Teres 260 rim-drive turntable with Schroeder tonearm and a Zyx Universe-X MC cartridge, an Artemis PH-1 phono, and an Omaha 300B integrated amplifier ($1500) on Adona racks. Cabling was all Marigo Labs, and also in use was a Marigo 3.03 Signature Series LC line conditioner ($2995). Designer Ron Hedrich gave me an impromptu A/B demonstration, playing the system with and without his new Marigo Mystery Feet VX ($579 per set of three) under the Omaha integrated amp. Without, the sound was good, but with the Marigo feet in place, the sound was punchier, speedier, and much more refined with fine bloom, more hall sound, and wondrous transients to the CD of choral music I asked him to play. I hope to hear the amp again soon and perhaps try the Marigo Mystery Feet in my own system.

The Grant Fidelity RITA-88 Reference ($5299).
Grant Fidelity's hand-built and hand-wired RITA-88 Reference, a KT88-based integrated amplifier, was on passive display in the Pine Room on the second floor. The RITA ($5299) is 45Wpc all in class A, fully balanced with both XLR and RCA inputs, and has a non-negative-feedback circuit. Its ocean-blue translucent power meters were seriously beguiling against the aluminum alloy case.
Tube guru Charlie Kittelson of Vacuum Tube Valley gave a fact- and opinion-packed 60-minute lecture on new-old-stock (NOS) and current production tubes -- one of a series of several presentations by various tube, tape, and 'table experts in the conference rooms at VSAC. He also brought along a serious lineup of Asian-built electronics from Cayin, Shanling, Markhill, JoLida, and Triode Corporation.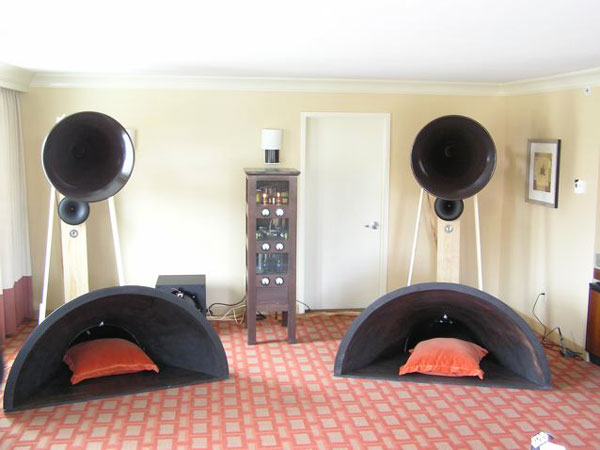 All the way from Memphis came Experience Music, Inc.
Another highlight of the show was the setup by Experience Music, Inc. of Memphis in a brightly lit corner room. The road-rumpled Jeffrey Jackson drove a moving van all the way from Tennessee loaded down with exotic gear -- the famed Goto Unit tweeters and compression-driven horns, cavernous Baltic birch bass horns, and a raft of custom-built electronics. One was a version of a vintage amp originally designed for movie theaters that Jackson housed in a three-story antique walnut cabinet, looking to me like a pie safe lit from within by low-watt Edison and Fleming bulbs. Wires were all by Verbatim Cable. The amp is based on the Eimac 75tl triode transmitting tube for its output stage, and has Western Electric 287A mercury-vapor rectifiers, direct-heated 112A drivers, and vintage Weston meters. It produces a flat-out maximum of 10 watts. The catch? It's a Jackson-signed original piece and the only one that's ever going to be built. On Mahler's 4th Symphony as performed by the Los Angeles Philharmonic with Esa Pekka-Salonen conducting, the CD spun on a humble Rega Planet, the system had a soundstage like no other in my experience. Images were indeed movie-theater-sized with amphitheatrical depth, good bass grunt, and sweetness in the strings.
Paschetto Engineering showed its Empire 208 turntable ($2495, sans arm) with an SME-309 loaded with a van den Hul One low-output MC cartridge feeding some Peerless step-up transformers. Beside and below there was a rackful of serious kit -- MHZS CD 88 tube CD player, a Bottlehead prototype balanced phono stage ($5200 projected), a Bottlehead Foreplay III preamp with remote (not yet available), and the Paul Birkeland Cold War custom 6C33 tube amps ($12,000 estimated).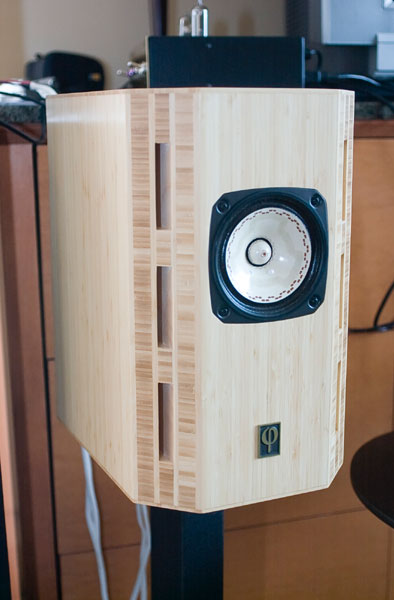 Wright Sound brought an array of electronics, creating a somewhat cluttered display behind a pair of Fonken single-driver minimonitors (shown left, $1200 per pair in bamboo, $850 in regular veneers) in a small third-floor room. The Fonken stand-mounted speakers feature Fostex FE127E modified drivers and six slotted ports in a proprietary method designed by Onken. I was told Fostex + Onken = Fonken. The system was powered by Wright Audio Mono 7 power amps (300B monoblocks, $1945 pair) and driven by the Wright Audio AU1500 line-stage preamp ($2395, using four ECC 99s).
Bob Pletka of Portland-based Eurotubes, a top American dealer of JJ tubes, showed up with a line of JJ electronics as well. His demo -- with a Niobe-modded Marantz CD 4000 player and Klipsch Reference 7 tower speakers driven by a 300B-based JJ 322 power amp (20Wpc, $6000) and JJ 243 preamp ($3500) -- was astonishingly good on a CD of "Night on Bald Mountain" performed by the L.A. Philharmonic with Esa Pekka-Salonen conducting.
Audio Note (UK) and Audio Note Kits shared a big first-floor room and created what was to me the standout demo of the show with the new Parallel 300B IE Core Monoblocks (18-20W, $3400 per kit). These interstage, transformer-coupled mono amps were complemented by an outstanding array of other Audio Note products (TT 2 turntable, Arm 3, Io MC cartridge, M6 full-function preamp, CDT 3 transport, DAC 4), and the two-way Lexus Signature speakers tucked into corners. Audio Note spun vinyl while I was there -- notably a six-eye Columbia of Duke Ellington's Jazz Party -- and I was hooked on the warm coherence of the sound, sweet bursts from the horn section, clear inner detail, and rich harmonies on "Temperturbably Blue."
Kurt Doslu of Echo Audio in Portland, a dealer specializing in analog and used equipment, conducted a well-attended turntable setup demonstration, explaining the intricacies and simplicities of his approaches to both suspended and unsuspended 'tables.
Washington-based Eficion introduced the Ficion F200 -- a two-way vented-box minimonitor retailing for $3400 per pair. Stands are $400 extra. It uses a carbon-fiber woofer and a ribbon tweeter with a flat surface and honeycomb understructure. For a $450 upcharge, Efiicion will make you a special edition cabinet of 1" laminated bamboo with real-wood veneer. On CDs with a soprano, organ and orchestra, the sound the special-edition F200s made with BAT electronics and a BAT CD player was warm and vibrant, lush and detailed -- a very promising speaker! I felt its well-balanced, nimble and clear highs mated well with the clean upper mids and tight upper bass.
Mod-wizard Dan Wright of Modwright Instruments brought his new Modwright Truth modified Slim Devices Transporter ($3795). This is the latest source from Modwright and features a complete replacement of the stock analog stage following the DAC outputs, a high-voltage tube-regulated internal power supply, and, as usual, it sports tube rectification and driver tubes as well.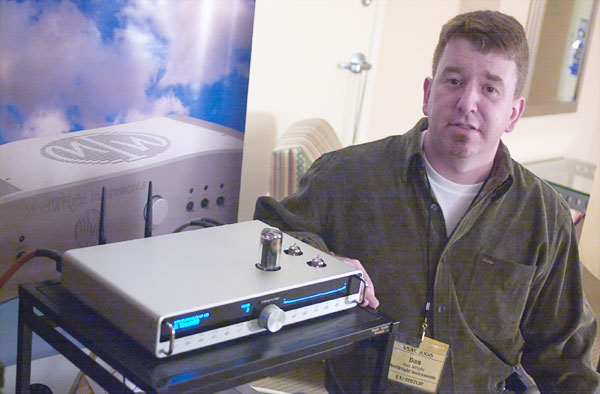 Dan Wright and his Truth modified Slim Devices Transporter ($3795).
Finally, Serious Stereo of Livingston, Montana showed off 2A3 SE monoblocks ($14,750 per pair). These are designed for speed, dynamics, and wide bandwidth ("I want to hear the master tape," said engineer Dennis Fraker) and come with chassis in various snazzy powdercoats.
If CES is your standard for audio shows, VSAC will be a welcome bit of warm, mossy Northwestern air. It's tubey goodness through and through.
...Garrett Hongo
garretth@soundstage.com