April 2004
A Stop at StudioLAB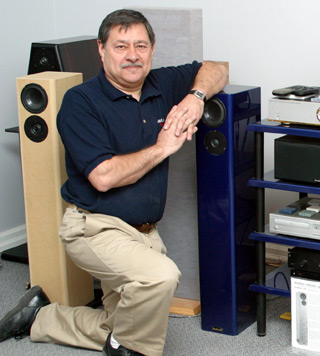 StudioLAB co-owner, Bob Vince (his wife, Linda, is co-owner and company president), leans on his company's well-known Reference One speaker, while the new "special edition" prototype can be seen behind him.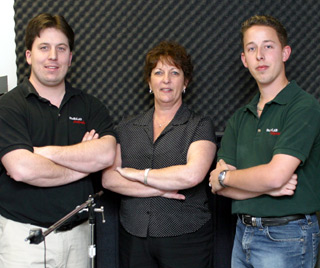 The rest of the StudioLAB team (left to right): John Venditti (sales manager), Linda Vince (co-owner and president), and Mike Vince (designer).
Starting a speaker company today is risky business. There is not just a lot of competition, there is a lot of good competition. Name any price point between $100 and $100,000 and I can name an already-established speaker manufacturer that has an established clientele for like-priced products. Staking claim to any ground, then, means meeting the formidable competition head on.
But it's easier to start out when you've already got a recognizable name. Better yet, it's easier to start when you've got one of the oldest names -- and that's precisely what the folks at Canada's StudioLAB have. This relatively new company, at least to hardcore audiophiles, is actually one of the oldest speaker makers in Canada.
Started in 1972, StudioLAB is well known in Toronto, where it has designed, built and sold loudspeakers from its self-contained facility -- retail out the front, administration to the side, and full-on manufacturing in the back. So StudioLAB isn't as much starting up as it is reinventing itself. And a large part of this reinvention comes from Mike Vince, son of owners Bob and Linda Vince. Mike is the head of speaker design and responsible for all current StudioLAB models. But before we get to those, a little more history is in order.
The Vince family bought StudioLAB in 1986 and carried on business just the way the company had already been operating for a decade and a half. Why mess with success? But this was at a time before Mike really entered the picture -- at least at StudioLAB.
In the mid-'80s I suspect young Mike was just entering elementary school and loudspeakers may have been the family business, but making and designing them weren't in his head -- yet. But when Mike was old enough, he started working in the family business -- mostly in the back, manufacturing the speakers that the company sold factory-direct. The company still sells plenty of these speakers today. As Mike explains, the original StudioLAB designs weren't speakers for which hardcore audiophiles would be shopping. These were the type of big-box, large-woofer speakers that could have had "I party!" written all over them. Think Cerwin-Vega from Canada -- headbangin' speakers mostly. The Vinces also had their hands in the pro side -- theater installations and P.A.systems. In fact, they still do that stuff today.
But in the '90s, Mike took an interest that surpassed just building speakers. He began designing them, too -- and his first speaker, the StudioLAB Reference One, was certainly the opposite of what most people expected from a StudioLAB product. The Reference One was a slender design with a silk-dome midrange and a 4 1/2" woofer. Headbangin' material this speaker was not -- but this was the new direction in which Mike wanted to see the company go. He has the ear of a serious audiophile, and that's who he started designing speakers for. Suddenly, StudioLAB had the serious audiophile in its sights. In fact, Mike's goal is to see the company move more and more out of the retail side and into manufacturing only, producing high-end speakers.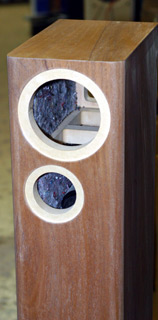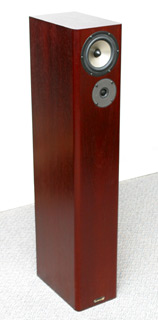 The left photo shows a close-up of an in-production Reference Two ($1750/pair), while the photo on the right shows a finished Two.
I reviewed the Reference One in January, and there was a lot to praise about its performance. I was impressed with the smooth, detailed, refined, and non-fatiguing sound, as well as the way the One cast a soundstage with audiophile-approved image specificity and depth.
Then there was the build quality. The Reference Ones sell for just $875 USD per pair, but they are built as though they sell for two or three times that. The One is constructed to an astonishingly high standard -- real-wood veneer, good finish quality, and a complex and heavily built enclosure complete with sand-filled chambers. It may only have a 4 1/2" inch woofer, but each speaker weighs almost 70 pounds.
The Reference Ones taught me two things: (1) Mike Vince knows how to design good-sounding speakers, and (2) StudioLAB has the wherewithal to build 'em. These are key ingredients for successful speaker company.
And the Reference One is just the start. There are also Reference Two, Three, and the top-of-the-line $16,000-per-pair Reference Revelation. If the Reference series is out of your price range, StudioLAB has other products too, like the Reference-inspired Signature series that is priced lower. And, yes, they still make the speakers that made the company's name in the Toronto area, but that's not where they're going anymore. Instead, StudioLAB has even more new speakers to come, including one that I'll divulge here.
Despite the fact that Mike Vince has managed to create an impressive array of speakers, he still loves his Reference Ones -- so much so that when I visited in February he unveiled a special-edition version of the One that he says will come with a more-exotic finish, a Vifa ring-radiator tweeter, and a modified crossover with even better-quality parts.
I had a quick listen to the Reference One "whatever the suffix is going to be to distinguish it from the standard One" in the StudioLAB's listening room using modestly priced equipment (a Musical Fidelity integrated amplifier and Cambridge Audio CD player). From the get-go I could tell that the top end sounded even smoother than that of the standard Reference Ones I reviewed -- not that the standard Ones desperately needed to sound more smooth. The top end was exceedingly refined for the price, but this new One took that design just a bit farther -- and the overall tonal balance made the speaker sound not quite as light, one of my main quibbles in my review. Of course, the price of this special-edition speaker will be a little bit more than the standard Reference One, but I don't think it's going to be anything outlandish. If you're a fan of the One already, or are thinking about buying a pair, you might want to check out this new version. Mike said he'll unveil it in Montreal at Son & Image 2004.
After talking with Mike for some time I realized why he's so attached to the Reference One. This speaker more or less embodies what this reinvented -- or perhaps more accurately, reborn and rejuvenated -- company is about: quality and value as well as a unique vision in loudspeaker design. One of Canada's oldest names in audio is suddenly the new kid on the block.
...Doug Schneider
das@soundstage.com
To find out more about StudioLAB, visit www.StudioLABspeakers.com.