February 2004
Doing Time at the Key Largo, or How I Saw Larry Flint, Luther Campbell and Mike Tyson at a High-End-Audio Show

I'd always thought it would be cool to stand in front of a crowd of 100,000 people and belt out "Born to Run." Likewise, I'd also find it appealing to stay in a $10,000-a-night hotel in Las Vegas, get sloshed in the bar, take the limousine to a chapel, and then wake up the next morning and find out I'd married Britney Spears.
And while these things do happen to a few select and, I suspect, chosen people, most of the public has to be content with air-guitaring in front of the stereo, staying in $40-a-night hotels, and marrying girls that read magazines but don't appear in them. That's real life.
So despite what Las Vegas's Key Largo Casino and Hotel promises you on its website -- "a relaxing hotel atmosphere," "fantastic food at the Coral Cafe!," "a little bit of paradise" -- you're not getting a slice of heaven for the price of draft beer. What you get is an aging property that hasn't been renovated in 30 years, all-you-can-eat spaghetti for $3.99 on Thursdays, and a Tiki bar in your room. OK, so we liked the Tiki bar. But when they tell you that you can "find the glamour without the traffic," what they mean is that if you walk out the front door and go left for about a mile you'll end up at The Strip, where you can find all that glamour at places like the Bellagio and Venetian. The Key Largo offers a low-budget glimpse of what could be.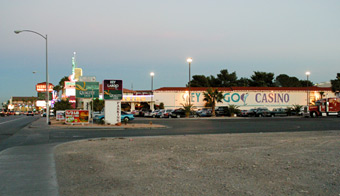 The Key Largo: "paradise" and a parking lot
The Key Largo is really a sow's ear that's been dressed up on the Internet to look like a sow's purse, and in comparison to most of the hotels in Las Vegas, it's a dive. But the rooms do start at $39.99 a night (which is a far cry from $10k), there is a band playing nightly, and I'm sure if you tipped them enough they'd let you get up with them and sing "Born to Run" or any other oldie you can muster. Can you do that at the Palms? And I bet if you drank enough of the dollar beers that the Key Largo serves up 24/7 you could marry someone who looked just like Britney Spears -- and then transforms the moment you sober up.
So it's with this attitude that I took my annual afternoon off from the CES's high-end-audio and home-theater exhibits to visit what's become known as L.A.'s other film industry's biggest event of the year, the AVN Adult Entertainment Expo -- featuring an alternative set of "stars."
The AVN Adult Entertainment Expo, or the "porn show" as it's better known, has always been the CES attendees' dirty little secret. If someone takes off for an afternoon and you ask him when he gets back where he was gone to for so long and his answer is vague -- "Uh, shopping at Caesar's Palace" or "Nowhere" -- you have better-than-baccarat odds that he's been to the Expo. Any sort of "No," "Me? No way," or other type of half-hearted denial that's delivered too quickly or with any degree of hesitation is a sure sign of lying. People go to this show, lots of them, despite what they say when they get back. Have I broken the unwritten rule that "guys are supposed to cover for guys"? Give me a break -- people know.
Besides, high-end audio and porn have more in common than most people think. In fact, they used to be inseparable.
Back in the early '90s the Expo used to be part of CES, and it took place at the same hotel as the high-end-audio exhibits, the Sahara. In ways, the relationship was perfect -- two passions taken to an extreme and commercialized -- so it seemed fitting to present it all at the same venue. Miraculously, though, some high-enders complained. "Too many scantily clad women in the elevators," I heard someone mutter. Huh?!? One man's heaven, obviously, is another man's hell. To me the arrangement was perfect, the best of both worlds.
But all that changed. Over the years the adult industry got bigger -- to the tune of $1 billion, I keep hearing -- and the high-end-audio industry got smaller. In time, the adult exhibits moved to the Sands Convention Center, while high-end audio was relegated to the Alexis Park. And while the Alexis was and still is nice, the Sands Convention Center was simply in another league in terms of scale, so it wasn't difficult to figure out where the money was going and where priorities were.
Fifteen years ago the adult industry to the mainstream public was like the Key Largo is to the Venetian. Today the adult industry stays at the Venetian (their annual awards show is now held there), and the walkway from the hotel to the Sands Convention Center is how most of the industry gets to their show booths. Contrast that with high-end audio, where we stay at the Key Largo and schlup it down sidewalks, across streets, and through parking lots to get to the exhibits. While high-end audio seems to get farther away from the public eye, things like the Internet have brought adults stars and their products into people's homes, and today more and more adult stars can be found on mainstream television and magazines in one way or another.
Much else has changed, too. CES no longer handles the adult exhibits; the Video Software Dealers Association (VSDA) is in charge, and the show is now called the AVN Adult Entertainment Expo, still held the same days as CES, mind you.
But the AVN Adult Entertainment Expo is no longer the sideline event it was 15 years ago; today it is an enormous affair, professionally run by the VSDA, and it attracts hundreds of exhibitors and tens of thousands of attendees. It's also no longer free for CES attendees. Admission costs $40 -- $80 if you want VIP tickets. Still, the price of admission hasn't deterred many, particularly when there's a chance to see "stars" who you hadn't expected would show up.
I went Saturday afternoon -- the Expo was unsurprisingly packed. Imagine trying to shuffle through the most popular bar in town at midnight on a Saturday night. It's no different -- there were that many people -- so pushing and shoving is the only way you'll get around. Luckily, my press badge allowed me to bypass the initial lineup, but once inside it was the same for me as it was for everyone else.
The 2004 AVN Expo, though, was memorable in a number of ways. It started out with, for lack of a better word, something of a bang. I was launched through the entrance and not three steps ahead of me was Larry Flynt. (The fact that I don't have to tell you who he is should tell you just how far into mainstream culture this industry is -- and I don't think it was The People vs. Larry Flynt that necessarily did it.) He was signing autographs, and he had a line longer than Pete Rose's at another trade show I attended. I was startled to see him, but I shouldn't have been -- the Expo is part of the world he created. I snapped his picture. He didn't seem to mind, and his bodyguard just nodded his head.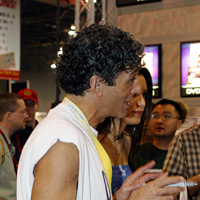 Adam Glasser, a.k.a. Seymore Butts, star of Family Business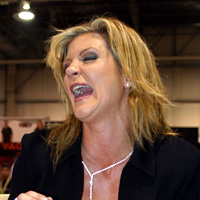 Ginger Lynn, co-starred with Charlie Sheen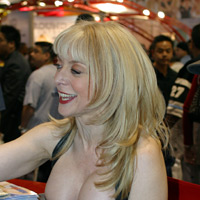 Nina Hartley, co-star of Boogie Nights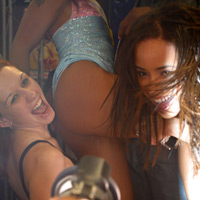 Part of the "Tyson wave"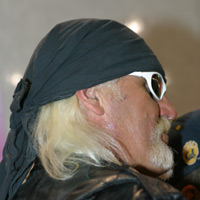 A Hulk Hogan sighting?
So for the next hour or so I walked and observed -- half knowing what and who I was seeing, half wishing that I had an issue of Larry's latest to figure who was who. But with a little detective work I did recognize some people and it wasn't hard to gauge who were today's hot stars if you look at the length of their autograph lines. But it was more interesting for me to see how many people were there who were like Flynt -- people average TV watchers might know and recognize. Unlike 15 years ago, today there are quite a few.
I saw Adam Glasser, better known as Seymore Butts, and star of Family Business -- the entire first season is now available on DVD. It's a reality-based TV series about Glasser and his family's exploits in the adult world. Glasser, er Butts, was signing a DVD box cover for a kid who looked like he just turned 18. The kid looked excited, Glasser seemed proud, the DVD's cover looked as innocent as American Pie's. But Glasser is rare. Guys don't get lines. In fact, most men in the adult industry don't even get noticed. Women rule.
Ginger Lynn is one of those women, the adult world's first genuine superstar. Ginger's heyday was in the '80s, and following that she left the adult industry to do a bit of mainstream film work (IMDB.com currently credits her with 123 adult and mainstream films), but she's actually still best known for dating Charlie Sheen. At the Expo, Ginger was all smiles and her autograph line was as long as Flynt's.
Then there was Nina Hartley, looking the same as she did 15 years ago (credited with an astonishing 372 films on IMDB.com). I'll never forget her in Boogie Nights. As a matter of fact, wasn't it the critically acclaimed Boogie Nights that managed to paint a human face on this industry?
But there was more -- much more.
Imagine my surprise when amidst the spectacle I heard a roar and felt a rush like a tidal wave was about to hit. I turned to see a wall of people coming toward me. As with waves, though, outrunning them can be difficult, so I dove right in and managed to make a quick turn and hop the counter of one exhibitor's booth and position myself against the back wall, far out of danger but within shooting distance of my camera.
Should I have been surprised to see Mike Tyson amidst this uproar? In hindsight, no, but at the time, yes. All I could think at the moment I saw his tattooed face was, "I've got to get a picture of this." I did -- 25 of them, including one of Tyson staring down my lens and another that I'm sure many of the tabloid magazines would like to get their hands on (now that shot really did surprise me). For a brief moment I lived the life of the paparazzi. A few minutes after the Tyson wave, a little swell hit the same booth -- it was Luther Campbell, leader of the notorious rap group 2 Live Crew. Again, in hindsight, Campbell's appearance should have been no real surprise. At the time, though, I could only wonder who was coming next. Campbell, I felt, wasn't worth 25 shots, but he was worth one or two.
As security tried to usher Tyson and crew out of the booth area, the crowd grew larger, so I decided it was time to try and get a head start before I was squished against the back wall. I got ahead of the crowd and was squeezed out like a cork from a champagne bottle, back to the luxury of just pushing my way through the aisles. I didn't get far, though, until I ran into another mini autograph frenzy. My camera immediately went up, my finger instinctively hit the shutter button, but this time I had a suspicious feeling that I was being duped. Then the declaration came loudly from behind me, "That isn't Hulk Hogan. Hogan's taller and redder. Tyson, though, was real." I'd never met Hulk Hogan, but I had to agree that this wasn't him, although we all still acknowledged that this guy did look a lot like Hogan. I took the picture just in case.
With that, the AVN Expo was done for another year and I was back at the high-end-audio exhibits at CES. In a day or so our 2004 stint in Las Vegas would be over again and we'd already be planning for 2005.
Perhaps we'll stay at the Venetian next year, but more likely we'll be back at the Key Largo -- as much as we complain about the place, we sort of like it, and the Tiki bar is a great place to set up your laptop. But I must admit that I wait in anticipation of just who I'll see at AVN Expo 2005. After this year, seeing how much the AVN Expo has grown since I first went it back in the early '90s and knowing where the adult industry is headed, not much will surprise me. Hey, Britney's single again, and would anything she does surprise anyone anymore?
...Doug Schneider
das@soundstage.com