August 2003
From Signature to Studio: Paradigm's Summertime Blockbusters
It's a 50-minute drive on Highway 416 before I hit the 401. Once I'm on the 401, it's another three and a half hours before I hit the east side of Toronto -- that includes three stops at Tim Hortons for coffee and one stop at Swiss Chalet for a half-chicken with baked potato. Once in Toronto, I have to get clean to the other side to get on the 427, which merges onto the QEW and then takes me straight to Paradigm's marketing headquarters, located in Burlington, Ontario.
The problem is that while getting from Ottawa to Toronto is predictable, sometimes just getting from the east to the west side of Toronto takes longer than driving between the two cities. I'm pretty sure that the people who designed the Toronto roadways have failed marriages or spouses they simply don't want to see too often and have designed the roadways such that they now have an automatic excuse why they can never make it home after work. So depending on the time of day, I have to make some crucial decisions when making these excursions.
I arrived at the east side of Toronto at 5 PM. I wasn't in any mood to battle rush-hour traffic for two or three hours just to move a couple miles. Instead, then, I decided to meet a friend at Montana's and chow down on a massive rib dinner -- which I didn't really need, but did anyway for lack of anything better to do. Then I leisurely headed over to Burlington in the early evening, staying the night at a roadside motel with a plan to visit Paradigm in the morning. A quick call on my cell phone to Mark Aling, Paradigm's media-relations guru, ensured that my plan of action was OK. I set up a 9:30 meeting and arrived at 10:05 sharp.
Mark used my tardiness that morning wisely and arranged for a mini display of Paradigm's newest offerings from their Reference brand while I was out eating breakfast and later finding a Starbucks. When I arrived, he had set up in the office the brand-new Signature speakers and the real surprise, part of the revamped Studio lineup the company startled us with last month.
First, let's talk about the Signatures.
The Signature series is Paradigm's newest line, but in ways they're old news -- first shown and photographed by us at CEDIA Expo 2002 and last written about by me in my March 2003 report. Ho hum? Not really.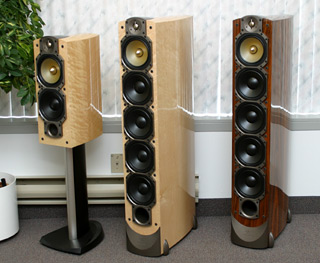 Paradigm's Signature S-4 (left) and S-8 in bird's-eye maple and rosewood finishes.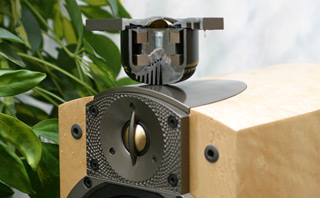 A cutaway of a Signature-series tweeter sits atop the S-4 speaker. All Signature speakers use the same drivers, but the configurations vary.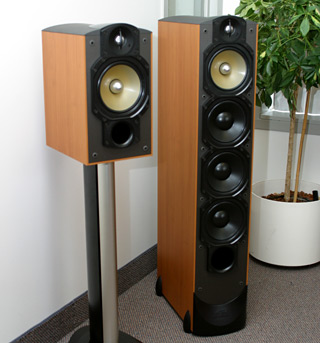 The v.3 incarnations of the Studio 20 (left) and Studio 100.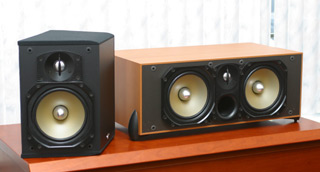 Studio series ADP-470 (left) and CC-470.
The Signatures may be old news, but they're certainly not boring news. In fact, the Signatures are one of the hottest speaker tickets of 2003 -- and it's easy to see why. After more than 20 years in the speaker business, Paradigm has decided to make a foray into the higher-priced speaker market -- a spot they've deliberately kept out of, focusing instead on super-cost-effective performance. So Signature is cause for excitement. The only problem is that the anticipation for Signature has been growing for almost a year now, and it's hard to keep a high level of excitement all the time. Still, I know that there are audiophiles out there keeping their wallets full just for this release, ready to bang down dealers' doors the day the cartons arrive -- and I don't blame them. When a company with the wherewithal that Paradigm has takes a swing at this market segment, it's something to take note of.
On hand in their offices were the S-4 and S-8 models -- finished in bird's eye maple and rosewood. The speakers look like a million bucks -- without costing it, mind you -- and their heavily lacquered sides shine wonderfully. Their beauty is more than skin deep. When I talked to Scott Bagby some months ago, one of the Paradigm owners and the head of product research and development, he called the Signature series an "all-out engineering effort." Although the Signature series looks somewhat similar to the rest of the Paradigm family, everything about the speakers is different, including the driver modules. There happened to be a tweeter cutaway in the office that hints at what goes on behind the faceplates. Although I still couldn't hear the Signature series -- and I'm not sure anyone outside of Paradigm has, either -- it's pretty apparent that Paradigm has pulled out the stops and appears to have done it right with this line.
Two questions came to mind, though: When are they available, and what will they cost? Mark Aling admitted that Paradigm is a wee bit behind schedule, but only a smidgen. Everything is now finalized, and the first speakers should be filing out the doors and into dealer showrooms (and hopefully reviewers' houses) soon -- "very soon." Next month? Perhaps. As for the cost, although we have previously published prices based on information Paradigm has given us, Mark said that that was "tentative pricing," but the final pricing will be "very close." Very soon plus very close adds up to very exciting for many audio and home-theater enthusiasts.
Now, let's talk about those new Studio speakers and why their release may well be the event for Paradigm.
While much of the world was anticipating the release of the Signature-series speakers, Paradigm snuck one up on everyone and released a revamped Studio lineup in July -- dubbed v.3. To say it was a surprise is an understatement. I certainly didn't see it coming -- although in hindsight I should have expected it, knowing how trickle-down technology makes it from one line to the next.
The new Studio model names are all the same -- 20, 40, 60, and 100, but with the 80 now dropped from the lineup -- and the speakers look similar to the v.2 lineup, but there are many more-than-subtle changes when you look closely at the speakers, and there's a whole lot of trickle-down technology from the Signature series put into them, too.
The new Studios don't have the rounded cabinet sides that the Signatures have, but they're finished extremely well and have durable, rubberized rounded tops that make the speakers more shapely and attractive than the v.2 line. I saw the cherry-laminate finish -- it looks sharp. Mark said there will also be sycamore and black finishes available, too. There are also nice touches, like upgraded binding posts, rounded feet that make their way a few inches up each side, as well as complete reworkings of the drivers and crossovers. They may have gone from just v.2 to v.3, but the changes seem far more extensive than those for a single version number.
Most importantly, though, the price of the Studio series stays almost put -- and that's what makes this lineup so darn exciting, largely because most of the world buys speakers priced at less than $2000 per pair. In the office, I saw the Studio 100 v.3 and 20 v.3 main speakers that sell for $2200 per pair and $800 per pair, respectively. In a world where some speaker manufacturers only think of pricing products into the tens of thousands of dollars, the Studio speakers bring more than a hint of sanity to the wallets of the everyday audiophile. Also to the side of the office were the CC-470 center-channel and ADP-470 surround speakers, priced at $600 each and $950 per pair, respectively.
So, if you can't swing for Signature, then the new Studios are certainly worth a listen -- and they're at dealers today! Go bang down those doors -- and look for reviews on SoundStage!.
Also stay tuned as I search out more exciting product releases for the fall.
...Doug Schneider
das@soundstage.com